2013 Northern California Fleche (First posted April-15-2013 at 08:10 pm)
2013 Northern California Fleche (First posted April-15-2013 at 08:10 pm)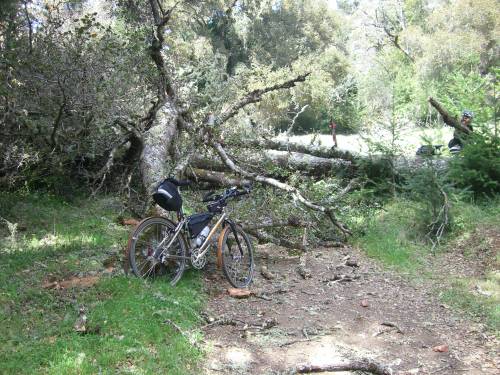 After last year's crazy Fleche with Brian K. where we rode just the two of us from the start knowing we would not get "credit" and being late to all controls because of the tough mixed terrain route, I wanted to ride the San Francisco Randonneurs (SFR) Northern California Fleche using an easier route. At the end of this year's SFR Point Reyes Light House 200k Brian asked me if I was interested in doing the Fleche and create a team, of course!

So the emails went out to a few potential suffering partners/victims, I mean teammates.

At the end of the SFR Russian River 300k Heath A. asked me if I was doing the Fleche and I invited him to join us. A few days after, his bike got most parts stolen while parked outside overnight and he was not sure he would have a bike for the ride.

As the Fleche day was getting close Megan A. contacted me via email. I had meet Megan briefly at the end of 2012 SFR 400k when she was volunteering. She had heard from our Fleche Coordinator Extraordinaire Roland B that we were looking for more team members for a mixed terrain route. Her timing was almost perfect, I had still not received confirmation from some of the friends I had sent invitations and within a week they confirmed they were not able to do it. Megan was in our team and I was trilled. It makes a huge difference to have a randonneusse as team member.

Very close to the Fleche day we were 4 members. Having done this Fleche business for 4 years before I had learned that a lot can change from the time one decides to join a team and the event day. One morning I woke up and remember Metin U. He first rode one of my mixed terrain rides last year and also started the first run of La Ruta Loca Randonnee 200k Populaire. Why didn't I though of Meting before! I sent him an invitation to joined us and he was very exited to do it.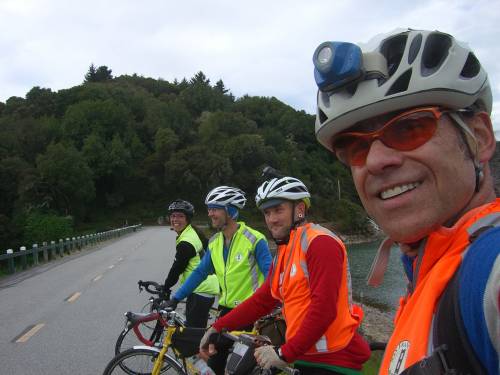 We had a 5 bicycles team. Our route would be again mapped by Brian using most of the previous year's roads and trails but reducing the amount of climbing.

It was a strong team. If you have not ridden with Brian, the best to describe him is with words Rob H., our RBA once told me. "That guys has and engine". Yes he does.
If you have not ridden with Heath, he is quiet, gentle and very though.
If you have not ridden with Megan you are in for a surprise. I had no idea she was so strong and nice to be around.
If you have not ridden with Metin you would not think he can climb like that by talking with him when off the bike.
Me? I was just happy to be ridding with them, I knew I was in good company.

Last year's route had the last significant climb going from Watsonville to Morgan Hill; when we got to Watsonville were late and decided to go over on hwy 152/Hecker Pass Hwy. This year we were thinking of using Mount Madonna instead, a local quiet road that climbs the same ridge but in a much dramatic way. Megan Brian and I did a scouting ride from Los Gatos to check it out. Turns out, Mount Madonna is a super nice narrow road that climbs gently at first and then becomes a mean hill. It took us 1 hout to ride the 4 mile hill. At the top, it crosses Pole Line Road and Mt Maddona Road becomes a steepish wide gravel road, very nice and recommend this to other teams looking for some excitement going up and down on future Fleche routes. Just make sure you know it will take considerable energy.

Brian, Metin, Heath and I did another scouting ride the weekend before the Fleche, this time from Palo Alto up on Alpine Road to Meadow Trail an then down to Saratoga on Canyon trail. There is about .5 mile of Meadow Trail that will test your steep single trail climbing skills. A good challenge.

After those two scouting rides I felt much better. I think if you are doing a fairly demanding route pre-riding its hardest segments is a good idea.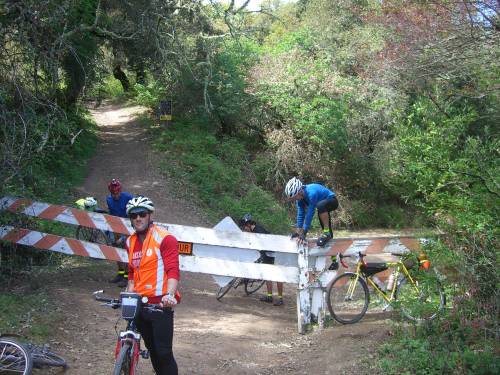 We were assigned a 9:00am start time. Our starting location was the Marina Safeway in San Francisco just 1.5 miles from my place. Both Brian and Metin drove together from the South Bay, Megan from the North. They parked in my building's garage and we all rode together to meet with Heath at 9:00 Saturday March 30, 2013.

Our route was, San Francisco to Portola Valley then up Skyline Blvd, down to Saratoga and Los Gatos, up to Soquel, down to Los Altos and Watsonville, up to Hecker Pass, Uvas Reservoir San Jose, Fremont, Dumbarton Bridge, Redwood City and San Francisco. Most of the significant climbing on the first 125 miles.

We were having a decent weather day so far, no rain and not much wind. This year I created the cuesheet cleaning the one automatically generated by ridewithGPS.com when Brian mapped this route. Also took the time to go over the first half and set conservative speed averages for every segment. Having pre ridden most of the climbing gave me a good idea what was a realistic speed for those segments. The excel cuesheet calculates time of day at every segment based on the average speed entered.

The year before when we rode with Brian, we were late to all controls. This year when we got to the first control on Portola Valley we were early and had the luxury of spending a couple extra minutes over what I had scheduled our stop to be and still be ahead of time by 25 minutes or so. With an Ensure and some other stuf in my stomach I was ready for the climbing ahead. We had pre ridden the complete next section from control-to-control the week before but that was on a bike without fenders and the extra gear needed for an overnight ride. I expected the off road climbing on Meadow Trail to be a crawl but surprisingly it was not as bad as I thought it would be and just like the weekend before I was able to make it all the way without dismounting.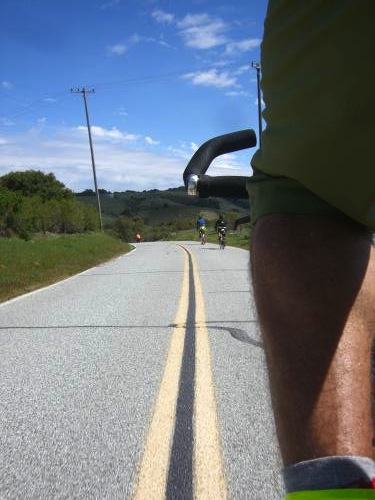 Metin is a very good climber but he does not have much experience descending off road, I tried to stay just ahead of him most of Canyon Trail to help him pick a good line and pace him. However it was Heath who's new tires reminded him to keep things on check when his bike slided under him on a turn. No harm done, we all made it to the first little creek crossing and then the next one. The water level was low on the second crossing I just rode trough it and managed to keep my feet dry, Megan almost got her wet but found a rock to rest her shoe before it happened. We were all dry and happy. After the fun off road section we had about 8 miles to the next control in the Safeway in Saratoga where we got almost 40 minutes ahead of schedule.

We were gong to have lunch in Los Gatos just a few more miles ahead so the stop was brief but long enough. Lunch was at Main Street Burgers in Los Gatos, this was not a control but just a more civilized place for lunch than a Safeway. Same place as last year. Nothing great but it is convenient as they have outdoor seating and we could park out bikes right there. My bacon burger and a milk shake were $17. We left 25 minutes ahead of schedule and had more climbing ahead. Somewhere on Old Santa Cruz Road Megan slowed down, her lunch was not agreeing with the hill but by the time we got to the top I think she was feeling better. However now there was a bird in her bike. What the heck is that noise? We stopped to check it out and found one of her rear fender screws loose. Ah peace again!

Got to Highland Way and Buzzard Lagoon, answered the question to the Informational Control and moved on. We had a 3 mile fire road climb ahead. I went ahead and got to the top with Megan then Heath and Metin but where was Brian? He had stopped to readjust a bag he had strapped to the top of the rear rack trunk that was giving him trouble. We were still 20 minutes ahead of schedule. Next was a nice 10 miles fire road descend, yes 10 miles. It was 7:20 and was getting dark. I stayed behind and again try to help Metin on the descend by riding a little ahead of him and keeping him company.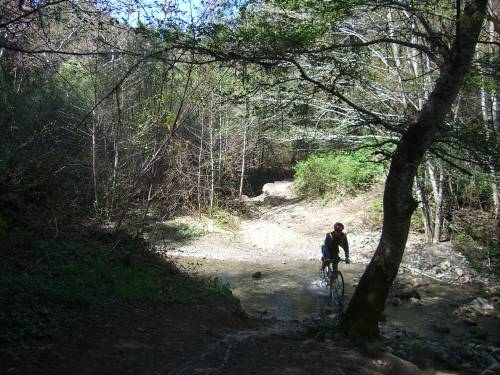 When we got to Rio Del Mar (Aptos) we were about 40 minutes ahead of schedule. We could either eat here at the same overpriced restaurant we did last year or try our luck and go to a Mexican restaurant John P and Jake M had recommended when they saw our route on paper a few weeks before. I was not sure going to the Mexican place without knowing if they would be open was a good idea but when we went to check the menu of the place we were at, we saw the restaurant was pretty busy and we would have to wait for a table, we decided to try the Mexican place a few miles ahead.

Darkness, that is what we saw when we got to the corner were the Mexican restaurant should be. On second look I crossed the road and rode into the parking lot and found their light was still on. Called the rest of the ream and when they got there the restaurant owner came out.
Estan abiertos?
No ya cerramos,
Nooo! A que horas cierran?
A las 9.
ok gracias.
They had just closed, it was a little before 9pm

On to Watsonville, our next control and now also place for dinner. Our Control was yet another Safeway but we wanted to find an actual restaurant where we could sit down and eat like regular people do. On the same strip mall as the Safeway there were a few places but most of them closed except California Grill. The team was not crazy about the available choices but we could not be picky. Leaned our bikes against the window and the host came and asked us if we were gonna lock them as there had been a robbery just last week around the corner. We asked if we could roll them inside and she agreed, even locked the front door just to make sure they were safe.

Metin and I had the same idea, we both were looking for an electrical outlet to plug in our GPS for charging. we found one behind the front counter and with the hostes approval vampired energy from the wall. Now with that taken care off it was time to order the food; I went for lassagna with a minestrone soup and a root beer. All of our dishes were good and the total for the 5 dinners was ~$85, money well spent. At the end of the hour we spent there, the GPS toys were charged. While getting ready to leave we noticed it was starting to rain. Time for the rain gear. After what it felt lke an eternity we left on full rain gear but first stopped at the Safeway to get the coveted Control receipt.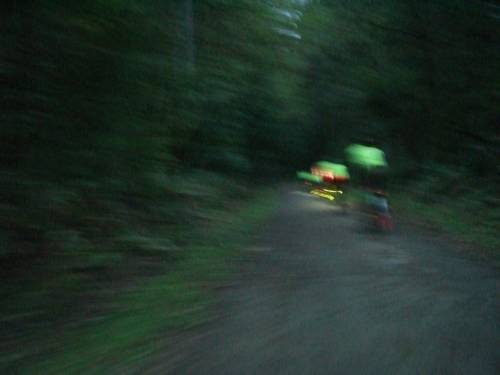 The next Control was about 40 miles from Watsonville and a mean hill was ahead, we had full stomachs and it was raining (barely) The good part, we were still ahead of time. Knowing what was coming I settle on a low effort pace while Heath and Megan pedaled ahead. Mount Madonna Road starts gently and within a mile climbs steeply and then further ahead becomes a beautiful and mean thing. I stayed on the back enjoying my 26 x 32 gear when needed and seeing little taillights disappear behind the switchbacks.

At the top we all were soaked not so much from the now non-existing rain but from the condensation inside our rain costumes. All downhill now right? During the days before Brian and I talked about possible detours in case rain made for dangerous riding off road. Here we were at a place we I had created a WET conditions cuesheet based on Brian's alternate route. The detour would add 2 miles and just a little more climbing but it would be all paved. I expressed my concern with Metin descending at night the Mt Madonna Road gravel fire road but at the end we sticked to the original route and went for it. Again I tried to stay a little ahead of Metin so he could follow my line.

We were going at a pretty good pace when gravel turned to pavement and turned around to find it was Heath who was behind and I was thinking it was Metin. However by now Meting was descending with more confidence and that was the last gravel section of our route. The next segment to San Jose was on very quiet roads and a little faster than what I would like but we were all together and slowed down from time to time when one of us started separating form the rest. The road was also wet and paceline was not always possible. Heath was riding a mountain bike with front suspension and just a rear clip on fender that barely kept the back of his jacket clean but let all spray fly into the air. Megan's fenders where a tad short that the tire spray escaped into the rider behind.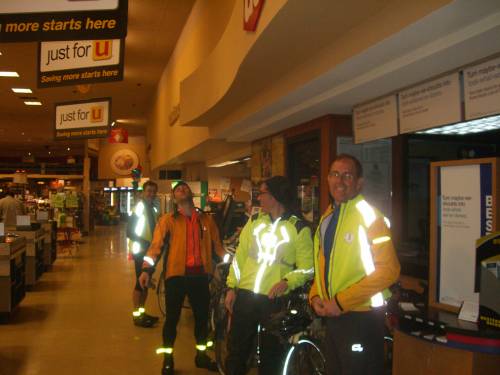 I was getting tired when we got to San Jose and the next Control. However it turned out this Safeway on Almaden was closed! While discussing what to do I say a gass station across the street. Let's go there, get a receipt and find a place to get somewhere further/ It turned out the gas station was an AM/PM and was outfitted with all sort of randonnuering delicacies like self service nasty mocha machine, hot dogs, muffins ect plus a very decent bathroom... all a Fleche team needs. When we left we were still ahead of schedule by at least 30 minutes I think.

30 more miles to yet a new Safeway, this time in Newark. After miles of industrial and low rise office buildings we made it. Another receipt and a little rest. We left about 20 minutes ahead of schedule however now we were more tired and although the terrain was mostly flat, the long Dumbarton bridge is not and there was a slight head wind. Our time cushion was getting a little smaller and at least I was getting more tired.

Somewhere in Redwood City or San Carlos I was feeling very tired, electrolytes pills water and bike food was not doing it for me, while we continued moving I reached onto my seat bag, grab and drank an Ensure which brought new energy, at least I could keep the pace more comfortably. We got to the last Control, the key "22 hour control" in Redwood City with time in the bank. One of the many weird rules of this event is that the last 25 kms of the route must be riden in the last 2 hours, thus the "22 Hour" moniker. Our faces were tired but we all were in a good mood.

Ok we have a little over 2 hrs to ride to the finish, let's go. Brian proposed to ride on the bay side as opposed to a little inland. I was concerned that way would be longer but it turn out to be much flater than what we did the year before and also a little prettier However there was no way around a short climb on 3rd St entering San Francisco. The little hill took some energy and we had about 30 minutes to get to Crepes on Cole. We could have turn on Bayshore Blvd and save a I little energy but I was the last one to the key intersection and tired and forgot about it. We went straight on 3rd St. I can never remember the way to cut from 3rd St to Cesar Chaves but fortunately Heath new it. We follow him. The team was now officially tired but now I was getting new energy I could smell the coffee and ice cream waiting at Crepes on Cole. We were hauling ass, it would be a very close finish.


"I think I have a flat" sure enough, Heath had a front tire flat. A little defeated by this blow to our timing there was a discussion of what to do, at the end I just said "Ok let's get into that gas station and fix it!" and we try to help Heath the best we could fix it. After only 5 minutes we were rolling. However after about a little while the flat came back. It was a minute or two before 9:00 our finishing time. We stoped at a corner store I went in and got a candy bar and the valuable receipt while outside the team made sure air went into the tire. I noticed I had lost my right glove back at the gas station where we stop for the first flat, oh well.

A few blocks and another stop at a traffic light to put more air; and yet another air stop. With every new stop the tire was letting its air faster. We were a few blocks from the finish and it was pass 9am. The last block, and then familliar faces. We were done at 9:14. Jesse M was parking bikes while Bruce B was taking care of the paperwork other teams where there all happy and smilles. It seemed averyone had a great time.

After completing out brevet cards we went inside and order our food. I got my customary double espresso, a beer and a strawberry-chocolate crepe with vanilla ice cream on the side and proceded to chat with other Fleche participants, randonneuring food for the body and soul :) I am sure I forgot to talk to many friends. I guess like the rest of this Fleche participants my head was a little fuzzy, so I know (hope) they understand.

Another Fleche behind us. It was a great team

It was time to go, we said our godbyes to friends and then to Heath a block away and the remaining team rode to my place to pick up their cars. After Brian and Metin left and Megan took a shower and also drove off, I was still very awake. Later that morning I took a nap and then asked the wife if she would drive me to the gas station to see if the glove was there. I didn't wanna drive all tired. Sure enough the glove was there. Even better when we came back home I remembered Megan had brought us three kinds of home made ice cream! Yeah a new beer and Megan's extraordinary creations! What else could I ask for? A great Fleche this one had been. Thank for this one to my team, Roland for herding all participants and of course the volunteers and all other participants. See you next year.

The complete album of photos is here
(First posted April-15-2013 at 08:10 pm)
No related pages or links.