2013 SFR Point Reyes Light House 200k (First posted March- 4-2013 at 11:06 pm)
2013 SFR Point Reyes Light House 200k (First posted March- 4-2013 at 11:06 pm)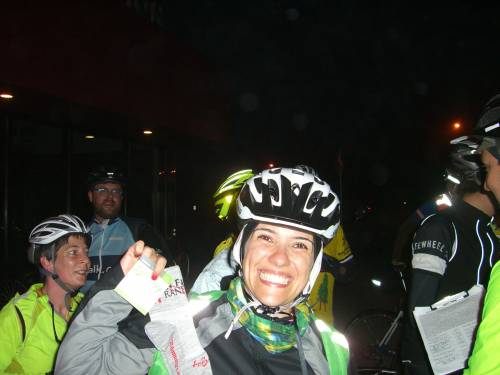 Once again, no sleep the night before, the head kept spinning and dreams full of numbers and math problems, completely wired all night. I'm sure the espresso with brandy I had early evening had nothing to do with it :)

I had registered for the event earlier in the month and a couple of days before I had commited to be a good SFR host and "guide" Ana Helena, A randonneuse visiting us from Brazil, to the start of the event. She was staying a couple of blocks from my place on the way to the Bridge. Had I not told Ana I was going to show her the way I would have stayed home inside the cozy sheets.

My plan was to get ready as if I was riding but just take Ana to the start and then come back home to continue napping. However once we started rolling I started feeling better, by the time we arrived to the Golden Gate Bridge I was almost ok. I signed up my name on the box and that was it, I was doing the 200k.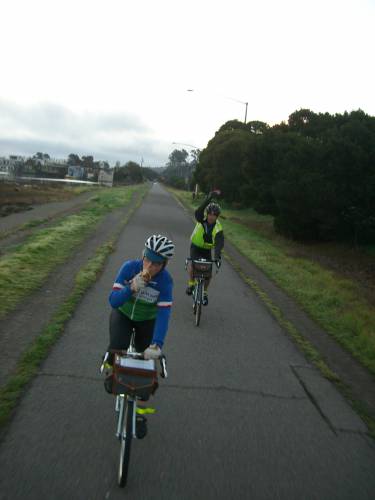 We started right on time at 7:00, a few riders ahead of me saw the "no bikes beyond this point" plastic sign they use on the Golden Gate Bridge sidewalk approach and thinking the East sidewalk was indeed closed to bikes opted for taking the West side sidewalk. Me knowing the East sidewalk is open to bikes 24 hrs a day and whoever is in charge to remove the signs usually forgets to remove them, decided to go straight and into the East sidewalk, I think all rides behing me did the same and save us a little effort.

I was as most of the time riding at my own pace, not trying to race anybody or push my heart rate much above 140 bpm which it is a very comfortable pace for me and one I can sustain for many hours. On the back of my head I was wondering how the lack of sleep would affect me later on the ride. I have been consciously eating more veggies and drinking less wine plus doing a one hour ride with about 700ft of climbing four times a week and a longer 80-100 mile ride on Saturdays and I have been feeling much better when riding.

Many familiar faces on the group I was riding with, some fast riders too. On Camino Alto the first hill of the day, a few riders passed me but I kept my steady pace. Throughout all this Jack H. and I were maintaining a similar pace and found ourselves riding together to Inverness where we were absorbed by a larger group with yet more familiar faces.


The Inverness ridge hill broke the group of 15 or so riders, I stayed towards the back but then on the downhill connected again with the help from Mark A. Now a small group with Masa K, Toshi T, Theresa L, Tom H, Ken E, the Forsman team and others moved a little faster than my comfort zone. I slowed down a little and continued riding 5-30 yards behind them. We all got to the Point Reyes Lighthouse control within minutes but some of them did very quick stops.

After my average control stop I headed out right behind Todd T. There were a few picture perfect spots but the camera decided it wasn't gonna work and got stuck with the lends extended; inside the backpack it went.

I had been seeing familiar faces riding on the opposite direction many hi and hola! to my friends. Then I heard a familiar voice behind me, it was Bryan C. We chatted and rode just behind Todd for a while but I slowed down and Bryan went on ahead and joined Todd. I could see them in the distance.

Descending the Inverness ridge into the Tomales Bay was fun and I was surprised when I saw Bryan, Ken and his riding partner (never got her name) stopped on the side of the road. "You guys did not have to wait for me" I kept moving and they were right on my tail. We rode together to Point Reyes Station and at the little hill going out of town I told them I was gonna slow down again. We rode within 100-200 yards all the way to near Marshal where I cached up. Bryan was already on line in the store getting his receipt/proof of passage.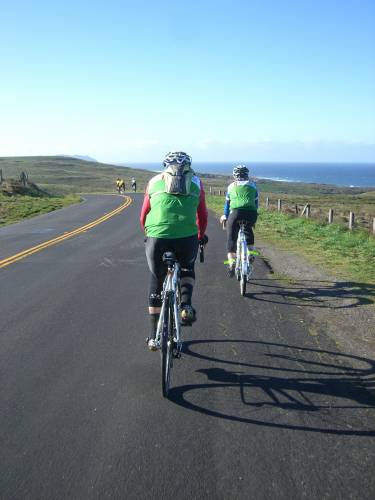 I tried to be quick and got a soda and drank an Ensure I had brought, that would be lunch. When I was getting out of the luxury chemical toilet on the side of the building, Bryan was getting ready to leave too, he asked if I was leaving soon. We left together just seconds after Todd and connected with him a few miles later but the pace was a little faster than what I was comfortable at the time and let them move ahead. Again I could see them in the distance. A group of three riders passed me and then they connected with the others.

By the time I was getting to the Nicasio reservoir I was very much riding alone but feeling fine. Right after the town of Nicasio and way ahead on the distance I could see a rider, it was Todd. It was a little after 2pm and I knew 2 hours to the final control was very doable for me. I caught up with him right after the turn into Sir Francis Drake, that flat and boring section that lead us to Fairfax. We chatted a little and rode together to the bottom of the Camino Alto hill where it was his turn to slow down. I moved on at my pace and on the other side of the hill I connected with Bryan and the other 3 riders.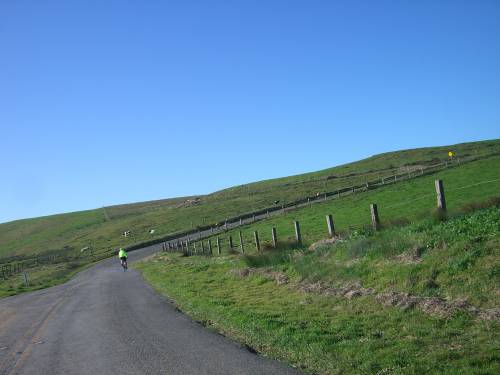 The flat miles to Sausalito where a welcome rest and on approach to the bridge I was feeling ok climbing at my pace. The group climbed faster than me but I was still doing a steady pace, my pace. Once on the Golden Gate Bridge sidewalk I could not see them but I was less than 2.5 miles from the final control on the Bridge Plaza on the South end of the bridge and junk food was waiting for me.

After 8:56 hrs was done and signing in the dotted line and entering the final details on my brevet card. John P was volunteering and handed me a beer which I complemented with coffee, Oreos, pretzels, chips and other brevet delicacies we, San Francisco Randonneurs, are accustomed to. It was a good ride and my fastest time on this route so far.

I guess the change in diet (more veggies) cutting the wine consumption and short daily rides keeping the heart rate to a comfortable ~140 bpm worked well for me. Let's see if I had the discipline to keep that regimen for the upcoming SFR Russian River 300k.
(First posted March- 4-2013 at 11:06 pm)
No related pages or links.