Photos - Gear used or tested (First posted January-24-2007 at 05:35 pm)
Photos - Gear used or tested (First posted January-24-2007 at 05:35 pm)
I use whatever appeals to me sometimes I love my choices sometimes I end up returning things after they don't work for me as I expected. However my needs and taste change as I move from one cycling state of body/mind to the next.
Picture: 19 / 21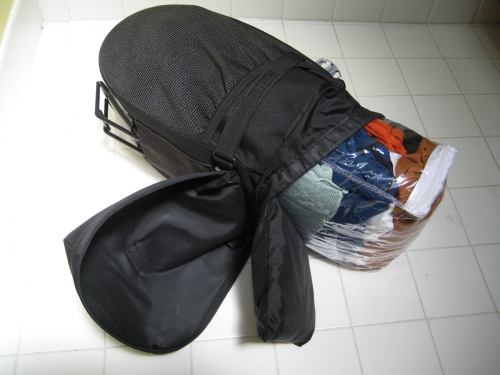 Carradice Trax SQR bag
I bought this bag to get rid of the rack when touring. I like it. It has more than enough capacity for my style of touring and secures easily to the seatpost. Also can carry up to 20 lbs so that means I can place a tent and sleep pad on top using some straps.

Here shown the way I pack things for a 3 week vacation. Clothes inside one of those plastic bags where queen-size bed sheet sets come in. It makes packing easy, can separate clean form dirty, can see what is where at a glance and fits perfectly (with room to spare) inside the bag. Sometimes I put things before the plastic bag and also after so that creates three section inside the Carradice, easy and convenient packing.

That extra "flap" between the plastic bag and the bag lid is a fabric pocket where I carry my silk sleeping bag liner.

The side mesh pockets can accomodate many different things and offer a great place to dry clothes while riding. There are velcro straps at the end of the mesh pockets usefull to hold flip-flops in place. There are also a set of D rings to help straping things to the bag. On the closing flap there is a place to slide a rear blinkie and the logo is made on reflective material

Much to like about it. About the only think I don't care much for is the screws holding the wire harnes you see there rusted after a tour on the very humid Caribean but those can be replaced with stainless ones easily.

(First posted January-24-2007 at 05:35 pm)
No related pages or links.