Touring Write-ups (First posted August-23-2006 at 11:26 pm)
Touring Write-ups (First posted August-23-2006 at 11:26 pm)
by Carlos on 12-Aug-13 17:39
It is Gabe's fault. He came up with the idea of making a camping trip of the return from Cloverdale after riding the day before SFR's San Francisco to Cloverdale 200k. As usual I tried to pack light, the one person tent hanging from the handlebar, and the Carradice Trax on the seatpost. Total weigh not much more than 13-15 lbs (including sleeping pad/bag) Since we were doing the 200k brevet of the SFR Double Brevet Weekend we could send small drop bags in a car instead of having to carry our stuff from San Francisco to Cloverdale. No shame in sending stuff ahead to the actual camping trip start.
The 5 of us shared the room Juliayn had reserved at the Best Western in Cloverdale. I chose to sleep on the floor rather than share one of the queen size beds. I had a good night sleep.
DIA UNO
Next morning after riding the San Francisco to Cloverdale 200k we got up with the rest of the riders who were doing the Cloverdale to San Francisco 200k and had the continental breakfast offered by the motel, not bad. At the breakfast room, the Tour de France was on the TV, to my surprise a Colombian rider was doing quite well, Nairo Quintana. When we were done eating I grabbed an extra pastry for later on the day, this would affect my trip on a big way. More later.
Ok we are ready to go right? No! we are going for breakfast at the Owl Cafe! What? we are gonna be leaving supper late and it is gonna be a scorcher today! We'll pay later for it. We walked a few blocks to the cafe and each one of us order some pretty substantial breakfast. While we were having the second feeding of the early day, SFR riders went by, it was nice seeing a long line of geeky looking distance riders moving.
We left the Best Western at 9:40am, It was getting warmer. Going up on Hwy 128 there was a significant amount of traffic considering it was a Sunday, not excessive but more than I am used to. When we got to the top of Hwy 128, where we were regrouping, I noticed I had forgotten to start the GPS, oh well I'll do it now.
From the top of the hill down to the Andersen Valley we spread out. I rode near John who was carrying his whole house on the panniers. It was a wonderful clear day...
by Carlos on 04-Jan-10 13:04
Bali was a very nice place to visit and ride our bikes. We had our share of small problems but it was all due to our carelessness. Would I go back to do the same tour around most of the perimeter of the Island? Sure but there are too many other places I want to go to first.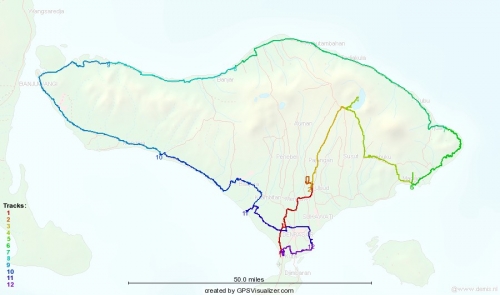 We rode 405.86 miles (653.17 kms) mostly around the perimeter of the island, spent about US $100/day for the two of us including hotel food and the obligatory beer/drinks. Stayed in decent hotels (US $40-130) whenever possible not ever knowing where the next hotel was going to be, just the way we like it. I think it is important to point that Bali is one of those places where you can find hotels/resorts that charge many hundreds and thousands of dollars per night so if you are into that kind of spending you'll not be disappointed, it pays to compare a few places before you decide where to stay that night, just walk into the reception and inquire for their best deal. BTW most hotels include breakfast in the price quoted.
It has been more than a year since we went there and the more time goes by the more I miss it. IMO Bali is a wonderful place to ride a bike and travel.

by Carlos on 04-Aug-09 07:27
This witing contributed by a Colombian who preffers to remain annonimous. Here is a recollection of a trip to that forbidden island: "Most people you talk with complain of hard economic living conditions and quietly express dissatisfaction with current conditions. However, to have a sincere conversation with people it helps to be fluent in Spanish. People tend to disclose more to other Latin Americans. Keep in mind you and the person you are talking to can easily get into trouble if a third party is listening for tongue slips. MAY 01 Cancun The flight left late so not much sleep, we arrived in Cancun at 4PM, reserved a Hotel at the Airport just after picking up the luggage and bought a bus ticket to Downtown Cancun for 35pesos/30 min. The Hotel was OK. After a shower we left for food/beer and ran into Nicole a nice young woman from Portland who we had met on the bus from the airport, so we invited her to join us for dinner. MAY 02 Cancun Cancun Woke up at 7:30 walked to Divermex (www.divermex.com) the travel agency where we had quoted tickets to Havana some weeks ago. While we waited for Divermex to open, we ate breakfast at the small plaza inside the mall and went to quote tickets at other travel agencies. We bought the tickets from Divermex as they had the best price. While at the travel agency we saw a mouse inside the office, one of the few guys in the office armed himself with a broom and with a little help from everyone to locate the mouse he was able kill the poor thing. On the way back to downtown Cancun, we stopped at a grocery store to buy snacks; it was a bit expensive for such a big popular market. Then we went to an internet cafe and then to the pool, nothing extraordinary. Later that day we checked out the Post Office and found a lame place to buy crafts (artesanias), it was a super tourist oriented market. We ran into Nicole after lunch, she had found a good hotel deal at Cancun.com. Later that evening we found out our hotel had a nice quiet bar hidden in a corner next to the lobby, we hung out there listening to music for a little bit. MAY 03 Cancun/Havana Woke up to no water in the hotel. After breakfast we went to the post office to mail an express package to the US ($160 pesos, 8 days) and then we went back to check email and shower. We checked out of the hotel and took a cab to the airport. The travel agency had told us to look for their representative near the airline counters at a specific time; we waited for a while until he finally showed up, late of course.
by Carlos on 03-Sep-08 13:46
I ussualy don't like to re-post stuff somebody has written/posted somewhere else; that is, a short summary of somebody else's blog, don't see the usefulness to that plus I try to keep this site with as much "original" content as possible. However here is a piece I can't pass as it touches my roots.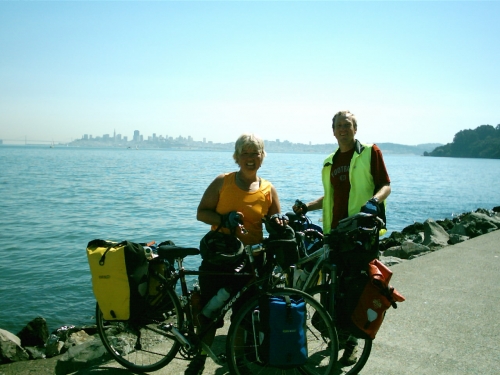 Back in September 2006 Monica and I did an overnight bicycle tour to Point Reyes. On the way back to San Francisco we meet Randy and Nancy, who were cycling from Alaska to Patagonia. Being Colombian I asked them if they were planing on riding through the country and they said said they had considered it but it seem it was to dangerous and probably would fly from Panama to Ecuador like most people do to avoid what in the US is known as "one of the most dangerous countries in the world".

I told them there was to much misinformation about Colombia and that they probably would be safe. However like with any foreign land just use common sense. I know I would not like to be caught in some San Francisco (my adopted hometown that I love) neighborhoods at night, same principle different country.

I remember receiving email from them early this year (2008) letting Monica and I know they had decided to ride in Colombia, I gave them the contact of a friend in Bogota but it seems they did not go to Bogota (IMO, a huge cosmopolitan metropolis in the true sense of the word.) Just today I came across one of their old emails and decided to visit their website and find out how the Colombia segment went. They have plenty to write about their experience in Colombia. For those whith short attention span here is Nancy's summary of their experience in Colombia. Their writings describe very close the country I know and how people behave. Believe me interesting writing not just of my home country but of all other places they've been.
by Carlos on 05-Sep-07 14:01
Greg, Jim G and I started riding from the Golden Gate Bridge a little latter than planed, somewhere past 8:15 am. Our route, proposed by Greg, used roads that I am familiar with but rarely ride, quite nice for cycling, with very low car traffic and great scenery.. This is the way we took to Bodega Dunes.
(First posted August-23-2006 at 11:26 pm)
No related pages or links.