Generic Nagging & Bitching (First posted December-27-2006 at 01:57 pm)
Generic Nagging & Bitching (First posted December-27-2006 at 01:57 pm)
by Carlos on 29-Apr-14 11:30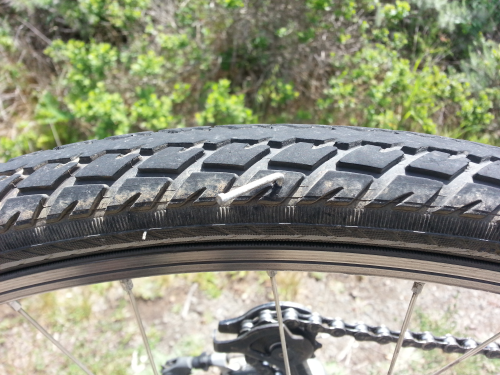 Not way my tires could stop this nail, probably not any other bicycle tire would have. My Mixed Terrain tires of choice nowadays are this CST Corporal 26x1.5" (40mm) and are pretty good compromise between rolling resistance, traction on gravel and weight (~550gms); plus they are very sturdy, cheap (~$15) and last me at least a good year mixed terrain riding (~2500 miles)

Somewhere in my weird objects drawer I have an even larger nail my tires collected elsewhere but I forgot to preserve in a post like this one...
by Carlos on 18-Sep-13 11:37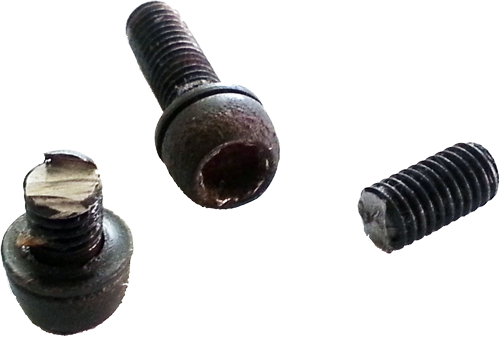 My aheadset had a little play so I needed to adjust the stem load unfortunately when I went to remove one of the two old M5 screws holding the stem to the steerer tube one of them was in such bad condition that the allen wrench spun inside the socket, stripping the head, ah crap!

BTW, the stem's two screw holes go all the way thought.

Let the adventure begin.

1- Bought a screw extractor at a Hardware store by my place. Used one of my regular metal drill bits to create a pilot hole to insert the screw extractor. The extractor went in fine but...
by Carlos on 04-Mar-13 20:07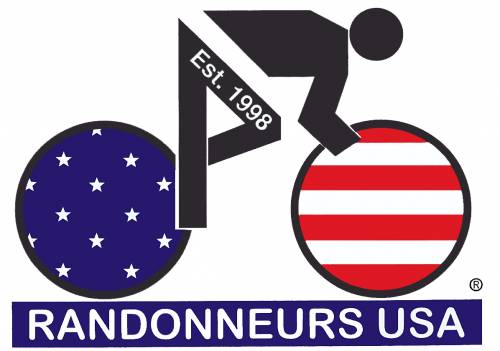 Current RUSA logo
This beauty has been in use by
RUSA
since the very beginning, I think. I have always thought it is as current as the cold war, pay phones and VCRs and pretty as the back of my stove. My intention with this comment is NOT to offend whoever came up with the logo above but just to express how I feel about it.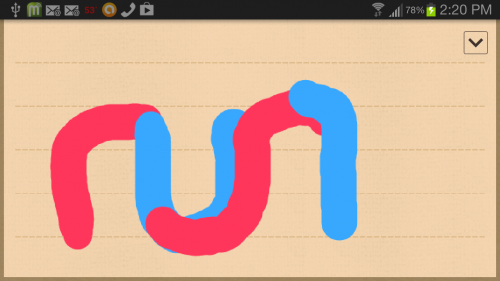 A rough idea for a RUSA logo
Too much time in my hands? One day while waiting for a riding partner to arrive I started playing with the memo app of my Galaxy S3. This is the raw idea I came up with. A concept for a RUSA logo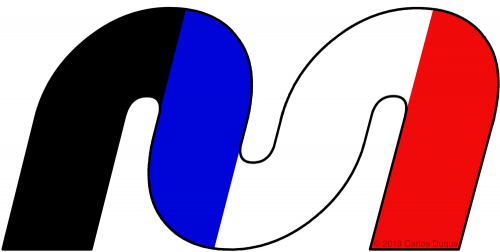 My version of a RUSA logo
On a slooow morning, I came up with this RUSA logo,
(© 2013 Carlos Duque)
What do you think? I have never purchased anything with the RUSA logo on it as I think it is the ugliest thing. This one can be easily be reproduced as a reflective patch and also lends itself to be used in the same way as the current (uggly) one. Want to attract new riders, young riders, more women? Perhaps an update to the image is in order? PLEASE RUSA
powers that be
, would you consider changing that ugly thing with anything else? Does not need to be mine above but anything else that looks better than what you use now.
Oh yes many would feel my version is worse than the current one and I am perfectly fine with that
, create your own new version and let's move this idea of changing RUSA's anticuated image.
BTW if you, RUSA, want to use my logo design all you have to do is ask and I'll give you all use rights.
by Carlos on 12-Apr-11 19:20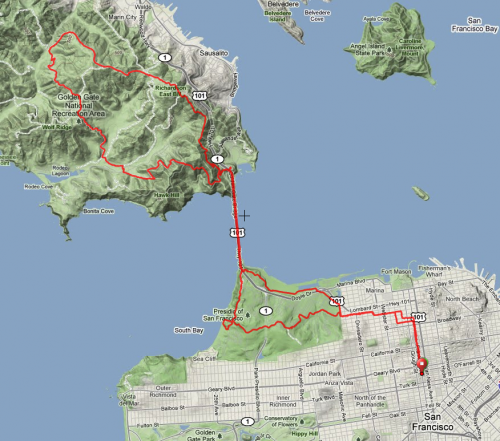 A busy month this one is. This past weekend I did the SFR 400k workers ride and had a hard time because my body has been feeling drained of mojo, but after what felt like a very short week it was Saturday again and it was my best chance to squeeze in a ~26 mile run this month. In the evening I would be fulfilling my volunteer duties during the four hour (10:00pm to 2:30am) first shift of the final control of the SFR 400k. I better get my things ready and leave.

Very conservatively I ran to the Lombard@Lyon Presidio gate and then continued to do a small 5 or so miles on the trails before heading to the Golden Gate Bridge. This loop added more climbing than what I wanted but it was a nice break from running on the streets. I went up Arguello and then followed Washington to a place where there are stairs that connect to the Sand Ladder that descend onto Baker Beach. From the beach I came back on a connector to Lincoln and then continued to the bridge on other trails, very nice route that I usually do starting from Crissy Field. In my head I had added 2 miles to the route, so I would not need to run to the beach and back from the Tennessee Valley stables...
by Carlos on 24-Mar-11 16:25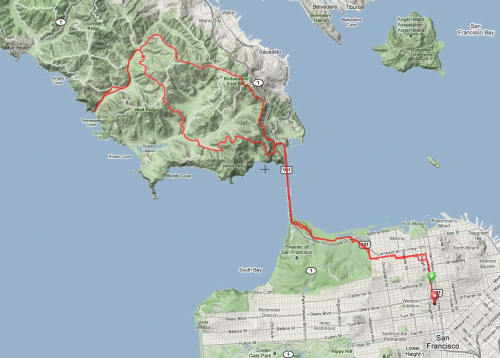 On my quest to do one self-organized marathon per month finding the time to fit it into my schedule has proven to be as hard as running the 26.2 miles. I had set aside Sunday March 20th to do it but when the weather forecast changed from Saturday will rain but Sunday would be *really * awful, I decided to change gears (and sport) and do a ride on Saturday and no activity on Sunday. So Saturday morning came and Greg, Robbins and I embarked on a wet loop from the Golden Gate Bridge to Tiburon and back, nothing special but just a showery ride with friends, after all Sunday was going to be horrible. What-do-you-know Sunday came and after an early morning shower the whole day was great, sunny, not much wind and temperatures in the 50's. It was too late for me, I had already made plans, no running for me on this day.

Next decision was how to fit a Marathon and a decent bike ride in the next week. I'll be doing the San Francisco randonnurs 400k brevet workers ride in two weeks so I need to put some good miles on my legs, hopefully on the weekend before, that leaves no weekend day open for a marathon. I think it would be too much to do both a 26 mile run and a ~90 mile ride on consecutive days. I needed to run during the week. We were having contractors working on our kitchen one day so I decided that was...
(First posted December-27-2006 at 01:57 pm)
No related pages or links.