Photos - Gear used or tested (First posted January-24-2007 at 05:35 pm)
Photos - Gear used or tested (First posted January-24-2007 at 05:35 pm)
I use whatever appeals to me sometimes I love my choices sometimes I end up returning things after they don't work for me as I expected. However my needs and taste change as I move from one cycling state of body/mind to the next.
Picture: 15 / 21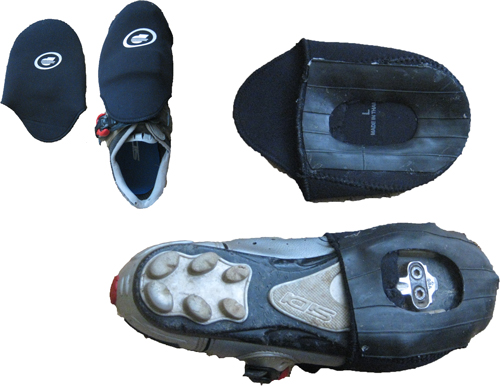 Toe covers with tube soles
I got tired of seeing the poor neoprene toe covers got their soles chewed so ask Mike at Black Mountain Cycles if he had a discarded/damaged 2.1" tube I could have (I use narrower 1.5" tubes) for my experiment. Made a template cut the tube and glue it with fabric grue to the neoprene. Perfect! a little more durable grippier sole.
(First posted January-24-2007 at 05:35 pm)
No related pages or links.