Photos - Gear used or tested (First posted January-24-2007 at 05:35 pm)
Photos - Gear used or tested (First posted January-24-2007 at 05:35 pm)
I use whatever appeals to me sometimes I love my choices sometimes I end up returning things after they don't work for me as I expected. However my needs and taste change as I move from one cycling state of body/mind to the next.
Picture: 21 / 21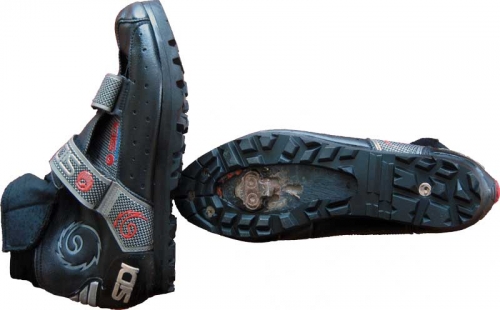 Sidi MTB Storm boots resoled
These Storm (I think that was their original name) boots had a bright red sole that was getting brittle and disintegrating but the upper part was still perfect so before going and spending $200+ on a new pair I took them to a cobbler near my work and explained what I wanted. He showed me a couple of Vibram soles and we agreed on a style and price, $40.

When I pick them up he had used a different sole but I was happy with the result. All I cared was that the cleat was a little receded and that I could walk a little on them, just like the original sole. That shiny thing on the heel is a rivet to help the sole glued to the shoe

We'll see how long the sole last or if it stays glued but for $40 I think I'll get at least another season out of these boots so I am happy.
(First posted January-24-2007 at 05:35 pm)
No related pages or links.