Photos - Gear used or tested (First posted January-24-2007 at 05:35 pm)
Photos - Gear used or tested (First posted January-24-2007 at 05:35 pm)
I use whatever appeals to me sometimes I love my choices sometimes I end up returning things after they don't work for me as I expected. However my needs and taste change as I move from one cycling state of body/mind to the next.
Picture: 6 / 21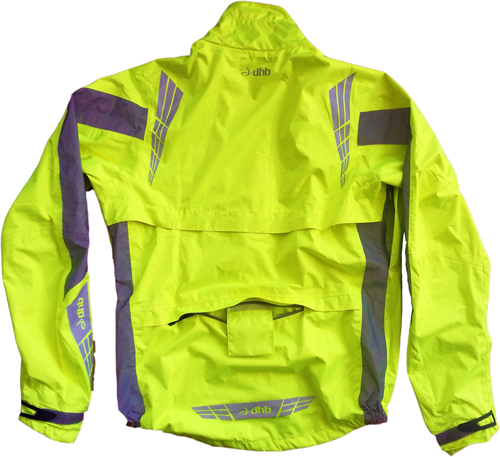 dhb Hi Viz Waterproof jacket (back)
That little extra pocket coming out of the inside of the larger pocket is for small items, probably keys but it does not have velcro or any other kind of closure. The pockets in the front and back are not mesh in the inside but just more of the same waterproof material. The high collar is lined with fleece. Sleeves are long and have adjusting velcro thinggies. The general fit is "road" or in other words on the narrow side. I am able to wear mine very comfortably with 4 layers under it (compression synthetic long sleeve jersey, short sleeve wool jersey, long sleeve wool jersey and ripstop vest.)
(First posted January-24-2007 at 05:35 pm)
No related pages or links.