Photos - Gear used or tested (First posted January-24-2007 at 05:35 pm)
Photos - Gear used or tested (First posted January-24-2007 at 05:35 pm)
I use whatever appeals to me sometimes I love my choices sometimes I end up returning things after they don't work for me as I expected. However my needs and taste change as I move from one cycling state of body/mind to the next.
Picture: 8 / 21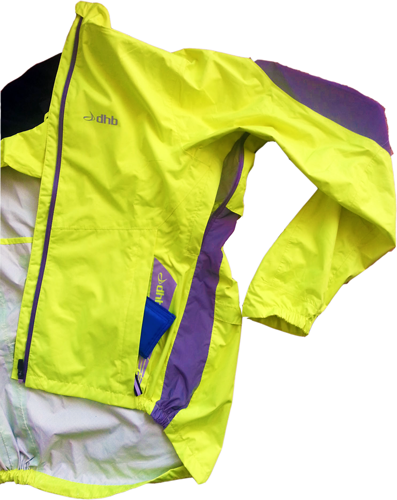 dhb Hi Viz Waterproof jacket (Front)
This is the house brand of the UK's wiggle.com This waterproof jacket is freakingly bright. The photo does not do it justice. It has big reflective stripes on the sleeves, sides and front; unlike other waterproof jackets I have tried it does not get too clammy inside (still to me no waterproof jacket will breath enough regardless what the manufacturer claim and all of them feel clammy during high activity) and it cost a reasonable ~US$77. Good deal.

Has 2 front pockets (see the wallet halfway out) and another rear zippered pocket. Also long under arm (pit) zippers and a large ventilation opening on the back. It weights 387 grams on my scale and packs, without trying hard to about a 11"x3" roll. IMO, good randonneuring gear. The one thing missing is a double zipper on the front but I think the price and other features compensate for that omission.

The zippered front hand pockets are a great addition to keep hands warm. When the zippers are closed, the pockets stay very flat and don't seem to add any bulk to the front or side profile.
(First posted January-24-2007 at 05:35 pm)
No related pages or links.