Photos - Brevets and Preparation (First posted December-18-2006 at 05:35 pm)
Photos - Brevets and Preparation (First posted December-18-2006 at 05:35 pm)
Picture: 8 / 48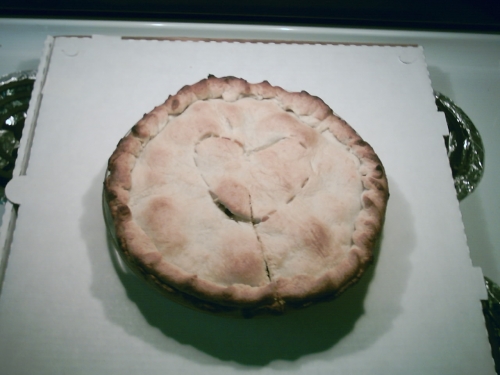 An after-century "Love pie"
At the Mill Valley bottom of Camino Alto I called the lovely wife to let her know I was about 1 hour away and if she could order some "after ride" comfort food, as she always does. She usually orders a clazone and they are very good but I was in the mood for something else

Got my phone out while waiting for the light to turn green and as soon as she answered I said "Don't want calzone, I want Thai", she complained and something came out of her mouth to what I responded, "yes Thai" I hung up quickly and continued towards home.

Here is our convesation once I got home:

- wife : You know, I was getting ready to take a nap when you called and couldn't because I had to bake your stupid Pie.
- me : What pie?
- wife : The one you asked for
- me : I said Thai you know like in Thailand!
- wife : Ha, ha, ha and I made a stupid Love Pie go check it out!
- me : Ha, ha, ha, Love you!

PS: Yes that is the calzone box under the Love Pie
(First posted December-18-2006 at 05:35 pm)
No related pages or links.