Photos - City, Bridge and other riding (First posted September-12-2006 at 11:59 pm)
Photos - City, Bridge and other riding (First posted September-12-2006 at 11:59 pm)
Picture: 10 / 11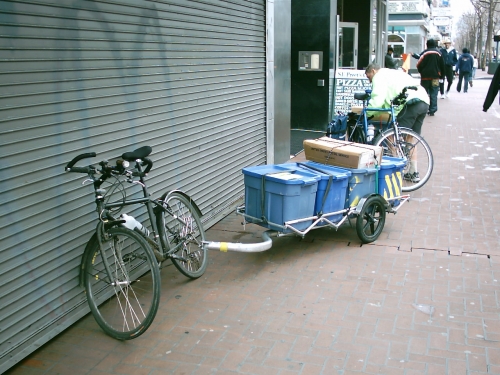 SFBC Post Office run
Whenever I can, I volunteer to take the San Francisco Bicycle Coalition (SFBC) newsletter to the USPS Processing and Distribution Center in the Bayview district.

The good folks at the SFBC have this really cool trailers that can carry many bins full of pre-addressed newsletters. Today's run it was just two of us, 2 trailers and 7 blue bins. I understand the SFBC has a little over 5000 members so I think there are about 5000 newsletters in those bins

Here is my beloved Miyata, still dirty form last weekend's adventure, ready to roll from the luxurious sidewalk at Market and Six St. in downtown San Francisco

Riding with such a long load requires some getting used. Once you get moving and start chatting with other riders you forget you have a looong trailer behind you. Actually today on the way back and with empty bins, I clipped with the right axle bolt (going around an obstacle) the edge of one of those electric boxes at the bottom of a light post and went down. No to hard, just the ego got dirty this time. Still, when I have the time I am more than happy to do this trip hauling trailers on city streets.
(First posted September-12-2006 at 11:59 pm)
No related pages or links.