Photos - Not Really Bike Photos (First posted February-20-2008 at 02:43 pm)
Photos - Not Really Bike Photos (First posted February-20-2008 at 02:43 pm)
Photos somewhat aligned with the rest of this site content but not necessarily bike-only related


Picture: 7 / 8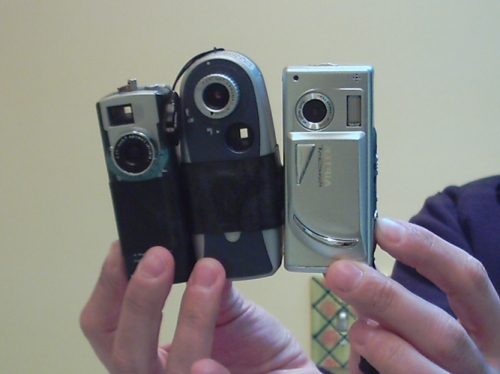 Pencams
Left to right: Pencam 1.3, Pencam SD and Pencam X.

That black band around the first two is just a piece of tube to provide grip while riding and protect the USB port on one and the shooter button on the other.

The new Pencam X has a sliding door that protects the lens and serves as an on/off swich (covered/uncovered)

This photo was taken in front of a mirror with the Pencam X.

A week or so ago JimG had emailed me to ask me if I wanted to get a new Pencam camera, sure why not. I have been using the Pencams for about three years to shoot photos during bike rides. In fact probably 99% of the photos on this website were shoot with one.

I picked up the Pencam X camera and next morning went on a ride on a sunny day. Shoot a bunch of photos during that ride. Came home plug the USB cable that came with the camera into the old Powerbook and bam! iPhoto opens and recognizes the camera, no software installation needed. This is a first for a pencam, they always required third party software (macam) to work on Macs.

The 2 MP camera gets better color than the old Pencam SD and it has a little color screen to preview photos, a flash and also a microphone so movies now can have sound. I think battery life would suffer but only more extended use would tell. Nice new toy for about $30 (tax, shipping and a 512MB SD card included)

I turned the flash off and so far the batteries have survived 30+ photos and 4 days idle in the backpack.
(First posted February-20-2008 at 02:43 pm)
No related pages or links.