Review of the GlobalSat GS-580P bike computer (First posted July- 5-2012 at 07:48 pm)
Review of the GlobalSat GS-580P bike computer (First posted July- 5-2012 at 07:48 pm)
So far I am very happy with my new GS-580P bike computer.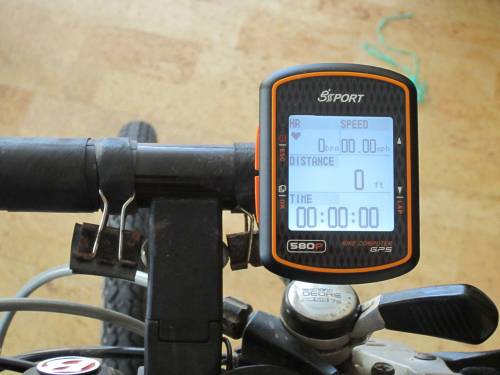 I have never used a Garmin Edge 500 but a couple of riders I ride with have them and they are happy with them. From the research I did before jumping into the GS-580P, most of the comments comparing this device with the Garmin were done by people who have not used or even seen the GS-580P in person. If I was considering getting a similar toy I would definitely buy the GlobalSat GS-580P over the Garmin or the Timex; can't go wrong with the GS-580P for the price, features and a company that listen its users. I can live with the not so great user manual, heck prefer a more user friendly manual? Download the Timex Cycle Trainer user manual, seriously, it is a better written manual with easier to understand instructions and believe it or not ALL instructions and information in it apply to the GS-580P. If you are brave you can try flashing the GS-580P with the Timex Clycle trainer firmware to see if that works; in theory it would make the device recognizable by the Timex software that is Mac compatible. I may try that one day when I grow up... but not today. Anyhow me likes my new toy. BTW, to my untrained eye this device is, judging by the online photos and even the screenshots provided in both user manuals, the same as the Timex Cycle Trainer but it seems they have slightly different firmware. I took some screenshots of my unit with random data in each screen just to show the way the fields are organized in the screen depending on how many items you want displayed. My biased first impressions of my GS-580P follow:
Pros:





Similar form factor to the Garmin Edge 500 and seems to do EVERYTHING the Garmin does for a LOT less money.
dx.com has a great price for the GS-580P, $167. $216 from Amazon (Amazon's GlobalSat GB-580F has the same features/sensors as the one from dx.com) they both come with Speed, Cadence and Heart Rate monitor strap and free shipping.
The Garmin Edge 500 with similar specs and sensors is $350 at Amazon.com.
The model I've got, the 580P, comes with a a Speed sensor, a Cadence sensor and a Heart Rate sensor/strap. The Speed sensor is very useful when riding trainers or rollers indoors or when you don't need/want to use the GPS speed information. Actually the Speed sensor probably can provide greater accuracy than the GPS speed data as you don't rely on being able to get a good satellite signal.
Can turn off receiving each different sensor data individually to save battery life. If Speed Sensor is off the speed is calculated using the GPS. The GPS signal itself can also be turned off.
Can upload a .KML (Google Earth format) file to the unit and then use the trackback function to follow the route backwards or forward. I have used this function many times, on and off road, and works very well. The unit will display a thick grey line with upcoming turns (see screenshot) that is very easy to follow. No map to follow just a line with turns but it works extremely well. Of course this feature works best with accurate GPS tracks. I have used files from online mapping sites like ridewithgps.com and also tracks created by my own GS-580P and other brands of GPS units.
Settings for 5 different bikes.
Manufacturer and its team of developers actually listen and consider improvements suggested by owners/users.
Can change many settings (but not all) using the included PC software (TrainingGym Pro).
Can do a backup of the unit settings to upload latter.
Great GPS accuracy and acquires satellite signal relatively fast, about 10-30 seconds on a clear day. At least at my place. Have not had the chance to use it starting at a different location.
4 customizable screens. Each screen can display anywhere from 2, up to 6 fields. A whole lot of data are available. Just to name a few: Distance, Speed, HR, Cadence, Elapsed Time, Slope, Altitude, Temperature, Pressure, Calories, Power, Lap, Pacer (Training partner) and great number of Averages, Max and so on for them (i.e., Average Speed, Max Power, HR in Zone, etc) See table below for listing off all available data for the custom pages fields.
Backlight for ease reading riding.
Support ANT+ sensors.
The Timex Cycle Trainer seems to be the exact same unit (at least on the outside) Accessories should be easy to find.
Easy to use during the ride.
Claim 18 hr battery life. I have not tested this yet. Charges using a USB cable. The specs list a Voltage of "3.7V for a rechargeable battery" and "5V for charging input" so if I am correct my crapy tiny iPhone wall chager (5V) would work just fine. I wonder if relying on finding a wall electrical outlet (120 0r 220 W) or USB computer port to charge it would be a workable solution during long brevets, probably not but definitely would work on many bicycle touring situations.
6000 Lap history, that is more stuff than what I can remember...
100 Waypoints. This may seem low but I'll need to experiment to see how far 100 waypoints can take me.
Built in Barometer for accurate elevation data. Can be turned off to rely on the GPS elevation info if wanted/needed. There is definitely diference between the elevation reported by a GPS signal and a barometer. When I rode to hills that have accurate known elevation on a map the GS-580P, using it barometer, agreed closely with the map.
52416 tracking points. The more often you record points the faster you'll fill up its memory. I set it to record every 3 seconds and it reports I would provide 40 hrs of data records (assuming you have enough battery life) You can set the unit to stop recording when you stop or when you reach a given speed or simply record as long as you decide to start recording.
Screen can be rotated to display in Landscape mode. The Bike mount is designed to take advantage of this and the unit can be mounted on the stem or handlebar in either Portrait or Ladscape orientation. Bike mount seems plenty sturdy
The overall construction for the device and accesories is a par with any Garmin or Timex device.
Cons:
The included printed manual is bare bones. A more comprehensive user manual in PDF format is included in the CD. However like I noted before the Timex Cycle Trainer manual is better written and all info applies to the GS-580P.
No Mac software. I installed the included software, TrainingGym Pro, under a Parallels virtual machine of Windows XP. For now, the only way to access and download/upload data from/to the device is by using Windows software. Mac users will need to to have an installation of Windows under Parallels, VMware Fusion, VM VirtualBox (open Source) or other similar beast. I tried Installing the software using WineBottler a wrapper for Intel Macs of the popular Linux utility Wine but since windows needs a custom driver to see the GS-580P, included in the CD, the program can be installed but it can not communicate with the device :(
The product developers are working on a solution for Mac and Linux users and it seems in the short term accessing the 580P as a mass storage USB device, just like a thumb drive, will be available. At least this way we would be able to download files. However as off today, July 5th 2012, that is just a promise but the manufacturer's developing team has a good track record of implementing the most popular users requests.
Timex software for the Cycle Trainer does not recognize the GS-580P. It seems the Timex CycleTrainer and the GS-580P units have different firmware and require different drivers. Again as I noted earlier I wonder if the GS-580P can be flashed with the Timex Cycle trainer firmware, then the Timex software, available for Mac, would recognize it?
Some minor firmware annoyances Like selecting Imperial units (Miles/Ft) for distance/elevation and the temperature being displayed in Celsious instead of Fahrenheit.
Uploading data containing Hear Rate, Cadence, Power etc. to websites like Strava needs additional software, SportTracks and installing 2 plugins for it ("Globalsat Device Import" and "export2tcx")
Only 1 bike mount is included. it attaches to the stem or handlebars with zip ties which is fine if you never need to move the mount between two or more bikes but with a single bike mount in the package a more user friendly way of securing the mount would have been nice.
Data fields available for the custom screens:

| Data | Description | Data | Description |
| --- | --- | --- | --- |
| ALTI MAX | highest altitude reached during this ride | LAPS | number of laps in this ride |
| ALTI MIN | lowest altitude reached during this ride | PACE | current time per mile |
| ALTITUDE | your current altitude above sea level | PACE AVG | average time per mile averaged over the entire ride |
| Asc SPEED | rate at which you are gaining altitude | PACE BEST | fastest pace achieved during this ride |
| CAD AVG | average RPM of bike crank | PACE INZN | amount of time spent in your pace zone |
| CAD INZN | amount of time spent in your cadence zone | PACER | amount of time ahead or behind your target |
| CADENCE | current RPM of the bike crank | PACER E | time ahead or behind the trainer Trainer distance |
| CAL RATE | number of calories burned per hour | PACER T | time ahead or behind the trainer time |
| CALORIES | calories burned | POWER | current power output |
| CUMULATE+ | total gain in altitude | POWER AVG | average power in watts averaged over the entire ride |
| CUMULATE- | total loss in altitude | POWER MAX | highest power in watts reached during this ride |
| DISTANCE | total distance traveled | PWR ZONE | amount of time spent in your power zone |
| HR | current heart rate | PRESSURE | barometric pressure at your current location |
| HR% | current heart rate as a percentage of maximum | REST DIST | distance to travel to achieve your goal |
| HR AVG | average heart rate over the entire ride | SLOPE | steepness of current path (positive indicates uphill, negative indicates downhill) |
| HR INZN | amount of time spent in your heart rate zone | SPD INZN | amount of time spent in your defined speed zone |
| HR MAX | highest heart rate achieved during this ride | SPEED | current speed |
| LAP DIST | distance you have traveled during this lap | SPEED AVG | average speed averaged over the entire ride |
| LAP PACE | average pace for this lap | SPEED MAX | fastest speed achieved during this ride |
| LAP SPEED | average speed for this lap | TEMP | current temperature |
| LAP TIME | time of this lap | TIME | time of day |

More Photos: GS-580P with backlight off, Speed Sensor, Cadence Sensor.
Other Notes: (To help me remember)
Adjust display contrast: Turn the device on by pressing Power/ESC and Down arrow/LAP buttons simultaneously.

Firmware upload failed and device won't respond? Press Power/ESC, OK and Up arrow simultaneously and for a few seconds. Then try again to upgrade the firmware.

Manufacturer's forum for the device: http://www.usglobalsat.com/forum/index.php?board=125.0
(First posted July- 5-2012 at 07:48 pm)
No related pages or links.