2007 gear reviewed (First posted January- 2-2008 at 09:48 pm)
2007 gear reviewed (First posted January- 2-2008 at 09:48 pm)

One more year of bicycle related purchases. I try to buy stuff only when I need it and keep impulse purchases to a minimum but from time to time stuff goes under the radar of common sense. Anyhow the purchases I made proved inexpensive and sometimes cheap stuff can also provide many smiles. Here are a few mini-reviews.

Aiptec Pencam: Another year for the Aiptec Pencam SD. This cheap camera has served me well. I take a lot of photos thus have lots of memories of many different rides. It is cheap enough I don't mind carrying it with me on every ride and droping it every once in a while. Yes the photo quality is not as good as other cameras but good enough for posting to the web and email. Better have that memory than none. Towards the end of the year I lost mine near a trailhead I frequently ride by, the same evening I received a call from someone who've found it, I had a label with my name and phone number. He put it on the mail and I send him a check for the value. The next ride I lost it again, this time for good. At $20 i did not mind that much, got a new one soon after.

Performance Chain length tool: I was a little skeptical about it but for $3, on sale, I thought, what the heck. Well I know I can measure a chain with any ruler but this little gizmo reduces the time needed to check chain wear to next to nothing. No need to squint to see numbers, align the ruler over the chain links etc, just put the tool on the chain and if both ends of the tool slide all the way down to touch the chain links fully it is time for a new chain. An easy go/no go inexpensive gadget that saves time and money.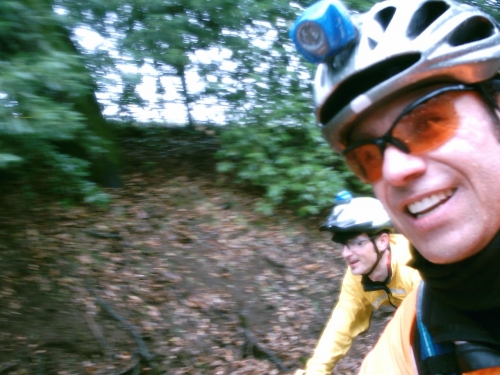 Performance Hekka sunglasses: This is a mixed bag. On one had these things are so lightweight and comfortable I forget I have them on, the lenses offer decent optics and they cost me about $20 (on sale) The bad thing is the nose piece came off a few rides after their first use and eventually I lost it. Got a replacement from a local Performance Bike store the first time, the second time I emailed performancebike.com and they sent a new one with instructions to supper glue it to the frame. I did it and it still there with no sign of coming off anytime soon. Also recently after about a year, one of the lesses broke one day when I was shaking water off them, the lens already had a crack and that is where it broke. They don't sell replacement lenses but I am sure a new email to customer service will result in a new lens. Luckily the first time I received a new nose piece form the store they gave me extra lenses. Their customer service and fit put these on this list.

Performance booties: When rain was forecast for the 2007 SFR 200k I went and got me a pair of these neoprene booties, they where on sale for $15 I think. They kept my feet dry and toasty for a long time. Cut the rubber sole to allow for cleat to engage the pedal and slide them over my shoes, that's all needed to have happy feet on rainy rides. During the 300k they came back to play, same result.

Sidi Catapult2 Shoes: Still the best performance/price shoes for my feet. My old pair, a first generation Sidi Techno needed replacement. I got a pair of a model I never heard of (Catapult2) that looks a lot like the Dominator (mesh) for about $110, they have only one velcro strap and one buckle but they fit just as well. I prefer mesh shoes over the full lorica covered version. I can always wear booties over mesh shoes to make them warmer but can't do anything about hot lorica shoes in a hot day. The fit of the Sidi shoes is the best for my feet, they are durable and they perform perfectly. BTW, I fill all little holes not covered by the pedal cleats on my shoes with silicone, this helps keep water out at least when sprayed from the road.

Dinotte 3W light: Lovely tiny 3 watt LED. Plenty of light for my eyes. The real test was during the SFR 400k where it lighted my way going up and down unfamiliar roads. With the extended battery pack I made for less than $5, the run time was extended to 4:30 hrs (on medium setting) allowing me to change batteries only once during an overnight ride. I have also used it on short (1-3 hrs) rides on and off road never a problem. This is also my commute to/from work light. A great all around little sun that is super easy to move from one bike to another. For brevet riding I combine it with another great light, the Princeton EOS 1 watt (see photo above) mounted on the helmet.

Carradice Trax SQR: I always liked quick release bags. I have a Topeak trunk that snaps onto a seatpost rack and Vaude handlebar bag that I used for touring; it is hard to beat the convenience of a quick release. The Carradice Trax SQR has just the right size for my overnight adventures and since my packing list is not much different when going on longer 3 week (but no camping) tours it was tested in a tour in the Caribean in 2007 where the roads encountered ranged from super smooth pavement to off road trails. A great bag for the type of use I give it. I think it would be too big for my style of brevets riding but for touring and commuting is great.

Jandd Mountain Wedge III: Got me this bag used from a reader of one of the mailing list I read every once in a while. Use it on the 2007 SFR 400k. It worked perfectly, it is larger than most seat bags and expands to fit a LOT of stuff. Lightweight and of apparent durable construction. This bag will be with me again on longer brevets. No rain cover but I figured a regular size plastic grocery bag covers it just about perfectly so that does it for me. Great bag.

REI Roadster UL 1 person tent: In 2006 got the tent with the intention to go on an overnight bicycle camping trip with some friends, did not do it, at least not with friends but with my wife so we took a different tent. This year I used it on two different overnighters. Perfect size for me, an average size human, has a rainfly/vestibule where I can store my gear, easy to pitch, breathes well and is not as clammy as a bivy tent. Did I mentioned it is very light weight and that I paid $40? Unfortunately they discontinued it, hope mine last for years.

That's it, my contribution to the consumerisms that drives about everything nowadays.
(First posted January- 2-2008 at 09:48 pm)
No related pages or links.