La Ruta Loca Randonnee 2009, 200k of Mixed Terrain (First posted July-16-2009 at 09:40 pm)
La Ruta Loca Randonnee 2009, 200k of Mixed Terrain (First posted July-16-2009 at 09:40 pm)
I didn't sleep well the night before thinking I was going to miss the alarm going off to get up, of course, I was very awake when the alarm went off, tired but awake.
6:00 AM and six of us started moving out of the Marina Safeway parking lot in San Francisco. The route will have us climbing 15,000 feet on its 129 mile course and from previous experience I knew it is a very though course, both physically and mentally. I knew I had to pace myself as if I was riding a much longer event. Jeremiah, Ernesto and Jim were riding cyclocross bikes, Charles a traditional frame with fenders and Greg and I were on mountain bikes. My tires as ussual cheap 1.5" hybrid ones, mostly smooth in the center with small knobs on the sidewall.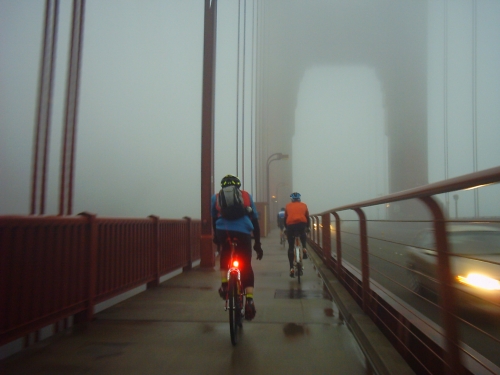 We rode as a group to the North side of the Golden Gate Bridge and then started climbing Conzelman where the group separated a little. I've done this ride twice before and knew all that climbing would take a physical and mental toll later on in the day so I was doing a comfortable pace. Ernesto, Jeremiah and Charles, all doing this route for the first time crested Conzelman ahead of me and then I joined them on the descent. They pulled away once again when we hit the Headlands fireroads, I was not going to chase them.
There was a rabbit convention going on in the Marin Headlands, I had never seen so many little rabbis jumping there. A foggy morning made for pleasant riding and the visibility was very limited so I could never see the riders ahead or behind me, the solitude was great. Once I got to Tennessee Valley the fog had cleared a bit and the first steep climb was just a mile away. I could see the leading group climbing a steep section of Coastal. Keep this pace, keep this pace.
The great ocean views the Coastal trail provides in this section were obscured by fog and I wished it had been a clear morning so riders could enjoy the views, maybe on the return the fog would be gone. I was feeling ok, not great but was not too tired and the nice downhill into Muir Beach kept me very awake. A couple of off camber turns helped with that.
I had my watch set to beep every two hours to remind me to eat, somewhere near (or in Deer Park, can't remember) it went off. This long steady fireroad is a nice climb that makes it hard to get to Pantoll in time before the "closing time" of that first Control. The closing time for the Control, according to the RUSA Permanent calculator is 2:32 after the start. I made it in 2:32:36 at 8:32:36 AM, is that considered within the closing time? Don't know but I told myself yes. While I was getting there I saw a rider leaving, I think it was Jeremiah. I got water, used the restroom and a very heavy breathing Jim arrived followed by Greg.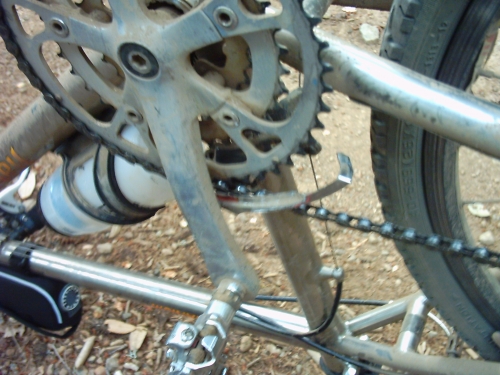 I left the Control headed towards Lake Lagunitas, all systems checked. That was until I rode a short descent section of Rock Spring Lagunitas Rd. Was descending fast and the chain jumped inside the front derraileur, did a double backflip and landed on its back I had no idea what realy happened, it messed the whole zen balance of things on the drivetrain. I tried to stop as fast as I could but the damage was already done. A broken front derraileur, a bent chain and a rear flat tire, nice work!
While working on my bike Jim came and offered some company and wipes to clean my greasy hands. I appreciated the gesture and let him know he did not have to wait there with me, but he mentioned he welcomed the break. Once I untangled the chain and bent things back into place the best I could I resumed riding. Fortunately, most of the riding to Lake Lagunitas was downhill; unfortunately, this was only mile 26 so I would have about 100 miles ahead of me to test my fixes.
The next Control was at Five Corners, a well known intersection of fireroads in Mt tam, I arrived way past the closing time of 09:36 hrs for this Control. It was 10:09 AM, still that did not bother me. My goal from the beginning was to finish the ride. Wrote the answer to my own question in the brevet card and moved on. I had been riding on the middle ring avoiding using the front derraileur at all cost and was not gonna change that... not!
The smooth paved Fairfax-Bolinas Rd climb forced me to go granny. If I wanted to save energy I would need to use the granny and that is what I did. Leg cramps where bothering me and at points I almost had to stop to enjoy the pain a little less. It was all fun still and Bolinas Ridge and its muddy fireroad was just waiting ahead. The weekend before we had ridden to the trail head with Greg and Jim, the fireroad was a mud festival and the fog had a steady rainforest mist keeping that mud fresh. I was prepared for mud today.
It turned out Bolinas Ridge (11:17 AM) was not bad at all today and actually quite nice for riding. I managed to ride this fireroad without pushing the drivetrain too much but cramps forced me to stop right after Shaffer trail. Less than 2 miles to Randall trail and they hurt. 11:55 AM I was at Randall, another missed Control time. A very fast descent onto the smooth pavement of Hwy 1 and I started pushing it a little to try to make the next Control at Black Mountain Cycles. On the way there we crossed paths with Jeremiah first and shortly after that Ernesto, both on their return from the Control. I was not that tired but the chain kept skipping and it was affecting the pace I could maintain.
I missed the Control by 17 minutes. At Mike's shop I took a "longer than I should have" break and visited with him and Sport, his dog. Had a cold drink form the fridge (thanks Mike!) and eventually left the comfortable environment. I crossed paths now with Greg and Jim who where at this point riding together. The ride to the next Control in Tiburon was very pleasant, I had managed to keep the cramps under control and the temperature was just perfect. However, I had not eaten lunch yet. I made the Control time at Tiburon (16:00 hrs), was there at 3:38 PM got a double espresso and ate half a burrito I had carried all day. Tourist everywhere. It was almost 4 pm when I left the comfort of the bench in front of the Tiburon ferry.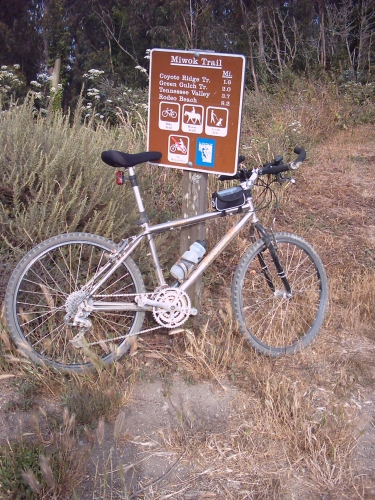 This next section proved to be the hardest for half the riders (3) It is pretty much flat but we pass by the Mill Valley bike path that can take a tired rider straight into San Francisco avoiding the last hilly fireroads, 30 miles. I learned Charles, Ernesto and Greg all decided to call it a day at the bike path. Charles rejoined the route further ahead in the headlands but missed the fun climb to West Point Inn and then Panoramic Hwy. Jim decided it was enough mid way the Paradise loop. At the time they all decided to detour home they were all riding alone, would riding in the company of other would have made a difference? maybe but the nature of this route makes it hard to stay together.
Got to the Railroad Grade fireroad trailhead and just moved on. Did my usual stop for water and a call to the wife (a physiological thing to hear her voice) and moved a little more, to reach West Point Inn, 5:17 PM. Write the answer to the question on the brevet card and move towards Pantoll. I am tired now and right after saying hi to a lone hiker I lost concentration on the next turn and let the front wheel skid, down I go. Not bad and I am not hurt, the bike is all fine but I can't get up, bad cramps on both legs prevent me from moving for a while. I remember Jim's wise words earlier on the ride "you should replace those tires soon", laugh a little and that allows me to get back on the bike.
On Panoramic Hwy cramps are now announcing their presence but I am too close to quit. On Shoreline Hwy the heavy traffic of cars returning home from a day on the beach provides some entertainment, I am moving in the opposite direction to find the Miwok trailhead, 6:07 PM. This section of Miwok traverses at a small grade and the view is nice. I know a sharp right turn followed by a steep climb is coming, I am prepared to walk it for the first time. Surprisingly I am able to ride the steepest part but loose ground and cramps force me to walk the last few feet.
Next Control on time and getting ready for the last two hills. I am at the bottom of the Miwok Stables and ready for more. The pace is now 5mph on the gentle hill. Got to the top where there is yet one more Control, 7:03 PM, from there I can see San Francisco, write the answer and off I go downhill, almost...until a roller has me suffering one more time. Now for sure downhill...till the last hill. Ahh the last bit of climbing and I come out onto Conzelman to a great view of The Golden Gate Bridge and San Francisco, 7:34 PM, a photo and the last push to the final Control.
At 7:44 PM I am at the south end of the Golden Gate Bridge with just a few yards to the Strauss Statue. Get a final photo and then ride to the end. I am done! I enter 7:47 PM on my Brevet Card. Rest a little, call the lovely wife to see if she minds picking me up, call Jim to see if he is still in the course but get voicemail and just wait for my ride to come pick me up.
129.6 Miles and 15000 Ft of climbing. Another good day on the bike, this never gets old.
Here are the finishing times sent to me:
| | | |
| --- | --- | --- |
| Beato | Greg | DNF |
| Duque | Carlos | 13:47 |
| Gourgoutis | Jim | DNF |
| Johnson | Jeremiah | 12:20 |
| Montenero | Ernesto | DNF |
| Pockell-Wilson | Charles | DNF |
Here is the map, GPS and some photos for the day.
(First posted July-16-2009 at 09:40 pm)
No related pages or links.