Si se Puede... LRLR 12.31 hrs (First posted July-22-2008 at 08:28 pm)
Si se Puede... LRLR 12.31 hrs (First posted July-22-2008 at 08:28 pm)
After the trail dust settles this ride would become one of my best rides ever, my best ride so far this year and definitely one of the most epic I have ever done. Yes I have completed several 200k, 300k and a 400k brevets but on those events I rode most of the time in the company of others on smooth paved roads and for the most part I never started on any of those events with an injury that would slowed me down.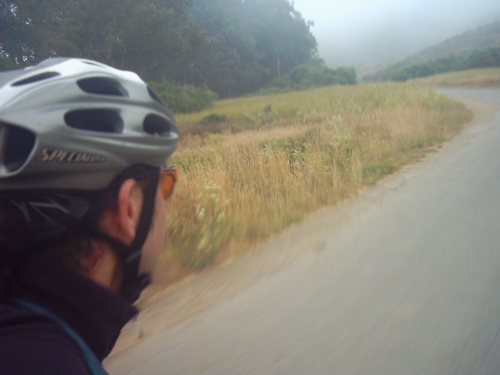 This route traverses nice country with great views and never takes the rider more than 20 miles from a metropolitan area. It feels you are out in the boonies but at the same time you know there are so many places, that in a weak moment one can use to cut the ride short. A good exercise of discipline and commitment. Not a ride for everyone but those who do it will surely remember it for a while. I am already planning my next run at it. But will not do it as long as the leg is not healthy.

At the end of the ride the weekend before Greg had asked me if I was going to ride my own scheduled La Ruta Loca Randonnee (LRLR). My first reaction was no. I could not imagine doing a 200k with so much climbing in the condition my left leg was. The last couple of weekends I had done two good mixed terrain rides but the leg still was bothering me a little. I could climb but it had to do it in 1-3 gears lower than I would otherwise normally do.

However midweek when Greg sent the email announcing he and Robbins were going to start I could not helped but feel bad and jealous at the same time. This whole thing was my idea, I had pushed for a while now the concept of having a 200k brevet done in mixed terrain. As crazy as it sound (thus the Ruta Loca moniker) it was a goal of mine to complete the route within the 13.5 hours time limit that is imposed on the regular and official 200k (paved only) events.

I committed myself to start and created a strategy of how to complete the route in the allocated time with a body that was not 100%. Rocket science was not, climb slow descend fast and keep stops to a minimum. I would need luck and determination to finish.

At 6:00 we started from the Marina Safeway in San Francisco. Robbins Greg and I rode pretty much within minutes of each other made it to Pantoll before the closing time (8:36 am) Heavy fog was the norm. Although this was not an official brevet I would keep mentioning closing times as if this had been a "real" brevet as that is the way I was ridding it.

After refueling water and having a little food we left but soon after the relentless climb separated our small group. Robbins went ahead, Greg and I rode together but he slowed down a little and I kept going at my pace. Going up Rock Spring Lagunitas I could see Robbins way ahead of me. The weather was now sunny and the temperature was quite nice, it helped it was still early in the morning.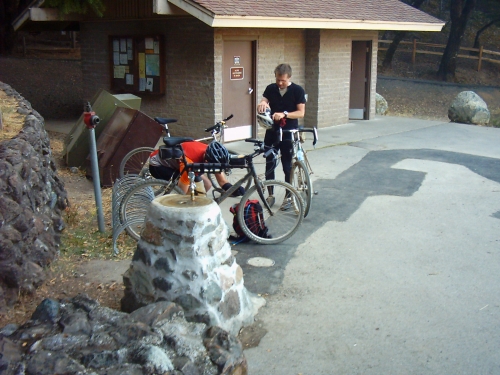 The leg was doing fine but I knew it was just a matter of time before all that climbing would start affecting my progress. Every little chance I got to increase my average speed I took. Descending to Lake Lagunitas I passed Robbins, we exchange heloo-oo-o-ws as I went by trying to avoid rocks and sandy spots, impossible to do in this section. He seemed to be doing just fine.

Before hitting the next paved section I stopped to refuel my water supply on a water fountain that exist on the trail and I had marked on the cue sheet. It seemed I spent a good deal of time there but neither Robbins nor Greg showed up. I started feeling something was wrong. Maybe they had taken a wrong turn, crashed or had a mechanical? Hope not. I learned later that Greg had stopped to help a guy fix his chain and then forgot to stop at the water source (and then had more trouble...)

A couple of minutes before 10 am I made it to Fairfax-Bolinas Rd and made another very quick stop to write down my time. It was late enough not many riders were going on the same direction I was traveling but many were already returning to Fairfax. It was getting warmer now and the half an hour it took me to get to Alpine Dam was just an advance of the climb ahead.

Another quick stop at the Dam for two handfuls of trail mix and back on the bike. Oh yes the leg made sure I remember I was not completely healthy, it complained some on the long way up to the Bolinas Ridge trail head where I got at 10:55 am, I stopped to write the time before this new section of trail riding. Bolinas Ridge was in good condition, at least the first half of the section we would be traveling. The second half was full of debris and dead branches piled in the middle of the fire road by human hands. It was hot now. Later I learned Greg had crashed in this section but fortunately nothing to bad according to him, He had a harder ride than I did.

Randall trail! it is all downhill from here! that is for 1.7 miles till it hits Hwy 1. I though I was burning the downhill but it was probably all in my head, still I was having more fun than usual fun and that was a big deal for me at this point. Taking advantage of moments like this helped me all day.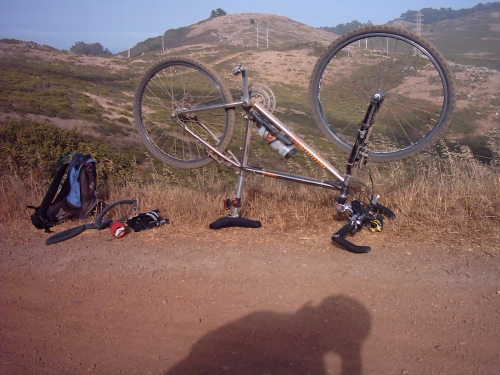 As far as I knew today Hwy 1 was the smoothest pavement known to man, riding it was effortless. When I got to Olema I just stopped to write down my time, 12:01, just minutes before the 12:12 closing time, and decided my carnitas burrito would wait until the other side of the hill, inside Samuel P. Taylor Park. My ussual stop at the park, in front of a restroom was being renovated and the bench outside was gone so back on the bike to the next restroom about a mile away on the same trail. Took a restroom stop refiled the water bladder and then found a place to sit and have lunch by the trail. Half a burrito and one of them 5hour energy drinks. I was ready to go again. Rode out the park on the short but fun fire road that parallels this nasty section of Sir Francis Drake. This is the way I designed the route. It may add a minute or two to the total time but it is so much nicer to ride there and that IS the route so I sticked to it.

The paved miles were so easy today. The closer I got to Tiburon the windier it became. By 2:37 when I got there (3:40 closing time) ts was very windy and the temperature had dropped a bit. Another quick stop just to write the time on my card. From this point I did not write any more times in the card. Just to exhausted to do it.

I crawled on the Old Rail Road Fireroad to about half way to the West Point Inn. I made another stop to make a call to the wife and hear other voice than that one of my body hurting and take a energy gel. That stop was a great idea. I felt energized again, still was pedaling at 5mph going up but emotionally I was feeling better. My leg was hurting when I pedaled in anything else than a very low gear. However I would not use my granny gear unless it was absolutely necessary.

Did not slow at the West Point Inn but just rode straight to Pantoll to do the last water stop. More smooth pavement for a while till I get to the next trail head. Miwok trail is so close to San Francisco I can smell the calzone at home. Put the vest on have a bite and move facing the strong head wind. More fun descending into the Tennessee Valley. Still is early but the progress is slow. I had to pause and take another energy gel before approaching the Marincello trail.

Time for the tire flat of the ride. At least it is sunny, I am close to home, know the trail and I need the rest! A photo opportunity, a quick flat repair and back on the bike. There is only one more hill between me and the finish. Fast downhill slow climbing and I am at Conzelman, overlooking the Golden Gate Bridge, lovely.

As I approach the South gate of the West GG Bridge sidewalk I take the camera out and shot at the clock that lives on top of the tool both. It reads 6:31 pm. My bike computer reads 6:30 I cover the last few yards to the Strauss statue and check the time on my phone 6:30 still. We'll call it a 6:31 finish, about 1 hour before the 7:30pm finish closing time .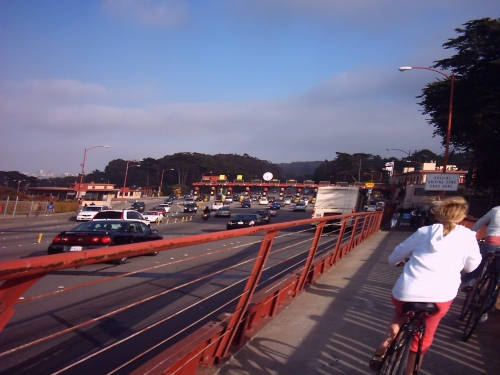 The bike computer told me I climbed near 15000ft. in 124 miles It felt like I rode a lot higher and farther than that but I am not made of chips and silicon so I'll take whatever the machine tells me. It had been a great ride.
Curious about La Ruta Loca Randonnee (LRLR) route? download the cue sheet

A closing rant: I wish this route could become a sanctioned Permanent or a brevet but the rules for establishing new routes are not set to encourage this type of exploration. I believe eventually enough crazy people would be interested in this type of ride that some more flexible rules would be created for this events, I could easily add controls at key points to make the route compliant with RUSA route rules but maybe this is not the time for that. On the meantime I would continue doing this as I am not into randoneuring to collect official awards or miles. I do endurance riding just for the love of riding a bicycle and exploring my limitations.
(First posted July-22-2008 at 08:28 pm)
No related pages or links.