2012 La Ruta Loca Randonnee Mixed Terrain (First posted September-27-2012 at 02:50 pm)
2012 La Ruta Loca Randonnee Mixed Terrain (First posted September-27-2012 at 02:50 pm)
The first pre-rides I had organized this year to help familiarize riders with most sections of La Ruta Loca Randonnee had been very well attended, but the later ones, where we started touching the Bolinas Ridge, saw a drop in attendance; this was not a surprise. The terrain and distance start deserving a more serious adjective to describe them.

There were a few confirmations and at 5:45am on July 21st, 2012 just John P. and Bryan C. where there. Soon after Andrea S. and Henry showed up but just to let me know they were planing on riding off the back and we should not wait for them to start. I gave them their brevet cards and they went on to park the car. Brian K. showed up within minutes so we left pretty much on time at 6:00am. We never saw Andrea and Henry again, but the next day they let me know they had ridden the route to Bolinas Ridge and then bailed near Randall Trail.

Near the entrance to the Golden Gate Bridge we picked up another rider new to this whole route, Larry S. but soon after he disappeared at the toilets at Conzelman and Coastal trail. Next day I learned from him he did get lost and cut the ride short at the Pantoll Ranger Station.

Brian K, Brian C., and I rode up together most of the way to Pantoll. John P. was always a few minutes behind. We were doing good time but the temperature was rising and I started to worry about having cramps later on.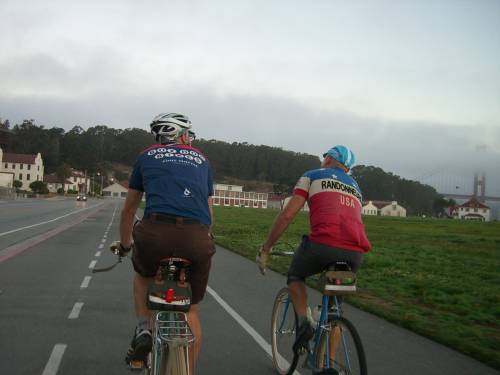 Most of the way to the Alpine Dam I felt fine, but as the heat and long hill gong up to the Bolinas Ridge took a toll, my legs started to show early signs of cramping. I can recognize them and decided to slow down a little. By the time we arrived to the top we stopped to take a very short break at the Bolinas Ridge trail head. The four of us started together but I stayed behind a little trying to pamper my legs.

This section of the route is one of my favorites. I am always tired, the rollers are demanding, but I usually manage to find a good pace, not today. I could not push it all. My legs would start cramping as soon as I tried to move faster. This is a humbling ride, I love that. When I got to the Randall Trail control the trio was there waiting for me and after an very short break we descended onto Hwy 1. The heat was getting more intense.

John fell off the train that Bryan C. was leading and just three of us arrived together at Black Mountain Cycles (BMC) in Point Reyes Station. We said hi to Mike, our host, and went to get some food from the Whale of a Deli, 2 pepperoni pizza slices for me. John arrived a few minutes later and we all ate seated on the luxurious couches of BMC. John offered me a beer which I declined. We left as a group and John disappeared soon.

We were headed back to Fairfax now via Platform bridge and then the San Geronimo Valley. It was freaking hot, dry heat. My bike computer registered 41° C, that is 105°! I was melting, but fortunately we were on our way back to civilization, for a little while. Right before entering Ross I let my riding partners know I intended to stop at the convenience store for an ice cold drink. Bryan C suggested a slurpy. That sounded like a plan. We both got large slurpies and Brian K got something else (can't remember what). The cold headache I'd got was great relief from the heat. John showed up a few minutes later and finished Bryan's slurpy.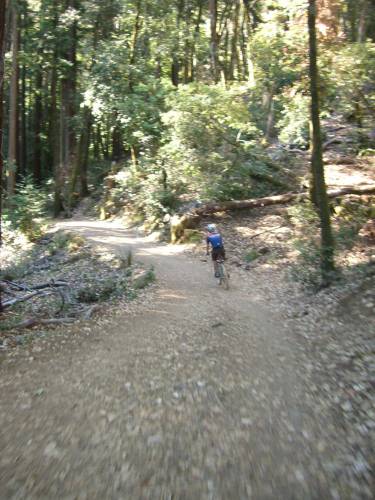 The flat miles after the slurpy were welcome. The heat was not as bad, but was still there. As we moved closer to the bay the temperature dropped a little more. By the time we arrived to the Control in Tiburon the temperature was pleasant; we sat outside and enjoyed our well deserved cold drinks. John arrived and joined in on the cold fun.

Time to face Mt Tam once more, this time climbing from Mill Valley on Railroad Grade to the West Point Inn. I followed both Brian C and Bryan K, we all arrived together to the Inn; John a few moments later. When I came back from the restroom, Jeremiah J. who had done La Ruta

Loca Randonnee a few years back was chatting with them. He was spending the weekend at the Inn with his family and as soon as he saw our group arriving he suspected it was La Ruta Loca riders. He graciously offered food and drinks, but we "were good".

We had decided to do a water stop at the Pantoll Ranger Station which we would be touching for the second time soon. After that, is was a matter of riding on Panoramic Hwy to the Miwok trail head and continue on the Golden Gate National Recreation Area (GGNRA) fire roads to the last decent to the Golden Gate Bridge. This section was very scenic this time. The high temperature we had had earlier in the day had given way to a clear crisp sky with pleasant temperatures.

Bryan C. climbed ahead on the Marin headlands followed by Brian K. I tried to stay with them but my legs could not keep up at the moment, they disappeared on the turns ahead. I caught up with Brian K and then lead him on the last hill to Conzelman and then on the descent to the Bridge and one last sprint across the Golden Gate Bridge . Bryan C. finished ahead of us at 7:15pm, Brian K. and I finished at 7:27. John arrived at 7:52. I made it within the time limit again this year, but barely.


Brian K., John and I meet a little later at my place for a deserved pizza. Bryan C. had to be somewhere else and could not join us. It had been another fun run of this unpredictable route that always humbles me.

The Map and GPX for this ride is here
(First posted September-27-2012 at 02:50 pm)
No related pages or links.