Mapping Mixed Terrain Rides in San Francisco (First posted July-12-2007 at 04:21 pm)
Mapping Mixed Terrain Rides in San Francisco (First posted July-12-2007 at 04:21 pm)
Well I do love riding. I don't discriminate, a ride is a ride and a good one can be recognized when you smile, push and make unspeakable noises all in a few miles.

Back in 2005 I mapped a Populaire on Mixed Terrain for the San Francisco Randonneurs. The event was cancelled due to low registration but a couple of us did it anyways. Our event would have been the first such event in the US. Some months later a similar event ran successfully in the East Coast, its name escapes me right now but I remember, Deerfield Dirt-Road Randonnee (D2R2) I know is still going strong and is quite popular over there. So I ask the Randonneuring community in the San Francisco the Bay Area, are we going to let the East Coast beat us on this? Hope not :)

This year I've been obsessed with creating Mixed Terrain routes complete with cue sheet and all so others can have the same fun I'm having. These are rides that cover both paved and unpaved roads and can be done in almost any bicycle. In my neck of the woods, San Francisco, I use mostly the paved and gravel roads of the Golden Gate National Recreation Area (GGNRA) Mt. Tam and South Marin in general.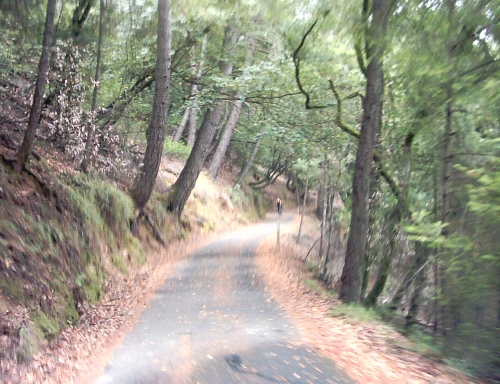 The rides are tough because of the amount of climbing involved and are definitely not for beginners. Not so much because of the small technical skills needed but the endurance required. If you do any of these rides and have a GPS toy on your bike please send me the total elevation gain, people have been asking me for that and I have not found the time to create the routes at RouteSlip or Bikely. I think nowdays both of them can provide elevation for a route.

Anyhow the idea of Mixed Terrain rides has been gaining baby momentum amongst San Francisco Randonneurs; recently we have had some memorable ones. I started the official Mixed Terrain "season" around here with a posting/invitation on the SFRandon list @ Yahoo groups. Little by little new faces had been showing up for these rides. At the end of every ride people are happy, tired, wasted and hungry for more so we must be doing something right.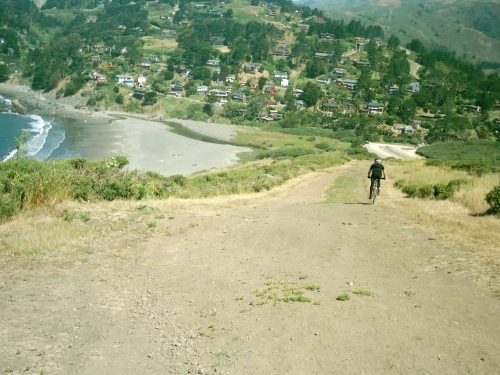 The format is simple, we start at the Strauss Statue on the South end of the Golden Gate Bridge and ride a combination of gravel roads ("fireroads" around here) and paved roads. Anybody is invited, I would say our Mixed terrain rides are "any" rides. Any terrain, any, bike, any tire, any cyclist, any day. I always recommend tires with some thread as opposed to slicks, knobs are helpful but full knobbies are NOT required to tackle these routes. But tire selection is one of the most crucial aspects of preparation, after all a good percentage of the ride is done on pavement, so it is a compromise between rolling resistance and traction, your call. What bike/tires do I use you ask? I do not own a road bike, I ride brevets and paved roads on one of my MTBs with 1.25" slicks. For all my other riding, including mixed terrain riding I use some cheap 26x1.5" tires with thread similar to the old Schwalbe Marathons <rant>It seems the trend these days is to go with huge volume tires for any off road riding, in my opinion that is just hype and sadly people fall for it. I ride what works for me not what the adds tell me is cool.</rant>

So far on my quest to create a Mixed Terrain route about 200 kilometers long that starts at the GGB I have come up with three nice rides. When combined they will become "La Ruta Loca" a 200 kms. of crazy ups and downs and I mean that. I will submit the route to the San Francisco Randonneurs for consideration/inclusion into the brevet schedule.

I invested a lot of time researching, riding the routes and then coming up with the cue sheets but there may be inaccuracies here and there. If you use these cue sheets and find errors please send them to me. So here they are for your riding pleasure:

The "Traditional Mixed Terrain Ride":
We cross the Golden Gate Bridge and climb Conzelman to the top then take the crazy descent into Bunker Rd, ride towards the Marin mammal Center but take the Miwok trail as soon as we see it, climb on Bobcat to Marincello and descent into the Miwok Stables. Continue on Tennessee Valley to Coastal, then descent onto Muir Beach. At this point we join Hwy 1 for a little while and then take Muir Woods Rd. before the Muir Woods park we take Deer Park a great fireroad that goes up, up, up to the Pantoll Ranger Station. This is a good spot for lunch or a water break. After that, climb a little on East Ridgecrest Blvd. and take the Rock Springs Lagunitas to Lake Lagunitas, lovely views and a steep descent. Then ride to Five Corners and then to Concrete Pipe to get to Fairfax Bolinas Rd. Descent into civilization to Fairfax where we can have a coffee and sconne at the Java Hut. Return to San Francisco via the regular bicycle way. This ride is about 60 miles and has some serious climbing but is is all done on maintained fireroads or paved roads. There are some sections of steep climbing on loose soil and also some good descents but the route has been conquered on all sorts of bicycles. A demanding ride with great rewards for those who do it. About 50%/50% Fireroad/pavement.
(Download the cue sheet as a PDF)

The Mixed Terrain 101 (Intro to Mixed Terrain riding)"
This route Starts at the GG Bridge and follows the regular bike route to Camino Alto, we descend into Corte Madera and do a short version of the Paradise Drive loop, take E Blithedale to its end where we climb to the West Point Inn via Old Railroad Grade another of our great fireroads.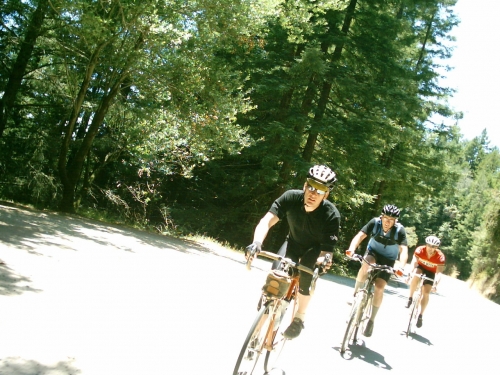 Stop at West Point Inn for lunch but we could wait a little longer... Now descend a little to the Pantoll Ranger Station the other possible lunch break. Join Panoramic Hwy and then Hwy 1 for just a little while, at a sharp turn we take the Miwok fire road and connect it to Coastal using the Coyote Ridge trail. Down, down to Miwok Stables back up Marincello, Bobcat, Coastal Conzelman and finally the GG Bridge. A good 50 miles of riding, 17 of them on fireroads, approximately 5900 feet of climbing. It sounds short but believe me it is not a ride in the park but it is not a grueling ride either, just right. This makes a great first Mixed Terrain ride for an accomplished "roadie". Again the route has been done in all sorts of bikes, from Hardtail MTBs to road bikes with 28mm slicks.
(Download the cue sheet as a PDF)

The "La Baby Ruta Loca":
A short version of the upcoming 200kms route. A combination of the two previous rides. First do most of the Traditional Mixed Terrain Ride , on the way back to San Francisco instead of climbing Camino Alto, turn left towards Corte Madera following the Mixed Terrain 101 route from that point to the GG Bridge. The result is an 80 miler of 50%/50% fireroads/pavement. A tough, though ride that will test the endurance of most riders. Lots of climbing. Pack a bike light just in case.
(Download the cue sheet as a PDF)

The "Bolinas Mixed Terrain":
This is a ride that is done using the Traditional Mixed Terrain described before but instead of going down to Fairfax we climb to Bolinas Ridge then ride to Randall and descend on it to Hwy 1, move to Olema, Samuel P. Taylor using the bike route inside the park even the gravel part unknown to most cyclists. Then return to Fairfax on Sir Francis Drake, San Francisco via the regular bike route. This is a hard ride of about 80 miles, lots of climbing, ~9900ft. Most climbing done on fireroads, some of them are in better condition than others. Bolinas Ridge is notorious for being in excellent condition one day and bad two weeks later, also it can get cold inside that canopy of trees, be pepared for extreme weather conditions. Like all other rides here you face many different micro climates so clothes and food preparation are key.
(Download the cue sheet as a PDF)

And this bring us to La Ruta Loca Randonnee (LRLR) :
I proudly offer you my evil creation. If you complete this ride you deserve that title your significant other gave you when you started riding long distance events, brevets or whatever. This ride should be doable on almost any bike.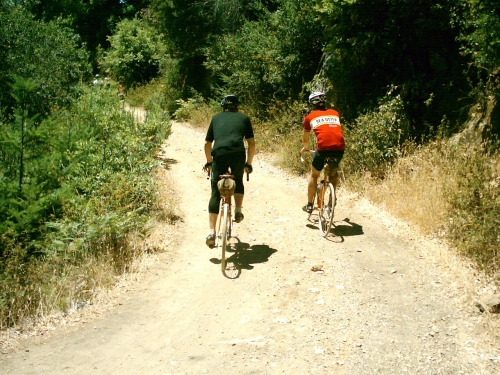 Here is the lowdown, Do the Bolinas Mixed Terrain Ride using the Traditional Mixed Terrain Ride, on the way back instead of climbing Camino Alto to get to Mill Valley, join the Mixed Terrain 101 route. This puppy has more climbing than what I can count on my fingers (about 13-14k feet elevation gain) and it should keep you busy for the best part of a day and maybe some of the night, it may be a good idea to bring a light just in case. I think -have not ridden the whole route yet, have not ridden the whole route yet but came close- it would be comparable to riding a 300k+ brevet but first we need to ride it right? So who's going to do it with me? I'll do it regardless... :)
(Download the cue sheet as a PDF)

If you use the cue sheets please send any corrections to the email address on them or post a comment on this page.

Give credit when due, enjoy, and ride safely.
(First posted July-12-2007 at 04:21 pm)
No related pages or links.