2010 edition of La Ruta Loca Randonnee Mixed Terrain (First posted July-16-2010 at 03:06 pm)
2010 edition of La Ruta Loca Randonnee Mixed Terrain (First posted July-16-2010 at 03:06 pm)
I was working from home Friday afternoon so a double espresso at 3:30pm was a good idea at the time... 1:30 am Saturday morning and was wide awake, oh well this would not be the first time doing a long ride on little sleep.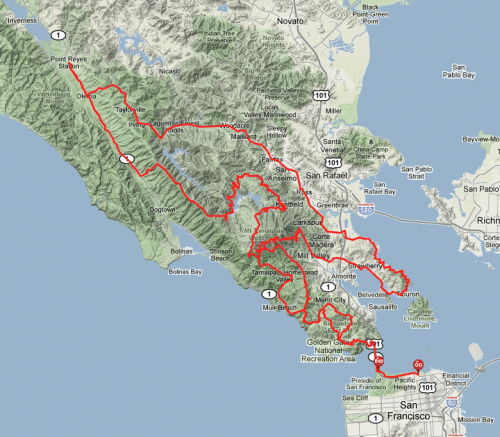 In the last couple of years I've gotten great feedback from riders who started this 200k mixed terrain ride and the consensus is that this is a real hard ride. When I first developed the route my purpose was to turn this into an official RUSA permanent so randonneurs who have never experienced the fun that it is to ride a bike anywhere would have an excuse to get some dirt on their chainstays.

By chance this year the first climb of the route had been closed halfway up at the intersection where I usually detour on regular rides that involve the Marin headlands so that forced me to come up with small modifications to the original cue sheet and while I was at it why not include some new hills and make the 1st control easier to make? At the end of all chopping and re-measuring the total distance was still over 200k so it was all good.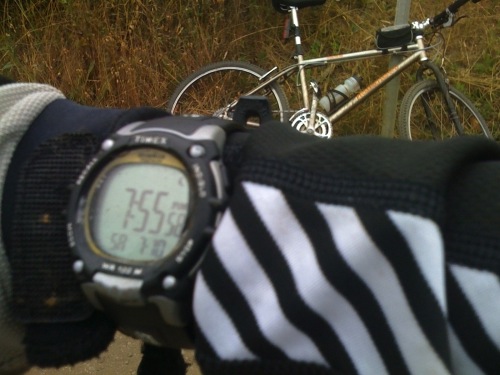 This year we had six official starters and 2 riders who were going to ride with the group for a while and then return home to other commitments. 6:00 am is early but we managed to start at 6:08. The first hill managed to split us into three groups, Brian K and Nick L went ahead, John P and I in the company of Max P, who was doing only part of the ride, and JimG, Greg B and Franklin Y (also doing only part of the ride) behind us.

After Miwok stables my rear tire was feeling weird and my bike computer went dead so before the Coastal Trail hill I stopped to confirm the flat, sure, it was a flat tire. John offered to wait but knowing how hard it is to meet controls on this ride I declined his offer so he could try to meet the cut off times. I was now most likely going to miss the controls. At my speed, if everything goes my way I can make the controls, however any type of extra delay means either I push hard and risk to bonk or simpy ride at my regular pace and hope for the best, I opted for the later.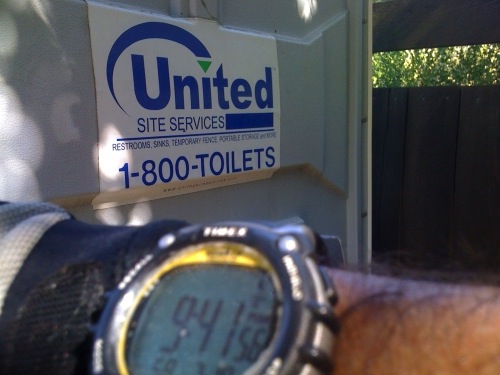 When I was getting ready to move again Jim, Greg and Franklin arrived so we climbed together for a little while until I sopped hearing their voices. On the fun descend into Muir Beach a coyote puppy and his best/worst early summer coat ran scared in front of me for a good 20 yards until he found a place to safely bail; I love my encounters with animals on these rides. A half a mile after that I heard a snap and decided to stop in the middle of a steep section, s@%t the GPS was gone! I ran back uphill until I saw its blue case asking to be picked up, now with all my gear on me again I continued to the first control just a few miles away.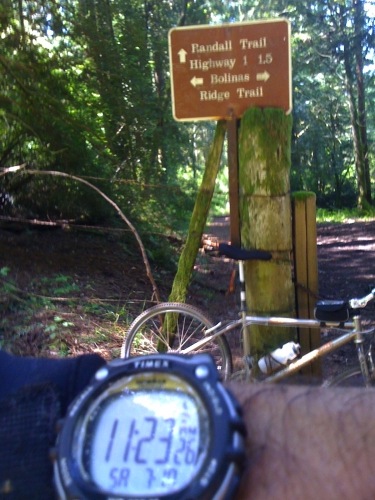 No luck, I missed the closing time by 3 minutes, (no matter we started 8 minutes late, the time still count from 6:00 am) all part of the fun of doing this route. Climb, climb to Pantoll ranger station for a water/restroom stop and then more climbing before descending to Lake Lagunitas; a beautiful setting for a picnic that will have to be scheduled for later this summer. The next control was not that far but impossible to reach before closing time at my pace. Missed it by 29 minutes! that is a lot on seconds.

More climbing ahead, this time on paved Fairfax/Bolinas road to get to the Bolinas Ridge trail head. One lone bike was waiting just inside the gate, a recognizable prototype white monster Black Mountain Cycles bike, that has got to be John! When he came out of the woods were he was conducting private business we started riding together. He told me Max rode to the Bolinas Trail Head and then headed home. I wondered how long it would take him to do this whole route, 10 hours, less? After a while Jonh decided he had had enough of the sometimes steep rollers and told me he was going to walk a little. I moved on.


31 minutes late to the next control, but I was having a great time. Soon I would be on Hwy 1 heading North towards Black Mountain Cycles. That pavement always feels so smooth after Bolinas Ridge and Randal Trail.

There was a stoplight in the middle of Hwy 1 on the way to Olema. Somebody was not thinking when they decided solid red lights on both ends! after waiting for a while the longer line of cars on the opposite end started crossing this construction zone, after they where done I went ahead and soon after cars behind me followed. I had a great tail wind and made it fresh to the control at Black Mountain Cycles where Brian and Nick had arrived about 20 minutes earlier. I was late to this control by only 3 minutes! After getting some water, purchasing some hydration tablets and eating something John arrived, he went straight to the Bovine Bakery and on return straight to the couch conveniently placed in front of Mike's main working area.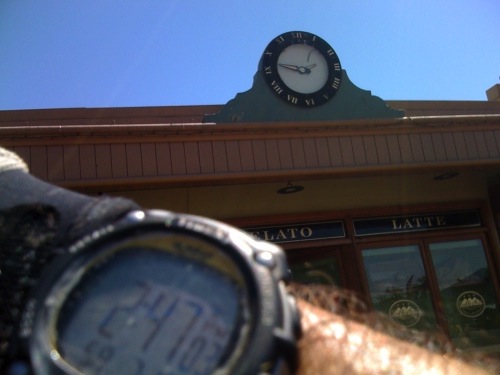 That couch is way too comfortable and chatting with Mike makes the minutes (hours sometimes) go by fast. John was gonna stay behind there resting for a while. Brian and Nick were ready to go. We all started together but on the Olema hill they moved ahead and I lost contact. However, a few miles later after descending and joining the Samuel P Taylor Park trail I was able to reconnect. They pulled my sorry butt all the way to the White's Hill, again they dropped me but once I turned into downtown Fairfax they were waiting for me. Guys you waiting for me? Thanks! We started moving again.

Nick wanted to do a quick stop at the public restrooms in Larkspur, he wanted us to continue. The paradise loop was just ahead. Brian was now moving, as Rob H put it recently during the SFR 200k Davis Night, he has a motor. I could not keep up the pace, we separated till got to Tiburon. I made this control with more than a hour to spare.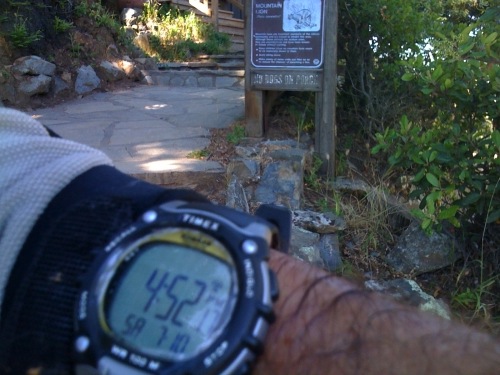 Fire road riding is much slower than paved riding. Brian was there waiting in line and got a granola-yogurt-strawberry thing, I copied his selection of food, at $6+ it was expensive but this is Tiburon a place were San Francisco tourist come to spend money, the thing was very tasty anyways. (BTW, I also recomend their bread pudding) Nick arrived and we all got water and left headed to our next control at the West Point Inn, just over 10 miles away but a good 1000+ climb on a well maintained fire road. Nick and Brian wanted to get some V8, I showed them the supermarket and moved on, they will catch me soon. At 15:48 I was at the Railroad Grade trail head having another strawberry Ensure; I was tired.

About 1/3 the way up Brian caught up and passed me, half way up I stopped at the water spout to get a deserved rest and make calls to riders to see who wanted to have pizza or something that night. Nick came and we finished climbing together. At 16:52 we were at the West Point Inn, we beat the control closing time by 8 minutes. Brian arrived a few minutes later, he had taken a wrong turn but still made the closing time.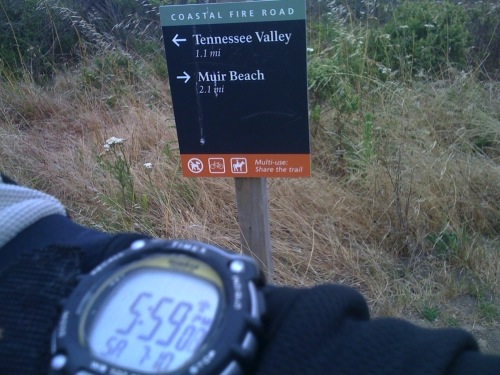 About 23 miles to the finish but plenty of climbing left. We left the control at 17:15 with plenty of sun on our backs. The closer we moved to the Marin Headlands the temperature started dropping and the fog embracing the hills. At the Miwok trai head it was cold and very windy. I lead the way and tried to keep a steady pace. We made our next control with 9 minutes to spare. Moved onto the next hill and control where we arrived at exactly the closing time, 18:32.

Now, we had only a small fireroad climb of about 400 feet but before that there was a very familiar descend. I have done this descend hundreds of times maybe thousands, I was just thinking of how close we were to the finish and the time on the clock. I was ahead maybe 30 mph which is not terribly fast for this wide graded fire road, next thing I know I am moving down on my left side cleaning small rocks as I slide on my right side. Crap! I haven't had a crash in about 10 years. Just to show, this usually happens when you are too comfortable and let your guard down. The closing time was in my head.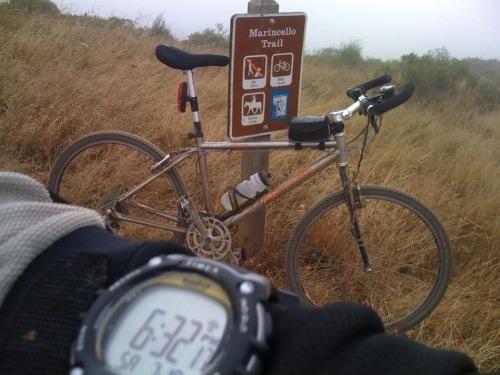 Brian and Nick patched me the best they could and I saw we still had a chance to make the closing time for the last control. A little bloody and hurt I wanted to finish this within the 13:30 hours. I continued leading the way down the hill and then up the last climb. We had the Golden Gate Bridge in front of us just a short paved hill below. Crossed the bridge and at the end I stopped for a last photo. 19:21. We made it just by 9 minutes.

There is a great sense of accomplishment to finish a timed event so close to the closing time. Even if the wound hurts tomorrow this will again be another of my best rides for the year. Lots of opportunities to bow to my limitations and celebrate the determination of all riders who participated in this event and those who provide us with support. Thanks to all of you.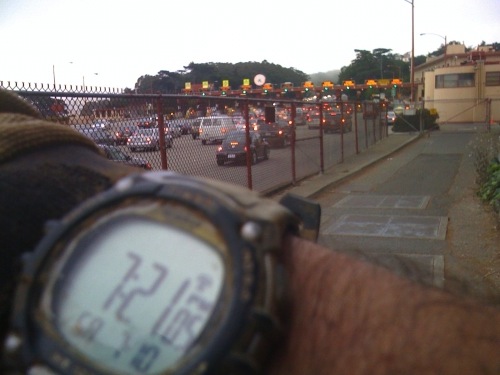 Here are the final results as submitted by the riders:
| | Deer Park (17.1) | 5 Corners (30.0) | Randall Trail (45.2) | BMC (55.4) | Caffe Acri (89.7) | WPI (102.7) | Coastal FR (112.9) | Marincello (117.1) | GGB (125.3) | Total Time |
| --- | --- | --- | --- | --- | --- | --- | --- | --- | --- | --- |
| Greg B, | 8:02 | 10:25 | 12:32 | 13:14 | 16:24 | 18:29 | 19:11 | 19:30 | 20:44 | 14:44 |
| Carlos D | 7:55 | 9:41 | 11:23 | 11:59 | 14:47 | 16:52 | 17:59 | 18:32 | 19:22 | 13:22 |
| Jim G | 8:02 | 10:25 | 12:32 | 13:14 | | | | | | DNF |
| Brian K | 7:50 | 9:27 | 11:02 | 11:42 | 14:45 | 16:55 | 17:59 | 18:32 | 19:22 | 13:22 |
| Nick L | 7:48 | 9:27 | 11:07 | 11:54 | 15 | 16:52 | 17:59 | 18:31 | 19:22 | 13:22 |
| John P | 7:50 | 9:37 | | 12:06 | 15:42 | 17:20 | | | 19:55 | 13:55 |
(First posted July-16-2010 at 03:06 pm)
No related pages or links.