2013 SFR La Ruta Loca Randonnee Mixed Terrain (First posted August-12-2013 at 08:53 pm)
2013 SFR La Ruta Loca Randonnee Mixed Terrain (First posted August-12-2013 at 08:53 pm)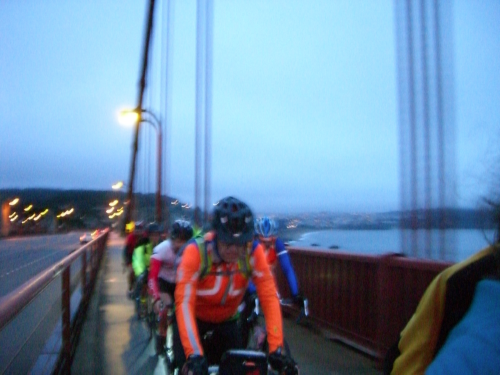 After many years La Ruta Loca Randonee was finally part of the San Francisco Randonneurs schedule. The night before the event 16 riders were signed in. JimG was going to help a hand starting at 5:30am with checking in riders.

I had been trying to go to bed early all this week in order to get used to sleep early wake up early. By 9pm on Friday I was in bed and when I woke up next morning at 4:30am I felt very rested. I also try not to drink wine during the week except on Thursday I have a few glasses of Nigori Sake. Anyhow Saturday morning I felt fine before the brevet, a rare thing lately.

Ever since 2011 when I ran a marathon per month (never completed all writeups) starting from my garage and headed to the Marin Headlands my cycling has been noticeably affected by the lack of depth, something was lost and I suspect was all that sweating. Anyhow, I had run out of Endurolyles electrolyte capsules and had decided to purchase a different brand that seems to have more salt in them, SaltStick Caps. I usually get tired of the mostly sweet taste of bicycle food so any salty alternative is fine with me. I had tried a capsule and bit on it to break it inside my mouth, tasty... if you like the taste of salt that is, I do.

I had also cleaned the bike from the previous weekend muddy ride and saw the rear derailleur cable was frayed at the tightening bolt. I figured it was only one loose strand and it would hold for a while.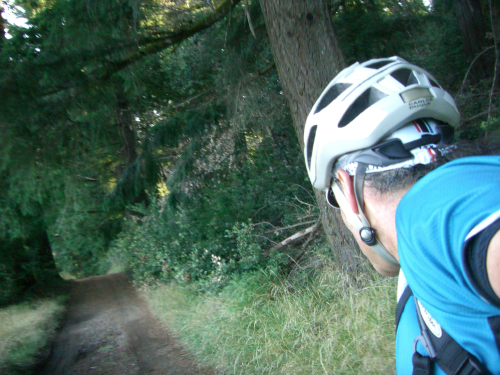 The rest of the bike was in perfect shape.I decided to leave my regular, larger tool set at home and opted for the abbreviated version but made sure to bring the pocket knife with pliers/cable cutters. Three ensure, a bunch of synthetic food and a wool long sleeve jersey for being comfortable at the end of the ride when socializing at the final control.

I got to the start checking shift 10 minutes late but fortunately JimG was already there and had set the back of his car as the checking in "office". We (mostly Jim) distributed the cards to the starting riders I gave some last minute words of advice, Jim asked for a applause to celebrate the inaugural ride as an official SFR brevet and a minute after we were on the road.

We all rode together to the first dirt section just on the other side of the Golden Gate Bridge, the Marin Headlands. We had a few minutes at most between us, I climbed with Ernesto and then at the first control I answered the question and kept moving. I did not see any rider after running into Barley at the bottom of the Coastal Fire Road. It was a little overcast but the sun was trying the sneak here and there, it was a very pleasant day for riding.

I was making good time, not fast but definitely very steady. I descended at a good speed into Muir Beach and then started climbing Deer Park which was not as wet as the previous weekend when I had ridden most of the route to check the conditions. At the next control I just look at the sign to get the answer and continued to Pantoll Ranger Station for water. Nobody came while I was there.This next section is very fun and I enjoyed the quiet fire roads for miles. Near Eldridge I caught up with Greg M who told me Geoffrey and Carl were just ahead.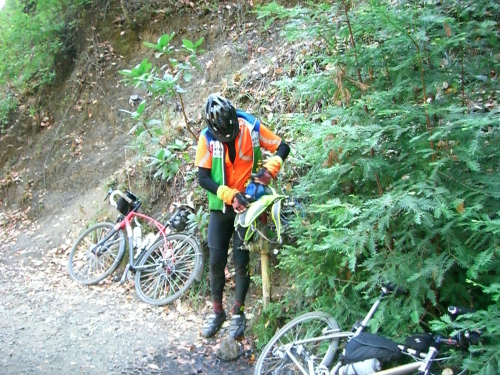 This was new territory for Greg and it seemed he was having fun. Descending a rocky steepish section of Eldridge Grade I saw a ziploc bag on the ground, I was ahead of Greg and took a while to stop my bike. "What happened?" Greg asked, "somebodys cue sheet over there!" I replied while running back up the fire road and grab the ziploc. When we got the the next control Geoffrey and Carl where performing surgery on Carl's bike. I gave Geoffrey the ziploc which contained his brevet card, cuesheet and pen, he was grateful I found it, I was happy I did. Carl's rear fender had ripped off at the holding screw. I've seen exactly the same happen to Theresa during our SFR Mixed Terrain Dart earlier this year; I guess mixed terrain and metal fenders are not friends.

I wrote the answer to this and the other two previous control questions had my first Ensure of the day and continued toward the pavement, Greg followed. On Bolinas Fairfax Rd Ernesto joined us, we stayed together till the Bolinas Ridge trail head. Greg and I did not stop at the trail head and start digging our tires into the light mud. I had ridden this section the previous weekend and it seemed it was not as muddy today, good news for tired legs. I was feeling fine but I know that I have to respect this trail. It is lots of fun to ride it hard but then you pay later if you do. A steady pace with lots of shifting to adapt to the the ever changing muddy, rocky and sometimes smooth terrain.

What the heck? near the top of one of the multiple rollers my rear shifting went missing. Turned out the shifter cable I had inspected the day before had snapped, no rear shifting. I stopped and told Greg to continue, I did not want to slow him down, I would fix this. He offered me a shifter cable but I had one with me. While I fixed it Geoffrey and Carl, Barley and Megan, Ernesto and then John went by. By the time I was done fixing my bike they were somewhere ahead of me and I did not want to ride the pavement miles from Hwy 1 (@ Randall Trail) to Pt Reyes alone. I decided to try to catch up with them.

I was having a blast riding like if was possessed, I saw John on after many turns and ups and downs, got to him and on his characteristic manner he said, "Si señor, páse señor, you go ahead" I did and then I saw Ernesto, "hey Ernesto!" and kept going, then I saw Megan and Barley, I was really having fun on the trail and went by them with a smile.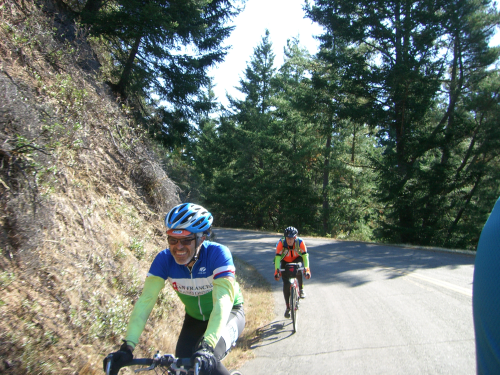 The next Info Control at Randal was ahead and I pulled my brevet card to see what the question was, "ah ok", read the sign and continued now on Randall towards Hwy 1. Carl was ahead and holding something on his had. He had lost the screw that held the light to the bike. I had replacement bolts on my regular tool kit but not today. Barley arrived and he donated one of his unused M5 bolts to Carl. I kept on moving down.

At the bottom, Geoffrey and Greg were at the gate. I let em know I was going to keep moving. Greg Joined me, we were now riding smooth pavement on Hwy 1. My pace was not fast but we were moving. A couple of miles and Barley and Megan went in front, we sucked their wheel to Pt Reyes Station, Barley was setting a nice faster pace. Time for lunch, we stopped at the Whale of a Deli for food, Greg kept on going I think to the public restrooms. After I finished my pepperoni slice of pizza I went to pay a visit to Mike at his Not-A-Bike-Shop Bike-Shop-Like-Business (Black Mountain Cycles, which by my standard is one of the best bike shops around so now I have to rethink my whole bicycle definition) to buy some more bike food and replenish my water.

Left Pt Reyes Station alone and just outside town looked for the next Info Control and recorded the answer in my head. After a mile or so I could see a familiar randonneur in front, Ernesto. I think he saw me and slowed down a little so I could catch up. We rode together and talk all the way to San Geronimo Valley were the Barley/Megan train passed us again. We jumped back onto their wheel. In Fairfax Ernesto stopped at the bike shop to fix an issue with his pedal/cleat. Megan Barley and I moved on. Left, right, left, right...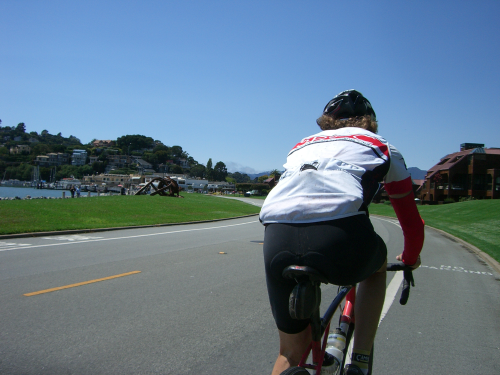 we navigated to the bottom of Camino Alto where the route heads towards Tiburon following Paradise Dr. Not many riders on the road today except a small group of woman riding to tiburon. I went in front for a while then Barley lead us into Tiburon the next Control. This is the only receipt control on the route. I got my regular double espresso and some gelato. When I was done I did not want to hang around and give my body time to think, so told them I would start moving. I was sure they would catch me soon. As I was leaving I saw John and Greg come into the Control.

It was close to 2:30pm, that meant I was riding a fast for me LRLR, I was feeling fine. Just keep riding at you pace I told myself, you are doing very well. Going up Mt Tam on Railroad Grade was not the crawl it usually is on this route after 95 miles of climbing. I went conservatively up but always very aware I had to take advantage of the time in the bank just in case I had another mechanical. Had another Ensure while climbing. Made it to the West Point Inn around 3:51pm, again recorded the Info Control answer in my head, used the restroom, replenish water and moved on. "Where the hell is everybody? They should have caught up by now"

I was having a great time riding and the temperature was very mild. The view from Old Stage Coach was super nice with some clouds and sun, another photo. I zipped down Panoramic Hwy and then entered the Marin Headlands at the Miwok trail head. They had cleared some of the bushes on both sides of the trail and it seemed I had a little bit of a tail wind, however after a few turns I got exposed to the usual head wind typical of this section but today it was mild in comparison to other days. One more Info Control at the intersection of Miwok @ Coyote trail.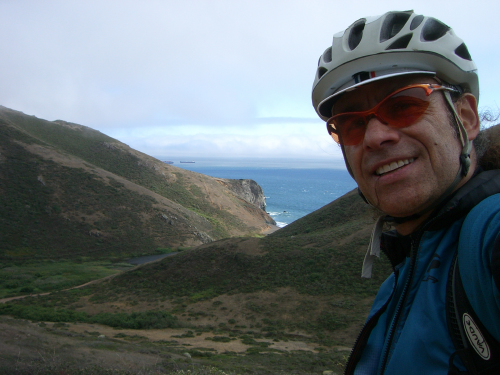 This is a cruel Control location because you start climbing steeply right away then there is a short break and a longer meaner climb to the ridge; it is all short but I always feel it and like that pain because I know I am very close to the finish.

Now at the top of the ridge the view was great again; down, down, descend on Coastal Fire Road, a segment we had used in the morning but going on the opposite direction. At a steep turn the view of the ocean was great, it took a while to bring the bike to a stop, to much momemtum, another photo, what a lovely afternoon. Got to the bottom of Marincello at 4:54pm, "Really? Am I riding this fast?" well keep on moving, we'll see how it goes. Just to be safe I had my last Ensure of the day. At the top, where the trail joins Bobcat I memorized the last Info Control answer and keep on going. It was 5:12pm and I started thinking there was a good chance I could finish in under 12hrs! holly crap!

I descended with caution as i remember crashing here at the end of the 2010 edition off La Ruta Loca Randonnee 200k. Made it in one piece to the bottom of the hill and then there was just one last climb before the Golden Gate Bridge. At 5:38pm I was at Conzelman Rd looking down at the Golden Gate Bridge. "Ok shit I am gonna break 12 hrs can't believe this, me soo happy!" There was quite a bit of car traffic on Conzelman going down towards the bridge but fortunately the West sidewalk on the GG Bridge was not as busy as it has been he last couple of weekend afternoons. I made it in one piece but not before having to witness a crash 20 yards in front of me between two cyclist on rental bikes traveling in opposite directions. Same stuff as always, one of them looking away from the path and running head on into incoming cycling traffic; fortunately no injuries.

Made it the the Warming Hut, the start of the last gravel segment along the beach and happily rode in disbelief the last mile or so to the Final Control. 11:55hrs!

Needles to say I was static with my finishing time.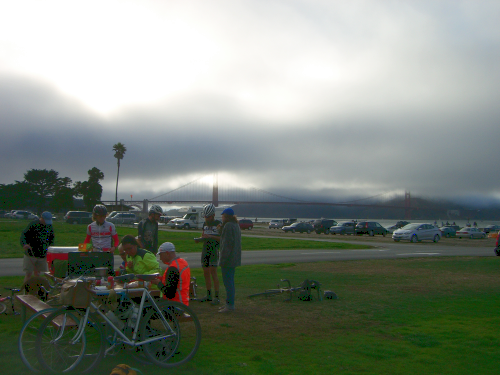 Juliayn and Rob where there. Stephen Z had come before me at an astonishing (for me) 10:54hrs, I never saw him after crossing the Golden Gate in the morning. I had a beer and chat with them. Barley and Greg rolled in, Megan and John, Geoffrey and Carl, Ernesto and then Metin and Henry. All made it before the 13:30hrs closing time, perfect! Unfortunately Henry did not sign in in the morning nor he did get his brevet card as he could not find the start location. He started from the Golden Gate Bridge and caught up with Metin at Randall trail. They rode together the rest of the way to the finish.

There was only one MTB on the ride today, my Habanero, all other bikes where cross or randonneuring bikes outfitted with (I think) 30cc or wider tires. Three of those bikes were Volagi Viaje, a bike that has proven very popular among San Francisco Randonneurs. Barley, who did more than his share of puling today, is one of the owner/designers of the brand, well done. We all shared stories and one by one they left. By 7:30pm all riders were in, we help pack things into Rob's car and Juliayn, John, Geoffrey, Carl and I rode home.

What a day I had. I hope everybody has a blast just like I did. Many thanks to all, JimG, Juliayn and Rob for volunteering and to all riders for supporting this event. See you next year.

Here is my GPS file for the day.
Here are the results for this event.
Here are more photos
(First posted August-12-2013 at 08:53 pm)
No related pages or links.