Mar 17 2007 San Francisco 400K Brevet (First posted March-19-2007 at 06:45 pm)
Mar 17 2007 San Francisco 400K Brevet (First posted March-19-2007 at 06:45 pm)
This year so far my cycling has been marked by more lows than highs. I have not been feeling 100% for a while, guess the holidays indulgence took its toll, then a cold that would not get me into bed but would not leave me alone tried to repeat its cycle of may-be-sick may-be-not. Then during the 300k I hurt my right knee and just days before this 400k I was still feeling a little discomfort on it.
Still I wanted to do the 400k, I wanted to complete this event. This would be the longest distance, for me so far, ridden in a ~24hr period. I was determined to do it even it that meant being the last one arriving after the final control was closed. For this event I decided I would not use the Miyata MTB (the tank) but the lighter Habanero MTB to compensate for the extra stuff I would be carrying this time.
I dragged my feet at ordering a Carradice Super C Saddlepack bag I been interested in for a while.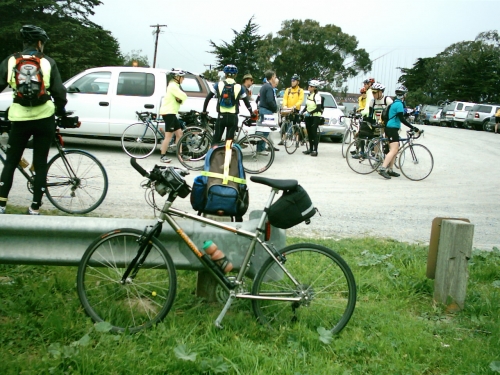 JimG one of my ridding partners has one, it seems to be of good quality, it is supposed to be waterproof and it seems to have the right capacity for brevets; however I did not get it on time. At the last moment I was lucky to buy a very good bag from a fellow iBob list member (Thanks Joe) Armed with my new (to me) Jandd Mountain Wedge III bag, a "road" wheelset for my MTB, some Lithium batteries and some other bits and pieces I loaded the bike and was ready to go.
My randonneuring uniform consists of a base t-shirt, another long sleeve base layer, if I expected cold conditions a regular cycling jersey (not with me this time), a loose fit wool long sleeve jersey, a fleece vest, cycling shorts with the chamois/pad removed, a pair of "San Francisco" weather tights, a hi-vis-orange rainproof jacket, shoe covers for the expected conditions, a wind proof neck thing, a very thin helmet liner and finally, regular and cold weather gloves and liners. In addition to those things I started the ride with a pair of street knickers that I wore over the cycling sorts, they would provide perfect protection for the expected conditions during daylight riding.
As opposed to last month's 300k The weather this time was supposed to be great. Dry, sunny and high temps in the 70's with lows in the high 40's. The noon start for the event meant we would be starting the night riding in the 2nd quarter of the ride when we were fresh. Extra clothes would go in the Jandd bag when I was not wearing them. I think I am pretty good at packing light for bicycle touring so this time I used that experience and added just three extra "luxury" items, the knickers, one extra t-shirt and one extra pair of cycling shorts. I thought after riding overnight and when/if I was feeling tired I would slip into the fresh clothes and they would give me the new air I would need to finish in a reasonable time.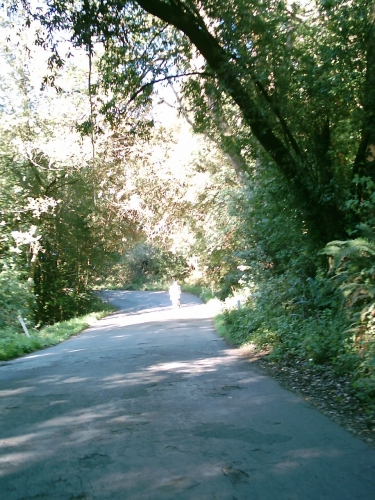 Before the ride I had told JimG I estimated I could finish in approx. 21 hours if I was able to ride with a good group, if the conditions where to harsh or my knee decided to act up it would be closer to 24 hours.
I had driven the route the week before the event to measure my knee against the roads. That was a wise thing to do this time. It was going to be a hard day on the bike but I felt it was doable if I didn't push it to hard. From the comfy seat of my car the route seemed very hard, I thought more than the normal number of DNFs would be expected, I was determined not to be one.
12:00 PM came and off we went. I liked the noon start, I was very relaxed as I had more than enough time to have and early lunch before riding to the start. Somewhere near Fairfax I saw Rob H. and rode with him and others until we found Dan B. I have ridden with them before, they are good "team" members to be near when riding brevets not just because they are good riders but more important good company. I would try to stick to them as much as I could. The fun lasted just till we got to approx. mile 32 or so where Dan and Rob had a scheduled stop, I did not wanted to interfere with any plans they had so I pressed on. At that point I started riding with the only other rider I've seen on the San Francisco Randonneurs series that rides on an MTB, I never remember his name but I should, I've seen him on almost every brevet I've done ever since I started a couple of years ago. More power to us MTB brevet riders! As we moved along we picked up more riders, by the time we got to Joy Rd we were a 6-8 rider little train.
When you look up the dictionary for "Oxymoron", Joy Rd. is written in the first sentence. This little peace of heaven on earth is as steep as they make them over here in Northern California, the pavement surface in not much better than a South of Market San Francisco city street (real bad) and it has enough turns and twists to drive a ballroom dancer nuts. That combined with more hills after you are done, makes this bundle of love a good recipe for breaking a group of loosely organized riders. I climbed behind Willy N and some other riders and descended fast on the other side of the hill. We made it to the first control, the Guernville Safeway, with plenty of daylight. I went inside to get some tomato juice and soup then to use the restroom when I came out Rob and Dan where there. Rob asked me if I wanted to ride with them, I was going to ride with Willy but he had disappeared, Rob's offer sounded great.
A pretty good size group was assembled and we started a very enjoyable ride in great weather. In the group where Dan, Rob, Bruce M a friend of Rob completing his first 400k just like me, Veronica T and Mark A, also doing his first 400k, I think they are all members of the Grizzly Peak Cycling club, they were all physically prepared for this ride.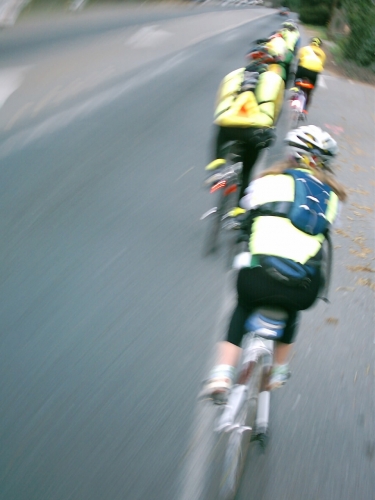 Somewhere before Healdsburg we lost Veronica and Mark. Near Downtown Healdsburg, Dan decided to wait for them, I waited with him and took the opportunity to put my neck protection. Mark and Veronica arrived and we moved to catch the rest of the group, it took a while but we finally meet with Rob and Bruce. The night was pleasant, red LEDs served as markings for the path to follow sometimes mine was at front of the line sometimes at the back. In Cloverdale we stop for dinner at a strip mall, the options where McDonald's or a pizza parlor. The pizza place won. Back after Healdsburg I'd realized I had left the extra batteries for my main light on the dinning table at home, duh! While we waited for the food I ran across the mall to a large drugstore where I found some decent batteries. We had a pleasant dinner, I had some good pasta, I heard the soup of the day was also good. After a good dinner we started a long climb before turning down towards the second control at Hopland, a town version of a strip mall. I descended ahead of the group and marked the spot with my lights where a section of road turns to gravel for 6-10 feet, after the group passed it I continued descending into Hopland. Again the combination of the Dinotte 5 watt and the Princeton EOS 1 Watt mounted on the helmet was perfect for my eyes. I was able to descend fast and feel safe while doing it. I made it to the control a little ahead of the group. On the information sheet it said the Valero gas station mini-mart closed its doors at 12:00AM, I wanted to get there before it closed so that way with a rider inside shopping they probably would not leave other riders out in the cold with no munchies and drinks, I got there 10 minutes before close time the group arrived shortly. Our Regional Brevet Administrator Todd T was there to serve as the control for people that would be arriving after the store closed.
With most of the climbing done, from this point on, home got closer with every revolution. Most of us put on our cold weather clothes, I noticed Veronica was shivering I offered an extra vest but she said she would be fine after we started moving. It was getting a little colder as we put more miles under the rubber. At the turn onto Chalk Hill Rd we stopped for a welcome break, once we started moving temperatures dropped a little more. It seems later that night temperatures were in the high 30's to mid 40's. Now there was a mist on the air, I could not see much trough my glases neither could anybody else, I thought. The flat boring miles were, well, boring but at least the fogged up glasses limited the visibility, out of sight out of mind.
Finally the last control at the Petaluma Safeway, we came and we conquered and as any ill prepared occupation force we did not wanted to leave! The Starsucks inside Safeway was closed but there was other stuff to be eaten.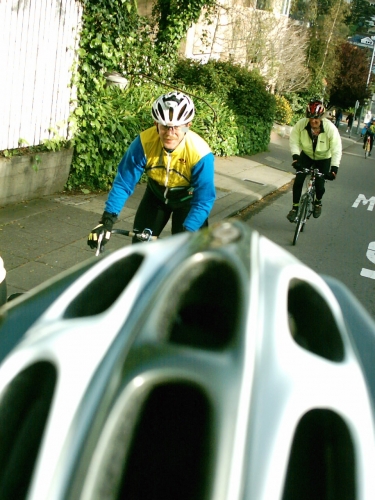 I was done in no time, All I did was buy some more tomato juice and fill my backpack bladder with water. Usual cheerful Dan was not looking good. He had been doing some long pulls all day and they where finally taking their toll. Veronica was even in worse shape, I again made the offer to lend her a vest but she mentioned it was her hands where she was experiencing the most trouble. Easy to fix! I had a pair of glove liners I was not using, I lent them to her. After a while Rob, Bruce, Dan and I left the store. Veronica and Mark stayed behind to gather some energy before climbing out of Petaluma. Our reduced team broke a little on the climb but we regrouped in Nicassio for a restroom stop. After suffering a little climbing out of Nicassio and then White's Hill we descended into Fairfax. As usual on the SF brevet series, once I start the descent into Fairfax my energy comes back and as we get closer to San Francisco I fell better and better, it is all up there in the head. The turns home where marked by general chat and conversations with other riders (Kitty G wanted to practice her Spanish) and some more climbing.
When I am near the end of a brevet I feel this urge to go as fast as I can so I climbed from Sausalito towards the Golden Gate Bridge at a fast pace, I was feeling pretty well. Rob had been acting as our unofficial captain (for our group) and wanted to have us all arrive at the same time, I was planning on doing that anyways. One by one the four of us made it to the little hill before the entrance to the west sidewalk, once we were all there we moved on. There was an event using the west sidewalk, we catch the tail of it, the bad part was that on the south end the two access points to the Strauss statue, the location of the final Control, where closed so we had to do a long silly loop to get to the finish.
Our clock officially stopped at 9:31 AM, we had completed the 400k in 21:31 very close to my estimate. I was very lucky to be able to ride with the group. Rob acted as the organizer of the group and did a very good job at it, thanks Rob, Dan Bruce, Veronica and Mark. You all were very good partners for my first 400k.
A little while after we finish JimG and Cyclofiend (Jim E) showed up, they were riding on the Mill Valley bike path and saw our group ride by and had turned around to come to the Brevet last Control to congratulate me profusely;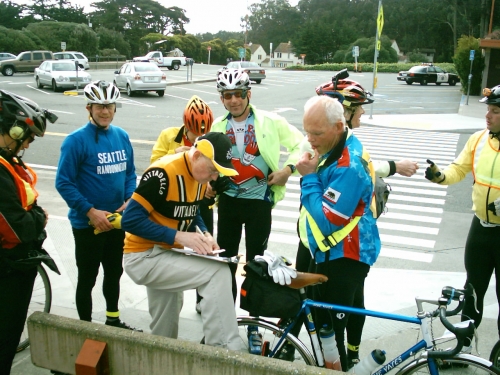 I was a little embarrassed by all the attention from my friends but it was great to see them there. I was surprisingly fresh (and wired) we chatted for a long time while I gave them my oral report. Mike B showed up, he had not ridden the event because of an injury but was volunteering at the control. We all talked for a long time, other riders keep coming in, Veronica and Mark came in as did others I had ridden at one point during the day. I left the final control after a long time and rode home. Got home at 11:30 am exactly 24 hrs after I had left my building's garage on my bike. Time for a kiss from the wife, a bath, a shower and a nap.
600k next? I don't know, vacation may get on the way but it sounds like the 600k could be fun, we'll see.
This brevet bullet points:
For me this 400k was a piece of cake, really. Like everybody else I had a hard time at some points but overall it was a good brevet for me. When all riding was done I was fresh and felt I needed to ride home rather than having my wife picked me up like what I had planned. It was my first 400k but I had a harder time on some of the previous six brevets (200ks and 300ks) I had completed. The noon starting time, the decent weather, the lighter bike and the conservative diet on the week before the event made a big difference. But perhaps the most important thing was riding in with good company.
I knew this already but group riding makes things a lot easier. The longer events are perfect for this. All you need is team mentality. Don't know the optimum size of a group but I think 4-8 people can ride an event at a very good pace and have fun while at it. I think the dynamics of larger groups are different, they work very well while moving but as with any large animal/machine, it takes longer to start moving again. It is easier to make decisions with fewer heads, also agreeing on riding speed is easier with the smaller 4-8 people group.
The lighter bicycle (Ti Habanero MTB) was a good choice for this event. The lighter weight made a huge difference. Also the Titanium frame offered me a little more comfortable ride than the already comfortable (but heavy) steel Miyata MTB frame I usually use. Are the days of the Miyata counted? I don't think so but the Habannero did definitely made a difference.
I have been watching what I put in my mouth for about a week and that also helped. I am the very essence on an omnivorous animal. If it grows or moves, I will eat it. I will eat almost anything so this time around decided to pay some attention to the stuff I feed myself and chewed more fruits, veggies and lean meats. No wine or beer with dinner the week before the event. But nobody said I could not have a beer or two after the event when I came home.
The Jandd Mountain Wedge III bag is a keeper. I don't think I will be ordering the Carradice Super C Saddlepack. The Jandd bag offers me all room I need and then some. This bag expands but I do not use it in that configuration, however it is great to know the extra room is there if I need it. The bag is very light weight compared to most bags of that capacity. The only minus I see for the bag is that is not waterproof. I can always use an industrial ziplock bag inside to protect all contents from the water; on second thought, maybe I'll design a rain cover for it.
Again the Dinotte and the Princeton EOS combo proved to be the perfect setup for me. Could not be happier with them. Now, If I can only remember to move the extra set of batteries from the table to the bag... But forgetting the extra batteries proved an important point and one of the reasons I went with the AA battery operated Dinotte: If anything goes wrong with the batteries (or your memory) you can get AA almost anywhere. I am not a hub powered light kind of guy. I run the Dinotte with two AA 4 cell battery packs connected in parallel, this little hack doubles the burning time to about 7 hours in low (plenty bright for all but the fastest descents), it is very easy to build and cost $5-10, worth every penny.

A bicycle decorated with the help of an Interior Designer is a happy bike. I put stuff my wife, the Interior Designer, gives me on the cockpit and elsewhere on the bike. Recently I got a new addition to the Habanero a little paper flower that she got who knows where. I also put a 10+ year old photo of us taken by one of them booths that both shoots and prints a little sheet with rows and rows of tiny self-adhesive photos. These mall photo booths are designed with kids in mind, that's me. I also have a spoke decorative thingie she bought for her bike. They came like 10-20 in the package and I think every bike at home has one. All these decorations remind me of her while riding, that's as good fuel as I can get anywhere.
Sit down dinner in an actual table inside a restaurant is not a bad thing after all. It was great to take the break. I think this time, timing of the dinner was key. An although I did not have soup for dinner I've had soup at the Guernville Safeway and that was good fuel. Soups have moved up on my list of good food for ridding.
I made an effort to get my butt off the saddle more often. I remember a few years ago when I did a tour from Seattle to San Francisco I did that often and my saddle sores were minimum. It also helps use different muscle groups so not all the same body parts do all the work all the time. A minor problem I encounter was that when standing on the pedals my knees hit the edge of my small handlebar bag as it rests on the stem. It was a minor nuisance that i think I can live with.
I still believe woman who ride brevets are in a category of their own. My hat off to all of you. It is nice to see so many woman in the San Francisco brevet series. Hope it is the same in other places.
V-brakes are great. All my bikes MTB has them. One finger braking is great. These things are great for rain or shine. I've been using them for many years, they don't get all respect they deserve. In my opinion there is no other brake system for MTBs or road bikes that offers the weight, simplicity, reliability, modulation and power of V-brakes, bar none.
The Stats:
Total distance for the day: 260 miles (418 kms, that includes the ride from home to the Starting point and back, ~5 miles each way)
Official distance: 252.3 miles (406. kms)
Total climbing 13,290 feet (4050 meters)
My odometer distance for the event: 250.25 (410.74 kms)
400k time: 21:30 hrs
Total time moving for the event: 17:07
Average speed for the 400k 11.6189 mph (18.6988 km/h)
Average speed moving: 14.6056 mph (23.5055 km/h)
Maximum Speed 46 mph (don't know where but I suspect descending towards Fairfax on the return leg)
Minimum speed: 3 mph (at lovely Joy Rd for sure)
(First posted March-19-2007 at 06:45 pm)
No related pages or links.