Baja California Cape December 2003 (First posted January-10-2004 at 08:55 pm)
Baja California Cape December 2003 (First posted January-10-2004 at 08:55 pm)

The Gringo touch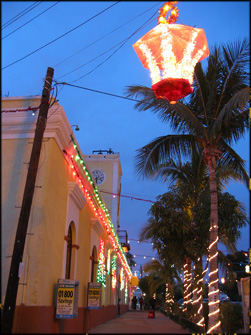 We planned this short tour just to get away from the cold and rain here at home in San Francisco. We found some semi-cheap tickets online and from there we did a little homework to find out about the road conditions, hotel availability, etc. To our surprise the area of Baja California we visited, the southern tip of the peninsula known as The Cape was very expensive considering what you get in return for your money. This is obviously the result from its proximity to "Gringo-Land" and the fact that it has absolutely beautiful beaches everywhere. The road conditions were good, the pavement did not have as many pot holes as we had heard, it's very ridable on almost any decent touring tire (Ours were 20" Schwalbe Marathons). The traffic was light considering that this time of year is high season over there. There is no shoulder on the road except the stretch from Cabo San Lucas to San Jose del Cabo where there is at least 5' wide shoulder all the way.
Jump to the Day by Day travelog
The Cape appears to be a safe place for the general tourist. For the cycle tourist the road it is mostly safe where, because of the light traffic, cars have room to move to the left when passing you. We had only two bad experiences with traffic (both new model trucks) where on the way from Todos Santos to Cabo San Lucas one drove as close as he could on purpose while passing us very fast; the other incident was on the way from Cabo San Lucas to San Jose del Cabo, somebody threw an empty beer can at us but missed. I guess Cabo San Lucas has all the vices of any modern town. For hydration we drank Gatorade, from our backpack 100 fl oz bladders, mixed with regular faucet water and never got sick, the water is clean and there is no reason to buy the expensive bottled stuff (except for the first two bottles we bought that we refilled with regular water adding to to our maximum water caring capacity).
We rode 280 miles in six days, averaging only 46.6 miles per day. The weather was sometimes very hot making this trip the perfect escape from the cold back home.
During the crazy pre-christmas sales I found a Saddleco's Flow seat in the used bin at a local PerformanceBike shop for US $25, being intrigued by the concept and lured by the low price, I bought it. When I used it during some test rides it felt very comfortable, however during the tour I discovered the hard plastic border that gives structure and shape to this seat is an absolute pain to ride on over long distances, I'm glad I had my trusted 5mm thick neoprene seat cover with me to soften the edge. This concept could work very well for bicycle touring if the saddle was wider. If you tend to sit on the back of your saddle, this is not for you. I do not recommend it for touring as most people tend to move around in the saddle during long rides, mine is now installed on my commute/around-town bike. In my oppinion, this is a poorly designed saddle, I've heard the same complaint from others. For the record I weigh about 150 lbs., and use a Ti Avocet 02 as my regular touring saddle.
We rode our Gaerlan touring folding bicycles, having no mechanical problems except two flat tires on the same day. This was the first time we used panniers on tour, we usually use a trunk on top of the rear rack (even on our three week tours/vacations) but when we were packing, there was the possibility of taking a tent for camping (which we didn't) and also the fact that the higher center of gravity of the trunk "could" be a disadvantage on rough unpaved roads.
I think we would have had no problems doing the off-road section with the trunks. Our panniers are small waterproof Vaude very simillar to the Ortlieb. Even this small panniers provide way too much space for our needs, they were not even 3/4 full including our small sleeping bags. I personally don't understand why people need to carry so much stuff, anyway, little stuff has always work for us and makes riding easier on our bodies. Bicycle, rack, tools, empty panniers, and other stuff not allowed in the plane cabin went inside the suitcases with the bicycles. Our clothes we carried in shoulder bags onto the plane with us, that also contained our helmets, handlebar bags, and bicycling backpacks. Everything got there and back in good condition.
When reading this account remember that our views reflect ,for the most part, a single day and sometimes less in each location, this is what we saw on our stay in each town, "your mileage may vary".
Would I recommend this as a tour destination? NO. But it is not because of the people, they are as warm and freindly as they can be; it is not because of the road conditions or traffic, they are in good shape; it is not because of the landscape, it offers interesting views and wildlife for the eyes; It is simply because it is NOT a good deal when compared to other places you can visit. Not including airplane tickets and staying in hotels, we spent on average US $108/day for the two of us, this is very high when compared to the US $30-40/day we spent in Vietnam or US $60-$70/day (I think) in New Zealand (better accomodations and riding) and I don't want to mention Nepal....However if you are camping things will be a lot cheaper but so they would be in any of my previous examples.
Note that almost any place will receive Pesos or Dollars, if you want to pay with dollars make sure you ask "A como recibe el dollar" (how much for a dollar) to avoid surprises.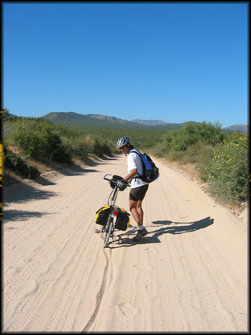 Day 1 12-23-03
SFO to San Jose del Cabo
Cabo03-12-23 The Taxi to the airport picked us up at 4:10 AM. Check in at the airport was easy and our bicycle suitcases where inspected in front of us, I even had the opportunity to give some suitcase closing instructions to the nice security guys. We arrived in San Jose Del Cabo by 2:30 after a change of plane in Los Angeles. No need to get an expensive taxi to town, got tickets for the Colectivo (Vans) for $80 Mexican pesos each that will drop us off Downtown in front of the Tropicana Inn Hotel, from there we caught a taxi to the hotel we had reserved from home for the first night, La Palmita Hotel, this taxi ride was US $7. We could have taken the colectivo directly to our hotel but we had misinformed them of the hotel name saying that it was La Playita which is a small rural town about 7 km east of San Jose del Cabo, this is why we were dropped off downtown in order to catch a cab to the nearby town of La Playita. We found La Palmita hotel on the internet and chose this place due to it's low price ($59) and it's proximity to the beach. It is owned by a nice family who also run the convenience store/ sandwich shop in front. We asked them if it was possible for us to leave our bicycle suitcases with them in storage while we did our tour, in exchange of course for booking our return night with them; they graciously agreed. I assembled the bikes and then we rode downtown to find a place to eat ending up in a good and somewhat cheap taco place ($11 for the two of us). After that it was time to have a drink, the place directly NEXT to the Tropicana Hotel Restaurant serves up an excellent Margarita (made with "Hornitos" brand tequila). Rode back to the hotel and called it a night. Tomorrow we are off to the East Cape.

Day 2 12-24-03
San Jose del Cabo to Cabo Pulmo
42.97 miles
6:13 hrs moving
Average speed 6.7 Miles/hr
Left by 8 AM and easily found our way to the unpaved East Cape Road. At the detour to la Playita there is a Tienda where we stopped and bought Gatorade, a hamburger and some other stuff for the day. So far the unpaved road was in good condition (ridable with our 20" Swchalbe Marathons) At 10.5 mi from our starting point we stopped for a snack at the residential development of Santa Cruz. Then around noon we arrived in Vinorama, a very small town (24.84 mi) where we had lunch at a little freindly hole in the beach that could barely be seen from the road, if it weren't for the sign on the road announcing "Cold Beer & Lunch" we would have missed it. Left by 1PM and soon after the road turned VERY sandy and we had to walk long sections, our tires had absolutley no traction on the soft stuff. It was hot, sandy and downright exhausting. It didn't improve until after Los Frailes. we arrived to Cabo El Pulmo around 4:30 and decided to check the Cabo Pulmo Beach Resort, the accommodations where all different cool cottages with kitchens, bbq, patio, outdoor shower , ours was US $79. Our original plan was to ride further to La Rivera but we had enough sand riding for a day and the cottage we had chosen was very nice. Later on we visited the beach, it was too rocky for our liking but this place is supposed to have some of the best fishing/ snorkeling/ diving in Mexico. We ate our Christmas eve dinner at "Restaurante El Caballero" a couple of dirt lots down from the entrance to our hotel, very good food. Back to our cottage to wash clothes and enjoy a cup of coffee with Baileys (complements of previous guests at the cottage). This is a very nice place to stay...had the weather been a little warmer I think we would have stayed a few more days. It's a sleepy little town, it exists solely for sport fisherman and diving.

Day 3 12-25-03
Cabo Pulmo to Los Barriles
38.37 miles
4:07 hrs moving
Average speed 9.3 Miles/hr
Left by 7:30 the road was ok compared to the day before, still dusty but very ridable. Hit pavement after 7.38 miles of riding, woo-hoo we were ready for it after the sand pits from the previous day. Got to La Rivera (60.26 miles from SJ) by 9:30am where we did some tienda shopping for food supplies and breakfast, left the Tienda at 10:15. The road conditions where ok. Light traffic, from the V intersection the road was pretty boring all the way to Buena Vista where we had lunch at around noon and left by 1PM. The plan for today was to ride the off road up the coast to Cardonal, spend the night and then continue on to La Paz. However talking with the locals it seemed that the road was in very bad condition north of Cardonal to where it is paved again, (San Juan de los Planes) So we decided to ride just over the hill to Los Barriles to spend the night and then ride the paved road to La Paz the next day. We checked hotels in town and ended up at the Hotel Playa del Sol, an ok place with pool and beach in front of the our room for US $60. This town is known for its good windsurfing conditions. I removed some of the dust from the chains and oiled them, them took a shower, washed clothes and to the beach, this was a nicer beach than the one in Cabo Pulmo. Later went for a walk in town and found a taco place just across from the access street to our hotel selling tacos for $9 pesos each, the taco de carne was good. Back to the room and later to the bar by the pool. After two margaritas and a forgettable conversation with another couple we went back to the taco place for more. Our room had a big gap (about 2") between the AC unit and the wall so some bugs came into the room when the lights where on.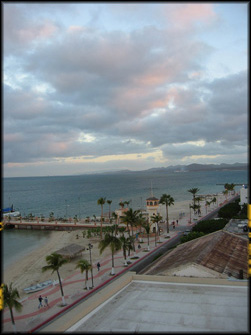 Day 4 12-26-03
Los Barriles to La Paz
72,78 miles
6:59 hrs moving
Average speed 10.4 Milles/hr
Left Los Barilles at 7:40 AM after stopping for breakfast at a cute gringo-owned cafe right before getting back onto the highway. Passed San Bartolo (12.5 miles) and San Antonio a good place to buy food supplies (31 miles) The road was hilly, scenic and interesting from the beginning of the day all the way to El Triunfo (36mi) where we had lunch at a taco stand right on the highway, excellent burritos at $8/ea. This town (Triunfo) is very cute and is worth a little exploring. Back on the road I had two flats one right after San Antonio when I ran over a cattle grid on a "pit" stop, the other on the boring straight flat section when riding close to Monica's rear tire I ran over one of them sharp road reflectors. After El Triunfo the road was boring and eventually turned into a long straight with little landscape variation. After 50 miles we finally made it to the intersection of Hwy 1 and Hwy 19, there is a small thatch roofed structure that serves as good shelter from the sun and for a break before the last stretch to La Paz. Finally we arrived to La Paz, the capital of Baja California Sur (BCS), compared hotels and ended up at the Seven Crown Hotel right in front of the Malecon (the beach boulevard). The room was very spacious and on the fifth floor, the top floor of the building. There was an outdoor Jacuzzi on the roof where we watched the sunset. The little part of the city we walked trough (downtown) had some character and was slightly interesting.

Day 5 12-27-03
La Paz to Todos Santos
54.66 miles
4:15 hrs moving
Average speed 12.6 Miles/hr
Left La Paz at 7:40AM passed again the Hwy 1 & Hwy 19 intersection (21.13 mi from our Hotel) From that intersection the road is ultra boring and straight. Later we made another stop to break the monotony of the flats. Very near Todos Santos the road gets a little more interesting (some small hills and turns). Got to town at 12:30 PM. There where no rooms available in town, the only one we could find was in the cheap Hotel Mision Del Pilar (phone 612 145-0114) $250 pesos a small room with two twin size beds, ok for the tired cyclists. We washed clothes as usual and asked for permission to hang clothes on the handrail, as the sun was hitting it hard and would make for some fast drying; then we went out for a walk around town. Todos Santos has a number of "art galleries" that sell the same stuff you can find in the tourist shops, however prices and sometimes quality was better here than in other towns like Cabo San Lucas.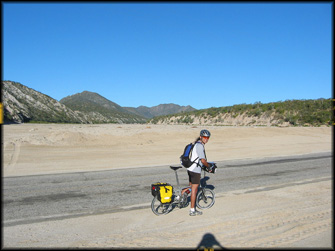 Got money from the ATM to pay the hotel, and bought some food for tomorrow. Later we ate at a taco stand (This one is a small metal shack placed inside a lot) on the main tourist street, very cheap and good. Many tourist come to Todos Santos for day trips from other places.

Day 6 12-28-03
Todos Santos to Cabo San Lucas
51.25 miles
5:04 hrs moving
Average speed 10.1 Miles/hr
Left at 7:20AM, fortunately the road today was more interesting than the day before. A head wind was with us for most of the day, not too strong but enough to be noticed. There was a little more traffic than usual but still nothing compared to traffic in places we have been before. We arrived to Cabo San Lucas by 1:30, compared hotels (some but not all of our choices were full) and ended up at the Hotel Mar De Cortez US$56. Washed clothes, and went for a walk around town. In my opinion, this is the WORST place to spend time in the Baja Cape. Everything you see in the area close to the harbor is just a Made For Gringo affair more so than the rest of the Cape and with prices to match the clientele.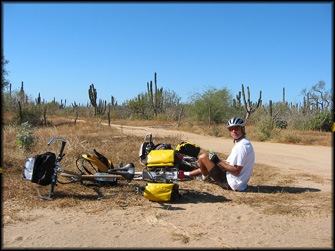 Day 7 12-29-03
Cabo San Lucas to San Jose Del Cabo
20.01 miles
2:05 hrs moving
Average speed 10.4 Miles/hr
A very easy day. We left late at 9 AM after breakfast at the hotel restaurant, who could pass up on a full breakfast for $2.50 each? Finding the hwy was easy. At the beginning the hwy has two sets of lanes going in each direction separated by grass covered dividers. The two extremes have little traffic and are mostly used to isolate hwy traffic from the neighborhood traffic. After 5.2 miles from our hotel the Hwy becomes a two lane in each direction divided road but the shoulder is very wide and clean making riding here very easy. After exactly 20 milles of riding we got to the detour to the "Zona Hotelera" of San Jose del Cabo, a wide street that runs along the beach where most expensive hotels are. Monica felt she wanted to stay at a hotel right on the beach instead of at the little "La Palmita Hotel" that is on the same street but on the opposite side of the road. We asked at various (not too many to chose from) and end up staying at the Posada Real, a run- down Best Western Inn Hotel with a pool at the edge of the beach and a room with a diagonal view of the beach/ocean.
I thought it was a little too much for the US $109. Later in the afternoon Monica overheard other hotel guests comparing their hotel deals, between $60-&$70 a night- lesson learned: make sure you bargain hard- we had bargained from $129 down to $109 where the guide book had put this hotel in the $150 and up category, but apparently there is more room to bargain- obviously the length of stay also has something to do with your bargaining power. Went to the beach and stayed there for a couple of hours trying to even-out the exaggerated bicyclist tan we had acquired over the last couple of days. This is a very good beach and you don't need to stay at any of the expensive hotels, there are access corridors from the street so everyone can join in on the fun. Later we went out to walk around town. We rode to downtown and left the bikes parked at the restaurant where we had excellent margaritas the first night in town. The guys there are very nice. Walked around town, went to a "Dulceria" a store where you can buy a piÒata and all the stuff/candy you put inside (dulces), we both have a very sweet tooth and enjoy eating sweet stuff every chance we get.

Day 8 12-30-03
San Jose Del Cabo
Monica woke up early and went to the tienda across the street to get something for breakfast. Check out time was 1pm so Monica was going to milk her $109 stay to the last possible minute. We went to the beach after breakfast and hung out for a couple hours before heading back to the room to shower. We finished packing our stuff and checked out from this hotel, rode the three blocks to the other hotel where we had left our bicycle suitcases, checked in got the suitcases. And then went to the beach one last time. Came back and rode to downtown to do the same thing we did the day before. Came back and I packed the two bicycles.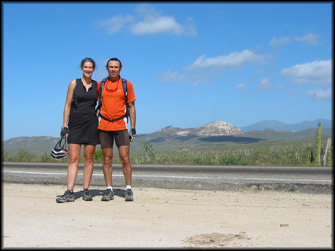 Day 9 12-31-03
San Jose Del Cabo to San Francisco
A late morning start, had breakfast at the Tienda next to the Hotel (It is owned by the same family as hotel) Checked out and caught a taxi to the airport (US $20) We where early and there was no line at the counter. When we travel with the bicycles we usually try to get to the airport earlier than usual. So we had some time to kill- Monica insisted we go outside to sit and catch the last rays of warm sun before heading back home to SF. Took the plane to LA and then another home. Back to reality. It is COLD!
(First posted January-10-2004 at 08:55 pm)
No related pages or links.