Cycling Nepal October 1998 (First posted October-11-1998 at 12:20 am)
Cycling Nepal October 1998 (First posted October-11-1998 at 12:20 am)

Tuesday October 13, 1998
Left San Francisco on United to Tokyo Narita International Airport. I believe it was a ten hour flight which went by pretty fast. In Japan we had a five hour layover. A stewardess on the plane suggested we take a short train ride from the airport to the small town of Narita to visit the temples and see a bit of Japan before we continued on to Bangkok. The weather was quite cloudy and humid.
We caught a train in the train station in the lower levels of the airport terminal. After 25 minutes we arrive at Narita, A small town with narrow winding streets. We walked to the Naritasan Shinsho-ji Temple a nice place to visit. If you have four to five hours to spend at the airport by all means find your way to this town.
We then returned to the airport to catch our plane to Bangkok, where we would finally get to sleep on a bed before flying to Kathmandu, our final destination.

We walked around the Thamel area near the hotel. That evening we had dinner with Peter Stewart from Himalayan Mountain Bikes, HMB, (phone 888373 345332323) and some other tourists, trekers from Singapore and a cyclist from Capitola, CA.

Friday October 16,1998
First morning in Nepal. We woke up early, around 4 am to peoples voices echoing through the hallways. Rested and walked around Thamel, also checked out the mountain bikes we reserved from HMB.

Saturday, October 17, 1998
32.7 Kms
2:38 hrs
Paved road and off-road on fire roads and single track trails.
Picked up bikes and rode around Kathmandu to Durbar Square ( what a mess), then to Swayambunath Stupa, also known as the "monkey temple" and Balaju. We also rode out of town by Rani Ban , "The Queen's Forest", up the hill to Teenpipli then off-road through rice paddies and the small Newari village of Dharmastali and then back to Kathmandu.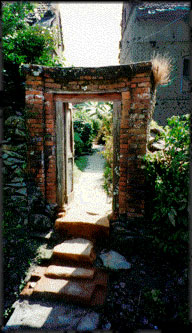 Sunday, October 18, 1998
41.1 Kms
8:30 hrs
Paved road and off-road rocky fire road.
Kathmandu to the Queen's Forest "Rani Ban" where we waited 2 hours until they opened the gate. We met two British men at the gate, who had also arrived early. Into the forest the road was slightly rocky. We stopped at a shrine to check it out and take pictures. One of the brits finally caught up with us and asked to borrow a pump because his friend had a flat and was left behind. From this point we started a steep rocky climb which we thought would never end. Finally the last mile I had to walk my bike up. We were so hot and sweaty, the weather was so balmy. We reached the top to find a group of french tourists who had arrived by bus! We hung out for awhile and then decided to descent.
We ran into the British man who had borrowed the pump, he told us he was not able to find his friend when he went back with the pump. A few hundred feet further down we ran into his friend, who told us he went all the way back into town to pump his tire. We let him know his friend wasn't too far ahead and that he was almost at the top.
Althogh the british guys were nice people in need, we shouldn't have let the pump out of our hands. We learned our lesson the hard way, worrying all ride up the hill what would happen if we never saw the British guy again, we could be without our pump for the rest of the day a long way from the next bike shop.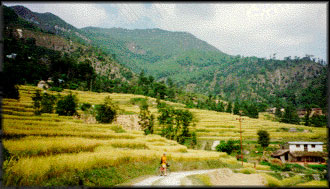 Under any circumstance let your tools and pump part from you. Next trip we are taking two of all tools.
The ride down was just as excruciating as the ride up, the rocky pathway was torture on the wrists! We finally made it down and happy to arrive back into Kathmandu. Now it was time for a shower and dinner.

Monday Oct 19, 1998
25.4 Kms
4 hrs
Paved road uphill all the way.
Kathmandu through Teenpipli to Kakani. Long big hill 700 meters, foggy we spent the night. We relaxed at the garden cafe which had beautiful views of the Himalayans when the fog cleared.Also great views of Kathmandu at night. We took a short walk towards the memorial garden of a Thai Air plane crash in 1992. It was closed, we also got lost trying to find it. We saw the sunset. Didn't sleep thinking that someone was going to steal the bikes which were locked with a padlock and cable on the terrace. We never had anything stolen and crime against tourist seems to be very low. But we live in lovely San Francisco where you can't let your guard down for a second. I guess vacation mode had not taken control over all our senses, yet. In our hotel room was the biggest spider Monica had ever seen! I've had lived in the South American jungle so this little 2" in diameter spider did not look that big to me. Monica called the hotel guy to come kill it, poor guy it was the day according to their beliefs that they were to treat animals with kindness.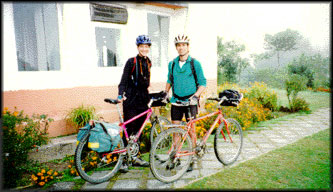 Tuesday Oct 20, 1998
36.8 Kms
6:15 hrs
Off road, fire roads single trails and no trails.
Woke up and it was foggy and cloudy. We ate breakfast and went upstairs to pack, looked through the window and saw the Himalayans!!! Beautiful!! Next left for ride. Walked and carried the loaded bikes up hill through cow pastures, no trail, kept going up it was very foggy and we couldn't see anything including the road as our guide book described. We decided to go back about half way down we ran into a guy who said we had been going the right way. He carried Monica's bike up the rest of the way uphill! Finally made it to the military post. Siam Road then single track through forest for a long time downhill through spider webs I rode ahead, clearing/eating the webs and dense vegetation, this trail had not been used in a long time. After a short climb through a pine forest we made it to some nice waterfalls!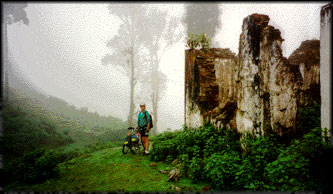 Finally arrived to a town with the Sleeping Vishnu. Two cute girls gave us a tour in english for $1 each also gave us tika while others watched our bikes. Then downhill to Kathmandu. We arrived to Hotel Norbu Linka, we got a great room on the 5th floor this time with a view of Swayambunath Stupa. After washing our fast drying clothes and having dinner we went to bed I (Monica) slept like a log, Carlos didn't he said the city was up partying all night long with fireworks and lots of singing, I didn't hear a thing.

Wednesday Oct. 21, 1998
35 Kms
3:30 hrs
Paved road
From Kathmandu to Dulikhel. We rode past the airport we saw two elephants bound towards the runway, this is a popular shortcut from one side of town to the other,
before planes land the airport sounds an alarm to clear animals from the runway.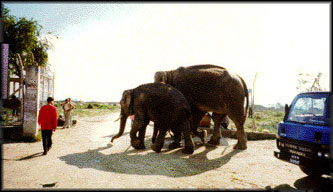 We were going to take the side roads. We went through the town of Thimi- got lost thinking it was Baktapur and went through a town procession to join on to a main highway. We got a picture of another two elephants. Now on the main highway we followed past Baktapur up to Dulikel. It was HOT! Uphill lots of auto exhaust. Staying at a nice Dulikhel Lodge Resort great view from most rooms with feather blankets. We ran into the mountain biking group. They are staying in the same hotel. Doing the same loop more or less except backwards. I'm (Monica) not felling too well- Nausea, Diarrhea and fever.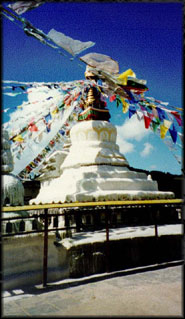 Thursday October 22, 1998
32.5 Kms
4:hrs
Paved road, off road.
Dulikhel to Namo Buddha then to Panauti. Very nice off road ride. Namo buddha was clean sat down and ate cookies and coke. Continued on towards Panauti through rice terraces and small towns. Arrived at Panauti, nice temple by the river. Then highway to Banepa then back to Dulikhel lodge resort. Are we going to Tibetan border? We are tired. I was sick yesterday and Carlos is today. The valley water is finally getting to us. We always use bottled water to fill our hydration packs (camel backs) and added power Gatorade we brought from home. They sell Gatorade in very few places in Kathmandu, we recommend you bring the powder one with you

Friday Oct 23, 1998
18.7 Kms
1:15 hrs
Off road downhill
We decided not to go to Kodari. We will go to Baktapur off road and continue as planned but also go to Patan. Dulikhel to Baktapur through Nala easy downhill coasting to town. Got a hotel room, parked and looked the bikes at the patio of the hotel and them spent the afternoon walking around Baktapur, this is a must see town if you ever visit Nepal, very nice . Lot's of tourist shops! Monica is in her element. This town is a lot cleaner than everywhere else.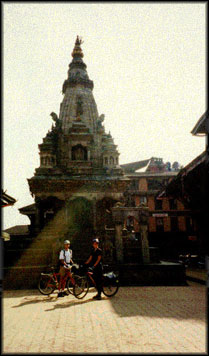 There is a small charge to enter the restored part of town which is the place you need to visit and stay at, $5 per person good for a few days as long as you don't leave this part of town, and you won't need to.
Walked into a workshop to see paintings. Ended up staying 2 hrs listening and drinking tea with a " Tanka" master painter, Madhu, who has been to Germany teaching his craft. He told Carlos that it was his destiny to come to Nepal to speak with him. That he had been here in Nepal in a previous life. That evening we went to have pizza, to change the diet and improve our health, in the old town square. Please try as much Nepalese food as you can, you probably will never have the opportunity to do this again, not even in Nepalese restaurants back home.

Saturday Oct 24, 1998
Late rise. Carlos slept well, I didn't and kept hearing noises. Carlos doesn't want to do anything, I say let's go to Changu Narayan as planned. We ended up walking around Baktapur, went to a museum and visited shops. Had lunch at old temple converted to a restaurant. In the afternoon we returned to Madhu's home to see his paintings. We bought one and he will deliver to Kathmandu for us.We need to call him when we know we will be in Kathmandu. For dinner we went to Marco Polo restaurant near the hotel.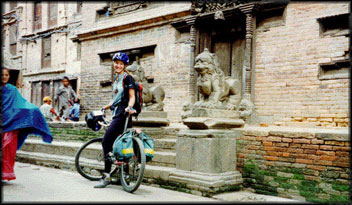 Sunday Oct 25, 1998
19.2 Kms
2 hrs
Paved road
Ride to Nagargot from Baktapur. Before leaving stopped to buy cloth. Ride to Nagargot was only about two hours long and not too hard. Uphill all the way 700 M. on a paved road, It was a nice ride. Stayed at the Hotel Viewpoint . This is the worst place we stayed- sheets were dirty, room was very humid. We did air it out which made it a little better. Nice afternoon just hanging around. We were the first to arrive this day at 12 PM but by 5 PM it was almost full with foreign tourists.

Monday October 26, 1998
29.5 Kms
2 hrs
Off road downhill, paved road.
Woke up and saw the sunrise and mountain range view from the Hotels Terrace, we left early to Kathmandu. It was downhill most of the way. We saw cute school children dressed in red walking along the highway. We saw monkeys at safari road. The town before we reached Kathmandu was VERY polluted, the worse we have ever seen (YUK!!), keep in mind we lived in Bogota, Colombia before moving to San Francisco. Finally we arrived to our oasis (Norbu Linka Hotel) We went to get our plane tickets to see if we could change them, they were locked up and the person with the key was in Nagargot, the town we had just came from! This evening we had dinner with Mike, one of the mtn bikers from the group we ran into in Dulikhel.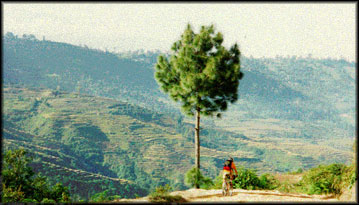 Tuesday Oct 27, 1998
We got our plane tickets and were able to change our flight to leave for Bangkok the following day. We spent the afternoon doing last minute souvenir shopping, getting our clothes embroidered with different messages and images (a local tourist custom). Had pizza for dinner and Madhu came by our hotel to deliver the Tanka with the Mandela motive we had purchased from him. He is just so cute! That evening we went to a hardware store to buy a PVC tube for packing the Tanka.

Wed. Oct. 28, 1998
My birthday! Carlos hung a banner in the hotel room which said "Happy Birthday Crocodile!" He had carried it with him along the whole trip without me ever finding it. Woke up early to do more last minute shopping. Met owner of hotel, he gave us his phone number in LA where he will be from Dec-April 1999. We shared the shuttle -mini minivan- from hotel to the airport with two japanese clothing buyers who live in LA. The flight to Bangkok was delayed; we finally arrived in Bangkok around 7:30pm.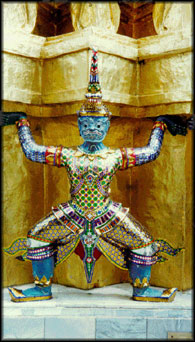 Thurs Oct. 29, 1998
We went to travel agent in Bangkok to book a beach vacation to Phuket. We spent the afternoon walking around the hotel area, past the US embassy, where we were followed by a guard, across a pedestrian bridge (do we look threattening?). It was very HOT and Humid! We went to a Japanese restaurant in the hotel for my post B-day dinner, we were the only people there. Afterwards we went shopping for bathing suits for our beach trip!

Friday Oct. 30, 1998
A little sight seeing in Bangkok. We took a taxi to the Grand Palace. It was a very hot and humid day. I was dressed improperly to visit the palace, no shorts and no bare arms allowed! Lucky for us tourists, they lend you shirts and pants, they also sell socks for those who wore sandals. Well I had brought my zip on pants, now all I needed was to borrow a shirt. The palace was very beautiful and very crowded with tourists. From the Palace we walked to the river where we had lunch on the pier. We walked back to the hotel, it was a very long and Hot walk with lots of stops into shopping malls to cool off. We ate at Tony Romas, onion rings, beer and apple pie with ice cream, YUMMY! We then went to exchange my bathing suit top I had bought from a street vendor, no problem here, just picked the new top and gave her the other one back.

Saturday Oct. 31, 1998
Fly from Bangkok to Phuket on a jumbo 747 full of people, obviously we were going to a very popular place. A car came to pick us up and took us to the hotel about an hour drive from the airport.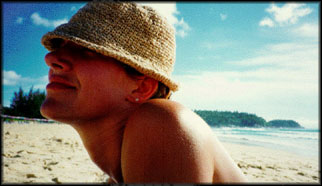 We left our things in the room and went to have lunch at a restaurant with a set menu Thai lunch, it was sooooo good! We both love spicy food. Went back to the room, then the pool, then a nap and last a walk along the beach.

Sun Nov. 1, 1998
Went to buy a paddle game so that we could play on the beach also bought cold drinks, this is one ting they are missing, people selling cold drinks like in many other beaches around the world, they had ice cream beach vendors though. We played paddle ball for a while then went into the ocean to play in the waves. They were great, lot's of fun, the best time I've ever had in the ocean! Carlos sun burnt his feet -owey- My face and shoulders hurt. We were too pale for the nice Thai sun!

Mon Nov 2, 1998
We went to the beach for a short time under the umbrella we stayed. Later more pool time and back to the room to nap, this is a beach vacation now.

Tues. Nov. 3, 1998
Last day in Phuket. Woke up early to go to beach for about an hour before packing up to leave for the airport. We arrived at Bangkok and stayed at a hotel near the airport for our early departure to Japan and then back home to San Francisco! Carlos loved Japan and is planning our next year bicycle vacation to Japan.
(First posted October-11-1998 at 12:20 am)
No related pages or links.