Seattle to San Francisco by bike August 2001 (First posted November- 7-2001 at 03:00 am)
Seattle to San Francisco by bike August 2001 (First posted November- 7-2001 at 03:00 am)

Anybody can do it
I decided to do this tour because it was affordable, well documented, and very scenic. My wife and I like to take touring vacations every year. A couple of years ago I purchased the pacific coast map set from Adventure Cycling for a future day when money could be an issue. The time had come to de-dust the maps. For this trip I also purchased the "Bicycling the Pacific Coast" book (Kirkendal & Spring)
I rode an average of 75 miles/day. I was riding alone and with a light load. The riding was interesting in Oregon and California, Washington did not provide much for my senses. . . . .
The route I took in Oregon followed the Oregon Bicycle Coast Route. Oregon prints an excellent map which you can request online it is free and will take the guess out of planning your day. This map has suggested alternate routes to avoid busy stretches of highway, the locations of the camping parks with keys for services offered (biker-hiker sites, hot showers etc) graphic elevation of hills ahead and it fits in most map carriers, unlike books. In California I used the "Bicycling the Pacific Coast" book and made copies of the pages with the maps to carry in the map carriers that way it was easy to follow the route without stopping to look at the book.

There are millions of RVs in the US and all of them are driving up the hill with no shoulder where you are climbing. However most people inside those RVs are nice folks that also enjoy the outdoors (if in their very own unique american way).
Many fellow tourers (and non tourers for that mater) made comments about how little stuff I carried. I have always packed light and this time was no exception- if you are interested here is a list of all stuff I hauled. Or you can jump to the Day by Day short description of the ride.
I didn't own a tent so I bought the best one I could find for touring, the lightest weight, compact when packed, easy to pitch, and room to move inside. For $150.00 I was able to get online Sierra Design's "Clip Flashlight CD" 2001 model. Also, I bought a self inflating sleeping pad, the lightest full length one I could find "Therm-a-Rest UltraLite Long". I have the lightest sleeping bag I've seen, my wife and I bought a pair of them during our bicycle tour last year in New Zealand, they each weigh about a pound and pack in a 6"x10" stuff bag and are rated to 48 farenheight. I don't own panniers or a trailer because I don't like and don't need to carry much when touring, I bought an expandable rack Trunk (TopeaK) that has a quick release designed to work with the Topeak seatpost rack. All my clothes fit inside the trunk:
2 pairs of cycling shorts,
2 very fast drying t-shirts,
1 light polartec vest,
1 light fleece pullover,
2 pairs of socks,
1 pair of underwear,
1 pair of cycling thights (no padding),
1 pair of convertible fast drying pants (have zippers at the knee that allow to remove the bottom half of the legs to use them as shorts),
Paper-like fiber rain jacket (this one is very lightweight and waterproof),
1 pair of cycling rain pants,
1 pair of waterproof booties,
1 silk sleeping bag liner (In case it got too cold)
1 sports scarf for those cold early morning starts,
The small first aid kit I putted together years ago using a makeup bag inherited from my wife; inside are all things I've learned to carry with the help of years of cycling related emergencies,
1 extra tube,
The cable/padlock (no need for a big heavy U lock)
The trunk also holds the tail light.
I placed the sleeping pad across the trunk's water bottle back pocket where I stuffed an extra tube instead of carrying a water bottle. On top of the sleeping pad I placed the tent and used individual bungie cords to hold them to the rack. Then I secure everything again with another bungie cord.
I also took a camelback that holds a 100 oz water reservoir and has plenty of room (700 c.in) for stuff like powerbars, an additional emergency tool, an additional air pump, additional patch kit, two extra tubes, few toiletries, and a two way radio with FM (I know I'm traveling alone but nowadays everybody uses these radios so i brought mine for peace of mind and to listen to some music from time to time).
The handlebar bag is a Vaude brand name with rain cover and has an external pocket where I always carry the tour book, and a map holder on top. Inside are the sleeping bag, the small camera and smaller tripod, the larger tool set (includes grease, oil, cassette cracker, extra cables, patch kit and many other little things), the PDA that serves as log, calculator, etc. the handlebar light (just in case I'm stranded riding at night) pen, two extra rolls of film, and a very small flash light.
That's it the whole thing, total weight less than 23 Lbs, including the water.
I used my commute bike no front suspension, with two year old regular slick tires.
Other than a couple of flats and a jammed by debris rear derailleur I had no mechanical problems. Of course before I left I disassembled and re-packed with grease the whole bike.
This is a nice cheap vacation, I would recommend it to everybody. Some people may do it faster others slower but regardless of cycling level almost anybody can do it. I met many riders of all levels, from many countries, and on all kinds of bikes. Get your butt off your office chair or home sofa and go. As with any cycling trip, it will make you a better person.


Day 1 August 14/01
San Francisco-Montesano
97.52 miles/157.01 kms
Time (Bicycle moving) 7:14:52
Flew from San Francisco(SF) to Seattle by United. These people charged me $75.00 for the privilege of taking my bike. I've been playing with the idea of getting a foldable travel bicycle to avoid this abuse. However, I recently was laid off from my job at a ebusiness consulting firm and can't afford it right now. That's another story I'll write about later.
The plane landed in almost zero visibility, I had never been to Seattle and still have never been 'cause I did not see much of the city. Picked up and moved the box to a corner of the luggage claim area where I unpacked, assembled and loaded all my stuff on the bike. The tent and sleeping pad made it in one piece inside the bike box. It took me about 45 min to get it all ready. It was around 9:30 AM when I rode away from the airport, man this felt good, NO JOB, NO TIME LIMIT, NO WORRIES, I need to do this more often.
The route to the Fauntleroy-Southworth ferry is in the Bicycling the Pacific Coast book. I also had downloaded and printed a map and instructions with similar route (at least out of the airport) from the seattle.gov site, make sure you also print the written description of this route found here.
Today was a long day but it was OK I had plenty of energy. The ride to the ferry was on city streets, I missed the ferry by about 20 minutes but I found a frog little action figure toy on city streets that would travel with me for the rest of the trip. The next ferry left an hour after I arrived. Later on that day going down a hill, the tent felt from the rack, guess I need to improve my rack packing skills. No harm done other than some dirt on the tent duffle bag. The ride was unremarkable, the last stretch from McCleary to Montesano on Hwy 101 has a very dirty shoulder and I ended up having 2 flats. I don't patch the tubes on the road, unless it is absolutely necessary, so fixing the flats took me less than 10 minutes each. I realized later that Hwy 108 parallels Hwy 101 all that stretch and there is almost no traffic. After my last flat I made it to Montesano at about 8:00 PM. Was too tired to go to the Lake Sylvia campground and end up staying at the overpriced Monte Square Motel operated by the gas station people. The room was clean and big, but not worth $90.00.

Day 2 August 15/01
Montesano-Astoria
86.6 miles/139.43 Kms
Time (Bicycle moving) 6:38:52
Left at 8:00 AM, later than what I would have liked. It was so foggy that a little drizzle was finding its way onto my glasses and clothes. At the top of the first hill I checked everything, turned out that the tent had slipped down and had been touching the wheel, making a small hole in the tent. I would worry about that later. More long hills on the first half of the ride, boring. The ride had good shoulder most of the day. It was a straight shot Hwy 107 to 101 then cut across Hwy 4 and I was there at about 4 PM. The bridge across the Columbia river entering Astoria is a bit scary with no clean shoulder to ride on and fast moving cars. After the bridge I turned left at the light towards Astoria and started looking for motels. Stopped at the tourist information office on the right side some blocks down the street and got a list of motels with different prices (another long day deserved a motel). I ended up at the Rivershore Motel, a decent clean room at a good price, $45.00. After showering I went downtown to one of the two bike shops to get a new tube, one of my extra ones had way to many patches already. Also did the laundry at the place behind the tourist office.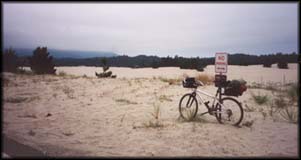 Day 3 August 16/01
Astoria-Cape lookout
80.77 miles/130.04 Kms
Time (Bicycle moving) 6:45:46
So far this is the most unremarkable day. It was an easy first half day, I started pushing the big ring and paid for it later on the day with a sore knee. The road was just plain boring. Stopped in Netarts for an excellent chilly burger at a small dinner. Rode less than a mile pass the intersection to Cape Lookout to the grocery store to get tonight's dinner. Beer, juice, candy, an apple, some fig cookies and other actual food. This campground is located on a very scenic part of the coast. After I pitched the tent I got the magic duct tape out and patched the two small holes I had made to the tent the day before. Carry duct tape, always, it fixes almost everything. Oregon state camps charge $4.00 for biker-hiker sites.

Day 4 August 17/01
Cape lookout-South Beach State Park
73.23 miles/117.90 Kms
Time (Bicycle moving) 6:16:57
Clear and cool day. Leaving the campground there is a big hill, nice way to start the day. I was cold last night after having taken off most of my clothes during the night, now I have a sore throat. I did not feel very well riding. After the top of the hill there is a nice solitary road through Sandlake.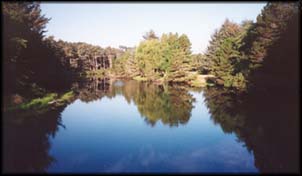 Right after Neskowin I took the alternate route recommended in the Oregon Coast Bike Route map, it is worth riding it. Very scenic, you climb the same big hill over a longer distance then on Hwy 101. On to Lincoln City one of the many tourist trap towns along the way. Later I took the second detour of the day, Otter Rock, it is a nice stretch of road to avoid the Hwy traffic. Right before my final destination I stopped at Newport to wash clothes. After locking the bike I changed into my pijama shorts/bathing trunks and rain jacket and washed everything else. South Beach campground has access to the beach where I relaxed for a couple of hours. Later I spend the night exchanging stories with other riders.

Day 5 August 18/01
South Beach-William M Tugman State Park
79.67 miles/128.27 Kms
Time (Bicycle moving) 6:18:33
As usual an early morning start (7:30 AM) Cape Perpetua offered nice views. At Reedsport I saw a loaded touring bike leaning against the wall of a diner, it was time to have lunch with a fellow tourer. Sure enough he was finishing his lunch when I came in but end up staying while and we had a nice conversation. Then we went our own ways in different directions. I stopped to get dinner fixings. After pitching the tent and showering I went to the lake to have dinner by the water. William M. Tugman State Park has a nice swimming area at Eel lake but I was feeling sick.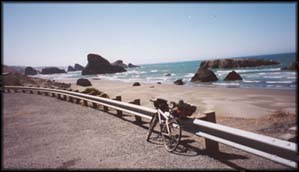 Day 6 August 19/01
William M Tugman-Port Ordford
77.09 miles/124.11 Kms
Time (Bicycle moving) 6:08:19
Another beautiful day, I've been very lucky so far. My throat was complaining. I followed the alternate route suggested in the Oregon Coast Bike Route map. It is indeed very beautiful but be warned the scenery makes you forget how hard you are pushing yourself. I took a wrong turn and ended up riding 3 extra miles. This was the only time I got lost. Very tired I arrive at Port Ordford at 3:00 PM. Stayed at Battle Rock Motel ($45.00) right before the Hwy starts climbing to the last part of town you can't see. The place was clean and had a nice view across the street, the beautiful pacific Ocean.

Day 7 August 20/01
Port Ordford-Harris Beach State Park (Brookings)
58.87 miles/94.78 Kms
Time (Bicycle moving) 4:48:40
I left late (8:00 AM),it was my sissy day, I was not feeling well at all. The route offered excellent views and I stopped many times just to appreciate them. Arrived early (around 2:00 PM) at Harris Beach. Went down to the beach and enjoyed it for a couple of hours. Later went to Brookings, about a mile, to get dinner at this campgound there were interesting groups of cyclists. We chat until 10:00 PM. This was my last night in Oregon.

Day 8 August 21/01
Harris Beach (Brookings)-Orick
70.98 miles/114.28 Kms
Time (Bicycle moving) 6:23:19
There where two decent hills on this ride. I did not take the alternate routes and paid for it. Hwy 101 climbs to 1485 feet over a looong stretch so it was very annoying having Hwy 101 traffic with me all day. The last 20 miles of the day were tough. Very tired I arrived in Orick and checked into the crappy Palm Motel, as I had been following the weather on the radio and it was almost certain it was going to rain that night. Don't waste your money on this motel, I can't say enough bad things about it. I was tired and went to buy dinner to the small general store. What is it with people in this town, they have been the most unwelcoming folks so far. Unwelcome to California my home state. This motel had washer dryer, do not rely on the dryer, it does not work and you will waste your coins here.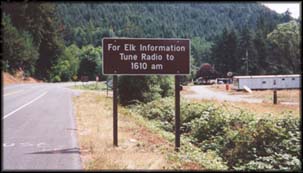 Day 9 August 22/01
Orick-Fortuna
64.26 miles/103.46 Kms
Time (Bicycle moving) 5:39:16
Another day of not so interesting Hwy 101. There was a strong possibility of rain. Better move fast. Flew to Eureka, there I stopped at the ATM and at Wallgreens to get some toiletries. Out of there as fast as I got in and at my destination by 2:30 PM. This is a nice little town, with nice people big contrast with depressing Orick. Got lunch at a taqueria at the corner of Main St and 10th (or 11th?) St. The best burrito I've had in a long time. It deserved dinner at the same place latter that day. Got a room at MOTEL NAME and went to find a laundromat. On the way back I stopped at a bicycle/sporting goods store (forgot the name but it is probably the only in town) with good prices and selection, a good place to take care of bike needs. back to the motel and later out for dinner one more time.

Day 10 August 23/01
Fortuna-Standish-Hickey State Recreation Area
77.87 miles/125.37 Kms
Time (Bicycle moving) 7:01:50
Left the motel late (8:00 AM) It was a nice day and i felt well and strong. Ah, the Avenue of the Giants, so nice!.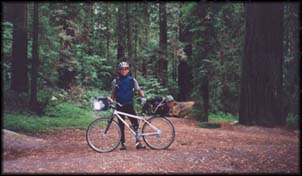 The ground was wet and lots of debrie got into my chain and derailleurs. Had lunch at Philipsville, once again a big hamburger. I usually don't eat that many burgers but it seems this is a staple of the small town diet, easier to find than pasta. After lunch I found a clear spot to clean/fix the rear derailleur that wasn't shifting to the highest gears. I later stopped at Garberville for espresso, on the way into town I ran into another cyclist and asked him if he was heading south, the same way I was. He confirmed but kept on riding, he was leaving town. Had my double shot and a giant cookie, bought some snacks and continued to the campgound. When I arrived the cyclist I had encountered earlier was checking in. This was my first night at a California campground, so I was surprised when I was charged only $1.00 (some of the California campgrounds have coin operated showers, approx 6 minutes/$0.25) The hiker-biker area was crowded and many more came later that evening. Some of us stayed up late talking.

Day 11 August 24/01
Hickey State Recreation Area-Manchester KOA
88.69 miles/142.79 Kms
Time (Bicycle moving) 8:02:54
It was a weird day. Left at the usual 7:30 AM and started climbing Legget Hill. I enjoy climbing, it puts me in a place where I forget about any worries, it is pure peace.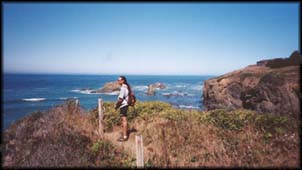 I guess that's what makes me addicted to cycling, off road or touring like this. After the the big hills was Ten Mile River, as soon as I passed the river there was some big road kill in the middle of the south bound lane, or so I thought. As I got closer the animal lifted his neck, it was a little deer and was alive but somehow could not move. I examined him without moving him much and could not see any external injuries. Cars were coming so I stopped the traffic while lifting the poor animal and placing it in the grassy shoulder. At that time mama deer crossed the road with another little one just yards from us. Traffic kept going. . . I stayed with him for a while until he was able to sit on his own. I wonder it lived to tell the story.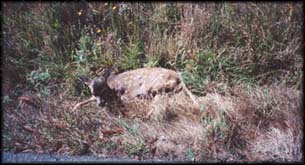 Flew by all the regular tourist traps (Mendocino etc) once more. By 4:40 PM I was at the camp, not without first stopping to pee, I had to go, you know the sensation. As soon as I started cars jumped from both directions and in my effort to hide what I was doing I end up spraying myself, nice touch to end the day. Anyway, since Manchester State Beach does not have hot showers, I opted for the more expensive private Manchester KOA. The iron fisted lesbian rulers (not that there is anything wrong with it, just funny attitudes) placed me in a single campsite on the condition I would have to share it with any other cyclist. Nobody else showed up. Seems KOA camps have small convenience stores with microwave, laundry facilities, pool, etc. another laundry day.

Day 12 August 25/01
Manchester KOA-Bodega Dunes State Beach (Bodega Bay)
72.53 miles/116.77 Kms
Time (Bicycle moving) 6:26:24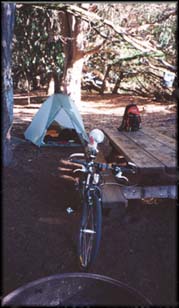 There were big hills before Jenner. Very steep and with almost no shoulder. The views were magnificent, the ocean smelled good. At the entrance of Bodega Bay, right before Bodega Dunes State Beach camp there was a big traffic jam on Hwy 1, some sort of festival. I just rode straight into camp to the nice sand and pitched the tent, showered and then rode to town to get dinner stuff. Is was my last night on the road. I would be riding to San Francisco the next day.

Day 13 August 26/01
Bodega Dunes State Beach (Bodega Bay)-SF
74.35 miles/119.70 Kms
Time (Bicycle moving) 6:47:58
Very cold foggy morning, will end this trip the same way I started. I had to stop to put my rain jacket on, as the hairs on my forearms where getting all misty at the tips and I was feeling cold. Within 15 miles of Tomales I took the damn thing off because it was now sunny and warmth. Tomales, another overpriced little California town. Hey the town is cute but not to charge $2.00 for an espresso. I was getting close to home, prices where announcing San Francisco! Got a flat tire after Marshall, stopped at Olema for snacks and got ready for the last part of the whole trip. I bonked right before Fairfax. I was to excited that home was close by and pushed it too far. Kept pedaling by inertia all the way to Kentfield where I stopped to have lunch. From there I did not need the map or book since these roads are part of my riding grounds. Got to the Golden Gate Bridge and then home by 4:00 PM.
It had been a nice trip. I'm thinking I'll do the rest of the ride to the Mexican border later this summer/fall, that is if I'm still unemployed.

(First posted November- 7-2001 at 03:00 am)
No related pages or links.