Cycling Japan October 1999 (First posted September-30-2001 at 03:00 am)
Cycling Japan October 1999 (First posted September-30-2001 at 03:00 am)

A hidden touring treasure
Japan is such an interesting place, at least it is for us. The combination of the very old and very new, hi-tech and old crafts. People are extremely polite, they are very friendly and as in most countries, outside the big cities where few non-local tourist go, people are just plain cool.
We stayed mostly at Ryokans, Japanese-style bed and breakfast inns. Accommodations vary but few constants are the futon mattress on the tatami floor, shared restrooms and hot water dispensors for tea in your room. Ryokans vary in price from inexpensive $40.00pp to skies the limit. We didn't do any camping. It is best to make your reservations in advance. Japanese culture does not play very well with unexpected situations, although they will always try to accommodate foolish tourists who show up without reservation. Most towns, including small ones, have some sort of tourist information office at or near the train station. There you can make reservations for the same day. This works best since tourist information staff understands a little English, not so at some Ryokans, so plan to arrive to your destination before they close the tourist office (around 4:00 PM in most towns.)
Before you leave home or while at locations with internet access, you can make reservations for some places on the web. Good places to start looking for Ryokans are the Japanese Inn Group site and the International Tourism Center of Japan. Or you can go the Japan National Tourist Organization (JNTO) for more general tourist information.
As we remember more details from our trip we'll update this page.
I wrote this page almost two years after our trip. I never got to do it because during the trip, my handlebar bag got soaked so bad one rainy day that ink of the pen I used to write my notes in the notebook was completely dissolved by the water. So much for handlebar bags without raincovers. . . . . and cheap pens. Recently we went over a box full of travel papers we collected over there and decided it was time to put everything on "paper".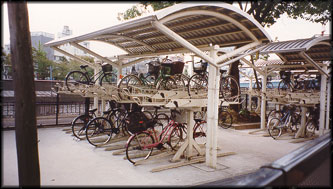 Fortunately Monica had also kept notes and hers survived. The following travelogue is pretty much her notes plus our recollections from looking at the trip pictures, maps and other papers. Since this trip we started carrying a handspring Visor PDA to enter our notes, we carry a backup module and do daily backups. We also carry a modem module for the Visor so connecting from almost anywhere is no problem

October 2-99 Saturday
8:15am taxi to SFO, our two bikes in boxes fit in a minivan taxi we reserved the night before, no problem.
Our flight to LAX was canceled, we left on next flight out (one hour later). In LAX we had to RUN to the international terminal to catch our Thai flight, the gate number was wrong, but we made it to the plane on time. LAX- Tokyo: What a long flight-the plane was packed. Next time we need to take a weekday flight. Finally we arrived October 3/99 Sunday at 6 pm. We made it through immigration and then picked up our luggage (bikes) my bike box was torn, but everything looked to be OK.
We redeemed our rail ticket to a train pass and then waited for the next train (about an hour). The train ride to our stop was about 1 1/2 hr. we had to change trains once to get to our station. Finally Kiowa station at 9 pm. The map given to us by the ryokan said that it was a short 10 min. walk to the hotel. We decided not to waste anymore time by assembling our bikes and riding them, we would just walk. We ended up pulling and pushing our bike boxes down the street for what seemed to be a very long "10 min. walk". We arrived at Ryokan Toki, our homebase for the next few days, around 10 pm. Curfew was 10 pm – we had just made it. We checked in and were ready to crash. Mikiko called as soon as we settled in, then it was nighty night.

October 4-99 Monday
We woke up at around 5 am, and left the hotel to explore Tokyo around 9 am. We stopped at 7-11 to buy breakfast (juice and bread) and then hunted for a place to sit. It took us awhile to find a place, later we found out that the japanese frown upon eating on the street. After breakfast we took the train into Tokyo. The first stop was to go to a bike shop, but it was closed. They open at 11 am.
The next stop was where we walked around and then had lunch at Shakey's Pizza. All you can eat pizza, pasta, roasted potatoes and rice pilaf for only 900yen; - How about that combo? Then we crossed over to the other side of this station area to a place which has the largest camera shop in Tokyo- the prices were equal to what we pay here in the U.S.
After lunch we went to Ikeburo station to find another bike shop- Mr. Charlie's. We ended up finding another shop called Galaxy Bike Shop, they gave us a map showing us how to get to Charlie's (apparently they are owned by the same people). I believe we went home after all this running around.

October 5-99 Tuesday
We woke up very early again, around 5:30am. Today's breakfast was tea and a cliff bar. We left the hotel early bound for Tokyo's fish market. Here we wandered around for a while salivading at all the yummy looking fish and then stopped at a sushi bar for round 2 of breakfast. The only thing they had was tuna- and boy was it good!
On the way back to the subway station we stopped at a temple to see the inside and ended up using the bathroom with a very special toilet seat.
Took the train to the tourist information center located in a very cool looking building called the Tokyo International Forum.Then we were off to the bank to exchange money. Next stop, the Bicycle Cultural Center- what a let down, it took so long to get there and when we did there really wasn't any new info for us. We walked back to the train station instead of taking the subway and then went to "Electric City" at the Akihabara station. This is where all the discount electronic shopping is. We searched for a place to have lunch, we were starving! We found a small Japanese diner which was self serve and had fried fish and rice for lunch.
Then we took the train to the Imperial Palace. We walked around for a bit and then took the train to another station to a small antique mall (8 shops) in a university area of Tokyo. Afterwards we went home.

October 6-99 Wednesday
Another early day- 5:30am. We left the room at about 7:30 and Carlos started assembling our bikes while I made reservations to return to this hotel at the end of our trip and also to find a place for this evening somewhere up north, in Ueda.
We checked out of the hotel and headed towards the train station to begin our cycling adventure.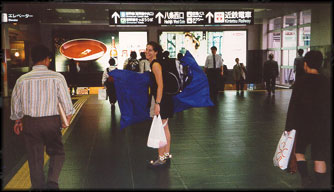 A five minute ride to the station, and now pack our bikes to ride the train. Now we were off and on our way.
We first needed to stop off at Ikeburo station to go to the bike shop to buy some spare parts and a headlight for the tunnels. At first the store seemed so small but after further examination we discovered the good part of the store, the third floor of the building, full of parts and cool stuff. After having bought the spacer we went to install it and somehow between the shop and the bikes, I (Monica) lost the spacer. Back up to the third floor to buy another one, turns out we needed more than one. I returned once again to exchange it for a larger one. Ok now we were ready to go.
Took the train to Ueno station to catch the Shinkansen (bullet train) to Ueda, near Nagano. Once we arrived we went straight to the tourist information office to get help finding our hotel. The lady told us that the area (town) where our hotel was located was about a 30 min. train ride away. We would have to take a private train to Bessho Onsen which is a place famous for it's hot springs. After a short ride on this train we were told we would have to take a bus to get to the hotels- it was uphill. We decided to bike it. It was a very short steady sloping hill, which took us only five minutes to climb. We arrived at what we thought to be our Ryokan, but it was someone's home, the hotel was next door.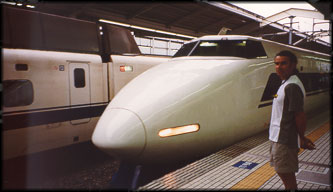 As we stepped into the doorway it was hard to believe that this was a • 10,0000 a night place which included two meals. It ended up being a per person rate, not including tax and surcharge, which brought our total to • 240,000 which equals U$240.00. We said no way over the phone I was told • 10,000 for one room w/ bath for two people. We were about to leave when the owner/ manager approached us and offered us a room @ • 15,000 w/o meals including tax and surcharge. After discussing our options 1) Stay, eat cheaply and look for inexpensive rooms the rest of the week, or 2) Leave and go back into Ueda and look for a place (one hour bike ride back and it was getting dark). We chose to stay. The room was very nice and the local area was cute. We went out to get dinner and everything was closed except for a convenience store down the road. We bought dinner and returned to the room to eat. The hotel had delivered an evening snack to our room, it was our first experience with seaweed wrapped rice balls, yummy! After we discovered you could get these in convenience stores, these rice balls became a staple in our diet on this trip. Consider them the Japanese version of the ubiquitous powerbar, and much better tasting.

October 7-99 Thursday
We awoke to rain. It was really coming down, this was the noise which kept us up all night, the rain hitting the gutters. We decided to wait until check out time to at 10 am to see if the rain would stop. In the meantime we took a stroll through town to visit the temples and shrines. We returned to the hotel and by then the rain had stopped. We left the hotel @ 10 am w/ our rain ponchos on because it was sprinkling, headed to Ueda where we planned on spending the night. We arrived within half an hour and decided to keep going to Nagano. There was a bike route which followed the river leading to Nagano. We ended up getting lost, finally seeing a gentleman to ask directions, we asked which way to Nagano? He replied, "This is Nagano." The train station was still another 14 km through town. Arriving at the busy train station we found a secure place to park our bikes, after having been told to move them from the trees, we visited the tourist information center which arranged a nights stay for us at a business hotel around the corner. This would be our first night in a business hotel w/ a small compact "airplane" like bathroom. We parked the bicycles in the lobby, our hostess not too pleased with this, but we couldn't bring them into the rooms. We showered, then walked around town looking for a place to eat, finally settling on a coffee/pizza joint in the train station. It ended up being pretty good pizza. The lights in the cafe suddenly were dimmed as the coffee shop turned into a bar, like a living animal. The expresso machine disappeared as sliding panels behind the register exposed the alcohol waiting to be consumed. It was 6:00, party time for them. We turned in for the night.

October 8-99 Friday
We awoke early and left to go to a nearby town called Yudanaka which is a resort area known for it's hot springs, skiing and hiking. Leaving Nagano we saw the cutest little Mercedes mini-mini-van. It's price was U$24,000, not bad considering how cute it was. The ride to Yudanaka was very flat except for the last 9 miles which were all uphill. We arrived about 2pm at Uotoshi Ryokan The owner greeted us and started talking to us about bike riding, he is a road cyclist and recommended routes for us to take to see the monkey bath which is a popular tourist attraction. We were very exhausted and decided to eat, bathe and wash clothes before embarking on another journey. That evening we walked around town.

October 9-99 Saturday
We awoke with the intention of leaving this town and spending the night near the train station. Our plans changed after speaking to the owner, he told us that it would only take us an hour to ride to the station. Took our bags back upstairs to the room and went for a ride to see the monkey bath. We stopped at the convenience store for breakfast and brought it to the riverside to eat. The ride to the baths was all uphill and the monkey bath admission fee was • 500. Should we stay or should we go?? Of course we stayed, the monkeys were so darn cute!! We then continued riding our bikes to the top of the hill where we found a ski lodge turned golf driving range for the summer. We had lunch at the lodge, ramen and soba noodles. Afterwards we tried to ride into the ski area but Carlos was starting to get cold from the shade and altitude that we turned back downhill towards the hotel. That evening we went to pay for the room and offerd him a present. Later that evening he offered us a gift, a "Japanese Princess" made by a 90 year old local woman. We then went to bathe, I didn't go because there were people in the tub.

October 10-99 Sunday
We woke up early, bathed and were out the door by 7:00 am. The owner came out to say good bye, he asked to take our photo for his web page and we took his for ours. We rode mostly downhill to the train station and caught the 8:23 am instead of the 9:21am. The train was pretty full of people going up to the mountains to hike. We changed trains in Naoetsu and bought lunch at the station. We arrived at Takaoka checked into the Ryokan Daibutsu @ 12:30. Our room was very nice. We left and took the train to Kanazawa (30 mins away) to check out the tourist info for the peninsula area. The nice ladies at the tourist info office tried to make reservations for us at a couple different places and were unsuccessful. We caught the train back to Takaoka and wandered around town. We saw the great image of Buddha in Kojo Park, Godawn style homes and a beautiful park.

October 11-99 Monday
National Sports Day. We took the train from Takaoka to Himi, which is the last JR train stop in the peninsula. We then rode our bikes from Himi to Nanao, looked at train station for lodging and couldn't find a thing so we continued to the next town, Wakura. At the train station in Wakura I was able to somewhat communicate to the gentleman that we were looking for lodging, Minshuku. The man gave me a brochure and pointed us in the direction. After circling the area a few times we stopped at a convenience store to ask for directions. We had been soooo close. We were finally there, all hot and sweaty. Now came the fun part of trying to communicate with the owners of the minshuku ( minshukus are guestrooms in family homes which are rented nightly, weekend and includes meals). This is where the lonely planet language guide came in handy. I just pointed to the phrase I wanted to say and she answered back Hei and wrote down the cost per person/ night. Her friend then looked at the book and after awhile pointed to "wait one moment" as they cleaned the room. We then dropped off our bags and went biking around town looking for food. After lunch we stopped at the train station to enjoy a beer, then back to the minshuku for a bath and dinner @ 6:00pm. Dinner was a feast! They kept bringing us more and more food, it was all very good. The family ate dinner in the same room. They did not speak a word of english, they showed us a photo of the last english speaking people, two Canadian women, who had stayed there, 12 years ago!!! The father came in for his dinner, after having been drinking and playing games with the neighborhood men all day. He preceded to speak to us in japanese, then he asked us if we wanted to watch a video. We kindly accepted and it was of a town festival in which his son (who is married with children) participated in. He gave us a calendar and then left to finish his dinner. We then went to bed.

October 12-99 Tuesday
The next morning we woke up and had a traditional Japanese breakfast; rice, salmon, dried seaweed, egg, tofu, coffee and tea, etc. After breakfast we paid the bill, exchanged gifts (The beer from last night was a gift) and were ready to go. We took pictures out front and exchanged addresses. The mother ran back in to get something as we prepared to leave, she returned with a snack of seaweed wrapped rice balls, which were nice & warm, for our cycling trip. - Carlos Note: Monica, the mother, daughter and grand daughter owners of the minshuku cried a little because we were leaving. It was touching to see this. - We left and were on our way to Wajima.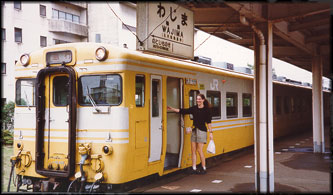 It looked as though it would rain so we were on a mission to get there asap. The scenery on the road was nice and there weren't too many hills. It turned quite muggy and then gradually began to rain. We were about 3/4 of the way to Wajima when the rain began. On our descend towards town we stopped to eat our rice balls at a small little shack on the side of the road, and I called Mikiko to let her know where we were and when we would arrive to Nagoya. Then we were off again, but now we were very cold, from the stop as well as the descend- not to mention the rain, but we were almost there. Finally we arrived to Wajima, we went straight to the trainstation to make a reservation for a hotel, oh but first we went into the bathrooms to dry ourselves off and change into some dry clothes. We then ran into the guy from Australia who we had met back at … station. He said he had stayed at the Ryokan we had told him about and that it was very nice. We opted for the same. We arrived at the hotel and hung all our clothes to dry in the room. We then went for a walk through town looking for a place to eat or buy food. I had remembered seeing a sushi "burrito" on our ride to the hotel, so we went to the place, it ended up being a sushi takeout where they had a large party platter for only 1800 yen, guess what we had for dinner? We took it back to the hotel and ate it, good, fresh, cheap, fast & warm.

October 13-99 Wednesday
We awoke to rain and the forecast was rain for the next three days, so we decided to cancel our plans for riding around the peninsula and head straight to Kyoto. We cruised the morning market in Wajima to see the local crafts for which they are famous. We didn't see anything worth buying, less carrying. Back to the hotel to check out. We exchanged gifts, laquerware chopsticks. We left for the train station and had to wait 1 1/2 hours for the train to Kanazawa. In Kanazawa we took the train to Kyoto, total travel time was 4 1/2 hours. We arrived in Kyoto @ 4:00pm. We ran to the tourist info center to get reservations for that evening. It started to pour as we left the station, luckily the TIC was only two blocks away. The bitchy woman at the counter reluctantly made our reservations for us at the place which we requested, guess she makes a commission if she books us elsewhere. We arrived at the ryokan, went out for dinner nearby and then went to sleep.

October 14-99 Thursday
We woke up and made sure we were first in line for the shower @ 7:30am. Than we took off on our bikes to make a tour of all the craft shops. We headed north towards the… Handicraft Center, then rode to the Imperial Palace Park, then to some more temples and more handicraft stores. Afterwards we went to the main shopping area of town where the department stores are. The department stores are known to tourists as being a great resource for inexpensive food. We wandered around drooling at everything realizing that if we bought something we would not have place to sit and eat it. We ended up going to an all you can eat buffet for 900 yen in one of the department stores. Some fuits are just silly in price $80.00 dollars for a melon and $180.00 for melon and some grapes!! After lunch we headed to the last handicraft center on our list, we spotted a hidden temple which was nestled behind some houses).
We stopped to take some pictures then back on the beaten track. We arrived at the center to find it packed with busloads of people. We toured the tourist's traps and walked up towards the temple to take pictures. Then we left to go back to the hotel. We rested and thenwent back to the department store to buy sushi for dinner back at the room. After dinner we left to go see if we could see any Geisha, none were spotted. It was a beautiful evening and the riverside area is very nice.

October 15-99 Friday
Woke up, checked out and left for a ride around Kyoto and then to a temple for a ride on a hiking trail. We started off at the train station to put our bags in a locker and to buy our tickets to Nagoya. First stop was the Museum of Modern Art, then a museum of local handicrafts, and then we took off towards the trail. We started up the trail and didn't get too far before the trail ended at a stairway. We locked the bikes and headed up on foot. We climbed and climbed and made it to the top in about 20 mins. What a beautiful view, you could see all of Kyoto. We descended the mountain and stopped at a Zen Buddhist temple at the foot of the hill. It was quite nice. Now we were looking for a place to have lunch, back to the department stores we went to buy sushi.
Then off to catch our 3:30pm train to Nagoya. As we arrived to Nagoya it started to rain. It seemed as though this darn rain was following us around. We rode our bikes to the ryokan which was very difficult to find. I called Mikiko and met her for dinner. She took us to a great hip restaurant where we had to wait about 20 minutes until they seated us in a dark corner far away from everyone else. We returned to the ryokan @ about 11:30. We needed to be ready to go by 8:30am the next morning when Mikiko and her parents were to pick us up.

October 16-99 Saturday
They picked us up at 8:30am and we were off. We drove for 1 1/2 hours north to Nagano Perfecture. Our first stop was a small historic town with a water mill and cobblestone streets. Next we drove for about 1/2 hour to the top of a hill where there was a hotel and a brewery. There was an all you can eat buffet with a local beer which you can only get there at that brewery (it was also expensive). After lunch we drove downhill to another charming old town. Then we started our journey back to Nagoya. We stopped at a rest stop which also had a museum of a local artist who had passed away that year. Very nice work, I purchased some cards.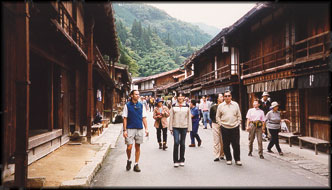 Now we are back on the road traveling towards town. We made another stop at a Zen temple which is where Miki's father said he used to play as a young boy. It was quite beautiful and peaceful, very nice detour. We started getting closer to town and we were all pretty tired, Miki announces that her mom just made reservations for a tofu restaurant in town, is that ok with us?? Of course. Traffic was horrible going back into town but we still made it to the restaurant early. They took us early. It was a very nice restaurant, japanese style with tatami mats. We ate tofu in many ways, it was amazing! After dinner Miki's father drove us by the town castle. We couldn't get close because there had been a festival and the streets were blocked off. It looked great all lit up at night. Then they dropped us off at the ryokan and we said goodbye! I told Miki we would see her the next day at work.

October 17-99 Sunday
We woke up, got ready and left. It was a gorgeous fall morning, sunny and a cool crisp breeze! We rode to the station, booked our tickets and then rode to Miki's store to say good-bye. We decided that we will talk when we return to Tokyo. Then we were off to the station and were on our way to Osaka. We arrived around 1:30pm and made reservations at a Ryokan, which was at the other end of town. So many people were out shopping, the streets were packed! We rode through the main shopping districts and had a somewhat difficult finding our Ryokan on the outskirts of Electric town. The ryokan was somewhat gloomy inside, we entered set our things down and headed out to see the city. We went through the underground mall and surfaced to a great store called Tokyu hands. You can not imagine the amount of people which were all over the place, so so so many people! We headed back to the room to eat and sleep. The bed was real comfy that's all.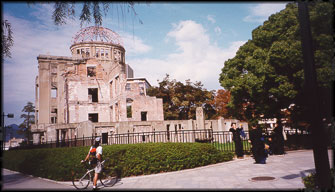 October 18-99 Monday
We woke up early and headed out the door to take the train to Hiroshima. Arrived in Hiroshima @11:30am then headed out to look for lunch. We went to a place recommended by the Lonely Planet guide book (Okonomiyaky-mura Village), It was great! They serve a sort of japanese pizza called okonomi-yaky, we were hooked, where had these been earlier on our trip? Then we went to a bike shop and talked to the owner a bit. He was really nice and gave us a couple patches with his store name (can't find them now). Then we headed to the A-bomb memorial and museum. It was amazing to see the destruction which was caused. Later we caught the train to Kurashiki a cute quaint small town. Here we spent the night and strolled around town in the evening looking for a place to eat.

October 19-99 Tuesday
The next morning we took off to find a trail from the guide book which would take us through rice fields and the countryside to end up in Okayama. These were nice trails. In Okayama we took the train into Kyoto to spend the night.

October 20-99 Wednesday
Back in Kyoto, I love Kyoto. It is so easy to get around and there is so much to do. We went for a bike ride on a trail on the outskirts of town. It ran along a river and at times we had to carry our bikes, it was really nice. I took a fall, flipped over my handle bars and landed in a bush. Could have been tragic, thank goodness for that bush. The whole area was rocky and steep drops to the water. Back to hotel to shower and then out to shop and eat.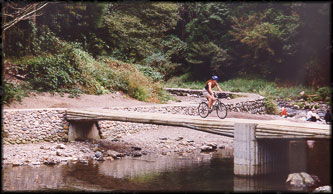 October 21-99 Thursday
Woke up and headed to the train station to get on the fast train to Tokyo. We saw Mt. Fuji. Went to the same hotel we stayed at our first days in Japan and dropped off the bikes and bags. We then went out to a nearby diner where locals were eating and watching TV. The food was just ok. Monica liked her stuff, I've never been a big fan of soba noodles, so mine was not so good.

October 22-99 Friday & 10-23-99 Saturday
The last three days we went shopping and just walked around Tokyo. I love this city each district is so different from the one just before.

October 24-99 Sunday
The last day we rode our bikes to the train station where we started our journey to the airport. We stopped at a shopping district, locked the bikes and bought the last things we wanted. Then since our Train Rail pass had expired the day before the attendant made us pay for the fare to the airport, we thought we could get away without paying one fare, no luck. At the airport we bought a cardboard box for Monica's bike. United sells the boxes for $10.00, they are so big you can practically twist the handlebars and roll the bike inside. I had carried my box (collapsed) from the hotel since it had survived the SF-Tokyo trip.
Boarded the plane home and left a marvelous country we hope to return to ride the other areas we weren't able to see.
(First posted September-30-2001 at 03:00 am)
No related pages or links.