Bali September 2008 (First posted January- 4-2010 at 04:04 pm)
Bali September 2008 (First posted January- 4-2010 at 04:04 pm)

Bali was a very nice place to visit and ride our bikes. We had our share of small problems but it was all due to our carelessness. Would I go back to do the same tour around most of the perimeter of the Island? Sure but there are too many other places I want to go to first.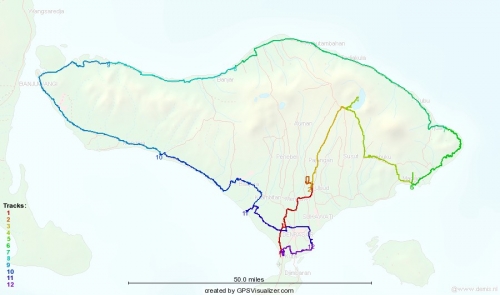 We rode 405.86 miles (653.17 kms) mostly around the perimeter of the island, spent about US $100/day for the two of us including hotel food and the obligatory beer/drinks. Stayed in decent hotels (US $40-130) whenever possible not ever knowing where the next hotel was going to be, just the way we like it. I think it is important to point that Bali is one of those places where you can find hotels/resorts that charge many hundreds and thousands of dollars per night so if you are into that kind of spending you'll not be disappointed, it pays to compare a few places before you decide where to stay that night, just walk into the reception and inquire for their best deal. BTW most hotels include breakfast in the price quoted.
It has been more than a year since we went there and the more time goes by the more I miss it. IMO Bali is a wonderful place to ride a bike and travel.

Sept. 05-6
A 1AM departure meant that we would be covering most of the route during the night. I usually can't sleep on planes but this time I was very tired and slept the first 7 hours, then watched the latest (bad) Indiana Jones movie.

The Hong Kong airport was dead at 5:30AM not much activity and shops were closed. While we waited for shops to open we wasted time looking for an electrical outlet to charge the GPS logger. You would think that at an international airport like this it would be easy to find a place to connect laptops, phone chargers, etc. but no, the HK airport proved to be not too friendly to power vampires. Once we finally found a power outlet available it was not working, others looking for power had more luck and found working outlets. It was not an urgent issue so I just forgot about it and enjoyed my coffee. Shops opened at 7 am and we went shopping, er browsing. Later we found a sofa to crash for an hour or so before it was time to head for our gate and board the plane to Bali.

Singapore Airlines was ok, I was expecting more. They are a little strict with silly rules like having to slide up the window cover before landing and collecting the (2 prong) headphones about 40 minutes before landing which of course left me with several unfinished movies during all the flights we took with them.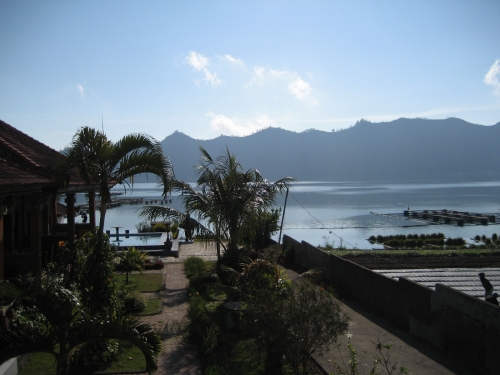 The Singapore airport was a new one for us, never been there before. It is by far the best airport we have visited (and we have visited many throughout the years). It has a pool, movie theater, butterfly garden and many other attractions to make the traveler's visit enjoyable, most if not all those things are free, the best airport ever. Stores are also nicer. Maybe next year the vacation detox will be in Singapore?

Our next flight was short, just a couple hours, however the plane had more coach leg room than the long haul SF-HK; somebody was not doing their job when he/she decided long flights deserve more pasengers and less room/plane, we'll try to remember not to flight Singapore Airlines in the future...

On arrival to Bali we purchased the visa for US $25, no paperwork, just pay and go. The next line was another story, we waited and waited and then some more for our turn to have passports checked and stamped. When we finally emerged from immigration, our two suitcases with the bikes inside were waiting us and so was our ride to the Hotel Lusa. A short 20 min later we were checking into the web-reserved hotel. Not bad, but not great, but for Rp. 240,000 a night it was fine. BTW at the time of our visit 1 USD = 9.500 IDR (or 1 IDR = 0.000105179 USD, if you like things done backwards).

Went for a walk. I was exhausted.

Sept. 07
Kuta
6.20 miles (9.98 kms)
Breakfast (included) at the hotel, Banana grilled sandwich. Then we were off to explore the area and look for a possiblly different hotel for when we return to this town (Kuta) from our tour around the island. As usual, the first order of the outing was to find/buy a pair of flip flops (feet were killing me in the Shimano cleated sandals). I have a small collection of flip flops from many different trips, Rp. 20,000 for a pair of Converse Puma!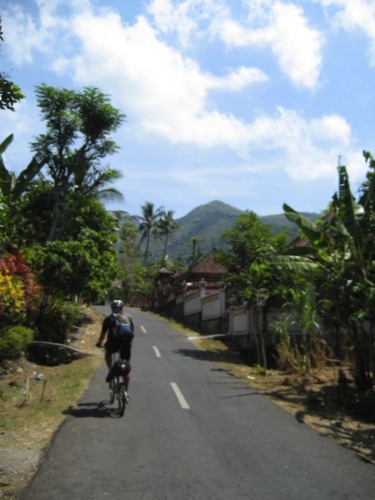 Later we picked up the bikes from our room and rode up North to search some more. There were some nice hotels but they were not twice/trice as nice as the place we were staying for twice/trice as much money.

On the way back we were looking for a place to change money, it was Sunday and most places were closed. We stopped at one and changed US $100, Monica counted while I watched. Then she put the money on the counter, the guy touch it for a second and handed it back to Monica. She gave it to me and inside the backpack it went. We stopped at a place close to the hotel to buy a road map of Bali, most places sell maps but they are sealed and there is no way to see the quality of the map unless you buy it. Here, we were able to open the one we bought before purchasing it. We would be using this map in combination with the maps found in the Lonely Planet book we brought with us.

At the hotel I took the money out and surprise, we were short changed US $30! I felt so stupid, I am always very aware and suspicious when dealing with money overseas. I know exactly how they try to scam you. But this time, for the first time ever, I was a victim of a silly crime I should have noticed.

I was tired and did not feel like riding again to get our $30, it was very hot, far and we needed to eat. As the song goes "in the end,
The love you take is equal to the love you make." His actions will be rewarded.

That night we went out for dinner nearby at the town food court, the place locals eat. We selected several dishes from different stalls and ate them al fresco in the center courtyard. A good day regardless...

Sept. 08
Kuta-Ubud
22.75 miles (36.61 kms)
Another hotel breakfast. Banana pancakes this time, I love the damn things and have found them every where I've been in Asia.

Paid the Rp 480,000 for two nights, left our suitcases in storage and departed on our bikes heading North. After a while we saw the money exchange place where we were victimized the day before, they were closed, good thing because I was not tired and ready for a confrontation. I felt like I was about to get with him like what I did many years ago in Lamu, an island off the coast of Kenya. But that is another trip and story.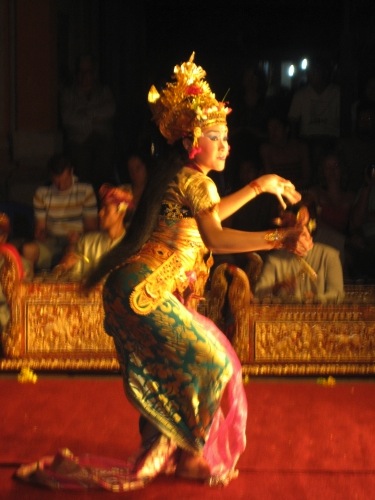 The route was busy for the first 20km then it got much better but the many intersections and lack of signage made for many stops to ask questions, many people speak some English and even communicating with those who don't is not too difficult with the help of some creative signs and gestures, one of the the fun things of traveling.

Arrived at 11:30 and stopped for a drink at the edge of Ubud. The first place we checked was nice. We did check out a couple more places and decided that the first one, Pande Permai Bungalows was fine. (350000 rp/night)

Went out for a walk and shopped for stuff Monica wanted. Did not buy anything.

Sept. 09
Ubud
12.11 miles (19.49 kms)
The plan was to ride to the volcano and back but Monica did not sleep well (noises outside and the bikes were in the balcony) so we decided to stay in town and do just a short ride some kms out of town for lunch. Afterwards we went for a walk around this town, cultural center of Bali. I do not get too much of what all the fuss is about, to me the town is just another tourist trap with some nice shops and ultra expensive resorts on the edge of town, but hey maybe I am missing the whole thing.

In the evening, while walking down the street, school kids offered us tickets for a dance show at the Palace. Some of that ticket money goes to the school. Rp. 75,000 each. With very little time for dinner we grabbed some snacks at one of the many mini-marts on Monkey Rd, the main tourist trap drag and headed to the Palace grounds for the show.

The typical dance was performed with live musicians and both the Gamelan music and dance were nice. A little too long for me but overall good, definitely worth the money.

Walked home and stopped at the same restaurant we had lunch at the day before, this time for soup and lassy.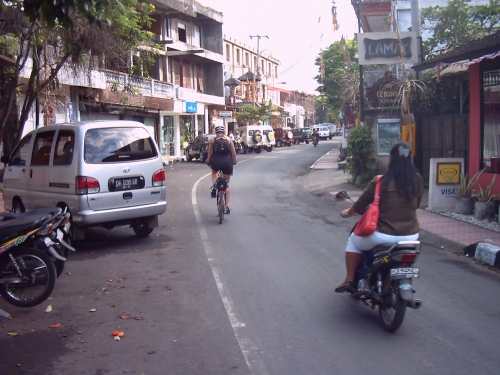 Sept. 10
Ubud-Toya Bungkah
25.99 miles (41.83 kms)
After breakfast we were on our way to Danau Batur lake inside the Gunung Batur volcano crater. The road we picked to go up the mountain was perfect for cycling. Very little traffic and lovely views. We stopped to take photos of girls practicing a traditional dance.

The distance brought steeper grades and more, nice views. We got to what seemed was the last intersection but we knew there was a little more to go. The road turned steeper yet but now there were curves. After about 3 steep kms we arrived to the rim of the crater. A bunch of guys gathered around us to try to sell guided treks to the top of the volcano (self guided treks are discouraged by the guide "cartel") we quickly moved on and found a little family owned restaurant hanging over the drop with a great view of the crater, volcano and lake. Had yet more Indonesian food for lunch, tasty.

After the light lunch we continued on the same road till we got to the intersection were we dropped sharply on twisty road towards the lake. Everything that goes down has to come back up...

Monica had read about a place to stay owned by a Japanese, the Lakeside Cottages (US $36/night). In our experience when it comes to hotels (and many other things) Japanese ownership usually means good quality. We found it and fortunately they had a room available. Nice view, pool and people.

Washed clothes and laid by the pool for a while until we were hungry for a second lunch. The little restaurant we picked was fine. We had Soto Ayam, (spicy chicken broth with noodles, egg and cabbage) a soup that has become one of our favorite cheap meals, it's good riding food.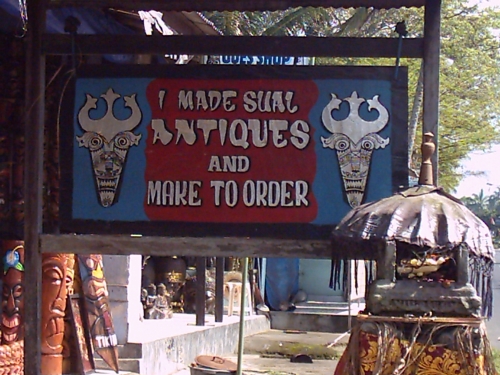 Later a group of Chinese tourists checked in. Some stayed in the cottage next to us. Loud crowd not very concerned with how their noise was disrupting people around them. They reminded me of the stereotypical "gringo" tourists people from other countries have learned to despise because of their obnoxious behaviour; not as bad but getting closer.

We had dinner at the hotel and went to bed very early only to be awakened by our loud neighbors. Our cottages shared a woven palm tree ceiling with a brick wall between the rooms, however the wall does not extend all the way to the roof and stops at the ceiling. We could hear every little thing coming out of our loud neighbor's room. Something to keep in mind if we were to stay here again. On second thought, I would not stay there again because of that feature, unless they have cottages that don't share the roof. After a while of the same, I finally tried to shhhh them but that did not work. Minutes later I shouted, "Keep it quiet!" that got the message across and we were able to go back to zzzzs.

Sept. 11
Toya Bungkah-Candidasa
36.25 miles (58.34 kms)
Our neighbors woke up and left at 3am to go on a guided trek to see the sunrise from the volcano. This time they kept the noise to a minimum. Most hotels start serving breakfast between 7 and 8am this one at 8. We wanted to leave as early as possible as we knew the first thing we had was the climb out of the crater.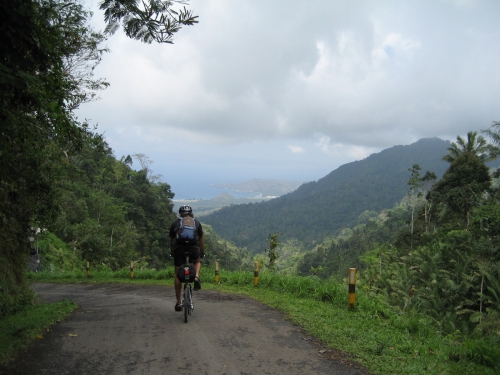 We showed up for breakfast at 7:40 and they were there ready for us, including the Balinese husband of the owner who, since we came the day before, had been in front of his computer in the main reception/dinning room not affected by life around him. A very odd sight.

We left around 8:20 am. The road hugs the west side of the lake inside the crater. A nice little twisted road with many tiny rollers. After a few kilometers, maybe 5, we got to the intersection were we turned yesterday. We went the same way forgetting that there was another way up that would put us closer to the place were we would start heading South-East towards our destination. This was a steep climb with many 15% grade sections. At the top we realized we could have taken the different route up.

The extra distance offered riding in a picturesque tree covered road that reminded me of the redwood lined roads back home in the San Francisco Bay Area, only that here the vegetation is even greener and the variety of plants much larger.

After stopping a couple of times to make sure we were on the correct roads we stopped yet one more time to ask for directions. We were right on track. A great looong descent followed. Green everywhere was interrupted only by colors of the fabrics adorning the many temples we were passing. This went on for about 10km.

At Randan, a large town, we turned West and started the not so nice part of today's ride. Many trucks and traffic. In Bali, cars/trucks do give enough room when passing, besides the biggest trucks we'd seen so far are what in most other parts of the world are considered delivery trucks (3ton capacity).

The tiny town of Putung marked the start of the very scenic, curved and rugged descent towards the sea; very reminiscent of a simmilar section on a past tour. The town of Manggis marked the end of the descent. Candidasa was 15 minutes away.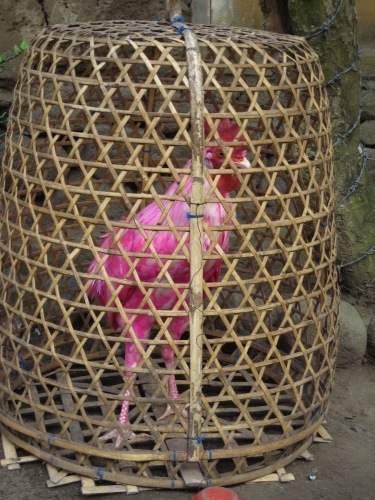 The fist hotel we checked (Fajar Candidasa Beach Bungalows) turned out to be today's choice. Nice cottages with a pool right in front of the eroded beach. At one point there was a coral reef on the ocean in frontof the town, the coral was used to manufacture cement to build hotels and without the protection of the reef the beach disapeared...

Washed clothes, went to the pool to lay out and have lunch and then walked around town. Wrapped the day with dinner and then a beer on our cottage veranda.

Sept. 12
Candidasa (Tenganan)
6.31 miles (10.15 kms)
Early breakfast and on our way to the village that is known for being the home of the original Balinese people. Not too impressed by it, unfortunately what seemed once to be an actual traditional village is now just a collection of houses whose fronts are lined with made-for-tourist merchandise.

However, looking hard I would see under all that kitsh and it was somewhat interesting. Worth visiting? Maybe in any other place not so much, but here these houses are as good as interesting village architecture gets.

After the visit we descended on the gentle road and stopped for a drink near the intersection with the main road.

A gentleman ask us if we were living here as our bicycles did look a little small for long distance riding. He had been living in Ubud for 6 years doing real estate investment. He recommended us going to Lompoc, an island about the same size as Bali less than 5 hrs by ferry.

We continued into town where Monica checked email (now for me third time thank you) and then had lunch at a restaurant by "the lagoon". Very average compared to other places we've visited here before. A relaxing afternoon by the pool with more beer.

Went for dinner at a family owned restaurant where the 10 year old daughter performed the Balinese typical dance. When she finished she shook hands with all six people dining/watching. Bed time.

Sept. 13
Candidasa-Amed
27.34 miles (44 kms)
Had the largest included breakfast so far and left at 8:00. The map we bought (outdated) does not show a road that traverses the Seraya mountain coastline. As usual we asked our way around to find some small roads that avoided the "not-so-bad" in this area, main road.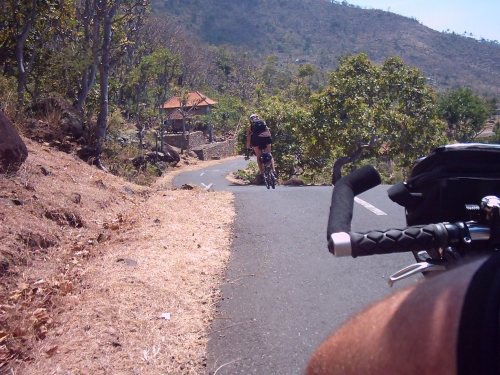 We found a very small relaxed road that lead to another even smaller one. Some 12 miles after we had started we began climbing some steep terrain. The road became rougher but very rideable after the town of Saraya. Steep sections were followed by steeper ones. Grades, according to my built-in-butt inclinometer were from 12 to 18%

Climbing and the great views that came with the hills kept us moving slowly stopping only for a photo op here and there. This area also has many schools where children come out to say hello, "was-your-name", "howre-you" as you pass. Most are cute and well behaved but I learned later from Monica in a section I was descending 50 meters ahead of her, a little smuck spit at her. She held that until the end of the day, she knew I would probably give a verbal reprimend to the kid in front of his peers to turn the cards around.

By 12:15 we started seeing places to stay. We wanted to stay close to Amed, the town where the road leaves the coast (but just for a while).

The sun had been doing its thing and it was hot, the small Deep Blue restaurant served as shelter while we enjoyed some fruit shakes (Monica's came with some bonus - a small piece of metal) We should have stayed here but without knowing what was ahead we moved on.

We were just 4-6 kms to our destination and had seen no tourist packed in SUVs so far, a sign of a good choice of route. The almost non existent beaches were lined with small boats. A series of ridges separating one town from the next, all with the same boat lined beach. Fun descents followed by steep climbs to the ridge marked this section.

After stopping to check prices and the rooms at several places we decided on the Bali Jageg Bungallows 350000 IDR (balijegeg@yahoo.com). A very new hotel (4 month since it opened according to the staff) A 2 bedroom bungalow for Rp 350,000 taxes included. It seems all tourist come from the opposite direction we rode so they miss that great section, it was a rugged section worth riding. Went out for lunch across the street at Warung Deddy's , some pool time and then crashed for the night.




Sept. 14
Amed-Lovina
57.86 miles (93.12 kms)
Monica woke up at 6:00 AM to go see the sunrise from the beach. When I came out it was 3/2 of the way out big and very orange. Ketut, the nice hotel manager had told us about it the night before when he stopped by for a welcoming conversation. He was right, definitely worth waking up for.

Went to have the included breakfast at the place where we had dinner the night before. This place is owned by the same Balinese family that owns the hotel where we had stayed the night before, I believe they live in that house, they also have cottages (their original business, warung_deddys@hotmail.com) available next to the restaurant. The new hotel does not have a restaurant or bar and the mosquito net is already stained, there was no trashcan inside the room, the bathroom window is missing a glass or at least a net to keep bugs out and the AC did not work that well. In our opinion, this hotel will have a hard time surviving unless they finish those and many other details, we wish them well but they'll need to apply themselves.

By 7:45 we were roiling, but not for long. Within 30 meters from the hotel there was the crest of a hill with spectacular views of Amed just 500 meters down the hill. This town also offered what seemed nice like accommodations. We stopped to take photos.

The first 20km were nice but then everything started looking the same. Long relatively flat stretches with traffic. The sun was again in full force. We stopped for a drink and energy bar (we brought them from home) Before opening the bottles of the tasty Fruit Tea I asked the lady how much they were, she said Rp 1000. We had three and then ask for the bill, Rp 10000. There are not coin or bills smaller than Rp 300 (well there are but very rare in circulation and nobody uses them), where she got that price or $3333 each? After some negotiation we paid $6000 the same we've paid for similar drinks in small road restaurants. As in many other Asian countries the prices tourist pay are inflated, even in small places.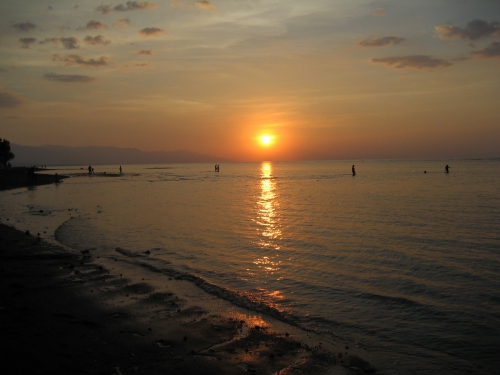 HOT and hot and sunny. The boring but not too bad road got tiring after a while. More stop for drinks and more water. Kilometers went slow today. I kept checking our speed, 20kms most of the time, still slow progress. We finally hit Saranya a city 9 km from Lovina. We had plans for a shortcut to use back roads for that stretch, it was nice but at one confusing intersection the shop owner we asked directions sent us back to the main road. Just after rejoining the road we saw a large hotel and decided to check it out. The Aneka Lovina Villas & Spa (405000 IDR) had nice rooms and good looking place for US$50/night (quoted in dollars), we decided to stay 2 nights and they agreed to US $45/night. Took a shower, washed clothes and rode the 1 km into town for another great lunch.

Food is great in Bali, it reminds me of Colombian food which has not gotten to the point where everything is full of preservatives. Bought some canned drinks to take to the refrigerator and went for a swim. Later that evening we walked back into town for another great dinner at another restaurant.

Sept. 15
Lovina
The latest we've woken up on this trip is 7:30am. After rolling out of bed we went for the buffet breakfast and stuffed our mouths with pancakes and other not-so-healthy substances. The sugar gave me a headache. More pool time, but I still had a headache and after a while sought help from our AC cool room. Walked on the "beach" to town and had lunch in a restaurant with good food but too many loud kids (tourist sons/daughters.) Q: Why you people who travel with kids don't teach them manners? Answer: Because your parents did not teach them to you. Walk back to the hotel for more pool and then dinner in town once more.

Sept. 16
Lovina-Permuteran
31.03 miles (49.94 kms)
We paid for the room before breakfast to save time. Ate and left by 7:45. The sun was out and it seemed it was going to be another scorcher.

The mostly flat first 20 kms were not as boring as the previous day of riding. Then came some very easy hills were I could not tell we were climbing, very easy terrain. Sooner than I expected we arrived to a town just a few kms from today's destination. Before buying 2 tea drinks we asked for the price, the young lady said "two tosand" so we paid and then drank. While reading a book for suggested places to stay, a different older woman, I assume the mom of the first one , came to me and made signs I needed to give her Rp.1000. According to her the drinks were Rp.2500 each. We told her, no, we had been told it was Rp.2000. We complained to others in the store and then we thanked her and left. They do not honor verbal agreements here that much.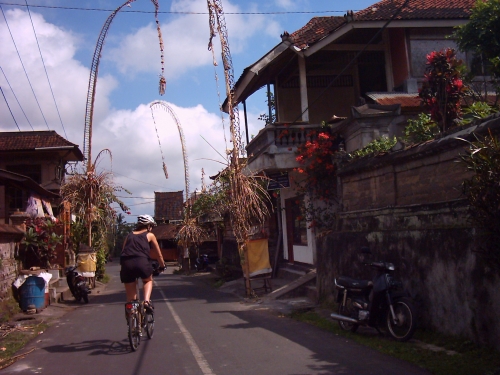 Soon after our soda incident we started seeing places to stay. The first was a hotel by the same chain as the on we stayed at the night before, we liked it but this time the location was a little too far from town and they quoted us $60 so we decided to continue.

We checked the very few other alternatives and decided to stay at the Pondok Sari (AC room 594000 IDR) A place with nice bungalow style accommodations and well maintained grounds. Probable the best deal for the money in this tiny town. There was another place we did not check out because it does not have a sign (or at least one we could see from the main road) so unless you know it is there it's very hard to find.

The pool in our hotel was great, it had stone slabs instead of the ubiquitous cheap tile found elsewhere and also water jets one could operate by pushing one of the many switches distributed above them on the pool edge. This place also had the best beach so far. Kuta has nicer sand but the water is not clear and well it is Kuta, a tourist trap-crap. The hotel also had chairs and tables at the beach and of course lounge chairs. Nice hotel for the money but not perfect by any means.

Shower, wash clothes and to the pool to get us started. After trying to lay on the poolside lounge chairs I decided it was too hot for me and spent the rest of the time in the water.

Beach time followed with a swim in the nice ocean and then back to take a shower and go out for dinner.

The restaurant we (Monica) picked was empty but as soon as we sat they brought a roasted pig to the dining area. It was not for all, it was for a large group of German tourists. As we ordered the large group started arriving so we ended up having to wait nearly an hour for our food. Fortunately we had ordered drinks before, pineapple juice and a shot, each, of Arak, A very strong rice wine that we had discovered in Candidasa, it goes very well mixed with any sweet stuff, like our pineapple juices. Food and drinks were very reasonable, almost cheap.

Back in the hotel we went for another Arak drink and an espresso and sat on the full moon bathed beach, very nice... until word got around among mosquitoes that I was there. Balinese mosquitoes have a weakness for my blood.

When we walked back to our bungalow very loud "Indian video" music, for lack of a better description, was blasting from a nearby house; eventually the noise calmed down an we went to sleep.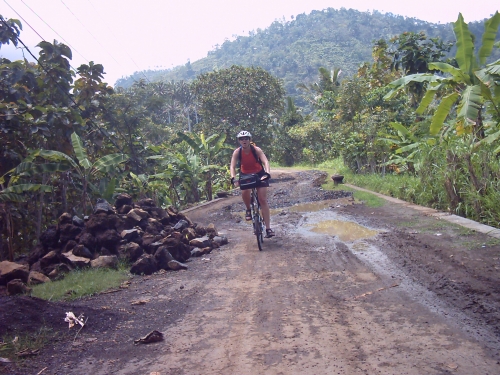 Sept. 17
Permuteran-Medewi
52.05 miles (83.77 kms)
Left by 8:00. The flat road made keeping 20km/h very easy. The constant stream of stores and houses disappeared when we entered the National Park, traffic also became much lighter. The landscape here was arid and the road slowly climbed small hills. As with the others we've ridden on the North coast of Bali, there was a slight head wind.

This last stretch of road on the North coast leads to the city of Gilmanuk where there is a ferry connecting Java and Bali, it serves as a main traffic artery for both North and South parts of Bali. The road was in good condition and it was a little wider than usual. Traffic was light. At the 30km mark we arrived at the intersection where we could either go right towards Java or take the left towards the South of the island. Taking left we started completing the circle we had started near Kuta. Traffic now was heavier but not bad, besides even the worst drivers give cyclist plenty of room when passing.

After 30 more kms we arrived into Negari a large city, we had talked about stopping here for the day but it was still early and we were not that tired so we pressed on for the next option, Medewi a small town known for its surf.

We arrived at 12:15pm and checked the Medewi Beach Cottages. We decided to stay here. This is an overpriced very run down place but the other option was to ride 3more km to a different hotel that could or not have vacancy. We also knew it was more expensive. If I had the opportunity again I would take the chance and continue to the more expensive resort.

Another shower and clothes washing and lunch at a restaurant near the main road that also rent rooms (even cheaper and less frills than our choice for the day). Came back for some pool time and then dinner.

Sept. 18
Medewi-Yeh Gangga
81.51 miles (131.31 kms)
8:00 start. The road turned from mostly flat into rollers, up and down, repeat. Still we were making good progress, I was in front breaking the light head wind and Monica drafting as much as possible. Suddenly our day turned around when right after stopping for a rest and a drink Monica realized her rack trunk, with all her clothes and our souvenir purchases was gone. Not on top of the rack! I quickly unclicked my handlebar bag and rear bag and took off as fast as I could in the direction we'd come from. Riding without my lightweight load was very easy yet I wish I could pedal faster. I was scanning the opposite side of the road as I was moving West. Rode back for 8 km in no time but the trunk was nowhere to be found. Defeated I rode back to the restaurant where Monica was waiting. I was very angry with her for not attaching that trunk correctly. We've been doing this for many years and by now I thought we had it all dialed up and fool proof. Proof that there is always room for improvement.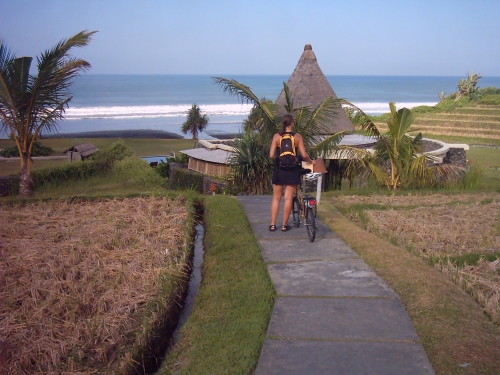 After much pointless finger pointing on my part Monica convinced me we should ride back for 15km to look again, I thought it was just wishful thinking. How long would floating food last in a pond full of fish? We started together and then I stopped to check something on the side of the road while Monica kept moving on. I never caught up with her and she kept going all the way back to the hotel where we had started 27kms back and some hours earlier. When I got to the hotel she was talking to the staff giving them our hotel information in Kuta, the location of our last night in Bali.

I was now even angrier as she had made me ride backwards twice. We left the hotel in Medewi, for the second time, and now Monica in her lightweight-aided bike was in front and I was burning steam in the back. Surprisingly the miles to the restaurant where we had first noticed the missing trunk seemed short we got there at 1:30pm. After a rest for a soda we moved on to complete the second half of the ride.

The relatively flat terrain turned into many short rollers. We were running out of stamina and also running low in local currency so at a medium size town we found an ATM (not common outside mayor tourist towns) and did our first withdrawal on this trip.

More ups and many more downs preceded the city of Tabanan. where we stopped at an intersection to confirm our route and asked for directions from the helpful policemen stationed in a small building. For us police have been always very helpful here. They, like everybody in this trip were very impressed when we told them we had 100+ kms so far for today. They estimated 10 km to our destination. All people we asked for distance estimates were very accurate, however if there was more than one route they would try to save us effort by sending us on the short, usually more congested way.

We arrived at Yeh Gangga at 3:30 and checked two of the three places to stay in this little beach town, the first we did not like, the other one was closed and for sale. The remaining option was a very nice looking boutique hotel Wake Gangga (US $125) that turned out offered good value for the $125/night. I never mind paying for anything as long as I get my moneys worth. Rustic-chic would be a good way to describe the 10 cottage hotel. A deserved spoil after a long, hard day.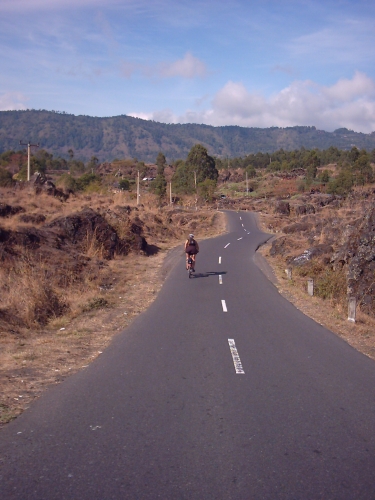 Drank/ate the second welcome appetizer in the salt water ocean facing pool and then went to check the beach were locals were racing 125cc motorcycles. Another shower and then dinner. 9:20 Medewi11:45 rextta130 hotel3:30

Sept. 19
Sanur-Yeh Gangga
25.69 miles (41.34 kms)
When we first checked into the hotel the previous afternoon we talked about maybe spending an extra night here but after a very quiet evening in a nice room (with some details that should have not been there, like previous guest paper receipts and a couple of hairs in the bed cover) we decided to move on to a new town.

The front desk guys were very helpful and drew us a map with a shortcut we suspected existed but was not in our outdated map. At 9:00 am the route took us on quiet rural roads for 10km where we joined a larger road that later took us to the nasty main artery that crosses the nastier (at least the part we saw) Denpasar, the capital of Bali. Heavy traffic and lots of car exhaust fumes.

15 or so kms after, traffic got better and the road improved dramatically. We were approaching Sunor Beach a town that proved to be much nicer than Kuta, the tourist trap-good-only-for cash-depraved-younger-crowd-hungry-to-be-seen. Sunor is quieter, hotels are much better and they come with higher prices. Much better choice for starting or finishing a bike tour like ours. If we were to do it all over we would not stay in Kuta.

It was 11:30 we looked for places to stay and decided on the Parigata Resorts N Spa (US $60) a place on the side of the road where the beach hotels are, but this particular one did not have direct access to it. Rooms in the three story buildings looked very much like their counterparts in a mid-sized Holiday Inn, generic but ok, $60/night. Soon we discovered it was "the" place for the 65+ crowd. They would hang by the pool most of the day "sorted" in pods by nationality.

The routine shower and wash of clothes and then to the street to find Monica some new clothes. Visited some of the many tshirts & crap stores, had lunch and then some pool time.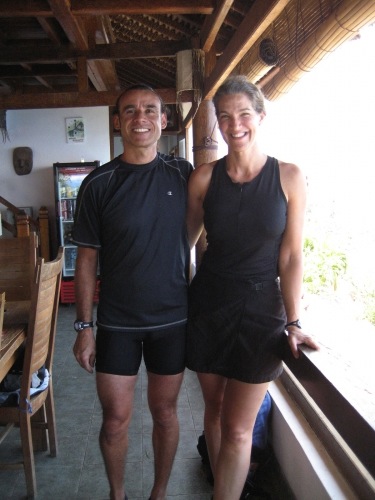 Later we went for dinner and to discuss what we wanted to do next day. We decided to stay in town at least one more day, but at a different place if possible. Just by chance we entered a dark street and found a jewel at the end. The Sari Sanur Resort It was dark when we asked to see their cottages. Nice circular pool in the center with 18 private bungalows around it. We reserved for the next night and the possibility of a second one.

Sept. 20
Sanur
Breakfast buffet at 8:00 walked the beach, coffee and checked out from the hotel. Rode the 1km to the Sari Sanur Resort and waited at/in the pool for 1:30 hours for the room to be cleaned.

Lunch and them a short swim in the shallow ocean. Back to room change clothes and dinner. A very slow day.

Sept. 21
Sanur
6.33 miles (10.19 kms)
Breakfast in the patio (the hotel has no restaurant but arranges for free breakfast in the room patio). Rode the bikes to the end of the beach promenade/sidewalk and returned on the street.

Got some sun by the pool, had the worst lunch on this trip at a restaurant on the beach. Back to the pool and I waited while Monica got a facial treatment given by the lady the hotel contracts for "spa" services. Dinner and bed. (HBO had new movies for a change).

Sept. 22
Sanur-Kuta
14.36 miles (23.11 kms)
A late start, 9:00 after another nice breakfast at the hotel. Rode small roads to Kuta just 23 km West. Got to the Hotel Lusa where we had stayed the first two nights of our trip and were we had left the bike suitcases in storage (all hotels everywhere do this for free). I claimed the two suitcases and packed the two bikes in an hour while Monica went to the pool, packing them is always faster at the end of trips as by then I have pack/unpack them at least once and the how-to still fresh in my head. I also pack instructions with photos in each suitcase, that comes in handy after I've not pack/unpack in a while.

I joined Monica at the pool and soon after was bored and hungry so we went for lunch and some shopping. Prices of most things are cheaper in Kuta than everywhere else in Bali. Good place to buy cheap beach clothes and sometimes nice street wear.

Spent the whole rest of the day doing the same. Tomorrow we are leaving Bali headed for three shopping days in Hong Kong.

Sept. 23-26
Hong Kong
We had arranged for the hotel to take us to the airport. When the driver did not show up in time we asked the staff to get us a taxi. One thing to keep in mind when in Bali is that they don't like to say no in order to avoid confrontation, so when we asked for the supposedly free transport to the airport the night before, as per their website, they did not want to do it but finally agreed to it since we were not using our free breakfast this day. However, it seems they just agreed at the moment to keep us happy but they were not really planning on keeping their promise.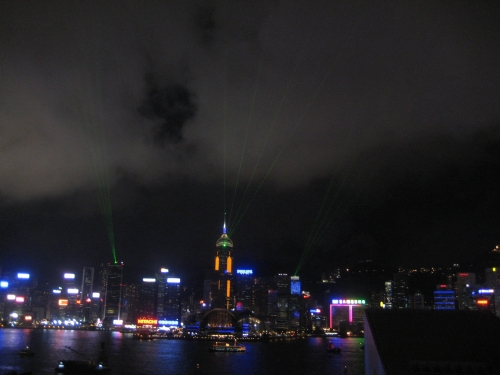 Miracously we arrived to the airport with plenty of time to spare and were able to use our last few rupees on snacks and little tourist crap.

The layover in Singapore was pleasant. This is by far the best airport we have ever been to. It has plenty of things to do including a movie theater, a butterfly garden where you can walk among thousands of flying butterflies, a pool, plenty of shopping and restaurants/cafes and it's easy to get around. Maybe Singapore will be included in our trip next time.

Got to Hong Kong, did the never welcoming customs lines and went on to buy a pass that will allow us unlimited MTR (subway) transport for three days plus a round trip from and to the airport.

We had booked our room with a view hotel beforehand, a must for Hong Kong. After a train and a short bus ride we were a the YMCA (Aka., Salisbury Hotel) and were given a room on the 16th (top floor) great for watching the much hyped light show put together by a couple dozen hotels. They have lights/lasers installed on their buildings and at 8pm a music synced (with a FM radio station) show is done. Nice free 15 minute entertainment, a little too hyped but hey its free. Little did we know that there was a High Typhoon warning when we arrived which is why the streets were empty, restaurants were closed and the light show was minimal. This first impression of Hong Kong left us myffed. We didn't find out about the warning until the next morning.

HK was a disappointment, I wanted to shop for clothes but the whole city is covered with either boring expensive brand name stores (Gucci, Dunhil, etc) that one can find in any large city around the world or with street stalls that offer cheap, and mostly ugly for my taste, merchandise. However there were a few nice stores and they were cheap compared to prices back home also there are a few Japanese department stores (can't remember the names but the guidebooks must have them) that have good things at good prices, worth visiting. On the other hand In Kuta there are plenty of small boutiques that seel local designers creations, very nice stuff, so there you have it Kuta is good for shopping but not for staying there.
We love Bali, HK, not realy.
Get the GPX file of this trip here.
(First posted January- 4-2010 at 04:04 pm)
No related pages or links.