Cycling New Zealand Nov 2000 (First posted November- 6-2001 at 03:00 am)
Cycling New Zealand Nov 2000 (First posted November- 6-2001 at 03:00 am)

The best place for bycicle touring. . . .
We recommend New Zealand to any would be tourist. Cyclist must go, few places offer as much to the cyclist as NZ does. Will we go back? Definitely, don't know when but we really liked it over there. Now, if we could find a job over there that paid the same as our San Francisco tech salaries. . . . . .
New Zealand (NZ) is an excellent place for biking:
It has beautiful geography with great diversity, people are friendly, and personal safety is not an issue
There are bike shops everywhere.
Distances between towns are perfect for planning stages.
You can drink the water from most rivers.
There is very little traffic outside urban centers.
There are plenty of accommodations for all budgets everywhere.
Most accomadations have self-contained kitchens.
Plenty of good coffee, beer and excellent wine.
Trains, buses, ferries, planes, and places to stay all accommodate bicyclists.
Bookings for hotel and transportation can be made by phone.
Most towns have a Tourist Information Office where you can arrange accommodation and book guided outdoor activities (if you are into that kind of crap).
There are very clean public bathrooms in the most unexpected places, even in the most tiniest towns.
There are many other activities, cultural, and outdoors in case your legs get tired.
There is plenty of literature (printed, web, etc) about cycling in NZ.
There is internet access in most medium size towns.
There are excellent artists.
Since we live in San Francisco, most things around the world are relatively inexpensive when compared to the prices at home. However, considering the NZ dollar value against the US dollar at the time of this trip (approx $0.40 US dollars / NZ dollar) what this beautiful country has to offer, is an absolute bargain.
Many other things we're sure we missed
There are other things that grabbed our attention:
The commerce in tourist towns closes too early.
At some places (some bike shops) when they realize you come from the US, hence you must have tons of money to spend, they try to charge you the maximum price possible, but this is also true in other countries.
We never figured out whether you were to ask for the bill at a restaurant or cafe or walk to the cashier to pay.
To our tourist eyes there is a clear separation, not discrimination or racism, between the Maori, asian migrants, and white populations.
We travel light, a small daypack (1800 cu. inches) and good handlebar bag each. The total weight of the fully loaded daypack (including a 100 oz water blader) is about 15 lbs,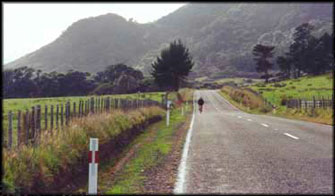 it gets lighter as you drink the water. For this trip as for previous ones we carry a good first aid kit, good quality small bike tools, spare brake and derraileur cables, compact air pumps, patches, and two tire tubes. Two NZ travel books by lonely planet "New Zealand" and "Cycling New Zealand". Also a very small APS zoom camera, a super small camera tripod we can attach with velcro to almost anything, a Handspring's Visor PDA with modem so we have access to email and also doubles as a calculator, entertainment center, a place to keep our plane intinerariy, general information I downloaded from different web sites, and a place to write the daily log below which you'll hopefully read.

11/08-11/09 San Francisco to Auckland
Left SF home at 4:45am. Our flight to Los Angeles was cancelled (what's new) so we were able to get on another one. In LA we boarded the flight to NZ, ONLY TWO MEALS on a 13 hour flight, talk about starving. Arrived in Auckland at 9:00 PM. went to the tourist office in the airport and booked the hotel for the next couple nights $129 NZ dollars /day. The hotel, Somerset Grand is very nice, a suite with 2 bedrooms, a living room, washer and dryer, and a kitchen.

11/10 Auckland
Woke up at 6am, we were on a mission to find bikes to rent. Walked to the visitor center to see if they had any info on bicycle rentals. The nice girl at the counter helped us by making some phone calls to local bike shops about rentals. She also gave us directions to a couple of places we had listed in the cycling book. We purchased a one day pass for the bus, which also was good for the ferry and left to find the bike shops. We took the bus back to the water-Queen St.
Boarded the wrong ferry and ended up in Devonport instead of Bayswater. Walked halfway to Bayswater while waiting for the bus. Finally the bus arrived- we hopped on and the bus driver let us off right in front of the address we were looking for, nice guy. Nobody was home to rent bikes.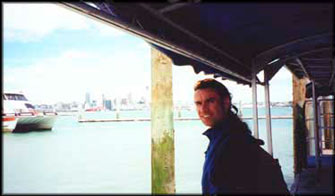 Walked to Bayswater ferry, waited in a nice lounge, oops free web access. A short email check then the ferry arrived. I'm writing this on the ferry back to Auckland. We then boarded the bus to Ponsoby street to find a restaurant for lunch, we saw a bike shop so we got off to check it out and walked from there back to the city center (through the red zone) where we ended up having lunch/ dinner in a cafe near Vulcan lane near the Hotel. That's it for today, we watched TV the rest of the evening.

11/11 Auckland
Slept in late. Went to cafe for coffee and breakfast ( it was yummy! Sauteed spinach, mushrooms, tomatoes on toast w/ a side of hummus) and to figure out where we were going to go. Next to the visitors center to check out the bus out of town situation. We then returned to the hotel to phone the bike guy and to make our bus resrvation. We stopped at sushi factory for lunch on the way back, it was ok.
We were able to arrange the bike guy for later that afternoon. Craig from Mountain Bike Hire (ph: 09 815-6377 they are also listed in Aucland's Yellow pages) came by and delivered brand new Diamond Backs, very nice. He helped us change the tires to our own which we brought with us and took the ones we removed. We put the bicycles in the hotel storage and then went out for a walk and dinner. Very nice waterfront restaurants/ bars, similar to Pier 39 meets SOMA. We ended up at a cafe near the hotel on Vulacan lane and had pizza and a salad, it was very good. Now, back to the hotel.

11/12 Auckland to Rotorua (Whakarewarewa Forest)
25.3 Kms.
1:49:38 Hrs
Woke up early and rode the bikes to the bus station at the Sky Tower. Bus to Rotorua took 4 hrs. Arrived at 12:30 decided to sleep here and take bus to Opitiki tomorrow. Arrived at the BelAir hotel $55, changed into cycling clothes and rode to the Whakarewarewa Forest Challenge trail. Nice single trail. We got a little lost on the way backtracking, Monica did an Endo and landed with her bike in some bushes 5 mts down a small ditch. Laughing and scared we rode until we met 3 older NZ guys who gave us directions on how to get out going the correct way. We got lost again, backtracked again and met them again, "oops sorry we gave you wrong directions" now we are on the correct trail. Made it home safe, took a shower and a nap and went out to eat.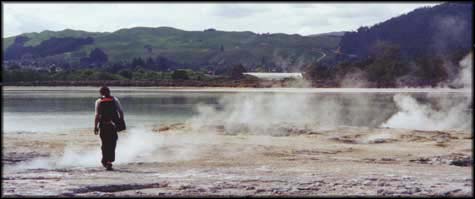 Today the home guy (NZ) is fighting for heavy weight champion in Las Vegas. The restaurant/ bar was packed with people watching the fight, their guy lost. We saw many long faces but after awhile everything is back to happy NZdrs. Walking back to the motel all ofthe commerce was closed, we stopped at a supermarket to buy tomorrow's breakfast.

11/13 Rotorua to Opotiki (by bus)
Checked out and went to buy bus tickets, we bought them over the phone to get the student discount and also called to reserve a room for the night. Now in a coffee shop for email check and a muffin. We then stopped at a bike shop to buy bar-ends for the bikes. With several hours to kill we set out on a discovery ride. Near the lake we went to a cool museum (outside) where there is a trail which leads to a lake beach where we discovered some mineral water holes with super hot boiling water. I knew it was hot but had to try it myself (it is a guys thing) and burnt my finger a little bit. Back to town to find a post office for Monica's work papers. Mexican burritos for lunch which were really spicy, good. Now to the lakeside park, a Maori tribe meeting house and an Angelican church with amazing woodcarvings. Stopped at the lake's boardwalk took some pictures of the black swan and then to the bus station.
Arrived in Opotiki at 4:30, talked for a minute with another couple who were on the same bus and are riding bikes with Bob trailers. They've been here for 6 weeks and are staying for 4 months. Wow what a luxury, I could definately live like that.
We cycled to the motel, washed clothes and went to look for food around town, nothing but fish and chips so we ended up at the supermarket buying top ramen. To the motel to cook ramen and watch TV.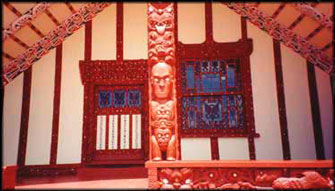 11/14 Opotiki to Te Kaha
68.41 Kms
4:55 Hrs
Didn't sleep too well. The old couple running the place, Ranui Motel lives upstairs and we could hear them walking around starting at 4AM. We got ready and left at 7:45am. Stopped at the bait shop to look for small pocketknife with pliers, no luck. The ride was very nice along the coast, kind of like Hwy 1 in SF. I keep telling Monica to take it easy, there is along way to go. She did very well until 15 kms. We were both pretty hungry before reaching our destination, Te Kaha. Arrived at 12:30pm, checked into the Te Kaha hotel, it has a very nice view. Shower, then to the town general store to get lunch. The couple from the bus had just arrived there and were having lunch. Chatted with them for a while then they left, they're staying 16 kms. ahead to shorten tomorrow's ride. Back to the hotel for a beer on the deck, wash clothes and relax in the room for a while then dinner. Dinner was one of the best we had on the whole trip. We had sauteed scallops in a white wine sauce and Filet mignon (really it was just an ordinary steak) w/ a mushroom sauce, yummy.

11/15 Te Kaha to Te Araroa
87.1 Kms (101 Kms after roundtrip to town)
5:55 Hrs
Woke up early and left at 7:30am. Rode to Whanarua bay at the holiday park campground to buy food and to use the toilet, it was closed but the owner opened the shop for us. Arriving to some wooden churches to take pictures we realized the camera was broken (bummer). Rode into Waihau Bay to eat 'good hamburgers' as described in the cycling book, sorry no hamburgers today. after a few kms the ride turns inland, very nice view; a bee stung me. After a steep climb and a quick refreshing descent we arrive at the Te Aroura holiday park, not the nicest accommodations- no linens and the room was not that clean, however the new management had taken over just 10 days before and were trying to improve everything. The American couple we saw before had just arrived and were staying there as well. A shower, some clean clothes a ride to town 6k ( this makes a total of 100 km for the day) away for a burger. Once back at the hotel we chatted with the couple Catrina and David, they have been riding in Thailand and enjoyed it. Watched the news to catch up on our country's presindential election kaos in a small run-down "tv room" with plastic chairs facing a very small TV.

11/16 Te Araroa to Tokumaru Bay
88.91 Kms
5:40:30 Hrs
We both had a bad night of sleep. The room had a small electric heater; we only had our sleeping bag liners. At first it was too hot then after turning it off, it was freezing cold. Woke up, showered, and said goodbye to Catrina and David, we probably won't see them anymore on this trip. Our first stop of the day was Tikitiki a small store for some snacks. A few minutes after arriving a cyclist from a group of Australian tourers pulled in. She was a nice talker. All the other 7 showed up, some chatting, and we're off. They passed us after 30 min. They were taking turns driving and riding. We passed their next driver change, they passed us again most of them were in the minivan. Next stop 200 yards from the intersection to Ruatoria in the Gisborne direction. A nice Tavern/cafe, Mountain View Cafe (KAHARAU@xtra.co.nz, phone:646 8648-619, fax:646 5648-723). The owner chatted with us while we had a very deserved coffee break. Back on the road, once again one of the Australian riders passed us, we stopped for a moment at a vista point and one of the Aussie guys flew down the hill, a moment after their minivan.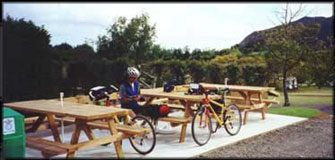 Kept riding all the way to To Pula were we stopped for a short break, a candy bar and off we go to the last part of today's ride. Mostly downhill all way to Tokumaru Bay. Around the corner the Aussi group was waiting for some of their riders. 1 km. before our final destination for the day their minivan goes by. At the town's entrance they have stopped to take pictures. We rode to the place where they're staying, but it's booked, they recommended another location in town, The Blue Marlin motel has nice available rooms, a complete mini house, 2 stories and small kitchen it was very nice. The owner was going to bring us the usual milk every motel gives their guests but we said no need since we don't drink milk. A minute later she showed up with fresh baked biscuits, yummy. Shower, and to the supermarket for tomorrows energy bars and drinks. Now to the restaurant for dinner, the local pub which was the same place we tried to first get the room. Good meat. After dinner we took pictures at the beach (we thought that the camara was working again) and then to the motel for TV. It was cold.

11/17 Tokumaru Bay to Gisborne
91.51 Kms
5:55:17 Hrs
We woke up pretty early, it was still pretty cold. Left around 8am I had a problem with my cleats so we spent about 20 minutes fixing them. Finally we were on our way uphill. Then down to a windy valley. It was a long 34km to the first town Toluga Bay. This was a cute small town, where we stopped to have a snack. The Aussies had caught up with us. we said our hellos and took off for what the book said were going to be a long 40km, no shade, bathrooms or shops. The sun was definitely strong and even after reapplying the sunscreen we still managed to get burned. Talk about a farmer's (cyclist) tan. The ride itself was actually quite nice, not so windy and nice rolling hills, at about 60km you could see the ocean. It was just beautiful. Finally after a few kms we arrived near the waters edge. The beaches were absolutely incredible. Nice white sand and turquoise blue water. After a few kms of this beautiful beach riding we stopped at a local campground (very nice) to refuel. We had popsicles, trail mix and water. Then up the hill again, only 15km to go. The Aussies were no where in sight. Finally we arrived to Gisborne, a cute coastal surfing town (kind like Santa Cruz in Norther California). We checked into the motel and then rode to the main street to eat and buy a new battery for the camera. Then back to the hotel to do laundry and plan the rest of our trip. we walked to the corner store looking for laundry detergent and beer, we found none. Luckily there was a camp ground across the street where we were able to buy the soap. Back in the room I phoned the office for coffe and also asked where I could buy beer nearby. The owner said she had some, she would bring it up. Next morning when we checked out she said, "it was on the house and sorry for the disturbance last night our daughter is getting married today!"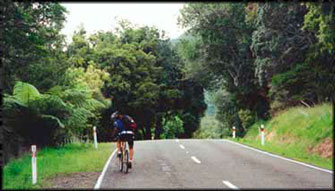 11/18 Gisborne to Napier (by bus)
We woke up and went to the bus station which wasn't too far away. We still had some time to kill so we rode to the main street in search of a coffee shop. We found one with a Harley in the window. The bus left at 9:00am and arrived in Napier at 1:35pm. Napier was alot bigger than I imagined. We rode our bikes to the main strip along the waters edge and checked in at Pine Haven B&B. After securing parking for the bikes we went walking around the town centre. Most restaurants were closed, this is a tourist town, I just don't get it. Looked at the Art Deco architecture the town is famous for. There are some real nice buildings. We also discovered a nice art gallery with a local painters exhibit, really nice paintings. Back to the room and later to an Italian restaurant serving pretty good food.

11/19 Napier to Wellington (by train)
Woke up to rain, we had breakfast in the B&B and asked if we could leave our bags and bikes until after lunch since our train didn't leave until 2 pm. Walked into the town centre, now everything is actually dead. Sunday morning 10am not a soul, wait the outdoor shop is open, by the time we're done shopping cafes opened up. Walked a bit more around town and checked the art gallery for prices and availability, they will ship to us, now do we want it or not? Back to the hotel to pickup the bikes and then to the train station, we are going to Wellington. While I prepared the bikes as 'required' by the engineer Monica sorts the tickets out. Turns out we did not need to prepare the bikes, the season I guess. Boarded the train for 5:30 hours of valleys and rivers.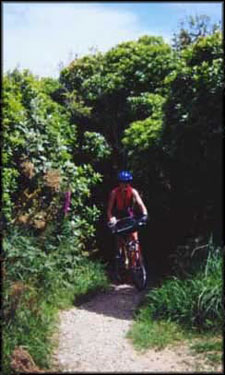 This is a real nice country. Arrived in Wellington at 7:30 and reversed the process, I assemble the bikes while Monica arranges the hotel.we were able to find 2 nights accomodations at the Quality Inn, too expensive for what it was, cheap furniture but kind of a view. they say it is extremely difficult and expensive to stay in Wellington during the week since it is a "business" town. Out for dinner, very good Malaysian food , back to hotel.

11/20 Wellington (Makara Peak Tracks MTB Park)
23.71 Kms
1:51 Hrs
Woke up late 7:00 am and washed clothes, now to the info center, a bike shop and then to the Makara Peak Tracks MTB Park in the hills. It was a short ride, I didn't feel too good and Monica crashed, funny. I cleaned her scraches and we headed down back to the city. The park is a labor of love/politics done by the local MTB community. Trails have signs and they are very well maintained. There is even a "stunt area." It was a very windy day in this windy city. Back to town for food. Walked around and then to the hotel. Tried stopping at the museum but it was closing when we arrived, now we have a plan for tomorrow. We're leaving tomorrow at 5:30pm. More clothes to wash.

11/21 Wellington to Picton (by ferry)
Got up at 7:00am got ready very slowly, and checked out at 9:00am. Left the backpacks and bikes stored at the hotel while walking around town. Stopped for a short black coffee and Monica's breakfast then to Te Papa museum. First stop the museum shop, they sell glass pieces by Garry Nash an artist we like. Had a hard time deciding between two pieces, let's walk around and think about it. The museum has stuff for everyone, admittance is free but most pieces need more explanation as they just have name, year, and author. Had brunch at the museum restaurant, good food. Now for some shopping, purchased the glass piece and then went to a bike shop to buy a new seat for me, the one I brought is bothering me where it should not, with the current rate things are super cheap.
We also bought at the same place super compact lightweight sleeping bags for almost nothing. More walking and we ended up at another bike shop where they have a handlebar that I like, which has been discontinued years ago in the sates , got it for a song. To the post office to send it home. Postage is about $5 US dollars. To the hotel for a beer and to pick up our stuff. The ride to the ferry is short, 15 min. The ferry left late. We chose a nice quiet corner in the back in the non-smoking lounge, bought some wine and just relaxed. Well Monica started feeling sea sick, she got over it fairly quickly, then came the nicest part of the ride. It was the last 1 1/2 hours they were very scenic, made the trip very worthwhile. Arrived in Picton, a cute small picturesque town, at 9:00pm and rode to the nice Harbor View Motel, left our bags and bikes and went out for food (pizza). We are now on the south island.

11/22 Picton to Pelorus Bridge
55.51 Kms
4:52 Hrs
Woke up early, but left late 9:30. First part of the ride (15k) was very scenic, a number of small bays very narrow and long. Again this is such a nice country. Stopped several times to take pictures, bathroom and coffee. Arrived in Havelock in time for lunch. We had mussells for lunch, this region is known for it's green mussells. During lunch we decided to shorten tomorrows ride by continuing 20k to Pelorus Bridge. We arrived there just as big water drops were starting to fall, it did not become rain just a few drops here and there. This Department of Conservation (DOC) camp ground has a nice coffee shop. Got coffee payed for the night's accommodation and then off to the little basic cabin. We have our new sleeping bags we bought in Wellington; today they'll have their first test. The cabins are basic no linen is provided, they have a small kitchen, a table, a stool, a wall bench and two bunk bed-one is double, and a heater - Bathrooms, shower, washing machine, and oven were only a short hike away. We took showers and washed clothes then we went for a short hike to a suspension bridge on one of the nearby trails. Then another hike, this time to the riverbed to test water temperature, cold. Now to the communal kitchen, our cabin doesn't have an oven to heat up the little pastries we bought for dinner at the cafe. Dinner and talk about nothing, Seinfield?. Bedtime.

11/23 Pelorus Bridge to Nelson
55K Kms (59.41 Kms after hotel hunt)
3:56 Hrs
We spent the night in a scary cabin in the middle of nowhere. We used our sleepingbags for the first time, I was cold and kept smelling cabbage all night long and Carlos was fine until early morning when he awoke cold. We left at around 8am and stopped for breakfast about 9km down the road at Rai Valley. Then were off to conquer the hills on the way to Nelson.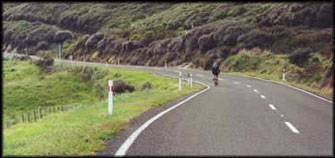 They actually weren't too bad and we arrived in Nelson at about 12:30pm. We found a nice 'budget room' near the river for 55.00. We showered and set out to arrange our trip back to Auckland and to eat, of coarse. After checking airfares, which weren't any different from what I was quoted over telephone, we had lunch at a cafe which was just about to stop serving lunch. We had excellent lentil soup and I had a great Savignon Blanc [ Neuders ?]. We finally decided what we were going to do, bought our tickets and made our reservations, now we could relax and check out the town. Everything closes at 5pm so there isn't much to doing the late afternoon, take a nap, which is what Carlos did. We went out for dinner to a place called Little Rock Cafe. It was a nice place but my pasta puttanesca which should have had capers had none. No flavor what so ever, even after I added the tobasco sauce. We left and walked back to the room via the river walk which reminded us somewhat of Japan.

11/24 Nelson to Kaiteriteri Beach
60.5 Kms
3:55 Hrs
Woke up and showered, the motel owner had our bikes ready waiting for us as they were locked overnight in the storage room. 8am we are on our way, a short stop for toothpaste and suntan lotion. The ride out of the Nelson area was pretty long once on the shoulder of the highway there were exhaust fumes and lots of traffic, nothing like what we had ridden before. Long and boring flat ride. Stopped at Ruby Bay for breakfast, later we stopped at Motueka for lunch at a nice looking cafe. The food took about 20min to arrive, a simple sandwich and soup. Now we are on the way to our final destination, Kaiteriteri. More boring road. We arrived to town at about 1:15pm and checked in at the excellent Kaiteriteri Beach Camp. They gave us a cabin with private bathroom, rare for these kind of camps, everything inside looks brand new. Shower and to the beautiful beach. We bought a bottle of wine and crackers and crossed the street to the beach. Laid out for a couple of hours and then went back to the cabin and then a walk on the beach. We were getting hungry so the next stop was the grocery store, popsicles, a sandwich, bananas. Went to the cabin and had diner, drank the left over wine and made plans for the coming days. What a nice place, wish we could have stayed longer.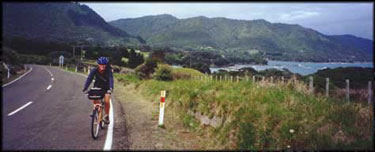 11/25 Kaiteriteri Beach to Nelson
58.41 Kms
4:18 Hrs
Left Kaiteriteri beach at 8:15, soon after I started sneezing and my eyes were all watery. That Ìs how I finished the ride. Monica's knee was hurting her, I had told her how to fix this, but she forgot and rode with the pain all the way (yeah, right). The ride was the same as the previous day but in reverse. About 1/3 the way we stopped at the Jester House cafe a nice place but they could definately smile a little more. Arrived to a motel near the airport where we had made resrvations, at 12:30, went for lunch at a cafe/bar nearby. The food took a long time to come, and they were not busy at the time. After lunch we went to see the beach. There were 2 small trailers parked in the lot with chairs set up, music playing, and selling coffe and food. We sat down, drank coffee and enjoyed the moment, it was really nice. Back to the motel, I'm really feeling sick. Monica washed clothes and then we watched TV until 11pm.

11/26 Nelson to Wellington (by Plane) then to Auckland (car)
Woke up and rode our bikes to the airport to catch the plane to Wellington. Arrived at the Airport, prepared the bikes (no pedals turn handlebar side ways, lowered seatpost, cover again with newspaper and tape) and on our way we go. 25min passed, we are now in Wellington, picked up the rental car, our bikes and exchanged some money. Now off to Auckland, easy navigation out of the city, Monica's a good co-pilot. Stopped for lunch at Lake Taupo, good food and view. Now Ms. Monica has the idea of taking a weird route to Auckland, not a good idea we ended up on little side roads with no scenic view. Got back onto the main road after one hour and then the highway. In Auckland by 6:30. Note to myself the car they gave us at the rental place was a piece of crap, Ford Aspire. Good deal though, they need people to drive their cars back from Wellington to Auckland so they (Budget) charge you nothing for the rental all you pay is the gas you use. Droped the car off at the rental agency, re-assembled the bikes and rode to the hotel. Went out looking for dinner but ended up buying frozen pizza and cooking in the hotel suite. Bed time. Monica called her mom's cousin who lives in Auckland.

11/27 Auckland
Woke up to get coffee and to shop. Stopped into the Auckland Art Gallery to see the shop and the art. Walked to Victoria park, big disappointment, however on the way there we found an outdoors sport shop, Khathmandu, they were preparing for a sale which would start a couple of days after we leave NZ. They will give us the sale price as long as we showed them our plane tickets which we didn't have on us. So we took the bus to a shopping district Parnel, kind of like Union Street in SF. Had lunch in a small restaurant hidden in an alley way, good food, the waitress was from Brazil and we talked a little with her in Spanish. After lunch we walked back to the hotel to call the bike guy (left him a message) and the gallery woman from Napier. We were out of luck, the painting had been sold that same morning. We then headed out again to Kathmandu with our tickets to get the discount on what we wanted to buy. We left the store with a big bag. Then headed back to the hotel via Queen street. There was message from the bike guy. Carlos put on the new sweatshirt and we headed out for dinner. We went to the wharf area and had pizza. It was raining. Back to the hotel. We had also shopped for beer and wine. We ended up drinking a bottle and some beers that day.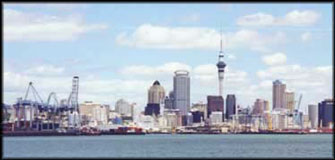 11/28 Auckland
Woke up late and left the hotel around 9:30. We stopped at a cafe off of Vulcan lane to have coffee and breakfast, it started raining pretty hard. Talked to a guy in the cafe for a while, he was planning on marrying a girl from LA and would be moving to the US soon. Once the rain let up we took the bus to Newmarket and started our shopping. This area had all the stores we were looking for. We found the Rondel Peanut Chair, purchased it along with some hooks he also designs. Walked around looking for towels, duvet covers, and a pocketknife. Bought a wall lizard for home. Walked to the National museum, but just went into the store and cafe for coffee. Took the bus back to the hotel. Got off before to continue shopping, started raining. Back at the hotel they thought we were leaving this day instead of tomorrow, we got it all straightened out. We had a message waiting for us from the girl at the store where we bought the chair. It could not be sent by mail according to the store mgr, she agreed to drop it off at the hotel we'll take it on the plane with us. Went out for dinner at D-72 right around the corner from the hotel. The new shopping center across the street was throwing a party so it was fun people watching from our table. Cirque d' Soleil was in town. Back to the hotel, they can't find the smaller package the store had delivered, then washed clothes.

11/29 Auckland to LA to San Francisco
Our last day in NZ. We woke up early to get a good start on the day, had coffee at a bar/coffee place. Walked to the craftshop Made in New Zealand on Queen street to buy the glass bowl and to look at the wooden lotus I had dreamt about all night. Carlos didn't like it, so we bought 2 glass bowls instead. It started raining very hard, but that didn't stop us we kept shopping, then back to the hotel to prepare our bags with our new purchases, they still hadn't found our package. While we were packing our final purchases in the big box with the chair, the concierge brought our missing package, (yeah!). Checked out and went to have lunch and returned to wait for super shuttle. At the airport the plane to LA was leaving from a different gate but no one bothered to let us know. Some airport detective work and we were on our way to ugly LA.
Before leaving Auckland we rememebered our hungry flight from lA to Auckland so we purchased muffins and a sandwhich to eat on the plane. Since this was an overnight flight, we weren't starving. We ended up in LA customs having to declare the sandwich and throw it away. Finally we arrived in SF, but our box with all our purchases was no where in sight. We waited for several planes from LA to arrive hoping our box would be on one of the flights. Tired of waiting, we decided to file the report with United (it sucks!) and go home. We exited the airpot and got onto a shuttle, at least tried to, the driver insisted on waiting for more people to fill the van. The gentleman who was on the van when we arrived got tired of waiting so he took off, now we had to fill his seat too. Finally, we were off on the last leg home. Driver asked everyones addresses. Halfway to SF he asked a passenger what specific location of a hotel she was going to, it turned out it was by the airport, not the city. Driver decides to turn around and go back to airport to drop the lady off so that she may take another shuttle van. No way, we are taking a cab, but first a last look at the luggage claim for our box. There it is! Taxi home, we are home, now how do I go back to do whatever I do behind that desk?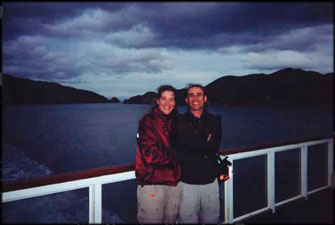 (First posted November- 6-2001 at 03:00 am)
No related pages or links.