San Francisco To San Luis Obispo June 2003 (First posted June-29-2003 at 03:00 am)
San Francisco To San Luis Obispo June 2003 (First posted June-29-2003 at 03:00 am)

Big (ass) Sur
This is a great short tour. Approx 300 miles, of which at least 200 are very interesting. The best part of the route, Big Sur, is more magnificent as landscape when seen from a bicycle. If you have support during the route it is easy to do. If you plan to be self contained, as I did, you should be a mid to experienced bicycle tourist as the conditions of campgrounds change frequently and you might be forced, like me, to ride additional miles in order to reach a viable camping destination. Also, you'll need to plan in advance your water and food stops. The hills are not that hard, nothing too steep or long, besides you are not climbing at a high altitude.


As always I packed light, aprox 25 lbs, including 100 oz. of water, my tent, sleeping bag and pad, tools, spare tire and tubes and the rack trunk-bag with clothing I would use.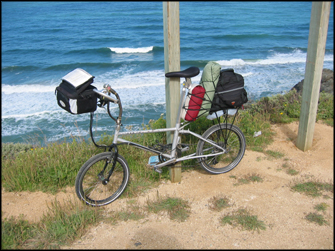 Day 1 06-20-03
San Francisco to Sunset State Beach (Watsonville)
112 miles
7:30 hrs moving
Average speed 14.9 mph
Left 7:30 after a false start which forced me to return home to fix the computer magnet. The weather was perfect for riding. The morning hours provided very easy progress. I thought that this stage was going to be harder. Arrived to Half Moon Bay by 10:00 where I tried to find a good place to get something to munch on, but ended up at Subway. I ordered a big footlong sandwich and ate only half. I finished and was back riding by 10:30. Next stop was for lunch at 12:30 at Ano Nuevo State Reserve parking/picnic area where I ate the second half of my sandwich for lunch. I left by 1:00 with a good tail wind and made it to Santa Cruz by 2:00 where I got a little lost (1 mile) and then made it to Brighton State Beach by 3:00 only to find out that it had just closed the previous weekend for renovation.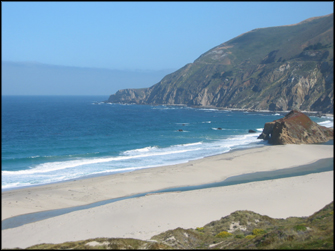 The ranger didn't have a good idea of when the Campground would reopen, so if you are planning to stop there you should call beforehand. She suggested that I visit the Aptos Chamber of Commerce to get suggestions and directions to alternative campgrounds. I got lost again (2 miles) but made it to Manresa Uplands State Beach park, where they don't have Hiker-Biker sites so they sent me to Sunset State Beach some 4 miles down the road. On the road to Sunset State Beach campground I passed a KOA campground and decided to stop and get some basics just in case I could not camp at Sunset State Beach and needed to continue riding to the next camp. Made it to Sunset State Beach, set up tent and went back to the KOA campground for more food. Showered and relaxed, I was the only user of the Hiker-Biker site. The total mileage after going back to the KOA for extra food for the night, 120.21 miles. It had been a long day but I felt fine.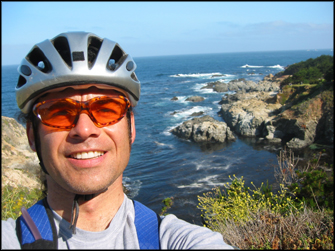 Day 2 06-21-03
Sunset State Beach (Watsonville) to Vet's Memorial Park (Monterey)
33.7 miles
2:52 hrs moving Average speed 11.7 mph
Left by 7:30. It was a pretty cold and gloomy day, I had a head wind most of the way. Getting into Monterey I got lost, not much but enough to be annoying. It wasn't very scenic riding today. Once in Monterey at one of the many stop-lights I twisted my leg in a weird way and when I went to start again I felt a very acute pain in my left knee. I have never had problems with my knees while cycling. My shoes and cleats are the same ones I have used for previous tours, everything was in place, so I came to the conclusion that it was the combination of the cold weather and the way I positioned my feet on the ground at that stop-light. The last part of the ride, from downtown Monterey to the campground, is quite steep and I realized too late that there were no stores on the way up to get any food. Arrived at the camp near 11 AM and pitched the tent, took a shower and rode down to the city to get some food and to wash clothes. The laundromat was in the area of the Cannery. I've been to Monterey before and other than the excellent Acquarium, the city does not appeal to me much at all. When I came back there were 2 guys drinking in a tent close to mine. I soon discovered that this campground is used by transients who camp for a couple of nights and move on to another place when the rangers force them out. I was the only "real" hike-biker occupant of the area. The ranger came by and was surprised to see me, we chatted a little about my trip then he left to finsh his rounds of the campground. My knee did not like that last climb back to the park and it was complaining quite a bit.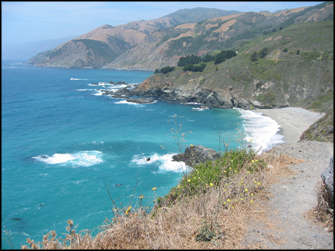 Day 3 06-22-03
Vet's Memorial Park (Monterey) to Kirk Creek (Somewhere in Big Sur)
62.45 miles
5:23 hrs moving
Average speed 11.5 mph
Left by 7:30 and went straight to the outskirts of Carmel on Hwy 1 to get food and coffee, everything was closed except the gas station and Safeway. Getting back onto Hwy 1 I saw something in the middle of the intersection, it turned out to be a bike multi tool, so I grabbed it hoping I would catch up with the owner later, I hate loosing tools and know how important they are while touring. Point Lobos was closed when I arrived and with my knee hurting so much I didn't felt like waiting just to see the park. The road started climbing soon after, freaking Big Sur is spectacular. My knee was really hurting by now but I was distracted taking in the views. The hills are not that bad and a steady easy pace made the pain bearable.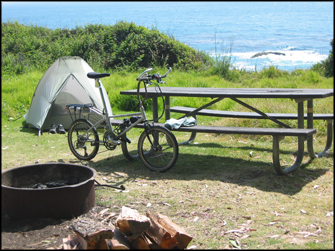 Got to love the California coast. Made it to Pfeiffer Big Sur State Park by 10:30, where I warmed up the sandwich and pie that I bought at the convenience store in the park then sat on a nice shaded bench and ate them. Went for an espresso somewhere else in the complex and waited, and waited, and waited for it. $2.50 for an espresso, got to love Big Sur. Left the park by 11:30. My knee complained a little but I convinced her it was worth the little pain. More great views. Got to Lucia by 2:30, did some food shopping (of course very expensive) and moved on to Kirk Creek where I Checked in at 3:00 PM. As I was looking for my campsite some women where leaving, they offered me their 'ocean front' site with left over firewood. There are no showers here but I carry a little adapter for my platypus bladder that makes a very good shower when hung from a tree. Later a woman came and asked me if it was OK to camp in the Hiker-Biker sites if she parked her car just outside the park. I told her it should not be done and that she should talk to the ranger. She did it anyways, she didn't have a tent, just her sleeping bag and a feather blanket. I offered her some of the firewood left on my site. I usually don't make campfires. She started her's and then we chatted for awhile, she is an emergency nurse and had some interesting stories to tell.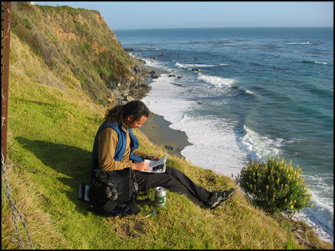 Day 4 06-23-03
Kirk Creek (Somewhere in Big Sur) to Hostel Obispo (San Luis Obispo)
85.9 miles
7:30 hrs moving
Average speed 12.6 mph
After a very cold clear night, I left by 7:30am. Right from the start my knee started hurting very badly so I raised the seatpost to help with the pain. Made it to Gorda by 9:00 where the woman I had met at the camp last night was having breakfast, told her about my knee and she offered me an anti-inflamatory and a pain killer. The pain was so bad I accepted her pills but only had the former for breakfast with espresso and a Cliffbar. Started pedaling very slow again but after a while the pain was bearable just in time for today's significant hills. When I got to the flat part of the ride the miles went by pretty fast. Near Cambria I stopped to talk with an old looking bicycle tourist. He lived in the area and gave me some route tips. We parted ways and then a local cyclist joined me and rode with me to Cambria. Went to the bike shop in town which happened to be a large mail order MTB shop, to get some brake pads, they where out of stock so shipping was free. After having lunch I left town and the miles again flew by fast until before Cayucos. Took two ibuprofins and moved on. From there I followed the Adventure Cycling Association route, these maps are usually better near cities as their directions show good detailed city streets, better than the book. Arrived at San Luis Obispo Hostel at 4:15 (apparently one of the owners is an avid cyclist currently on a Trans America tour, so the rate for Bicycle tourist is only $15). After they opened at 4:30 I took a shower, washed clothes and went for dinner. That's it. Tomorrow will take the bus back home.

Day 5 06-24-03
Hostel Obispo (San Luis Obispo) to San Francisco (Home)
Just In-town riding
Arrived at the Greyhound Bus Station by 8:00 AM, packed the bike in the fabric bag my lovely wife made for me. The bus left at 8:15. The ride was uneventful but some of the bus passengers where interesting. Just released from Jail for murder and where bragging about their intimate knowledge of the carcelary system in California. Arrived in San Francisco at 2:45 PM, reassembled the bike and rode home.
(First posted June-29-2003 at 03:00 am)
No related pages or links.