Yet another nice flat (First posted April-29-2014 at 02:30 pm)
Yet another nice flat (First posted April-29-2014 at 02:30 pm)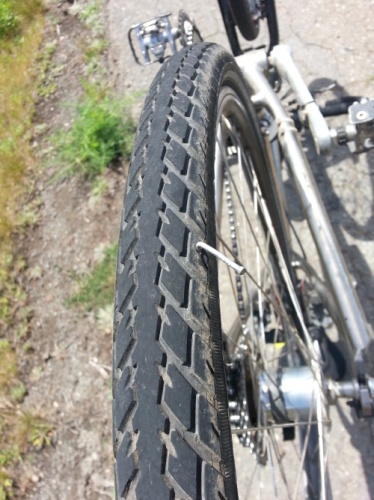 Not way my tires could stop this nail, probably not any other bicycle tire would have. My Mixed Terrain tires of choice nowadays are this CST Corporal 26x1.5" (40mm) and are pretty good compromise between rolling resistance, traction on gravel and weight (~550gms); plus they are very sturdy, cheap (~$15) and last me at least a good year mixed terrain riding (~2500 miles)

Somewhere in my weird objects drawer I have an even larger nail my tires collected elsewhere but I forgot to preserve in a post like this one.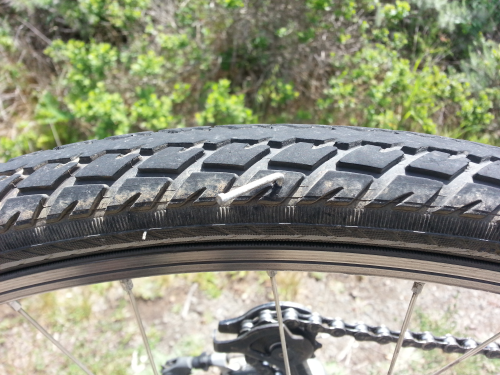 Just minding my own business, having a simple short easy ride on the Golden Gate National Recreation Area. I'm thinking this is such a nice loop, great views, close to home and avoids traffic for a long way (considering the total distance of the ride) Anyhow this section of the ride is on a broken pavement road that goes to the Battery Townsley and then drops back int Rodeo Beach, there is no construction trucks or general traffic using it, it is open to hikers and bicycles only so what the heck is a nail this size doing here? The sunny morning and the spot where I got this flat made for a welcome break. I did not mind stopping and taking my time changing the tube (would fix the flat when I get home.) I immediately remember another weird flat I had some years back also at an unexpected place.
(First posted April-29-2014 at 02:30 pm)
No related pages or links.