2006 State of the Riding (First posted January- 2-2007 at 04:52 pm)
2006 State of the Riding (First posted January- 2-2007 at 04:52 pm)
2006 was a good cycling year for me. 5,320.94 miles plus some more that never got recorded into the log. It was another year of ~5500 miles divided between, running errands, general transportation and mostly recreational rides.

I did a couple more Brevets and made new cycling friends. The San Francisco Randonneurs 200k was a very wet event but at the end of the day most people agreed it had been a fun one. Riding all those miles/kilometers under a persistent rain was lots of fun. Would I do another brevet under similar weather? Definitely! but hopefully not one of the longer events (300k +) During the 300k I rode a long time with new friends, Bruce, Dan and Rob, they were a little to fast for me on the flats and I paid the price, I was exhausted for a couple of hours but was able to recover and finish the 300k in exactly the same time (to the minute) as the same event for the previous year. That was weird! The night before the 400k, I received news my Mom was a little sick and that alone was cause for me not to do the 400k, I did not sleep that night. later I heard it had been a very hard and windy 400k.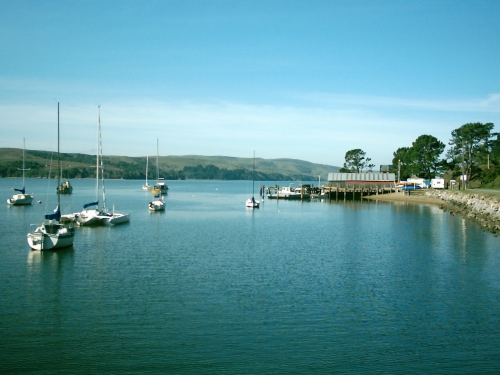 In 2006 I rode a lot more with
JimG
and also were able to "recruit" new friends,
Jim E
, Stork, Patrick S to do "
mixed terrain
" rides, part paved part trails adventures. Some very memorable rides, the ride that became a staple of our mixed terrain escapades the Golden Gate Hedlands>Muir Beach>Deer Trail-Pantoll>Mt Tam trails to Fairfax>SF also the Bolinas Ridge ride, the simple climbs to Mt Tam via Railroad Grade and some short loops in the GGNRA. By December 31, 2006 my rides' log shows I rode with JimG a total of 1237.33 miles in 2006 the average length of those rides together was 49.5 miles.
Got to use new toys, like the cheapo
Aiptek cameras
they take decent 1.3 megapixels photos (
most of 2006 photos on this site including the one on this post
) and can also record
low-res video
. I think the perfect camera for taking along on rides. If you lose it or break it they are inexpensive enough it will not hurt as much as with a "better" camera. Besides the low-res leaves something to the imagination, kindo like playing your favorite music on vinil. Also found great "mixed terrain" tires in a trip to visit my Mom in Colombia. There were more toys but they escape me know. By the end of December I was playing with
expanding the run-time of the DiNotte 5W
(however I think this belongs to 2007) 2006 was another year without any real touring, a real passion of mine. I managed to do two overnighters, one to
Bodega Dunes
and another with the wife to
Point Reyes' Sky Camp
. In 2007 we have plans to go to an island in the Caribean for some touring. Plans is the key word here, we don't know if we will able to do it.
And that pretty much wraps the State of the Riding for 2006. Hope to see you on the road and here...and a good 2007!
Carlos
(First posted January- 2-2007 at 04:52 pm)
No related pages or links.