2008 Santa Rosa Cycling Club 100k Populaire (First posted September- 2-2008 at 04:15 pm)
2008 Santa Rosa Cycling Club 100k Populaire (First posted September- 2-2008 at 04:15 pm)
"This is a perfect route for you. It is only 60 miles and the weather should be nice." I was trying to talk my wife into doing the Santa Rosa Cycling Club (SRCC) 100k Populaire.

We will be going on vacation soon and as in most recent years it will be a bicycle tour of foreign lands. More on that when we return. The 100k route on rural Sonoma and Napa valley roads seemed like a nice opportunity to do some training.

I personaly don't like driving to do a ride, unless the ride is part of a weekend somewhere or there is a good reason for using gas. This time the upcoming touring vacation and the fact Bob, SRCC's new Regional Brevet Administrator (RBA), needed to have a couple of succesfuly run events before he was fully "approved" by RUSA to offer a new Brevet series in 2009, justified spending some gas and time driving north a little over an hour to ride.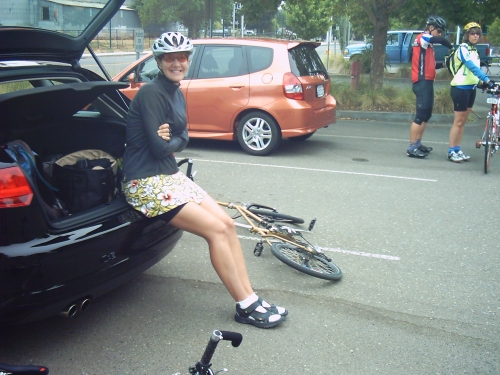 We got there in time, assembled our 20" folding bikes, the same ones we will be riding while touring, and paid the $2 registration fees. Got to love Northern California Brevet entry fees.

Soon after Bob gave some short instructions, we left as a group. Monica and I stayed to the back and I repeated my mantra to her, ride at your pace, we'll just keep up with them till we get out of town. The group was riding at a pace just a bit over Monica's abilities but she kept up just fine. A little after we left town we slowed down to our pace and now it was time to enjoy the ride.

So far the weather was pleasant but a little chillier than what I had expected.I was wearing my SFR wool jersey and was comfortable. Many of the roads we were using I had "seen" then only at night during SFR's 2007 400k brevet. The vinyards s and low traffic made for very pleasant riding.

About 15 miles into the ride we stopped at (I think) Jimtown antique/general store for a quick rest then moved to hwy 128. Traffic was a little heavier on hwy 128 but still very light compared to other rural roads on a Sunday in Northern California, 1 car every couple of minutes at best.

Before Calistoga, the returning place on this out and back ride, there is a small hill, very gradual and very pleasant as it is covered by trees. We were approaching 11 am and still the weather was nice. We were wondering why we had not seen the group going the oposite direction yet then I remember the control did not opened until 10:30 AM so they probably got there early but had to wait till then before getting their "proof of passage" receipts.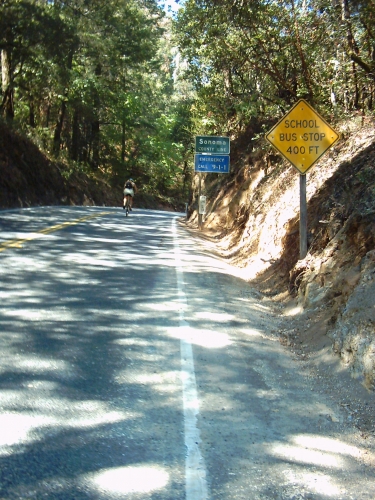 Some miles after the hill and closer still to Calistoga the group went by, we excahnge hiiiiii! with them, then one more lonely rider also doing the event.

The Control was at an Arco gas station quick-mart. We did a very short stop just to use the restroom, buy Gatorade and have an energy bar. Monica started a little early while I finished refilling my backpack bladder.

One more time going up the little Calistoga hill and one more stop at the Jimtwon store, this time for an iced double esspresso. It was getting warmer but still very nice.

We knew the way back or so we thought. Traffic was now noticeable heavier, 3-5 cars every couple of minutes. With less than 7 miles to the finish we missed the turn and a few minutes later Monica got a rear flat tire. After fixing it we continue moving on the wrong direction for a total of about 5 miles. When the next intersection was not what we were expecting a second look at the cue sheet showed the turn was back the opposite direction. We had added 10 extra miles to the total.

Once back on course there was little room for taking another wrong turn. We arrived at the Bear Republic pub, the final control, where the rest of the group had been sharing food and beer for about 2 hours. We joined in and they heard our story. A very nice group of Randonneurs, but how many Randonneurs are there that are not nice people? Not many.

It was lovely being able to ride with Monica this route and share with her if only a small version of one of my passions, randonneuring. She said she had a great time and was not that tired. The pace had been just perfect, her pace, I just was there to make sure she had a good time. I too, did have a great time.
(First posted September- 2-2008 at 04:15 pm)
No related pages or links.