2010 San Francisco Randonneurs Fleche Northern California (First posted April-12-2010 at 03:57 pm)
2010 San Francisco Randonneurs Fleche Northern California (First posted April-12-2010 at 03:57 pm)
Having participated in my first Fleche the previous year I was looking forward to being part of a Fleche team in 2010. A Fleche is a 24 hour point to point randonneuring ride of at least 360 km done by several 3-5 bicycle teams (tandems are considered a single bicycle) each team takes a different route and converges on Easter morning at a pre-arranged place for a group breakfast.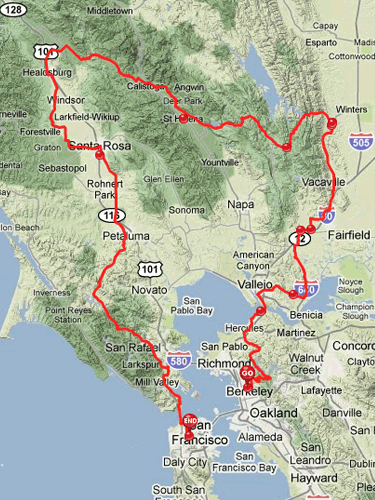 I was lucky to be part of a team with very experienced randonneurs, Bruce B. our captain and also the Fleche coordinator for the San Francisco Randonneurs (SFR), Rob H. the Regional Brevet Administrator for SFR, Phil M and Robbins P., a partner in many weekend rides on and off road. We all are evenly matched in pace so maintaining the team challenged, interested and more important together would not be a problem. Last year, I had also done this same route with Bruce. Rob had also done it before so the three of us were familiar with the roads. Our cue sheet had a column for time of day which was very accurate considering the many hills we climbed and turns we had to make.

The route, designed by Bruce starts in Berkeley and travels trough Vallejo, Suisun, Lake Solano, Saint Helena, Healdsburg, Santa Rosa, Petaluma, Fairfax, Corte Madera and then finishes at Crepes on Cole in San Francisco. With about 9500 feet of climbing it has a good balance of hills and flat riding and great views of vineyards in several Northern California counties including Napa and Sonoma.

The lovely wife agreed to drive Robbins and I to Berkeley and after loading Robbins bike in front of his house, at an -ultra steep even for San Francisco standards street- we drove across the Bay Bridge to Bruce's home where we had coffee and pastries and met up with Rob and Phil. At 7:16am we were off.

Soon after the climbing started the roads took us to Hercules and the first stop of the day, a Starsucks cafe that was already filled with people having $6+ coffee drinks. This was not an official control but a scheduled stop where we did not need proof of passage. My rear tire was low from the start so I topped off both tires with air to avoid flats, I did not feel like repeating the flat tire routine from the 400k the weekend before. More urban riding mixed with some small roads paralleling highways took us to our lunch location in Suisun, Valley Cafe. It was not a minute to early for lunch, I had a potato/chicken soup with salad that hit the spot just right. I needed to get some liquid in my backpack so while the rest of the team finished lunch I rode a block to a mini-mart to get Gatorade and a bottle of Muscle Milk. The Gatorade went in the backpack bladder the other stuff into my stomach. Called the wife to ask her if she would bring the bike rack again to the finish the next morning so we could give Robbins a ride home and then met back up with the team who was now leaving the lunch spot.


Now the roads were definitely rural and were crossing flat land. Some mystery crops lined the fields on the left and right, we never figured out what those little green grasses were; the sun was trying to show his face now. Flat roads are my weakness, maybe the bike position maybe the lack of stimulus and a sore butt, but probably a combination of all of them. I'd rather ride a long hill than a long flat. Once we turned left on Pleasants Valley Rd our second Control at Lake Solano was just 12 miles ahead.

The year before they had just finished the construction of Lake Solano visitor center and it was not opened to the public yet, this year it was open and I am happy to report they did a nice job. The ever-so-important-for-randonneurs restroom was ample and bright and the exhibits, including the live rainbow trout were interesting. I shot a photo of the trout that didn't turn out that good and in the process forgot to move the macro focus button back to its normal focus position on my pencam. Photos from now on are all blurry, bummer.

When we went out a peacock decided to play us a visit, I shot my first blurry photo of the day, don't worry more to come... After stopping 50 yards ahead at the gas station for a short break and layer peeling, the sun had won the battle over the clouds, at least for now. We continued with our ride on yet more scenic roads and hills. Cardiac hill gave us great views of Lake Berryessa. By the time we were approaching Silverado Trail we saw another Fleche Team and had a little chat with them at the top of the hill. They were about 75 miles into their ride, we had about 90 some miles on our legs. Let them go and after a few minutes we resumed riding. All of the sudden Robbins was in no sight so I slowed down and joined him, we connected with the others soon afterwards.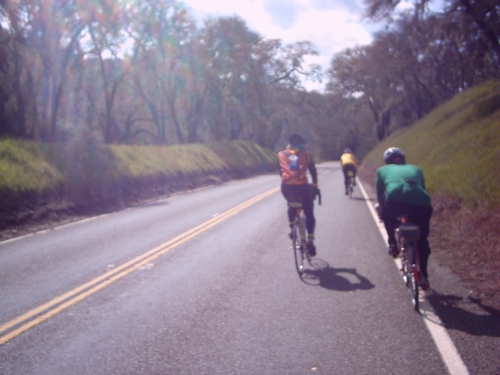 I was not expecting to ride through the Calistoga neighborhoods, but on the main Rd, so by the time we started climbing the hill after Calistoga, I was a little surprised and glad we were a few miles ahead of where I thought we actually were. Phil who had been riding at a very good clip all day seemed a little off. We stopped briefly at the top of the hill, the Napa-Sonoma county line. A few minutes later on the flat that followed Rob noticed Phil had stopped and was not looking good. When they joined us a few yards ahead, Phil said his stomach was bothering him. I carry Tums tablets, and after he had a couple of them we rolled following his pace. Healdsburg was a few miles ahead without any real hills enroute, that was good news.

When we arrived to the Dinner Control at the Bear Repiblic around 7:30pm we all ordered food, except Phil, he took a little break laying on his back on one side of the booth. I ordered some pasta, the rest got burgers, later Phil ordered a fish sandwich, a little more rest for him while we chatted and took advantage of the longer stop of our day to change clothes. Now with fresh undershirt, a clean wool jersey and socks it was time for us to leave. Phil was now talkative, always a good sign.

Night time riding started. I love night riding, it brings good things out of randonneurs. It seemed it was going to be a cold night, we could see stars forever. Robbins was now setting an excellent night pace just perfect to keep the body warm but not sweating too much. These roads had it all to make for interesting riding, even at night; a good balance of flats, hills and turns. The short 20 some miles to the Santa Rosa Control flew by. I announced my food choice would be apple pie at Denny's, I do this on rides often, announcing what I am looking forward to eating entertains the brain and makes the miles go by faster than paying attention to the harsh time or distance numbers. Warm sugary pie with a brown crust and maybe ice cream, maybe not. Soon we were seated at yet another booth ordering world famous Denny's unhealthy food, yes I got the apple pie and it was as good as I had fabricated it in my head. Comfort for the soul.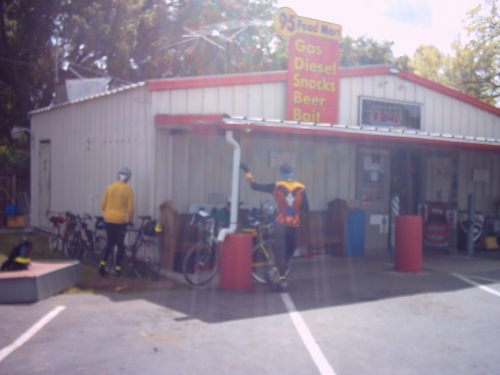 Phil was now back to normal. We were all in good spirits and so far were clear of mechanical issues, not even flats. Move again. This time about 30 miles to Petaluma to yet another Denny's stop but this one was not a Control. Another booth and this time hash browns, not as good as the apple pie but it would do for now.

The next section had some significant climbing. Out of Petaluma towards Nicasio the temperature dropped a bit but fortunately the hill kept us warm while we worked our way up. Very little traffic for a Saturday night, well really Sunday 1:30am. The temperature at Nicasio valley was low, mid 30's. I was not wearing a jacket but a vest instead. This seemed to have helped keep my body at a comfortable temperature all night. I often use a rain jacket on night rides but during last years 600k and this years 400k I had dehydration issues as I overheated and then had to recover from that. This time the many plastic and wool layers I always wear minus the rain jacket worked perfectly. No more jacket for night riding for me, at least not a waterproof jacket.

Ah Fairfax, we were practically home. We could ride the rest blind folded. Booth number four, Denny's number three and the second encounter with another Fleche team. Vidas, Richard, Jeff and Gintautas were there. I recognized Jeff and Richard's bikes parked outside. After we ordered another team showed up this time it was Todd, Keith, Peter and Robert. This was the "22 hour control" for many teams. The rules state that a team must cover at least 25 kms in the last 2 hours of riding and since all teams had started at 15 minutes intervals, ours starting first, we were the first team to leave. When leaving yet another team was arriving at that same Denny's, good randonneuring business for Denny' today.

The orange juice I drank had me shivering but a couple of blocks of climbing fixed that. Then we were in Sausalito and then at the Golden Gate Bridge sidewalk. Unfortunately for us we were crossing it while was still dark so no point in stopping for a photo. Maybe we should have but too late to lament, I was ahead so if we did not stop it was my fault.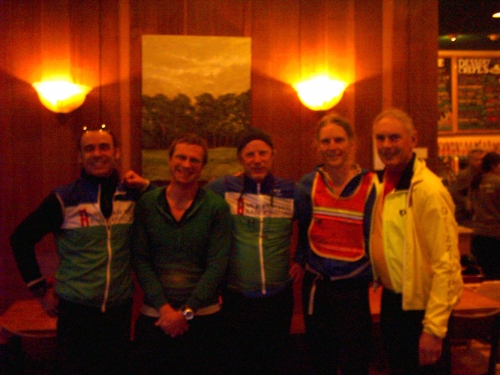 When we got to the Arguello exit from the Presidio into the streets of San Francisco, it was almost daytime. Robbins took us on a little trail on the Golden Gate Park and then onto Stanyan St. A couple more turns and we where done!. My lovely wife was there waiting; after a few minutes Bruce's wife and son came. We helped the staff move chairs and tables to the sidewalk to open Crepes on Cole. Went in and had a great chocolate crepe filled with Nutela and topped with vanilla ice cream, a double espresso and a sip of mimosa.

One by one teams arrived, all smiles and full of stories which we eagerly exchanged. I shot photos of some of the teams and tried to talk to as many riders as I could. Many wives, kids and significant others were at hand to share breakfast with the riders. It was the best way to finish one of the great rides of the year. I am looking forward to next years event.

Many thanks to my teamates, Bruce, Phil, Rob and Robbins for the camaraderie, laughs and pulls during the ride and to all other riders for participating in this event. This Fleche business is some of the most fun a bicycle rider can have. I won't miss Denny's but will miss sharing an unhealthy meal seated in a booth with sweaty friends in the middle of the night. See you next year...

Rob's write up of this fleche and his photos
Many Photos of most teams and the bicycles they used on this event.
(First posted April-12-2010 at 03:57 pm)
No related pages or links.