2012 NorCal Fleche (First posted April-14-2012 at 10:36 am)
2012 NorCal Fleche (First posted April-14-2012 at 10:36 am)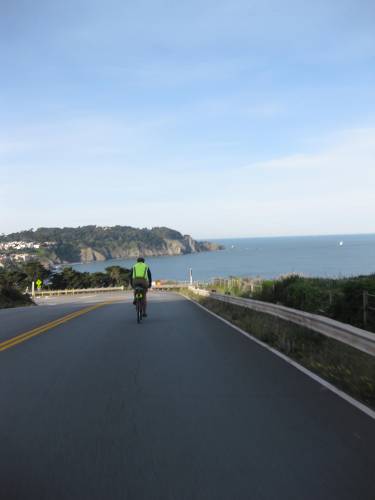 Friday morning before the Saturday start I woke up to the email news that the third member of our team could not ride the Fleche. Brian K. and I had the choice of finding a new team member in one day or ride for "no credit". Fleche Teams must have at least 3 bikes (tandems count as one bike). Since I have never cared about getting "official credit" or not for the events I ride but more about riding them, I was good to go and so was Brian K.

Brian drove up from his place on the Peninsula and parked at our place in San Francisco, we had breakfast and we left a few minutes late. We arrived at our starting point, the Marina Safeway in San Francisco, on time but the long lines at the register had us starting at 8:07 instead of 8:00. Brian was team captain and route designer, I followed him on familiar roads and trails to the great hwy and then Hwy 1. We could have climbed out of Pacifica via Planet of The Apes but chose to go Hwy 1 aka., Devils Slide, not bad.

Weather had been great so far, clear and not cold. We arrived to Half Moon Bay, our first control, 15 minutes behind schedule according to our inaccurate average speed estimations on the cue sheet, oh well. The meanest climb of the ride was just a few miles away. Purisima Creek trail is a lovely fireroad that starts very gently wandering around a forest and soon turns steep steep. There were muddy sections of the way up and eventually my slicks (1.3"x26") lost traction. I had to move sideways and resume climbing.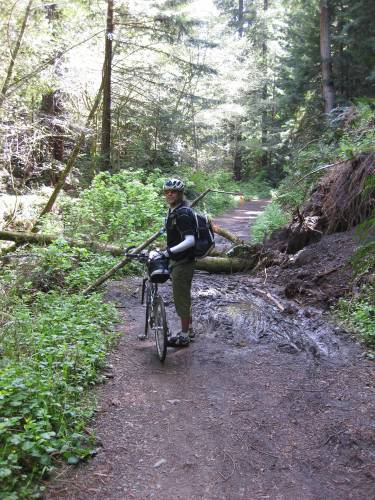 With memories of last year's climb-fest, Dart, still fresh in my mind we continued on Skyline to a non-control rest stop. By the time we got to it we were 1:10 behind. Some Gatorade and a brownie and we were moving again. Brian had a nice surprise for me, after descending for about 1.5 miles on Page Mill we took the trailhead onto Canyon Trail, what a nice section! The ground was very well packed and the 2' wide path hugged the hillside as it climbs, very rideable on any bike and had great views; only thing was that we had to climb a bit on it, but the rewards were worth it.

It was mostly downhill to the Sunnyvale Safeway and it was way past lunch time. Again bad speed estimations had us improvising for lunch locations. Our original plan to have lunch at the Safeway changed and we decided to move on to Los Gatos some 5 miles away and find a place to eat there. We ended up at Main Street Burger which had a nice outdoor seating area where we could park our bikes next to us. Burgers and sweet potato fries were not bad either. We left at almost 4:45pm; we were now 2 hrs late.

Another fire road section was ahead but this one had a very urban feeling to it. Los Gatos Creek trail runs parallel to Hwy 17 for a while, it was a lot more peaceful once the fire road moved away form following the hwy. We climbed on Old Santa Cruz Hwy to Summit Rd and then did a scheduled rest stop at the Summit Store. While Brian tightened his seat-stay attached tail light I had some Gatorade and junk food.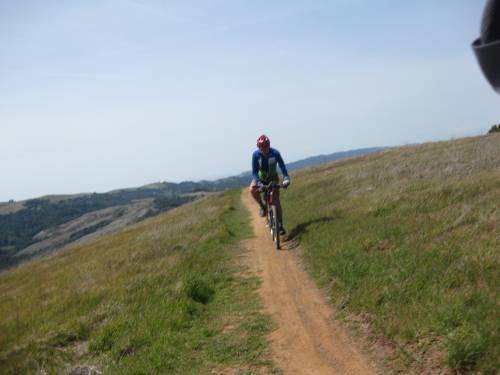 Our next Control was an Informational and we answered the question the best we could on our brevet card. Just in case, I took a photo at the location. Another detour; we did not climb and descend to Aptos on the Fire road but rather took a longer but (crappy) paved way there. With the exception of the bad pavement the descend into Corralitos and then Aptos was fun. All these roads were new to me. I think many years ago I did ride in Soquel Demonstration Forest but when we went by it did not look familiar.

Fortunately Brian was very familiar with most of the route we were taking and after a quick stop near Hwy1 we found our way to the bottom of a steep hill where our next control was. The full moon was shining over the hill, great night to be out riding. Got the receipt and then decided to have dinner right there next door to the convenience store at Cafe Rio. The place also a had nice patio where we parked the bikes but it was getting cold so we locked them up and ate inside. Some decent pasta... at tourist prices. If I ever do this route again I would not ride down to what I call "the hole" but find a place near Hwy 1 and save the legs.

After putting our night gear on we climbed out of the hole, it was slow but short, then continued on the same roads back to Corralitos and then before I could think as to where the next Control was, we were in Watsonville getting a receipt. This Control was an Open one, meaning any receipt from Watsonvile would do. Walgreens was packed with customers, this location apparently is open 24 hrs and it looks more like a small Walmart than a Walgreens.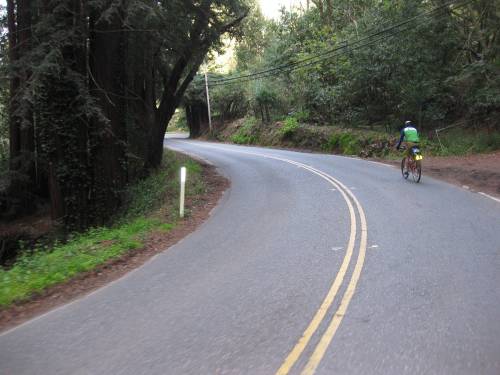 One more decision to make. Did we wanted to climb on a fire Rd up Mt Madonna, as per our cuesheet or ride up Hecker Pass Hwy 152. We opted for the longer but possibly gentler Hwy 152. No traffic whatsoever on the way up, maybe 10-15 cars pass us on the 4.5 miles climb. We crossed paths with another Fleche team going the opposite direction but did not see who they were. It turned out it was Jesse M.'s team who we would meet again in the morning. Note that neither Brian or I took the time to check what type of road we were supposed to travel up Mt Madonna, my google maps street view showed it is NOT a fire road and it has a lovely quiet air to it. Hwy 152 was very gentle and also nice but probably the other way would have been even better.

Morgan Hill was waiting on the other side of the hill. Some very quiet roads and the full moon made for great cycling. At Uvas Rd we stopped to put on some more clothes, it was getting colder. The miles went by slowly but we got to the south end of San Jose where we had one more Informational control. We had about 5 hrs to get to San Francisco! We were way behind schedule.

Again it paid to have Brian be familiar with the roads in the area. We moved North at a steady pace taking turns in the front. We rode on bike paths, streets and everything in between. Somewhere in the North end of San Jose I felt something hit me on my side. Local drunken morons threw an almost full beer can at me. Brian thought I had dropped something and stopped, no damage done to neither one of us. This is the second time I have been the target of drunk driving missiles, last time was on another fleche in Corte Madera near the 22hr control.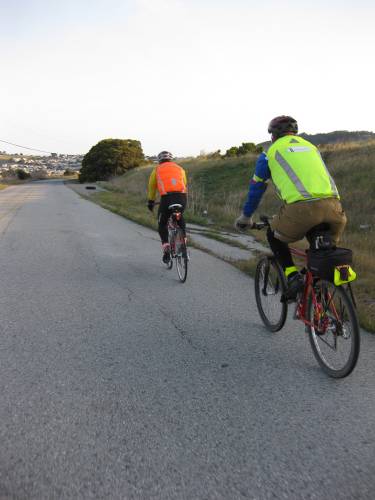 We arrived to the Santa Clara Safeway got some freshly baked bagels, a yougurt/granola mix and we moved fast again. We needed to take the shortest way up The Peninsula, El Camino Real. More twisted navigation and we were in Mountain View near Brian's home. "Yep my home is a block and a half that way" Brian said. The flat road had us moving fast.

When it was getting closer to 6:00 am we were in San Carlos. We needed to get a 22hr receipt fast. Stopped at a gas station but its convenience store was closed, the Caltrain station was in view so we went there and entered the diner on the street level. We got a muffin and asked for a receipt. The lady pulled out a black receipt pad and proceeded to write us one. "Brian I think you better go with your plan of getting a train ticket" I said. While he went to get the ticket, I paid for the muffin and waited.

We were set for now and had about 2 hrs to get to San Francisco from San Carlos. We were moving really well. Somewhere right after Burlingame, entering San Bruno there were a bunch of bright tail lights and reflective gear shining in the quiet morning. Yes, it was another Fleche team. We caught up with them, it was Jesse M's team. After a short chat I kept moving a little faster and Brian joined me in but soon they caught up with us.

They were entering the city in a different direction and Brian and I had been discussing what way we wanted to get into San Francisco. French C. had a clear idea of how to get to the final control from 3rd St. We followed them, making sure we would not draft them as to following the Fleche rules :) Brian and I stoped at 8:00 am at a corner store, Vic's Grocery, on 26th St @ South Van Ness to get a 24ht receipt, it was 8:00 am. We chatted all the way to a few blocks away form Crepes on Cole, our destination. Brian and I had ridden 230.8 miles, climbed some great trails and roads and explored a little.
No mechanicals. A great ride. Unfortunately before the ride I changed the battery consumption of my GPS thus shortening its running time. I usually get 30-32 hrs out of it but this time it stopped after a little over 17 hours.

A few teams were there plus others had already left. We said hi to all and thanked many for making our ride possible, went inside and had my usual bunny day breakfast at Crepes at Cole. A double espresso, a beer and some crepes with berries and ice cream on top.

Brian and I won't get credit for the Fleche but it sure was fun anyways. I am working on correcting the average speed on our cue sheet so next time whoever uses the route can have more accurate data. Thanks Brian for coming up with the route and riding for "no credit" and thanks too to Roland B. Fleche coordinator who managed to pull a perfect event once more.
(First posted April-14-2012 at 10:36 am)
No related pages or links.