2011 SFR Russian River 300k workers ride (First posted February-23-2011 at 09:56 pm)
2011 SFR Russian River 300k workers ride (First posted February-23-2011 at 09:56 pm)
We went from a you should see no rain but it will be cold, to a there should be rain and you'll freeze your asses off in a matter of one day. Memories of that infamous 300k in 2007 over the exact same route were coming back to my warm body. The fenders went on, the raingear was packed and I hoped for the best. John and I had talked a little about our approach to this 300k, we both had similar plans, ride at a conservative pace and try to keep stops short. Saturday 6:00 am Rob was seeing nine of us us take off under a lovely full moon. It was cold, but I was prepared, as much as one can prepare for these conditions.

Living in San Francisco offers great cycling opportunities year round, but because of the milder weather we don't get to face unfavorable conditions often, so at the threat of some unusual conditions I think we tend to make a bigger deal out of it. IMO, most of this long distance riding thing in done in the head, in my case a game of suppresing defeating thoughts with happy ones, finding the glass half full.

At Ross John and I stopped to put on our rain gear, it was very cold and I was having trouble taking my gloves off to dig for stuff in my backpack, hopefully my body will warm up on the next hill. Jason, Ken, Gabriele, Mike, John and I started the hill out of Fairfax together but by the top we were divided into three separate groups, we arrived to the secret control like that. Greg B. was manning the Control in the middle of a desolate spot in the rain and cold. A short chat and we were moving again. Rain, rain go away...

Near the cheese factory Gabriele decided she had had enough fun and went back home, the five of us continued, but soon after Ken got a flat near the top of the last hill before Petaluma. Now four riders, we arrived wet and cold to the Safeway control. Dripping gloves came off and we went in to get our stuff. I tried to dry my glove liners with paper towels and to my surprise those towels absorbed a good amount of water. When I came out of the store Mike was not looking so good, Jason was going to wait for Ken, and John was ready to go, the two of us started riding the first uninspired section of an otherwise great route. A few miles ahead the rain completely stopped and we now were enjoing patches of blue sky ahead on the horizon, the top of mountains on our left were covered with snow, we started to see patches of dry pavement for the first time in the day.


In Santa Rosa it was time for the rain jackets to come off. At first it was cold without the extra shell but soon after I got used to it and with the help of the shy sun my body started acting as a clothes drier. The Safeway in Healsdburg was busy with shoppers but the line at the cashier went by fast. Hot potato/bacon soup and extra Gatorade. Again, when we went out Ken and Jason had just arrived. Mike had decided to stop the ride in Petaluma. We shared the table and then John and I left for the next control in Bodega Bay. We were riding with rain pants for protecting mostly against the cold, however the Westside Dr rollers warmed us up. We stopped for John to take off the rain pants first, I did not take mine off but in retrospect I should have to save us the extra stop a few miles ahead.

Jason and Ken caught up with us while I was packing my pants and we were able to connect with them and ride a short lived paceline, they were riding a little faster than what we wanted. At the intersection of Hwy 116 and Hwy 1 I stopped to put on my trusted SFR west, It felt great blocking some of that cold wind. The coast was great, not much wind today and we could see rain clouds offshore dropping rain on the ocean. Views, as always, in this section were great. When we got to Bodega Bay Jason and Ken were there. I got a small coffee and some pepperoni loaded pizza that tasted very good. I talked to the nice girl that helped me and warned her next weekend many riders would be looking for chocolate milk, V8 and Gatorade. Jason and Ken left, a few minutes behind we followed.

On the rollers between the turn off on Hwy 1 and Tomales, around mile 133 we noticed a nasty pothole that could ruin a randonneur day, be warned, it is camouflaged by water but my guess is if one rides into it it could damage a rim or at least get a pinch flat, fortunately it's on a flattish section of road.

After many fun rollers the Marshall Control was there and so where Ken and Jason, they warned us the store was closing so we rushed in to get our brevet card stamped. I think it was 5:17, they know next weekend there will be many riders coming so store hours may be longer but make sure you have a plan for food/drinks just in case if when you arrive they are closed. I replaced my sunglass lenses with clear ones, got a new dry pair of gloves, had another ensure, a five energy drink battle, applied some bag balm on tender body parts and off we went. I could smell the calzone waiting for me at home and in my usual way since we were so close to the finish (~50 miles), got a second wind and was starting to feel fine again.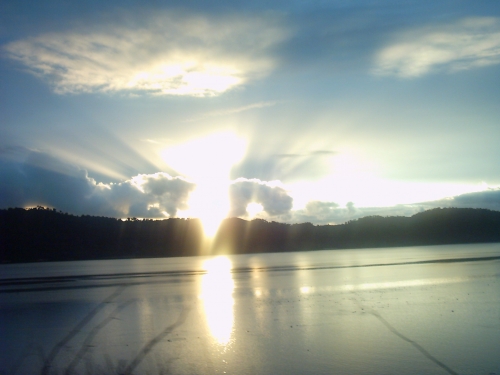 We were treated to an spectacular sunset over the Inverness Ridge, the sun was covered by a single cloud and the light reflected on the bay below, quite a nice image. It was time for the lights... and the rain. In Nicasio we stopped to put our raingear back on. It took me a while to get my stuff on. John had been feeling the effects of the rain and was taking a slower pace. I climbed alone out of Nicasio and waited for him on the San Geronimo valley side. We slowly moved towards Fairfax and approached yet one more small hill. "All downhill from here John!" We were in Fairfax now and I thought my riding partner needed a break so I suggested a coffee stop. We stopped in San Anselmo but the coffee shop was closed, we used the break to adjust our gear and eat something.

The miles to Sausalito were slow but pleasant. I tried to lift John's spirits by reminding him of the dry socks and PJs in his future. We made it to the Sausalito control, unique to the workers rides; Jason and Ken were there and left after we came out with our junk food purchases and receipts. I climbed to the Golden Gate Bridge alone and waited at the gate for John to arrive before pressing the open-sesame button. While waiting I made a call to the wife announcing my coordinates and apparently also dialed JimG phone by accident and he was able to hear part of a pair of randonneurs conversation while crossing the bridge to the final control. 9:15pm we were at the Strauss Statue.

We rode the 5 miles home, thanked John for being a great riding partner and arrived home to a huge pot of boiled potatos, greasy pepperoni calzone and dry socks and PJs. Nice way to close a day on the bike.
(First posted February-23-2011 at 09:56 pm)
No related pages or links.