2012 SFR Hopland 400k (First posted May- 2-2012 at 10:38 pm)
2012 SFR Hopland 400k (First posted May- 2-2012 at 10:38 pm)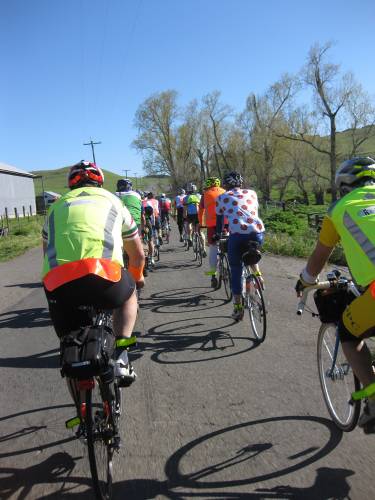 Me: What the heck are you doing to my bike John?
John: Er, you know you have a crack on the rear rim, right?

That was Tuesday afternoon and the dirt and bike had been parked in my living room since the Fleche. Oh crap, now I have to go looking for a new rim and I knew the Mavic 517 I had were discontinued long ago, I think what replace them was the 717; the hunt was on. John offered a 26" Mavic 238 rim he had in storage, he does not own 26" wheeled bikes anymore so it was mine if I wanted it. We drove to Oakland to get it and in the process had some good Thai food.

The 238 was also silver and somewhat similar to the cracked 517 but I figured that I had a couple of days to look for a cosmetically better match. Went on line the next morning and found nothing in the shops that would be able to deliver in two days, emailed Gabe at Box Dog Bikes, he did not have any, sent an email to the sfrandon list asking if anyone had a 517 or 717 in silver and got many offers to borrow their wheelset for the 400k but that was not what I needed. I had other wheelsets I could use it's just that this is THE wheelset I use for brevets.

Wednesday afternoon I stopped at Roaring Mouse in the Presidio and found the 717 in Silver, but decided to give a little more time for a response from the people I had emailed before. Thursday morning it was time to get that rim I had found. John picked it up for me and that evening I started swapping rims. in one of the holes I lost three nipples that would never come out no matter how much I shook or probed the rim with a thin wire, they would be buried inside for now. At least no noise from them was heard.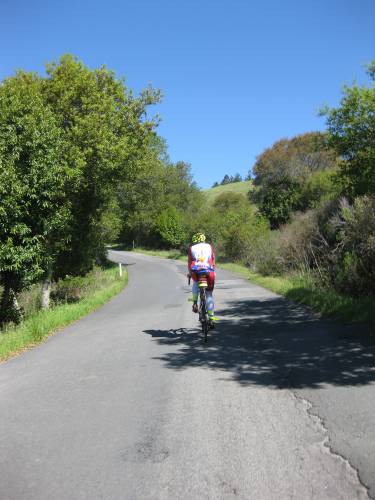 Went off to bed early and could not catch any sleep until very late and then when I finally was feeling happy asleep the alarm went off.
Lazy bum inside me: I don't want to go ride no stinking 400k! I am tired and it is gonna be hot.
Randonneur inside me: No, no get up and go, the bike is set, clothes are waiting and this is your favorite distance.

I was the last person to check in at the Start and within a couple of minutes we were rolling. I rode near the front with the guys I knew would be finishing first, I was not planning on riding with them for a long period of time as I have not been in good shape for this event the last two years and my approach was to ride at a conservative pace, slow but steady.

Talking to Gintautas about my rim drama I told him my rear wheel was feeling funny, while riding he looked at it from behind and gave his approval. It looked straight, I thought it was all in my head. When we got to the end of the bike path in Mill Valley and right before we turn onto Camino Alto it was obvious to me that the rear was funky. argggh crap a flat, that's what I was feeling.

While fixing the flat I saw the stream of riders pass by, John P, Gabe E and all offering encouragement and support. By the time I was done I figured I was probably very close to being, if not, the last rider on the route. No big deal, an opportunity to do the ride at my pace. Slowly I made progress again and reconnected with other riders, by the time I was in Fairfax, the last town for a while, I was feeling pretty happy.

Tom H. caught up with me on Whites Hill and we rode for a little bit till we caught up with Willy N and other riders going up the Nicasio hill. Soon we joined another group where Jack H (Mr Moonbeam) was spreading his upbeat mood. The group got thinner as we climbed on Point Reyes Petaluma Rd and got back together right before Wilson Hill. This continued for awhile and we kept absorbing riders, all I think, thanks to Jack who's pace was just perfect. The group grew to about 20 riders. I had reconnected to the middle of the pack and was feeling comfortable. Temperatures were probably in the mid 70's by now.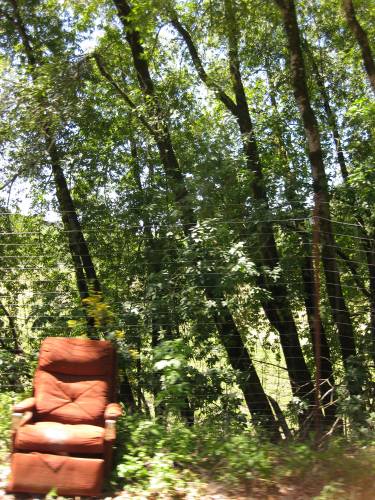 After purchasing some Gatorade and drinking my second Ensure of the day, I was one of the first riders to leave the Bodega control. John, Gabe, Ian and others stayed behind for a little longer. Jack and Mark (forgot his last name) joined me to the bottom of Joy Rd. it was Mark's first time climbing this beauty so I just warned him of the false summits and charged the hill not without first kidding why Jack had all the sudden stopped taking photos. I took a couple of shoots of him while climbing :)

John caught up and passed me, I did not feel like chasing him and kept riding at my pace, but soon after Mike and another rider passed me and I figured I'll jump behind them. Caught John who was setting a brisk pace on Bohemian Hwy, he moved then to the back and distance grew between us. Mike lead us to Hwy 116 and then I went to the front almost for a few miles almost to the next control at the Safeway in Guerneville. A soup and more Gatorade.

John left before I finished my soup. "you'll catch me soon" he said. Mike, Ken E (doing the ride on his fixed gear!) and I rode to River Road together. We started catching a few of the riders and then others joined us from behind. The weather was great and the vineyard views where great as usual. However the temperature was rising and we had some good climbing ahead of us. After a while Mike and I ended up alone and riding together at a good pace for both.

When we got to Cloverdale I had to stop to get water and rest a little, I told Mike to feel free to continue but he kindly stopped with me. For me this is a must stop on this 400k route. A bathroom stop, another Ensure, more Gatorade and electrolyte capsules. John arrived and asked if we would wait a little for him, "sure no problem". I took off the knicker shorts I was wearing on top of my cycling shorts, temperature was now probably near 90° We left together but the climb on Hwy 128 spread us. I did a quick rest stop at the Mountain House turn and John caught up and kept going on the great descent. I soon joined him and we rode together for a while on this, the most beautiful stretch of the ride.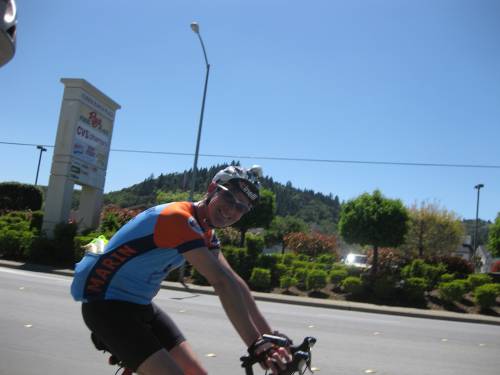 David W joined me a mile before the Hopland control. Mike was already there eating some leftovers of a couple of cookies he had purchased back in Guerneville. John soon arrived. I had a slice of greasy pepperoni pizza, purchased more Gatorade and a V8 and topped it all off with yet another Ensure.

Mike again waited patiently while I finished my meal and then we left. I could not see John's bike anywhere so I assumed he was gone, however while rolling out of the control I looked back and saw his bike leaning against the side of the building. I was tired now and holding Mike's wheel was getting harder. He was in front on the 8.5 miles the route goes on Hwy 101, I took a couple of turns in the front but was definitely slowing our pace. After exiting the hwy he maintained an easy pace but even that was too much for my tired legs and I knew I had ~100 miles to the final control. I just kept a slow but steady pace. Mike grew smaller and smaller till he disappeared. Thanks Mike for riding with me all those miles.

When the route gets to Asti Rd and parallels hwy 101 there are just 10 miles to Geyserville another good water/food stop before the long mostly flat miles to Petaluma, these miles were looong. Got in and found Rich M taking advantage of the store AC and having a cold soda. I followed his lead and got a big soda from the fountain and filled the glass with ice that will later go into my backpack bladder. While I was in the restroom John came in and now was resting against a refrigerator holding a cold plastic soda bottle against his forehead. It had been a hot day and we all were feeling it.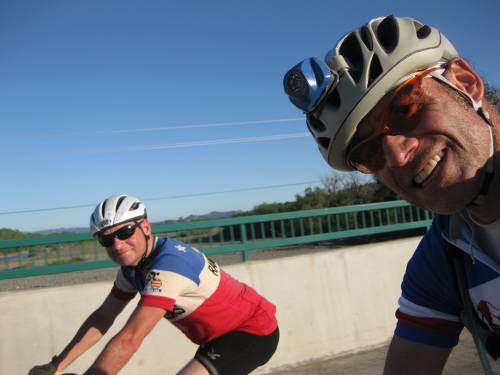 John and I left together and rode to Chalk Hill Rd where we stopped for a restroom break. I was done with Gatorade for the day and was feeling like puking. My water bottle in which I usually just carry water had more Gatorade and I had no salty food of any kind with me. I could not stop drinking but at the same time the Gatorade was making me sick. This is what randonneuring fun is all about, I burped and took some sips of that evil liquid and some more electrolite capsules; I had been taking those all day and so far they were working their magic. The longish hill was not too hard but my legs were telling me they wanted to go on strike with nasty cramps. Oh no you are not having cramps not on my clock! more Gatodade and more electrolite capsules. The temperature was now more comfortable and it was getting closer to sunset.

Near the top, another rider joined us and we descended into the valley for the flattest part of the route. We turned on our lights while riding, I already had my reflective vest on. After many flat miles other riders passed us. We had been playing this game all day, either we caught them or they would catch us. Mike passed us, I was surprised we were ahead of him and did not get a chance to ask if he had got lost or stopped somewhere. Mark G and others passed and the rider who had been riding with us followed that group. John and I rode the endless flat miles alone to Petaluma.

One last Ensure, a bunch of electrolite capsules and some bubbly water. I also bought some plain water and filled the water bottle with it. After changing into warmer clothes, about 7 of us left the control together at Petaluma Safeway ready for the next hill. I felt could ride many more miles but not fast, I climbed last and near the top caught up with Ken on his fixed gear bike. John had just arrived to the top of the hill, Ken kept descending while I did one quick restroom stop.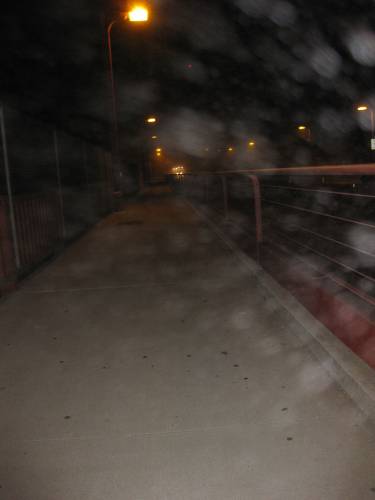 Got to Nicasio with an upset stomach and thought I would have to do a real bathroom stop but the body cooperated and everything was kept under control. It was about 50° now. I had climbed ahead out of Nicasio with John and Ken not too far behind. I tend to get a second air as I get closer to the end of the rides and today was no exception. One last restroom stop at top of the hill, John went by but did not see Ken. A mile or so before White Hill, I was feeling good again.

We rode and chatted as usual with John all the way to the hill on Camino Alto where again I went ahead and waited at the traffic light at the bottom. In Sausalito the traffic lights were not really working for us and in one of them we came to almost a stop before it changed. A police car just took off from behind and made an abrupt U turn at the next intersection; it looked to me as if he was hunting randonneurs crossing on red. Hope nobody got a ticket.

One last hill to the Golden Gate Bridge, I was having a great time riding now. I waited at the fog covered bridge for John and then we rode to the other end of it. We were now in San Francisco. Under the toll plaza tunnel and into the last control. I waited at the corner, a few yards away from the Final Control till John joined me and we checked in at 1:50 am. 19:50 for this route this time, not bad considering the flat early on and the heat.

As much fun as this 400k was I am not sure I want to do the 600k or the innaugural SFR 1000k this year. I feel I am getting to the point where I need to take a break from riding brevets and concentrate on shorter distance mixed terrain rides and perhaps some bike camping/touring. We'll see...
(First posted May- 2-2012 at 10:38 pm)
No related pages or links.