Jan 24 2009 San Francisco 200k (First posted January-31-2009 at 04:18 pm)
Jan 24 2009 San Francisco 200k (First posted January-31-2009 at 04:18 pm)
So, as usual I left my stuff ready the night before and went to bed to find myself thinking about work. It had been a bad week for me. Five minutes before the alarm went off I was up and getting ready to take a shower, eat something and go. I usually get to the check-in at the Golden Gate Bridge with just minutes to spare but today I had at least 10 minutes to socialize a little with Greg B, Kitty K and many other familiar faces. Greg and I started in the first group, the riders ahead where pushing a fast pace I did not want to maintain for too long so right before the first hill, Camino Alto, I just slowed down. Greg and Jack H where there with me but they were a little faster than me going up. Still, the 3 of us rode to Fairfax where I took the main road (Sir Francis Drake) while they rode the twisty bike route.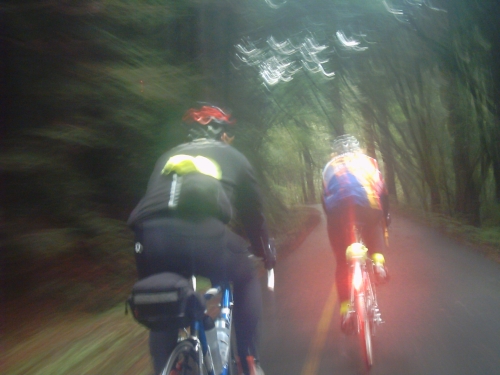 So far, not many riders had passed me, that was rare as my self imposed energy conservation mode was not fast. Right in the middle of a boring straight a large group absorbed me and I was overwhelmed by the number of "Carlos!" greetings I heard. I was definitively amongst friends, great. I happily jumped on the train.

On the next hill, right before Olema, the group fragmented. I climbed near the front and then our smaller group was enlarged by yet more familiar faces and more "Carlos!". I got caught up on chatting with Todd T. (our previous RBA) and the miles went by fast. The next hill came and I slowed down even more, I lost contact with the group. Since last year 300k I had been experiencing many problems with my left leg so in order to make sure I didn't hurt myself more I have been doing a lot of riding on the middle ring when I used to use the larger one. This has helped maintain my leg problem at bay but has not disappeared completely.

On the long way to the Light House Rob H (our current RBA) caught up with me, we chatted, but just for a little since he was riding a little faster than what I want/could do at the moment. Today the Point Reyes Lighthouse came early and the last hill leading to it was just easy for me. Most of the riders I had ridden with earlier were at this Control, but I wanted to eat now. Greg was there and offered to wait for me but I told him I would be there a little longer that he probably wouldn't want to wait, at that moment Todd was rolling and I pointed him out to Greg, he left with him.

Rolling out of the Lighthouse I felt I had a flat tire but I convinced myself everything was OK and kept on moving. I saw Jim G and Gino Z making good progress towards the Lighthouse, but I was too late to shoot a photo of them, slow me and slow camera. John B. caught up with me and we rode together for awhile but then I was feeling heavy and tired and he moved 30 yards ahead. On a flat section before a hill I discovered why I was heavy, I had a flat! Darn, I rarely get flats. Changed the tube and just as I was finishing, a group of riders went by. I tried to catch up with them. On the hill the group split, but I was able to catch up with Ernesto M and Veronica T who was making a "guest" appearance today just riding to the Light House and back. Right before going downhill Ernesto turned around and pointed to my front brake, it was not engaged! I connected the brake as we moved and thanked him for saving my ass :).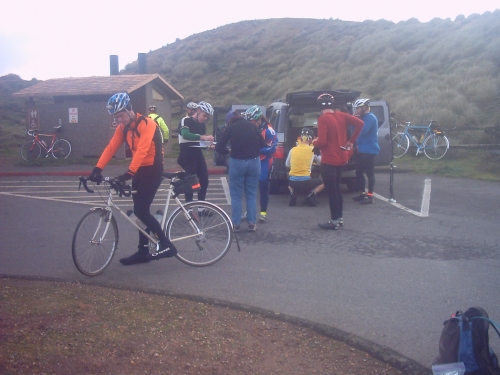 Ernesto was setting a very good pace and we got to Point Reyes Station fast. However Veronica had called it a day and he went back to say goodbye to her while I kept on moving. I crawled for a while, Ernesto caught up but I could not go any faster. Got to the Marshall store (another Control for the day) and waited in line forever to buy a little bag of peanuts and get my brevet card stamped. Ernesto was having lunch there but I knew I could not use up time so I let him know I was leaving, I was sure he would catch me soon.

Right before the last turn to Nicasio I ran out of water. I then saw Rob and Bruce B who were starting to move after a flat.I rode in front to Nicasio where I had to stop for water, they continued. It is very curious how in most Brevets I end up finishing with Rob and Bruce, no matter how fast or slow I ride we usually meet near the end. I climbed out of Nicasio and on the descent Ernesto was on my tail, fast guy you are.

We rode to White Hill together, he also was running low on water. I saw his bike outside a store on Ross. I made the last few miles to Sausalito with some discomfort on the leg but nothing bad. Right before the last hill of the day, from Sausalito to the GG Bridge, I had another flat!. I just stopped, pumped air and rode like that to the final Control where the party was on. Jim E (Ciclofiend), who I have not seen in a while, was there. It was good to catch up with him. I waited for other riders to arrive.


When I was ready to ride home from there I noticed the front tire was flat again, I had just replaced the tube after signing in at the final control. I just pumped air and rode home with Jim G.

Good ride, my best 200k time (for this route) so far 9:07.
My GPS Map & Profile (Can download file in KLM or GPX format)
(First posted January-31-2009 at 04:18 pm)
No related pages or links.