2010 San Francisco Randonneurs 400k (First posted April- 6-2010 at 04:40 pm)
2010 San Francisco Randonneurs 400k (First posted April- 6-2010 at 04:40 pm)
At the end of the 300k Vidas had asked me if I wanted to do the 400k workers ride, "we'll see" I said. A week before the scheduled 400k workers ride I did the SRCC 200k, a very flat and relatively fast route. I was drafting behind Richard M. most of the day and at the end, since I was not driving, I had a couple of beers and went home happy. Next morning the wife and I went for a ~6 mile trail run. The rest of the week I was completely exhausted and did not have it in me to do the 400k workers ride. The day before the ride I let Richard and Vidas know that I could not do the ride with them.


The next week I was still not feeling 100%, a little tired and wasn't looking forward to the regular 400k, not a good sign. Fortunately, by the end of the working week I was more receptive to the idea of a nice long ride on Saturday. After all, this is my favorite brevet distance/route. Prepared the bike, gear, clothes, got the food ready and went to sleep. I debated if I should take my bright orange waterproof jacket which is great for night visibility but doesn't really do well in mild conditions as I sweat a lot in it. Next morning I rode with it to the start.

Riding from home to the bridge was nice, not too cold and the weather forecast mentioned it was going to be a mild day with temperatures in the low 70's. I started behind the fast group. In normal circumstances I try to ride with them for a while and then taper off to my pace, not today. They literally took off and I was in no man's land until I caught up with a rider that was between the fast guys and myself. He asked me if I knew the route out of lower Marin, I said sure so we rode together to Fairfax. A few other riders caught up with us. Somebody asked how long it would take the faster riders to finish and for some reason my recollection was very wrong, "by midnight", came out of my mouth.

By the Fairfax hill I was noticing I was getting tired, it was too early in the ride to be tired! I slowed down a little and climbed alone, Keith B. was a little further back. Before Nicasio, the group of Gabe E., John P., Bryan C. and their friends Ricardo M. and Ian K. passed me so I stayed with them. In that group was also Masa M. and others that ride at my pace so at least for now I thought I would have time to recuperate, have a good ride and finish in about the same time as last year ~19-20 hours.

By Wilson Hill I was hot. I stopped at the top to turn the tail light off, I did not take off the damn jacket and at the same time lost contact with the main group. Gabe had also stopped so at least we could ride together. We did, kind of, I rode ahead but we never were able to catch up with the group. I knew I should have not stopped to turn the tailight off and should have never started the ride with that jacket, but knowing is one thing and doing is another. Anyhow it was too late for that. The next 20 or so miles were painful for me, cramps in both legs and feeling tired. At the Valley Ford general store John, Ian and Ricardo where waiting, other riders came and after a long break we resumed the ride together.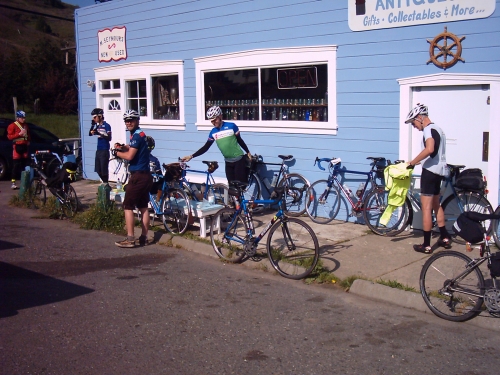 Although I had never ridden with them much, I knew these guys always stay together and support each other very well so I knew I was in good company. Got to the first control of the day at the Bodega Country Store and saw the rest of the group that we had lost contact with. They stayed there for just a little longer before taking off. I was ready to go and debated if I should stay or go. Tired as I was and in good company I opted for the former. This was another very long stop, at least it felt like that to me. John kept calling the time in minutes before we started moving but knowing what was coming up nobody was too eager to leave. Joy Rd, a fun-wicked climb has acquired infamous status amongst SFR due to its relentless incline and false summits, still it is a fun section in an evil way. Somehow everybody made it up to the top and we descended happily on Bodega Hwy to ride boring Hwy 116. A few more miles and we were at the second control, the Guernville Safeway. Again some of the riders from the earlier group were there getting ready to leave.

I was hoping for potato soup but they only had chilli or minestrone, chilli for me. John offered me a bottle of Ensure and that was lunch, nice combination eh? After another long break we moved on. Within a few miles we were on West Dry Creek Rd moving towards Healdsburg, wineries lined both sides of the road. This year the route was modified to avoid downtown Healdsburg in favor of continuing on the more scenic West Dry Creek Rd. I wanted to do a quick restroom stop on the road. My experience is that it is faster to stop on the road than at a store, the consensus was to do it at the Dry Creek Rd intersection. While there, I remembered I had a little envelope with electrolyte pills, grabbed two pills and ate some of an energy bar hoping that my legs would come back.

That was a ride saving move. After just a few minutes on the bike I started to feel much better. When we arrived in Cloverdale I was almost back to normal. A new stop; since I was getting the hang of riding with this group I took out the sweaty clothes from my bag and hung them on the veranda to dry. By the time we were ready to go my clothes were almost dry. Traffic on Hwy 128 was not bad and we climbed at a good pace to the intersection where we start moving towards the turnaround control at a Hopland mini-mart. Mountain House Road is a *very* scenic road, no cars passed us in those nine miles. Mountain House Rd exhilarating downhill and a nice climb was all that we needed to clear before more unhealthy food.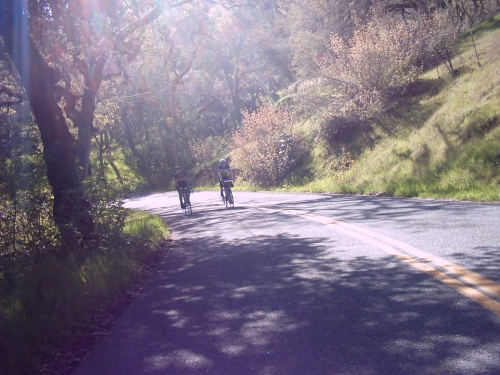 The Hopland mini-mart has a decent restroom, a good selection of junk snacks/food (including pizza) and other things that we enjoyed out on the veranda. Plenty of bikes came after us and we all seemed to be in good spirits. This was a 45 minute break, a theme for the day, and the clothes which were now out drying on top of the bike were dry by the time we left. The next segment uses Hwy 101, a real highway with fast moving traffic, rumble strips and surprisingly nice views. We tackled the road in a disorganized paceline but always as a group. At one of the highway exits we stopped for a pee break. I moved forward a little looking for a good spot to conduct business and when I parked the bike and walked five steps I heard pssssst! A rear flat. On tube inspection, John noticed that my flat was caused by the spoke holes inside the rim, my crappy high-tech plastic rim tape was failing and the tube had indentations in every single place where there was a spoke hole, yep 32 of them but only one had popped. John had some used handlebar tape that covered the worst holes and a new tube went in. Air in the tire and forgot about it, for now...

While I was fixing my flat a group of other riders had passed us and now they were at the Geyserville store. We stopped there in a more efficient way and were out in reasonable time. I think the delay caused by my flat made the group realize we were taking way too much time at stops. The other group of riders, which were Bruce B, Greg M. Phill M and others, left before us. Hwy 128 is nice to ride and it was getting a little dark, I suggested we turn on the taillights while riding, it probably was around 7 or 7:15, after a few more miles we found a good place to put on our reflective night/gear. It was time for lights now and as we moved we caught up with the other group in front. We all stopped for a little bit and left as a larger family.

Somewhere flat, dark and cold I got another flat, same tire. This time I took out the little duct tape roll I wrapped around a pen and proceeded to cut tiny pieces to cover every single spoke hole. It took a some time to complete the work because it was cold, I was tired and the whole group had stopped 30 or so yards ahead of me so I had to keep looking back for incoming traffic. Gabe came to check on my progress when I was almost ready with my second and last new tube in the wheel. As we started riding again I thanked everyone for waiting and moved once more but not for long; within minutes I had yet another flat! Nobody was happy, but hey this is randonneuring and that is what it is all about, right :) I can cry and get pissed or concentrate on fixing my flat. I insisted that they did not have to wait for me, all except the group that I had been riding with since early on the day, left.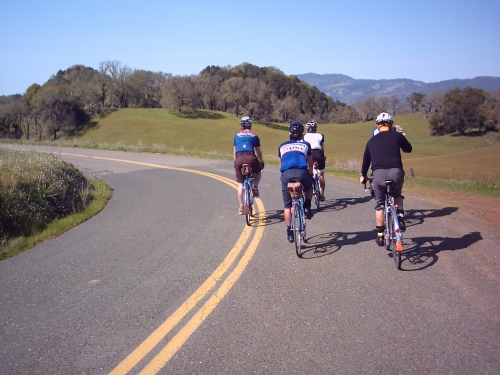 This time the hole was a cut not caused by a spoke hole, I could not feel anything inside the tire, I examined the tire visually the best I could under the circumstances but there were no signs of anything inside. Patched one of the punctured tubes and was again ready to move but for how long? I did not want to have another flat and could not expect the group to stay with me, I was preparing to finish the ride alone very late the next day. However I had seen real camaraderie in this group so maybe, if I had another flat I would not have to finish alone.

The miles to Petaluma took the tail of an eternity and were full of uncertainty but the tube and I made it to the control at Safeway. One last control, more junk food, more Ensure and more laughs. I checked how many tube patches I had, plenty for a full night of fixing flats so no worries of DNF because of a lack of the little rubber things, if I was going to DNF it would have to be because my will was too flat not my tire. I kept things in perspective remembering and inspired by Phil's M. 2008 Point Reyes Station 200k, many flats, cramps and a broken chain and he still made it! This 400k had been a different experience so far, slower than what I expected it to be but filled with laughs. We rode out of Petaluma and towards Nicasio, Fairfax, ... Sausalito and the Golden Gate Bridge. Ian, John and I arrived at the bridge first and waited for the rest of the group to get to the gate, we crossed the bridge as a group and finished in one piece. Much later than what I had expected but in good company. 20:34 a full hour more than last year.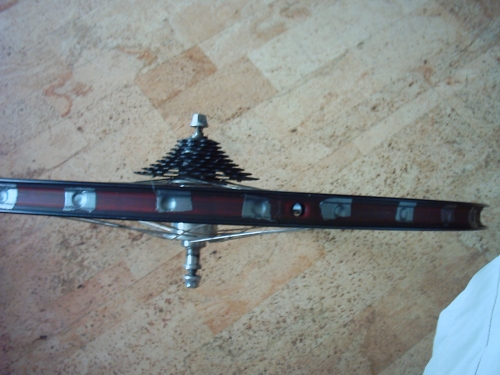 Volunteers were happy to see us and we were happy to see them and get this ride done. Hung out for a little bit and then when I was getting cold it was time for me to ride the short 5 miles home, in the middle of the night. Quiet streets of San Francisco.

After a shower, I ate the Shephard's pie the lovely wife had made for me, it was still hot in the oven. The next morning I checked the tire and discovered there was a tiny cut all the way from tread to the inside, very hard to see in plain daylight but enough to cut a tube I guess. Dripped some super glue inside the tiny hole and put a boot inside the tire; that should keep it good for many more miles, including next weeks Fleche...
(First posted April- 6-2010 at 04:40 pm)
No related pages or links.