2012 Point Reyes Lighthouse 200k (First posted January-30-2012 at 06:24 pm)
2012 Point Reyes Lighthouse 200k (First posted January-30-2012 at 06:24 pm)
Another year of brevets start for me. About 30% chance of rain which is the threshold I had set earlier in the week, any more chance of rain and I'll be rolling back over in bed to sleep. After getting ready and eating an unusual (for me) breakfast that consisted of a bagel and a few spoons of uncooked oat meal with orange juice, I left home with plenty of time yet I managed to arrive at the bridge just in time to barely chat with friends. Greg B., John P., Brian K., Brian C., and I were at the front of the 89 riders crossing the Golden Gate Bridge. The pace was brisk but doable for me. We got to Camino Alto hill along with a few other riders and they proceeded to climb ahead, I took my time and was feeling a little fatigued already. Something is going on with me, probably need to eat more veggies as people tell me but you know what I say about that, veggies are for bunnies. I guess I need to be more bunny like...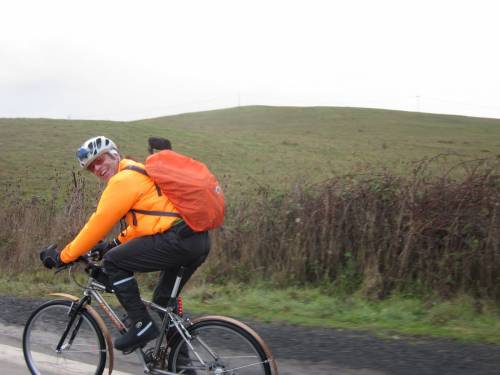 Greg and I along with a couple other riders navigated the streets of lower Marin towns til we caught up with the rest of the group near San Anselmo. I was looking for the perfect spot to take off my rain jacket which I was using just to stay warm, White Hill was ahead and I did not want to overheat. Finally in Fairfax a traffic light gave me enough time to do so. Once again the bulk of the group climbed ahead and I lead Greg to the top and he lead me on the downhill and a good part of the flat 5 or so miles of San Geronimo Valley. Other riders had caught up with us and we all moved on Sir Francis Drake (SFD) at the same pace which was getting a little faster than what I should be riding. I finally decided I had enough and let them go.
A few large drops of rain teased my progress but then near half way up the Olema hill it started raining pretty good. I was close to the group but felt it was better for me to stop, put on my rain jacket/pants and rest a little in the process. When I was ready to go I could see a randonneur near the bottom, it was Brian C. riding in what to me looked like a very thin jacket and no tights, cold! He got his camera out while passing me and captured me struggling.
I followed Brian from the distance but did not feel like chasing after anyone, the distance became longer, then Richard M., passed me, soon after he had also disappeared. I made my way up the hill just outside Inverness and stopped at top to take the rain gear off and eat something. When I was ready to go, Greg, who had stopped at the store in Inverness, joined me. We rode together all the way to the Lighthouse in a light rain and strong wind. The temperature was not too cold, I'll say 58 or so. Lisa and Jason M., along with Bruce B. were manning the Control, thank you guys for the great help. We filled up the water bottles/camelback, used the restroom and out we went, back into the wild.
Now I was cooked! Greg was riding effortlessly and I was having a hard time staying with him. Eventually I told him he did not have to wait for me but he insisted it was better to ride together. We went up and down the many hills of the Point Reyes peninsula, which we had ridden together the weekend before when the weather was perfect, what a difference. At the top of the Inverness hill I asked him if he would mind stopping for a quick refuel, we did and then he started descending as I would catch up with him on the downhill, which I did. I was feeling a little better as it was all flat to Point Reyes Station, when we started riding the rolling hills it was obvious I had not recovered. I insisted Greg go ahead without me slowing him down. A few minutes later the tandem of Debora and David passed us, Greg jumped on their wheel. I was now riding at a slower but more comfortable pace, however the damage was done.
At the Marshall Store Control Greg was getting ready to leave but said he would wait a few minutes for me. I needed more than a few minutes to rest and told him I would probably take my time. Went in got some water and a small clam chowder and sat with other sweaty randonneurs at a table. It was a relatively fast stop considering I ate. I was on my way out the door in 10-15 minutes. The tandem was leaving a few minutes behind but now we had a strong tail wind. It took a while before they flew by me, there was no way I was able to jump behind them, they disappeared in the rollers before Point Reyes Station.
I rode alone not seeing a single randonneur to Nicasio where I stopped to use the restroom and eat. when I was leaving Ken passed me, he was riding a geared bike for a change, on the Nicasio hill another rider went by and at the top of the hill I saw a couple who was doing a rest stop. The sun was out but it was cold (53), for northern California that is. Got to Fairfax and then the couple caught up and passed me, I was able to stay on their wheel. They were going at a nice pace and we soon absorbed the rider who had passed me in Nicasio plus another one. As we got closer to the Camino Alto hill we were a little spread out. I tried to stay with the couple but they were riding stronger than me. At the the bottom, on the other side I joined the woman who was waiting for the traffic light we chatted a little, she lives in Fairfax but I did not get her name. Soon after one of the riders completed a trio of riders waiting for green.
We started riding the Mill Valley bike trail side by side but I got tired and ended up behind her, a tiny hill on the entrance to the commerce part of Sausalito was all I needed for me to stay behind. Now it was just the other rider and I. It turned out he is from Seattle here visiting family, we climbed together the bridge and then he slowed down. I looked back but could not see him amongst the crowd of walking tourists and since we were so close to the finish I was sure he would not need my help navigating the town streets form the North end of the pedestrian walkway to the final control.
With the help of Max P. I signed my name on the final control sheet, 5:40PM, 9:40 minutes for this route. It is interesting, looking at my previous finishing times for this same route, I either do 9:40ish or ~9 hrs.
Greg was there and so where other riders and the volunteers, we mingled a little, ate junk calories and that was it. Other riders kept coming in Alex P., Brian C., Gabe E. However John had not arrived by the time I left. We talked later on the phone, his choice of tires hurt him this time. lesson learned. As for me, I need to become a bunny and eat more veggies.
Brian C's photo album is here

Results for this event are here
(First posted January-30-2012 at 06:24 pm)
No related pages or links.