Feb 21 2009 San Francisco 300k (First posted March- 2-2009 at 12:48 pm)
Feb 21 2009 San Francisco 300k (First posted March- 2-2009 at 12:48 pm)
Morning person I am not. The freaking cell phone alarm makes cute noises at 4:40am and I know it is time to get ready. The espresso machine goes off, the breakfast burrito and banana are consumed and then I am awake. Oh sh*t, it seems there is a very good chance of rain and I procrastinated the installation of a mudflap all week. Get the dremell, two rivets and the old plastic I had installed a year ago. Ok I'm almost done but I need to take a shower to really feel awake.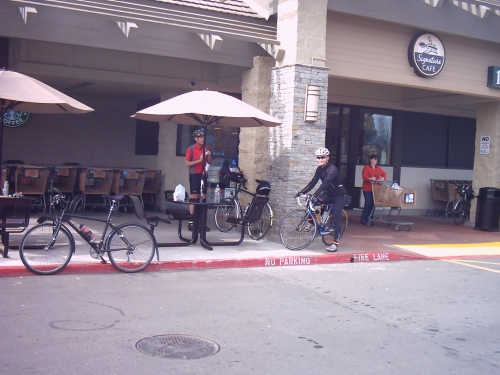 With just minutes to spare I signup and ride the last yards to the Strauss Statue, I still need to start my GPS, take off and pack the jacket and turn off the phone so I have battery left, just in case. I say hi to Greg and after a minute or two I see JimG. Just after I am done putting everything away Rob let us go. I am not up for a fast ride today. I had a little too much cognac a couple of days ago and last night did not sleep very well. I see Greg and the rest of the front of the group take off.

I ride the miles out of the urban area the way I always do, not too fast not too slow. A number of (I assume) out of town riders follow me to Fairfax. On White's Hill I slow down to avoid re-injuring my leg that is now about 70% of what I consider healthy. This I would do the rest of the day. On the other side of the hill a rider setting a very decent pace passes me and I stick to his wheel. Blue bike, clean, I should know him but I am tired and can't recognize him. We pick up a couple of other riders and at Samuel P. Taylor he goes inside the park while I decide to stay on the road. Right before the right turn that will take us to Petaluma, the blue mystery rider reveals himself in my head, course it is Todd, Duh! Todd is a very experienced randonneur and his pedaling is smooth. We arrive to the so called "secret" control together and I leave just moments before him. Todd and I ride together for a while but after the last hill before Petaluma he drops.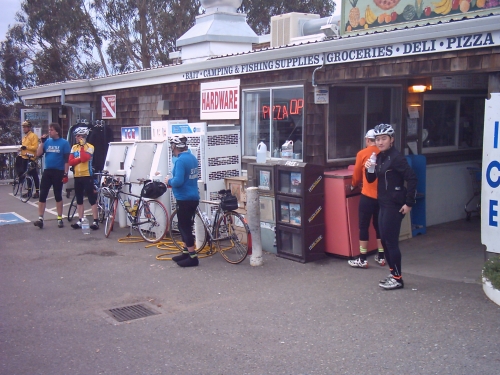 Right outside Petaluma Jack H. catches up to me and he is in very good spirits, as usual. The Safeway control is there waiting for us, ready to grab our money in exchange for proof of passage and some drinks. We leave together, Jack has been riding very well this year and we talked about training routines and rail road hazards that cross the road. In the distance we see a rider, it must be a randonneur. As we close into him I think I recognize him, Masa K! Now the three of us ride as a small group but not for long. Jack tells me he is doing a restroom stop in Santa Rosa, Masa and I continue to Healdsburg. Masa is a stronger rider than I am and cruises effortlessly at 20mph, when I do my pulls I can barely maintain 18-19mph.

Another Safeway, another control. Same routine, restroom, V8, water/Gatorade and some soup for lunch. By the time I am done Masa is also ready to go. I lead the way, slowly, to Hwy River Rd. This is one of the more scenic sections of this 300k, wineries and a lovely winding road full of rollers. Once we get onto River Rd (Hyw 116) Masa is in front and I am glad. This has always been a hard part of the route for me, flat, lined with trees and somewhat windy. Hwy 1 where are you!.. another 10 miles down the road. After the turn at the coast (Hwy 1) we climb a little and I start looking for a healthy tree. Oh what a relief, as we are about to move again the group from Seattle International Randonneurs pulls over to conduct business under the same tree. We leave and 10 miles later we are at Bodega Bay buying yet more stuff at the 3rd Control.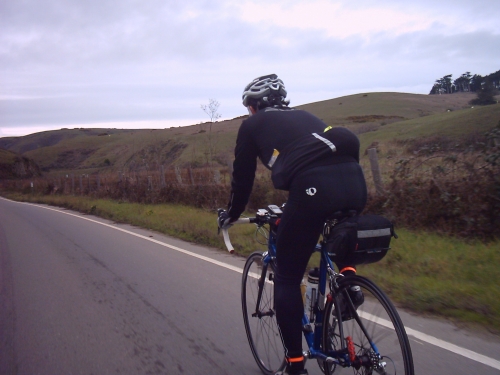 While we are there more familiar faces pull in. Todd, Bruce B. and others. I am feeling very tired but it is time to face some longer higher rollers. Masa leads the way and I can barely stay with him. Near the top of one of them he seems to slow down to wait for me, I tell him "Masa, you don't have to wait for me I am tired" he replied with a " not waiting, not waiting" I think he is politely slowing down to help me regain my energy. I drag myself behind his wheel all the way to Marshall. The control before the last one at the finish, more water but no V8 here. I have some clam chowder for a change. We are ready to go before the rest of the riders there. I am feeling better and this stretch between Marshall and Fairfax is one of my favorite brevet sections. Close enough to the end, nice rollers and a road I know very well. I lead the way, the multiple up and downs, left and right turns until somewhere before Point Reyes-Petaluma Road where Masa comes to the rescue and sets the pace. Again, I am fading but soon we are at the little town of Nicasio and ready for another hill. I know, on brevets, from here to the South end of the Golden Gate Bridge where we will be finishing today, it takes me almost exactly 2 hours. It was almost 6PM. I did not say anything to Masa but in the back of my head I have something motivating me, finishing before 8PM. Near the top of the tree covered road we do a short restroom stop and then the full power lights are on on the nice downhill to Sir Francis Drake. A long flat section follows.

In no time we found ourselves descending towards Fairfax and right at the turn before downtown two other randonneurs where waiting for a rider they had lost. We told them we had seen a rider some miles back but were not sure that was him. We continued towards San Francisco. Climbed Camino Alto and then in no time we are in Sausalito. Far in the distance I can see what looked like randonneuring taillights. At the next stop we caught up with three more randonnerus. Jack H. was there. At this point I am feeling tired again but knowing that there is only one small hill left makes me feel better. From the last flat stretch of road in Sausalito the view of San Francisco across the bay was great, a good reminder I am lucky to ride, live and love this place.


And then one last hill. Jack moved to the front and pull us toward the Golden Gate Bridge. He is setting a good pace going up. Masa and I are able to stay close enough to him but we lose the other riders. Jack gets to the bridge gate first and presses the button. I'm glued to his wheel and before I know it we are at the other side of the bridge. Mark B. our own CVO (Chief Volunteer Officer) is there with another volunteer and Rob H. (our RBA) ready to record our finishing time 13:55. The full results list is here.

I had another great day on the bike thanks to all riders I spent time with on the road but especially to Masa K. He was a great riding partner. And of coarse many thanks to all volunteers who made it possible for me and the rest of the kids to go out and play. The 400k is next.









My GPS Map & Profile (Can download file in KLM or GPX format) However note the track is a little short and does not go all the way back to the bridge. This is the result of using GPSBabel to make the original GPX file smaller. If you want to have the original file please contact me.
(First posted March- 2-2009 at 12:48 pm)
No related pages or links.