2014 Norcal Fleche (First posted April-25-2014 at 10:01 am)
2014 Norcal Fleche (First posted April-25-2014 at 10:01 am)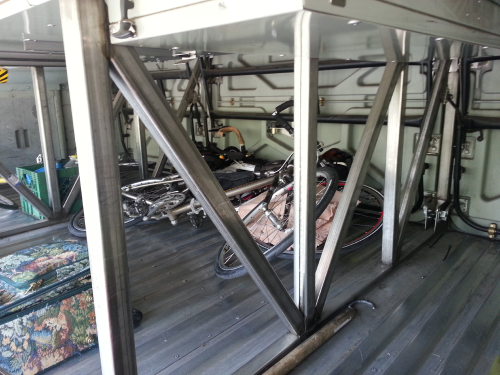 For the last couple of years I've ridden the Norcal Fleche with Brian K. We pick mixed terrain routes that are chalenging and beautiful. We probably were the first (or among the first) team to embark on a mixed terrain Fleche and never looked back, too much fun to pass. If you have not embraced mixed terrain riding you are missing in a whole lot of fun. This year he wanted to do a ride on new territory, a ride Max P was mapping. Max had invited a few of us he knew have questionable brain chips to his Fleche adventure but I was probably the slowest rider on that invite and though I wanted something more mellow. Metin U, who was part of our Fleche the previous year with Brian, had been talking to Eric L who had an all paved route but to get to the starting point we would need to ride a century the day before. Again I was looking for something a little more mellow. I learned Eric W and Steffen P may had room in their team so I emailed Eric to see if they were looking for an additional rider, yes they were. Steffen was captain of the Peces Percolados, the route would start from Laytonville. What, where is that? Up North, pass Willits on Hwy 101. We would take BART to Richmond then an Amtrak train to Martinez and an Amtrak bus for the last leg to Laytonville; the whole trip would take about 5 hrs so we would need to spend the night in Laytonville.

The original route was Laytonville to Hwy1 via Branscomb Rd, cut from Hwy1 to Hwy128 via Mountain View Rd, then on to Cloverdale and return to San Francisco the easy way (Santa Rosa, Petaluma...) I, wanting a bit of gravel on the route proposed to cut across to hwy 128 using Fish Rock Rd, ha! They both like the idea and the all paved route went out the door. Fish Rock was in; not too mellow I know but why stick to the pavement when there are so many rewards and punishment waiting on twisty gravel roads.

Motel selection in Laytonville is not great and the online reviews were not that encouraging. Eric contacted the Mendocino Magic a place I had seen online but though would be too much for just a night; he got a quote for $325/ night (plus $60, 1/2 the regular cleaning fee) for a whole house that could sleep 10 people. We tried to enlist other riders but at the end it was just the three of us.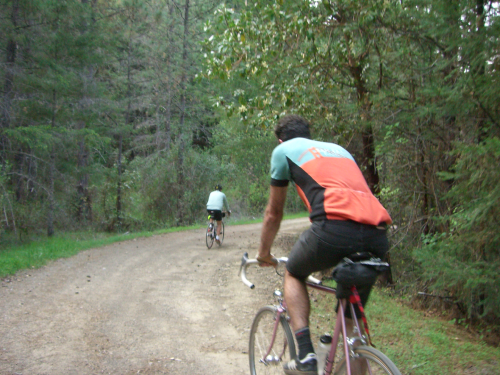 DAY ZERO
Friday morning I meet Eric on the BART train to Richmond and then Steffen joined us in Berkeley. While riding the train we chatted about the route and tire choices and our Captain gave us our brevet cards. We were seated on the last cart and by the time we got to Richmond just a couple of people were in the same cart with us. Went on to find the Amtrak platform and while waiting Steffen noticed he had left his cue sheet on the BART train. Oh well.

Eric: Do you have your wallet and phone?
Steffen: Yes I do
Me: No worries if you want I have the route as a PDF on my phone, I can email that to you so you can have it on yours
Steffen: No, that's ok.

A few moments passed and then Steffen noticed he actually did not have his house keys... nor his phone! Oh crap!
We had a few minutes before the Amtrak train came. He grabbed his bike and went down to the BART platform to see if the train was still there. It was already in the yard, said the BART person on the platform. He would have to wait for the train to leave towards Millbrae. During all of this the Amtrak train came and Eric and I boarded. We left towards Martinez and hope Steffen would be able to make it to Laytonville without too much trouble. It was mid morning so he'll have the whole day to get there.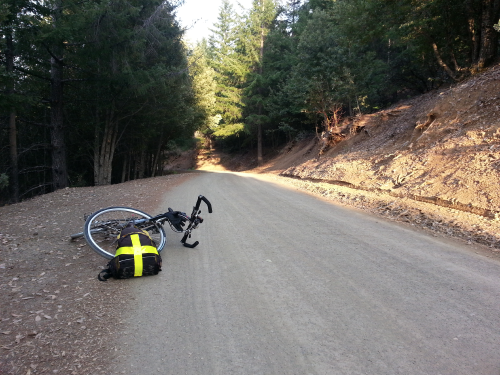 A few miles of our train trip went by and Eric got a text. Steffen had his keys and phone back! Cool! Now Steffen was in a hurry to get to Martinez in time to take the bus. He found a cab and the race began. We had a little more time at the Amtrak station and found Mojo, a rider from another Fleche team, also waiting for the same bus. By the time we were getting our bikes in the bus Steffen was still a few miles away. Fortunately this particular bus route was popular and many people needed to load their bags, that would slow our departure a little more. We had a space reserved in the luggage compartment for Steffen's bike. Finally at the last minute we saw a taxi with the trunk held half closed with a bungge cord, randonneuring style. The team was again together and riding in couch comfort the last leg of the transit to Laytonville.

In Laytonville we went to check Pour Girls Coffee, the location of our start control next morning an after a double espresso went to get some lunch at the Mexican place across the street (hwy 101), relatively inexpensive and food was good. Now it was time for a supermarket visit to get groceries for cooking dinner tonight. We agreed on rice, chicken and whatever. Steffen got all that while I looked for something else to buy. OJ was all I got! Eric's turn inside the supermarket produced a six pack of Scrimshaw beer, my favorite. We were set.

The place we had rented was about 3 miles from town on Branscom Rd, the same road we would be taking tomorrow. The house had a cottage next to it and we wondered why they did not offered that to us instead of the big house. I wanted to check some details of the route on a map but could not get a reliable cell signal. There was a wifi network but we did not have the password and the cell phone was dropping the signal even without moving around the house. For the rental price I thought they should provide guests with wifi access. oh well.


A little house exploration revealed two rooms and a bathroom upstairs. The master bedroom did not smell that good and we all decided to stay in the other room with sleep accommodations for eight people. Opened some more doors and a pool table appeared in front of us. Ok who wants to play? A few games and now Steffen was itching for a ride. Who's in?

A fire road just outside the door looked promising. It gently went up on rolling hiils, very pretty. After a mile or two we got to a gate and a main fire road on the other side. Up we went, steep at times and I told my friends that this road was somewhat similar to what we would be climbing tomorrow, Fish Rock. After 2 miles and 1300ft we got to the top and decided that was good enough for one day. Back down to the house, but not before Eric getting a flat.

Steffen took it to himself to cook dinner, I offered help but he seemed to know what he was doing. We found some candles and had a romantic team dinner :) The Arroz con Pollo (rice with chicken) was delicious. Had one more beer and went to bed.

I did not sleep at all. My bed had a feather blanket but there was no sheet between the cover and me, I was too hot or too cold. Then the cuckoo clock on the living room kept announcing the hour the half hour and I swear the quarter hour. Next morning we all agreed we all could hear the damm thing and hoped one of the others would go downstairs and beat the cuckoo to death.



THE FLECHE RIDE.
At 5:45am the alarm went off and we got ready in record time. By 7:00 we were at Pour Girls Coffee sipping espressos and having very good freshly baked scones.

7:15am our official start time, we are moving on Branscomb Rd. A lovely quiet road with almost no traffic. The further we got from Laytonville the more scenic the road turned. After 25 miles of climbing and then a steep 2 mile descend we are on Hwy 1. Sun is out and the temperature is comfortable. I am however feeling the effect of lack of sleep and can barely keep up with my partners. They stopped for a photo opportunity and I continue moving, hoping to maintain our group on schedule.

This is my first time on this section of Hwy 1 since I rode it as part of a tour from Seattle to SF many years ago. No wonder why people like to drive Hwy 1. In no time we are close to Fort Bragg and take a planned scenic detour @ Cleone Heights Rd. A great way to get away from hwy 1 and recommended to other riders if they have the time. After a mile or two we hit a dead end and wonder if our route was doomed. Fortunately a camper driver show us the way and we are back on route in no time. We get into Fort Brag ahead of schedule but from previous Mixed Terrain Fleche experiences I know an hour buffer can disappear with a mechanical or a miscalculation of speed on the planning phase.

North Coast Brewing Co. home of some beers I like would have to wait for a next time. Eric and I head to Safeway while Steffen stops at a hardware store to buy some leather gloves as he did not have warm gloves for the night riding portion of the adventure. Safeway soup and crackers would do for me for now. Upon leaving I am feeling very tired again from last night's lack of sleep; we have ridden just 44 miles and the bulk of the climbing is still ahead. Will have to figure out a way to manage the energy I have and make it last for the next ~20 hrs, no problem right?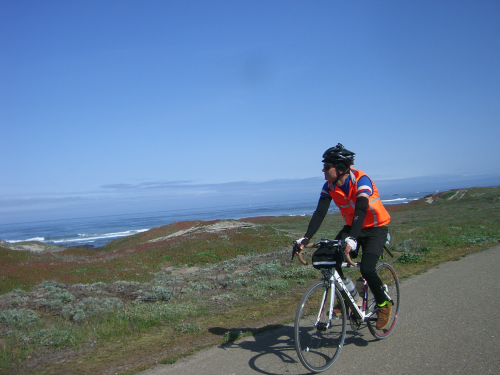 I am so glad to had estimated *very* conservative average speed for all segments when I was playing with the cue sheet. I am barely riding above those averages so we are not loosing any time. Steffen and Eric take turns riding on front way more often than me but we manage to keep a decent pace but I am running out of gas. A stopped in Manchester to check if the hardware store has clear working googles. Steffen forgot to get those for Eric back in Fort Bragg. This was a welcomed break for me. I get a gatorade that bring me back to life.

We are very close to our next Control in Point Arena and the road is mostly flat. I have time to recuperate. By the time we get into town I am ready for more food. Our Control was at Francy's Cup And Saucer but they only sell what looks like excellent pastries and don't have tables to sit down and have a meal so while Steffen buys something and gets a hand written receipt (with included sticker) Eric and I go down the block to the Arena Market coop where they have soup, sandwiches and general groceries. Chilly, espresso and an ice cream sandwich for me please. The market does not have gatorade so I got one from the other market next door.

Now I'm kindo ready for more climbing, not really but here we go again. We ride back a block or so and then turn right, up onto Riverside Dr. A mile or less form turning one of my partners sees a Zebra! Yes a freaking Zebra on the distance! I try to shoot the photo but unfortunately nothing really turns out. My camera's LCD screen is broken so I have no idea if photos are good or not when I take them. Riverside Dr changes name several times on the way to the ridge. At a stop on the way up Eric show us some pine needles that are edible and very tasty, Steffen in I are hooked!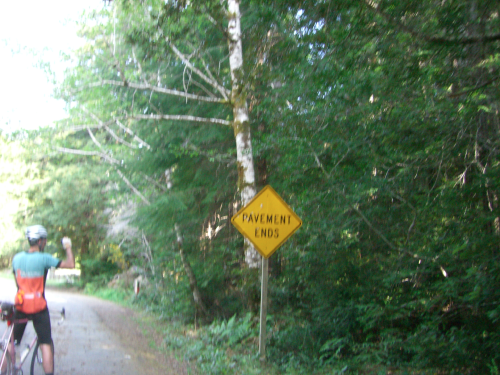 I had climbed to Fish Rock @ Iversen from the other side, that is from Gualala. Climbing from Point Arena is so much nicer, still steep but nicer.

Ok guys this is it! freaking Fish Rock. I give a summary to my partners of what's ahead and we are off descending the 2 miles before the gravel starts. I had estimated the climbing speed for the first 4 miles of Fish Rock at 3mph. My computer tells me I am moving barely above that. Fish Rock is a lovely and unforgiving on body and bike wide fire road. Eric soon takes off and Steffen and I ride together most of the way up but near a false summit he finds new energy and I loose eye contact. At the top both are waiting for me.

Without stopping I continue and remember the climbing continues but shortly after, we are descending. This would be a great descend on slightly wider tires, I am using my regular 26" x 1.25" slicks (32mm) This is my third time on this road and I have had flats both of those times so I descend cautiously to avoid a pinch flat. I catch up with Steffen and tell him I am being cautious to avoid a... Crap! a flat! ha, ha. I love this. After fixing the flat we ride on and reunite with Eric who was waiting just ahead and figured one of us probably had a flat. More descending and now is Eric's turn for fixing a flat of his own. More pine needles while we wait, those things are good.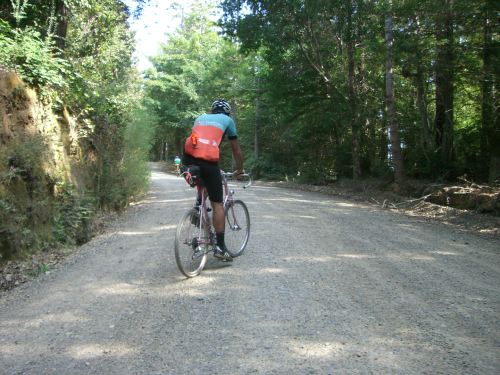 "Ok, there is the first of two paved sections coming up, after that there is more gravel and lots of washboards where I got a flat last time, so be careful there" The trees give way to a meadow and there on the middle and by a distant fence there is something.
Eric or Steffen (can't remember) : Is that a mountain lion?
Me: What? no way. Hey that IS a mountain lion!
I keep riding while they stop to take a photo. The road follows the meadow and from a different angle I take a new look at the mountain lion and now it has weird ears, who knows perhaps is is a Chupacabra, a ChupaLion? or simply a deer? Nah, it IS a freaking mountain lion. When Eric and Steffen rejoin me we discuss the sighting and agree in the stories we'll tell people it WAS a mountain lion. Case closed.

Oh the washboards are here, I remind them about being careful here but we are having a little too much fun with the mountain lion story. There is a turn leading to yet another climb. We are riding close to each other. Steffen goes over a washboard then Eric then me. I call "flat!" then is Eric's turn, ha, ha, ha. At least we have a combo of two per the price of one, time-wise. I replaced the tube with my last one, will have to patch my tubes now. Eric had to patch his tube as he was out of tubes so I took the opportunity to patch mine but the wind and super tiny holes on mine make it impossible for me to find the spot to patch. I'll ride with ultra care the rest of the gravel and hope for no more flats.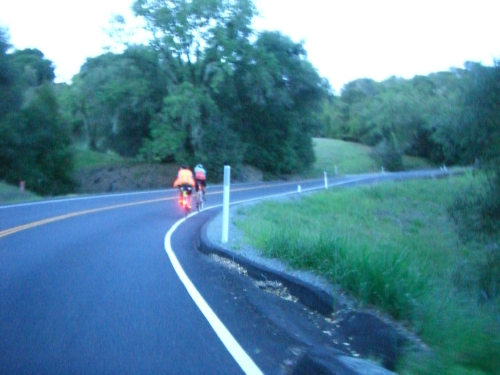 And so I do ride the last miles of gravel like walking on egg shells without breaking any. Pavement from now! That was lots of fun wasn't? All the dirt, flats, views and stories made me forget how bad I felt early. I'm still tired but not as much as before. Fish Rock goes up and down and twists enough to keep the eyes busy. I recognize the start of the descend into Hwy 128, we are almost there! It felt good to be done with this segment of the ride. After Fish Rock we are still ahead of schedule.

Hwy 128 was very pleasant, we stopped at the Yorkville post office for water and made it to the top of the last big hill on hwy 128 right after sunset. It would be colder descending into Cloverdale, we stopped to get more layers and the night gear on. Our Control in Cloverdale was an open one but we were hoping to make it to Ruth McGowan's Brewpub before they close at 10:00pm. We were there around 9pm. Parked the bikes and ordered a pint and a burger, both excellent. The place had a very mellow feel to it perfect for our tired bodies and ,as in my previous time there, the staff was friendly. I would recommend this place to future Fleche teams looking for a place to eat in Cloverdale. Or for a beer at the end of the SFR 2 Brevet Weekend.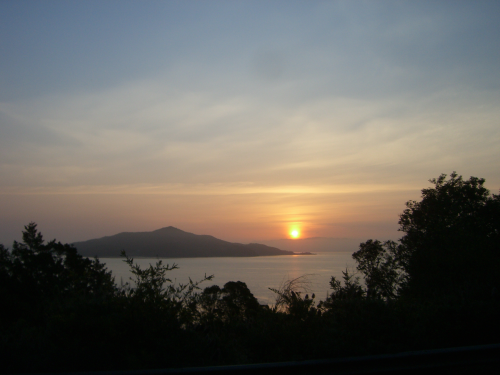 Tables by the front window had plenty of electric outlets so I my vampire instincts take over an after asking for permission charge my bike computer/gps and phone while we eat. The Fleche team of Metin, Eric L, Greg M, Martin M and Tim M team showed up when we were finishing our food. We chatted for a while and then left them in the company of their food. Moved towards Petaluma our next Control. All flat compared to what we had done earlier. Temperature was comfortable but I wore on my neoprene booties, neck thingie and an extra vest under the reflective one. Yes, I am usually cold when ridding at night.

Somewhere leaving Santa Rosa we passed Deb/Willy's Drew team; they were also headed to Petaluma Denny's but had started their Fleche later than us so they had more time to spare on this segment. Figured it would take us three hours to ride to Corte Madera, our 22hr Control, the Petaluma stop was short but long enough for a milkshake a coffee and a shared a serving of fries. We made it to Corte Madera with 2 minutes to spare (as per the receipt we got there) There were tree or four other teams there but they had more time to get to the finish, we would need to move soon. We took a very easy pace and did a longish restroom stop and some photo breaks on the way to the Golden Gate Bridge.

All the goofing around had eaten a lot of the time we had for getting to the final Control and we had to push the pace through San Francisco. We were 30 seconds" late" to Crepes on Cole where volunteers greeted us. I ordered my usual Fleche breakfast. Strawberry Crepe with ice cream on the side, a double espresso and a beer, randonneuring food. Other teams came and we exchanged notes and silly stories.

One more Fleche under the tires. Again I was fortunate to have had great riding partners and a nice route. Thanks Steffen and Eric for hauling my ass for 24 hrs.

More photos (and in higher resolution)
(First posted April-25-2014 at 10:01 am)
No related pages or links.