Feb 24 2007 San Francisco 300K Brevet (First posted February-27-2007 at 12:34 am)
Feb 24 2007 San Francisco 300K Brevet (First posted February-27-2007 at 12:34 am)
Just the other day I was reading one of my own posts where I was hoping not to have to do a 300k event under heavy rain. Last Saturday It happened. The rain goods where angry.

Unlike the previous brevet this time I had a good night sleep, however this time I have not done much riding lately an the little riding I did, left me very tired at the end of the day. I had no idea how a week off the bike would play this time.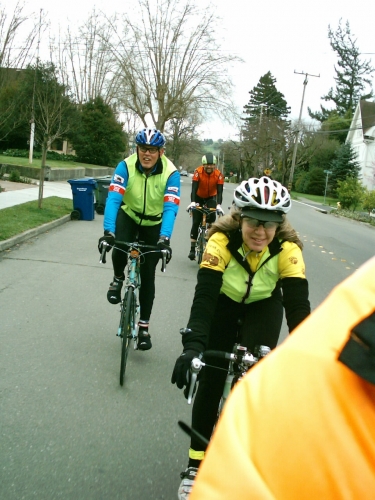 As soon as we started some riders that where eager to get to the bridge again blocked the path to riders behind them so, traffic on the bridge was slow but once at the other end of the Golden Gate things changed. On the Bridge I saw Dan B. and rode with him to the bottom of Camino Alto where he stopped to take some layers. From there I didn't see many riders for miles and rode very much alone all the way to the top of White Hill outside Fairfax. Once there a rider caught up with me and then a larger group where I saw Dan again. At the entrance to the dirt path that parallels Sir Francis Drake (SFD) I left them. I rather lose a couple of minutes riding the safe and nice dirt path than venturing into the disrepaired SFD.
The secret control! I was looking forward this one for a little break. Veronica T. and other rider where already there and soon after Dan showed up. After some miles a group formed and we rode pretty much together to the First Control on Petaluma. Rob H. and Bruce B. where already there, they where getting ready to leave. I went inside to use the restroom and buy some potato chips and V8 but thanks to the supper-size-me food marketing in our country is is almost impossible to buy a single-human size bag of chips. Everything they had was huge bags, after wasting time walking around looking I finally found a relatively small bag of chips. By the time I was eating my chips, Dan and Veronica where getting ready to leave. At that moment
JimG
, longtime regular-ride partner, showed up, we chatted a little but now it was my turn to leave.
From Petaluma to the next control on Healdsburg the route is flat. There are a couple of tricky turns that one can miss and add extra credit and prestige, fortunately this time I was able to navigate the route perfectly. Right in Santa Rosa I caught up with a rider on a bent (Zach K. I learned later), a little mist was falling and at a stop sign I commented that as long as precipitation remained like that I would be happy. Of course minutes after that rain started coming down hard. I found a nice dry spot under a tree to put the rain pants and munch on some leftover chips, when I was getting ready to leave Dan went by and, in his usual way cheered. A little latter he had stopped to check something on his bike and I was able to catch up with him.
Now the good thing is, on this pouring rain, I had company with fenders on the bike. The bad thing the fenders on Dan's bike are those "blade" ones made to fit racing bicycles with tight clearance, they do an adequate job on mild conditions but on downpours like this is is no fun to ride behind them. I am guessing it is the same with my Planet Bike full fenders as they don't have mudflaps. I had my share of water and who knows what coming for the fender spray. Eventually the spray and pace worn me down and I was not able to keep up with Dan. We arrived within minutes of each other to the second control the Healdsburg's Safeway. The rain had stopped and a new shopping spree was under way.
Last year's (2006) 300k I rode with Dan, Bruce and Rob to this control and we had a burrito at the taqueria, very enjoyable but the long break killed me. This time I bough a ready to eat sandwich at Safeway and went out to eat it. Dan was on his way to check the taqueria to see if Rob and Bruce where there. They where getting ready to leave. He decided to skip lunch for now and ride with them. They are stronger riders than me so if I was to ride with them I better had some food in the stomach, I stayed behind and enjoyed the time off the saddle. To bad I couldn't join Rob, Bruce and Dan, they sure have a nice thing going when it comes to brevet riding and are great company but today it was not my day.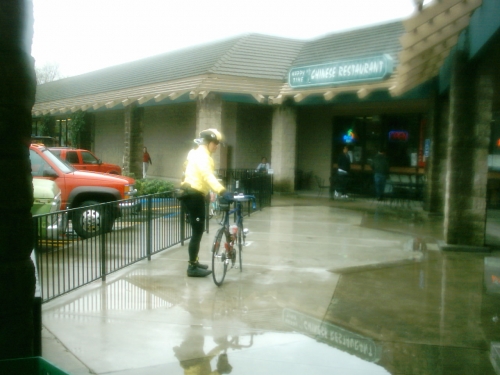 Ate my sandwich seated on a chair outside the restaurants of that strip mall and then went back inside Safeway to use the restroom where I ran into Jim. I told him I would wait for him so we could ride together, he got some food and ate it fast. We ride with Jim very often and we get along very well, such a familiar face in this tough day was very welcome. We where on our way but the cold weather had a surprise for me. My right knee was hurting and it was getting worse as we rode. I pedaled like if I was riding a glass bicycle, it helped a little. Once on Hwy 116 near Guerneville I suggested to stop at a mini-mart to buy some more drinks, Mike B was there. Jim offered me two pain pills, I took them. I try not to take pills, I am good at enduring harsh conditions but the knee was hurting badly.
We still had about 10 miles to Hwy 1, Mike B. lead the way. He is very strong on the flats. The three of us rode together for a while but today Mike proved to fast for us. Bodega Bay was our next stop. The small supermarket had been a control on past brevets but not this time, we stopped there anyways. They had corn dogs and a slice of pizza. I went for the spicy corn dog, my first one in many years, not bad under the circumstances. About 10 miles before Marshall Jim asked me if I was tired, Yes I replied, then he took off?! I though. I got to the Marshall Store shortly after Jim he was waiting on line to pay for some soup, it turned out Jim was worried we would not make it to the store before closing. I added myself to the line and picked a chicken burrito form the refrigerated display, it was excellent. It was 10'till 6 and the store employees where anxious to close. Slow moving lights keep pouring and soon the place was packed with wet and cold riders. Jim and I ate our food and reluctantly left for the last leg (pun intended) of the event.
A group of 3-4 riders left at the same time as us and later we picked another one. It was nice riding in the rainy darkness, as tired as I was, that was probably one of the best moments of the ride for me. For a moment we where all connected by the rain drops , our headlights and the strong head wind. I remember something that Bruce had posted days before on the
sfrandon
list regarding riding at night during brevets and how great that was. The fun lasted for about 10 miles and then the first hill broke down the group. Jim and I pulled ahead and the others did not follow. The turn at Point Reyes Pataluma Rd sneaked up on me, I was happy to see it so soon.
At this point Jim started pulling a little harder than I was comfortable with, I told him that that pace was to fast for me at the moment he graciously slowed down. For the first time on the day we had a tail wind, once we turned into Nicassio Rd. things changed, the wind was again coming from the front. We stopped at the little Nicassio Store which was closed. We rested a little and had a Cliff bar and my first Gu type gel thing to prepare me for the next two hills, Nicassio and White Hill. Jim also got a gel envelope and we shared some chocolate little donuts he had purchased back in Healdsburg. The food worked its magic and we climbed Nicassio at a decent pace. Once at the summit I changed my lights to high beam and descended fast, I mean real fast. The combination of the Dinotte 5w and the Princeton EOS 1w was very good and inspired confidence. The more I use the Dinotte the more I like this light. Can't beat the ability to use AA batteries. I was running the Dinotte with the
cheap double capacity battery pack
I made back in December. BTW, I ran the Dinotte light in
low
and the EOS in
medium
power setting except when descending. That was plenty of light for my eyes, even on this rainy night.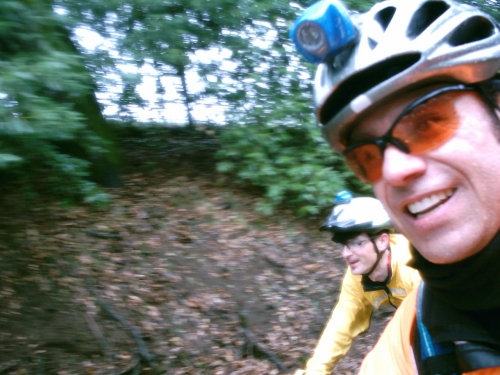 I turned on SFD and rode slowly while waiting for Jim to catch up, then we went up White Hill, on the way down, I passed a group of 3 riders. I was going like a maniac, very fast but I felt safe. It felt I was descending on this rainy night as fast as I do the same hill on a regular ride during day hours, it was exhilarating. I rode to Downtown Fairfax where I parked my bike on a visible spot for Jim to see it while I made a call to the lovely wife to let her now we where almost there, about 20 some miles to go. Jim came as I was putting the phone away and we moved on to the next hill.
About now I noticed Jim was riding noticeable slower than before so I slowed the pace a little. Going up Camino Alto was slow but the downhill was again lots of fun. Earlier we had talked about the possibility of stopping at the Mill Valley bike path restrooms, now it sounded like a very good idea. I went in to check if they where open and to my surprise they were. A nice building with restrooms where we could get away from the wind and rain for a few minutes. Pedaling again was an act of faith. Very strong head wind keep progress to a minimum. Eventually we made it to the bottom of the Sausalito to Golden Gate Bridge hill. I had another gel and proceeded to get the most possible pedaling out of the chemicals in the package. This hill was not so bad, maybe because I ride it so often that I know it very well maybe because I knew I was almost there. I lost Jim on the hill so when I got to the entrance to the bridge I decided to wait for him. After a minute or two I saw his headlights and waited until he was almost there to press the button that sends a signal to the bridge crew to open the gate to a cyclist. He arrived right at the moment the gate was opening.
The wind was stronger here than at any other point of the route. I do ride a rigid MTB. The Golden Gate Bridge sidewalk wraps around the two main columns of the bridge. Going around the columns I was on my granny gear 26x32 and barely able to move forward. Again I was pedaling like a mad man fighting the wind and wanting to put another brevet under my butt. Finally made it to the other end as the gate was starting to close. A couple of riders had just passed trough and I was just in time to pass without having to stop and push the button on this end.
My time for this event was
17:02
, a good two hours slower than previous years, this had been a good battle. Todd, our RBA and I chatted for a while while I waited for my wife to come and pick up my pieces. Jim showed latter, he had walked the bike on the bridge. Soon after my wife showed up with tea and coffee for all. Jim had a Tea, I got another, Todd did not feel like having anything. The four of us talked a little more and then some riders showed up. It was time for us to get out of the way and go catch some rest.
As usual many thanks to all riding partners I had during this brevet, I was weak and not well prepared, apologies for not pulling more when I should have.
I wrote this two days after the brevet, here are some thoughts:
Cold conditions and my legs don't mix. I can ride on cold weather but cold and wet is a different story.
I had knee warmers with me! Why didn't I remember to put them on, duh.
Wine and no real riding for weeks are not good preparation for a brevet.
If my severe butt sores and knee heal in time, I am game for the SFR's 2007 400k.
Riding with Jim we tend to stop more than others as we are very comfortable with each other so there is no hesitation to ask for a stop that wouldn't happen otherwise. I guess we could have cut our time by at least 60 to 45 minutes by stopping less or doing shorter stops. Got to keep that in mind for the next time.

At the end of this 300k Jim mentioned he would never do a 300k again. I hope his body soon forgets and he's back on the brevet train, this or next year.

I wonder how the SFR brevets compare to the same events in other parts of the US and for that matter other countries. Do we make them sound like epic events or, since Bay Area riders are heavily wired (DSL, Cable, mobile services, etc) do we just make more noise than other groups?
I may try another bike for the 400k, maybe this time will be my regular Habanero MTB but fitted with Scott AT-4 bars to help me get a little less wind resistance going. That and 1.3" slicks of course.
I am amazed at the strength and determination of all woman riding among us, they are unbelievable, an inspiration.
The stats:Total Brevet time: 17:02:00
Time off the bike: 3:36 (At Controls and other stops)
Time moving: 13:38:00
Distance: 303.36 kms. (188.15 miles)
Ave Speed: 22.2 kms/h (13.8 miles/h)
Max Speed: 57.9 kms/h (36 miles/h)

(First posted February-27-2007 at 12:34 am)
No related pages or links.