2012 SFR Del Puerto Canyon 200k (First posted March- 4-2013 at 11:04 pm)
2012 SFR Del Puerto Canyon 200k (First posted March- 4-2013 at 11:04 pm)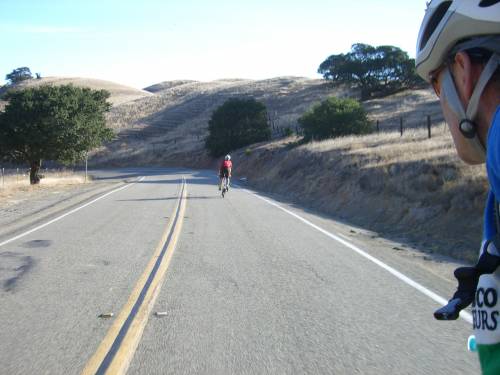 What the heck I'll do it I told myself while on a beach in Mexico where I had not been riding and just drinking cocktails and eating so-so buffet food non-stop. I confirmed my registration and my fate was sealed.

Upon return from the short vacation I had only one opportunity to ride and it was a short one. Promised myself to do some indoor riding at home on the rollers but work got on the way and my plan quickly faded.

Unlike most other San Francisco Randonneurs events, this brevet starts at 8:00am, a luxury. However the start is out there on the boonies (for me) the Dublin/Pleasanton BART station that meant I either drove ~45-60 minutes to the start or took BART. John P was taking BART so we arranged to meet on the way to the station and take the train.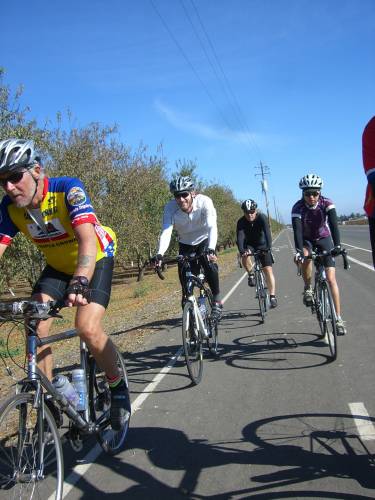 BART was not so bad but I'm definitely spoiled by having the start of most of our brevets in San Francisco where I live. Anyhow, about 120 riders started on pleasant temperature and I looked for John, Bryan C and Gabe E and rode with them for a mile or so but at a traffic light John and Gabe got ahead and Bryan and I stayed behind.

Although the pace was not brisk I was getting tired on the flats, not a good sign. Bryan slowed the pace a little and we chat most of the way to the first control, I mean the second control (the first control was the start) I had never done this route before and did not know what to expect in terms of flat riding. On the other hand, this ride has basically four climbs, one at Telsa Rd, the bigger one at Del Puerto Canyon and two small ones on Mines Rd. The Del Puerto Canyon is very picturesque and very gentle for about 20 miles; the last 2 miles to the Junction Cafe are steep.

So I am hanging behing Bryan who is as always strong and hopping I can keep up and have a good day on the bike and all the sudden that familiar pain that has been on almost every long ride I've done this year decides to appear, leg cramps. At least they were not too strong, yet.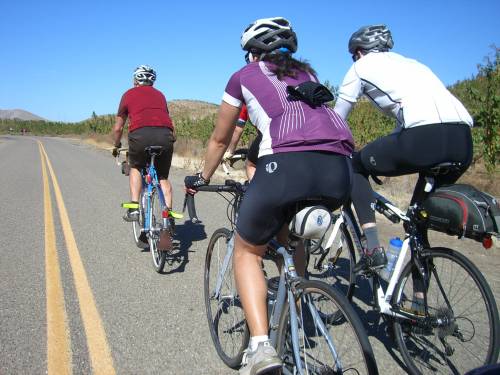 After some boring flat riding, Telsa Rd was a nice hill and the descend was lots of fun. Unfortunately after that there were some real boring and ugly flat miles to get to the next control. After a quick restroom stop and a receipt (not for the restroom) we left with other ridersl and in no time we were at the bottom of the Del Puerto Canyon riding on a gentle grade.

Plenty of time to chat get to know other riders I have not seen before. I single woman on ur group was riding a road bike with an interesting detail near the rear brake, A yellow, blue and red flag, A Colombian flag? So of course I ask her and sure enough she is from Colombia, the first Colombian rider I have meet while riding a brevet! Angela, like me is also from Bogota; she is friends with Jon who I rode with on the recent Marin Mtns 200k. She is riding with tennis shoes that do not seem to slow her down a bit. We chated for a while but my cramps are getting stronger as the grade turns steeper and I start to slow down as we move.

Finally I have to let the group go and slow to a crawl, and soon after the pain is so freaking intense I can't turn the pedals. Had to stop and almost felt on the process. Sitting on the ground with my legs stretched is almost as painful as standing up but after an Ensure, water, a Tumbs pill and more rest the pain goes away a little. A group of riders goes by and I start riding a little after that.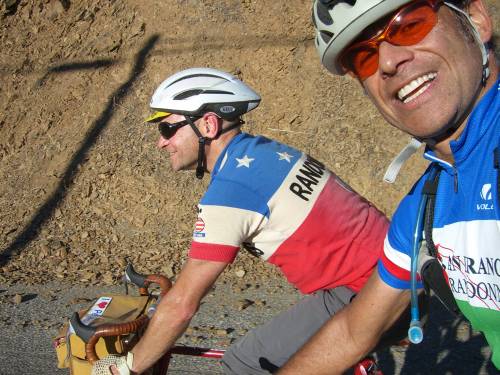 The canyon is very pretty but also very arid and is is hot now. I manage to maintain the cramps to a level I can take but that means climbing is very slow and according to my cue sheet I figure I am about 2 miles from the top. A sharp turn and the road now really points up, up. Crawling all the way to the top and and glad I have the granny gear I have on my (26" mtb) bike 32x28.

The control at the Junction store was packed with riders having lunch. I was glad to see al riders but seeing Ken E. riding again made me very happy. Got a place on a bench next to my earlier riding partners and had a bit of water, a soda, an Ensure and other stuff that came out of my magic backpack.

When it was time to leave the group moved slow, we did not want to go. We splited into a few smaller groups, John P, Tom H. and Keith B and I rode together but further down Keith and then Tom slowed down.

The next two small grades were not as painful as the earlier climb and there were views worth taking a few photos. I pulled my camera. "Hey John smile!" I was trying to take a photo of both of us looking at the camera while riding. When I took my eyes off the road and looked up to the camera I also moved to close to John and clipped his rear wheel with my front tire, was able to save that but was already on my way towards the rock wall on our right. After a small crash and quite a few laughs we continued on our merry way.

After descending into the valley we caught up with Bryan, Angela and Jon. One of them have had a flat. Bryan joined us and we rode the last flat miles to the Final control in Pleasanton. A small group of us went to have Mexican food and a couple of beers nearby.

It was now time for me to go home. Bart back to SF and a warm shower at fome. Ready for the next ride.

(First posted March- 4-2013 at 11:04 pm)
No related pages or links.