2010 Santa Rosa Cycling Club 200k (First posted March-24-2010 at 09:13 am)
2010 Santa Rosa Cycling Club 200k (First posted March-24-2010 at 09:13 am)
JimG asked if I was planning on doing the March 13th, SRCC 200k, a relatively flat route that finishes at a pub. Say what? yes beer drinking randonneurs at the end. After getting approval from the wife I sent an email to Bob (SRCC Regional Brevet Administrator) and he agreed to have me bring the registration papers and liability form on event day. This event would be attended by several fellow SFR riders including our own RBA Rob H., Gabe E., Alex P, Phil M, Masa K and his wife (on her first brevet) and others who I can't remember. I had done about half of the route a couple of years back when the wife and I rode the SRCC permanent.and had good memories of that ride.


On the way to Healdsburg, we picked up Bill E. a Santa Rosa Cycling cub rider; his wife had espresso for us, thank you!. Technically, Bill was not a brevet rider today, he was a volunteer who would be riding part of the route and then head back to work the final control along with his wife Evelyn. By 7:00 about 80 riders took to the Sonoma and Napa roads. A clear cool morning. Jim was not feeling 100%, but he was good enough for riding this event. A mile after starting we rode on Westlake Rd, the rollers there separated the large group into smaller ones. I could see Rob just 50 yards ahead and suggested to Jim we join him. I caught up with him but Jim did not. Rob asked me where Bruce B was and I mentioned he was probably not far behind with Jim and other SFR rides I had seen. Rob slowed down a little and then I was riding alone, but not for long. Richard M. was just ahead. I hooked with him and we rode together for the rest of the day.

Richard was ahead most of the way to the first control, he is a faster rider than me and was just cruising along at a comfortable pace. We saw the little hill before Calistoga the Sonoma/Napa county line and the ultra boring Silverado Trail. Then it was time to navigate the last few miles before the control at Skyline Park in Napa. Ginger K. volunteering, was dispensing huge wraps to arriving riders, Bob was making sure we all had our brevet cards. After an all you can eat wrap feast (one huge wrap) Richard and I were ready to ride. Right before we left many familiar faces showed up.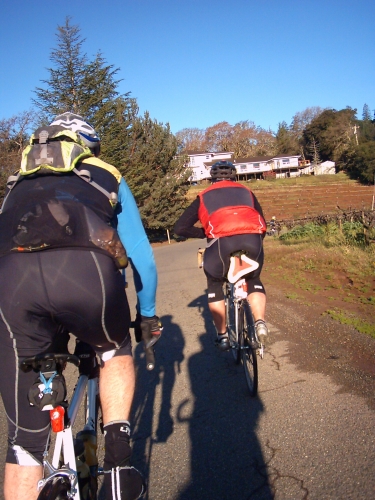 We were going to take our time returning so when a group of SRCC riders passed us and then slowed down, we joined them. Once we reached Silverado Trail we started taking turns pulling on the front. It was all good until one of the pulls by a strong rider made some of us tired. A head wind didn't make things any easier but wasn't entirely horrible, so when we finally got to Calistoga and stopped at a gas station for a restroom break. I was happy.

I was tired from those flat and windy roads but fortunately some hills, if small, where ahead. We were just 10-20 miles to the end. Those miles hurt but we made good progress and arrived to the final control in two groups. Riders who beat a traffic light and the rest of us ~2:30 pm. The Final Control was at the Bear Republuc pub in Healdsdburg, we had one section of the back patio for ourselves. Bob was there signing or brevet cards and congratulating every rider.
Called the wife who was going to be in town with a friend of hers to let her know I was done with the ride, she said she was getting into town just then but by herself her friend could not make it. She joined us at the pub for some beers and food.

One by one riders arrived, Bruce, Phil, Gabe, Rob, Jim and all the others. Riders kept coming in, all cheered by the now extra happy beer drinking randonneurs. By 5:45 It was time to go home.

Thanks to Bob and The SRCC for hosting the event, the volunteers and riders who allowed us to join them on a weather perfect day. I did not get the name of the riders we shared the return ride from Skiyine Park in Napa, at least not while riding. However based on the final times ssen on the results I think they were, Bill C, Darrin J, Greg D, Richard A, Steve K, thanks to all of you for the ride. Another great ride.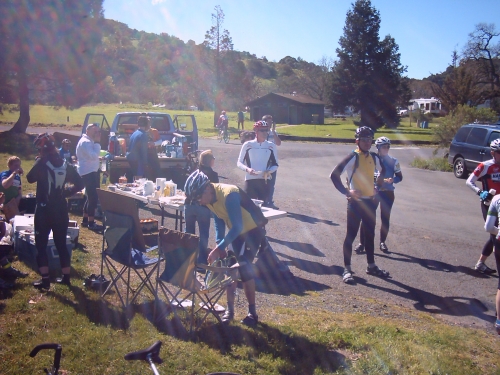 The next morning I went for a trail run with my wife, felt very tired and injured my leg, again!. I was exhausted for the rest of the week and was not able to ride the SFR 400k workers ride. I guess between the paceline on Silverado Trail and the few beers at the end I managed to deplete my body from "riding units" my scientific name for the desire and capability of going on a ride.

We received the results from Bob via email in a nice pdf file. I thing that got my attention was the names of ALL riders registered were in the results, including riders who Did Not Start (DNS) and riders who Did Not Finnish (DNF). I personaly think this is the way all randonneuring results should be publish, accorss all clubs. If not all registered riders at least the ones who started, finished or not. There is always a good reason why a rider would not be able to finish. I for one, like to see the complete picture of a ride, a high number of DNS and/or DNF may denote the riding/weather conditions were hard and puts things on perspective. One of the things since day one I've done with the San Francisco Randonneurs website (which I manage) is to include links to write ups on the results pages to help others form an opinion of how the ride was based on individual riders accounts, Displaying DNS and DNF offers another way to look at a ride. IMO, If a rider can not stand to see his/her name with a DNS or DNF in front I think he/she chose the wrong activity. Randonnuering, like everything else is a combination of small triumphs and defeats. If for some reason I Do Not Finish an event I want to see a big bold red DNF in front of my name! I will remind me of what went wrong that day and help me try to avoid future DNF's, there is nothing to be ashamed off...

(First posted March-24-2010 at 09:13 am)
No related pages or links.