Apr 11-12 2009 Fleche Northern California (First posted May-20-2009 at 10:10 am)
Apr 11-12 2009 Fleche Northern California (First posted May-20-2009 at 10:10 am)
Seven days prior I did the SFR 400k and have had issues with my left leg. The Fleche is a team event, it's shorter and we need to finish as close to the 24th hour mark as possible, but not later than or it would not count; the slower pace should help keep my injury under control.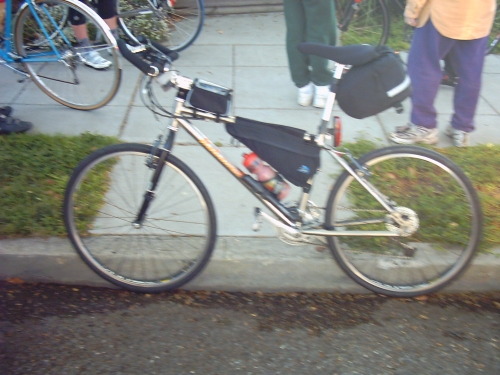 During the weekdays before the event I kept my activity to a minimum to help me recuperate from the 400k, I was feeling fine by Friday. Bruce, our team captain, had mapped out an excellent route, the cue sheet was even more impressive with elapsed time for every turn. He just did an amazing job at this. Our route started from his house in Berkeley and rode towards Napa via Vallejo, St. Helena, and Healdsburg, then we would move South towards San Francisco passing first though Santa Rosa, Petaluma and then the very familiar route from there into the city.
On Saturday morning the wife drove me to Berkeley where Todd was unloading his bike from his truck; Kitty and Joel were already inside Bruce's home. All of them are PBP ancients, that means they've completed the 1200K Paris Breast Paris at least once. I was in the company of very experienced randonneurs. After a cup of coffee we left at 8:00am. I am completely unfamiliar with the roads leaving Berkeley and all the way to St. Helena, my cue sheets would be most important this time.
We found a comfortable pace that seemed would be easy for all of us to maintain for 24 hrs, or so we thought. I think Joel was struggling a little during the daylight hours. A Flèche is a randonneuring event with many rules but the whole thing can be summarized like this: At least 360k have to be covered in 24 hrs, there have to be controls, at least 25 kms must be ridden between the end of the 22nd hour and the end of the 24th hour of the ride. The official RUSA Flèches rules are here. Kitty, Bruce and Todd have all done at least one Fleche before today, Joel and I were virgins at this.
Leaving Berkeley the route climbed a for a little while, Bruce and Todd were up at the front chatting, I was on the back doing my part with Kitty and Joel. It was very obvious the difference in pace between this event and a regular brevet, the Fleche was way more relaxed. I was looking forward to this event.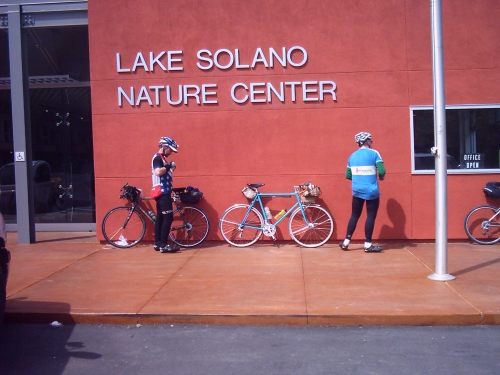 We passed through places I was somewhat familiar with from driving but most roads we completely new to me. I like new, you don't know what's around the corner and every foot is a new place. In Hercules we made our first stop of the ride, this was not a Control where we would need to get proof of passage, but it still was a scheduled stop. I had never been inside one of them Starsucks before, I had learned to dislike them in 1999 while working at a now defunct dot com on Market St in San Francisco, in less than a year they opened 3 of them evil empire stores in a four corner intersection; this stop was short and for the record, I did not purchase anything there.
Anyhow, before I knew it it was time for lunch, that meant we were getting closer to Suisun, the first Control for the day. I could not make up my mind on the menu, I was looking for pasta or something with beans (ummm burritos!) but the best I could find was a tuna melt and orange juice. It was very tasty but not large enough, I knew it right then.
After about and hour at our first Control we put on our helmets and gloves and left. More nice roads with little traffic moved us closer to the second Control at Solano County Park. There they were finishing construction on a new educational visitor center, nice building. The friendly ranger provided us with a signature and some business cards, proof of passage.
The roads had little traffic and the scenery was nice, my left leg was starting to give me some trouble. We went up a gentle-grade long hill, Todd was in the front and not too far behind me, then Bruce; Kitty and Joel were a little farther back. At top of the hill Bruce and I stopped to regroup, while waiting for Kitty and Joel I learned this was the famous Cardiac hill, maybe cardiac if you climb it at a much much faster pace or maybe we went up the easy side. After the downhill a little more climbing was waiting for us. Todd had picked a good spot to wait for us, we regrouped there and then rode to the next Control, the gas station store in St. Helena.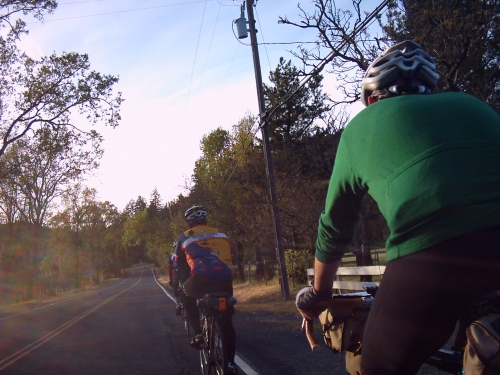 The store had plenty of salty choices we were all craving. I replenished my water bottle with spicy V8 and the camelback with Gatorade. There was still plenty of light but it was getting a little colder. As always is the case for me it was hard to start moving after being seated for a while. From this point on I was riding more familiar roads. We climbed one more small hill and then it was time to stop to put on the reflective stuff. Now that all of us lare ooking like moving traffic lights we all seemed to have gained some energy, of course the promise of a dinner at the next Control at the Bear Republic in Healdsburd served as good incentive to pedal more.
Once we arrived to the promised land we parked out bikes on the back patio where we could see them from our table and proceeded to order food and then use the restroom, we took turns... in case you read something weird in that last sentence. My pasta brought life to me, I had been riding on clifbars and other junk food all day. Our 100m minutes were over and we were still putting on colder weather clothes but the idea of riding towards San Francisco instead of away from it was welcome. I enjoy riding at night, the silence, darkness and good company are as good as it gets when it comes to great randonneuring, this night was not as cold as the weekend before when we rode part of the 400k in the low 30's when the sun went down.
Bruce's promise of "flat" night miles to our next Control, Santa Rosa's Denny's, soon vanished on a couple on gentle grades that took us on a road with great views with the almost full moon rising over the hills, you could not have asked for a better night to ride. I had not been in a Denny's in years and the menu had not changed much in all that time. I was still managing to metabolize the pasta I had for dinner so I ordered only some hash brown potatoes... and cheese cake. A few blocks from that last stop Kitty realized her rear view mirror was missing, she and Bruce went back to the restaurant while the rest of us waited. Now back with mirror installed onto her glasses we proceeded to embrace the "real" flat night miles.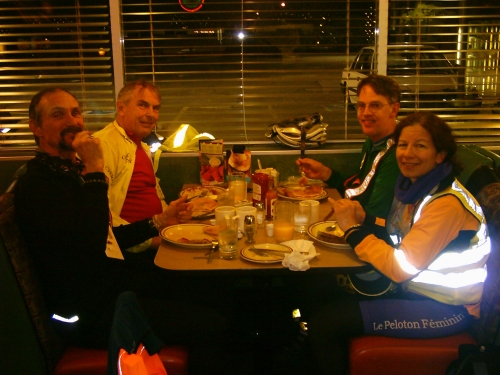 I was glad to be doing this segment at night, the miles between Santa Rosa and Petaluma are just plain bland. At around 2:30 am we arrived at the Petaluma Safeway, the choice for food here tonite was a little more limited than usual; no soup bar and the store was being restocked so many aisles were closed. I picked yet another Dr Pepper and some chips and sat on a bench with Joel and Kitty who had their own rando-food with them. We left the artificially controlled warm weather of the supermarket and prepared to go up another hill, this one a little longer than others we had done during this event. The hill was not as bad this time nor was the next one or the one after.
The urban area start as soon as we descend from that last hill into Fairfax, on a normal day it takes me about 1:30 hours to get home in San Francisco from there, today we still had a little over 3 hours before we were done. One of the most unusual things about a Fleche is the number of rules that have to be observed. As I mentioned before the last 25 kms must be covered in the last two hours. Our Control to fulfill this requirement was the Corte Madera Denny's. Again, I could not force much food down this time. We were done eating and they handed us the bill some minutes before 6:00am we paid the bill but that receipt was no good for our purpose, we had to wait untill is was 6:00 in the Denny's register clock. We waited the few minutes to get a new receipt and as soon as Bruce got it in his hand we were on our way to meet all the other teams participating in this event. Each team had created their own route according to the rules and we all would be coverging at a restaurant near the Golden Gate Park in San Francisco.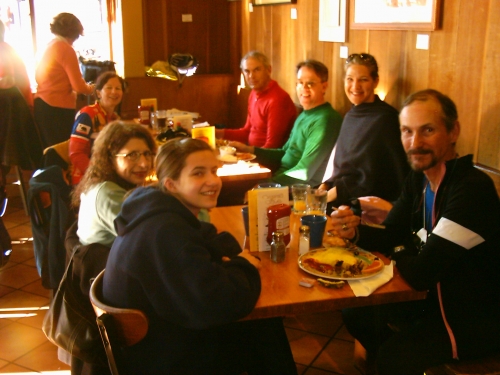 A few blocks from the meeting place we were joined by another team, we were the first teams to arrive. Rob, Mark and Bruce's wife Linda where there along with other volunteers and riders' family members. We gathered at tables against the wall and relaxed there for a while. My wife came in a few minutes later. I was sure happy to see her.
It had been a great ride and I was sad it was over. I did have a great time and would ecourage others to try it when they get a chance, a Flèche is a real special event. The thing that stuck with me was a comment Todd made while we were riding, "Why I do this? It's the people."
Thanks to all.
Results for this event are here
The GPX file and map of our route can be found here.
(First posted May-20-2009 at 10:10 am)
No related pages or links.