SFR Russian River 200k, OMG I "broke" Mari! (First posted September-19-2009 at 07:24 pm)
SFR Russian River 200k, OMG I "broke" Mari! (First posted September-19-2009 at 07:24 pm)
I had not been sleeping well during the previous nights and the night before the event was just more of the same. I was not really worried about this event, I know the route and I knew I was going to be riding at a slower pace than I would usually ride. I would be riding with my friend/coworker Mari M. who was going to be doing her first brevet as per my suggestion. She comes from a triathlon background and I have ridden with her a couple of times, enough to know she can do this event and have a good time.

This time Jim G. was going to drive so we met at his place and after some trial and error we (mostly Jim) solved the roof rack bicycle order puzzle. Unfortunately, all that extra time spent there made us late to the start. All riders left while we were getting our stuff ready. Sterling H. and Rob H. patiently waited for us. Veronica T. arrived while we were getting ready so the four of us left at the same time.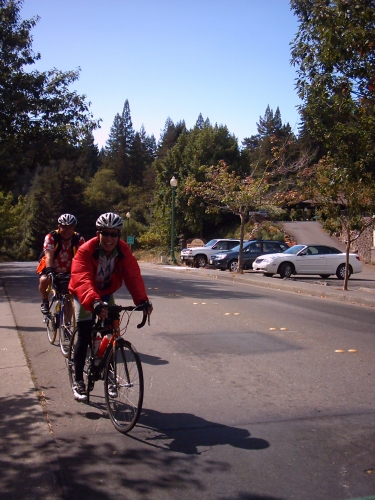 A few minutes later we left Veronica to do a restroom stop. We climbed Lucas Valley Rd. and before I knew we were riding past Nicasio. Veronica was on the side of the road fixing a flat. A nasty tack got into the tire and was refusing to be extracted. A couple of pulls with pliers did the trick. We continued while she finished fixing the flat. The pace was easy but we were moving at a nice speed. Right after turning onto Chilleno Valley Rd. Jim noticed his tire was low, another flat. Is was another tack just like the one Veronica had picked up before, the weird thing is this was a good 10 or so miles from that location...

Some miles before the first control at Valley Ford we passed a brevet rider on a strange recumbent/upright bike. We were no longer the last group. The luxury port-a-potty at the back of the general store always strikes me as cleaner than most, nice for a change. Once leaving the control we rode on the lovely roads that lead to Bohemian Hwy which is yet another nice road. There we caught up with Mike B. and Phil M. both of whom I had not seen in probably a year. It is great to see friends in these events. This 200k is probably the most scenic of the SFR events. We all enjoyed the quiet roads and were even more pleased when we took the Moscow Rd. alternate to Hwy 116. On a previous run of this event I had ridden this road with Veronica and Zack K. and remembered it being very pleasant. Same thing today.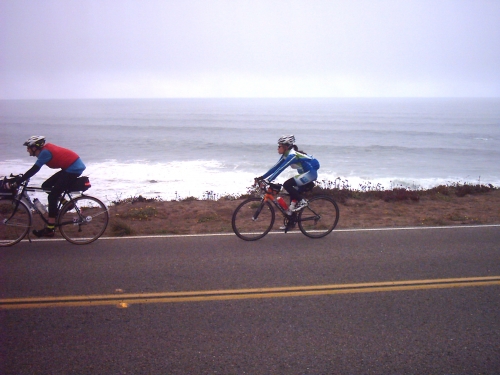 The next Control at Duncan Mills was an open control meaning that any store in town will do, purchase something anywhere to get a receipt for proff of passage. The sun was shining now and the temperature was in the low 70's. We picked for our control the general store at the intersection of Moscow Rd and Hwy 116. A couple of other SFR where there getting ready to leave. We took our time, maybe a little too long; but again before I could think we were at Hwy 1. The clouds brought down the temperature a couple of degrees but is was still pleasant riding. Mari made the comment that it was beautiful in a different way, we agreed. I moved ahead of the group to look for a location to shoot a photo of them as they went by, riding was easy. The Bodega Bay control was not that crowded, just a couple of SFR riders there. Charlie J. was also riding with a new -to brevets- rider and his friend was doing well. I got a deep fried bean burrito, not bad. Jim started fiddling with his front fender and while we waited all the other riders had left; I asked him if he was ready to go and he packed things up and we moved again. Caught up with Veronica who had moved ahead while we waited at Bodega Bay and rode the dreaded rollers to Valley Ford as a group. I was ahead looking back making sure Mari and Jim where close enough and slowed down when the distance between us was becoming to long. Both of them were riding well. Mari's pace was just perfect for Jim, he tends to go fast at the start and then fades away to suffer in the last half of long rides, but today Mari's steady pace was just right.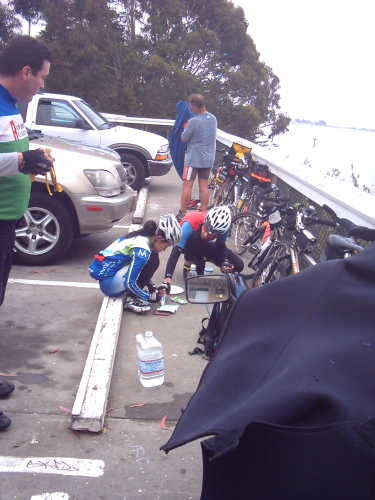 We climbed the hill before Tomales and then saw Mark B. SFR volunteer coordinator right on Tomales chatting with Charlie, helloooo Mark I shouted as I rode by. Mari, Jim and I were riding very close together after Tomales. I was in front, Mari just behing me on my right and Jim behind her. I had announced to them that I was going to stop for a restroom stop and they could keep going, but Mari did not hear me and when the port-a-potty was in view I turned towards it to the right. Mari barely touched my rear tire and went down! Oh SHIT, I stopped and ran back to find her laying on her side with her head on top of her arm. She was in pain crying. It was a horrible feeling for me. The same day there was a MS ride going in the opposite direction and a SAG van stopped and offered to take her to the next stop just a few miles away. After a few minutes she was able to get up and then the van took her.

Jim and I rode to the stop where she was being given medical attention. I was feeling very bad and would have gladly taken her place if I could. I told Jim I felt very guilty as if I was given the responsibility of taking care of my little sister and then I let something happen to her. Bad bad feeling.

Anyhow, when we arrived at where she was I asked her how she was feeling; now she was much better even smiling for a photo. My soul jumped back into my body, I knew she was going to be ok. After all, I had not "broken" Mari. After spending some time there waiting for room in the MS event SAG vehicle to take her to wherever the end of the day was for that ride, Mark B. showed up! Oh boy was I glad to see him! He had been alerted by Charlie, when he arived at Marshall, about the accident and he had driven back looking for us. Mark and Mari left in the comfort of heated leather seats and sunroof powered by combustion engine. Jim and I moved on of our own power towards Marshall where a bowl of clam chowder waited.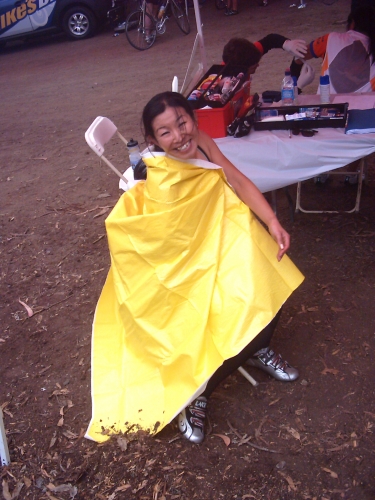 After a nice quiet break we continued towards the finish, traced back our earlier tracks and found us again on Lucas Valley, such a peaceful nice road. We passed a lone rider and then after the last descent of the day, on my sugestion, we stopped for a last restroom opportunity before the finish (no restrooms are available at the final parking lot). Now with a tail wind we easily cruised at 25mph.

Officialy arrived at the finish at 5:54pm, 10:54 hrs after we started. A slow time for this course, but thanks to Mari and Jim a very enjoyable ride. Mari was there with new friends that had gotten to know her. We hung out there for awhile and then packed things up and went home.

An eventful day.

More of my Photos of on Flickr

Results for this event
(First posted September-19-2009 at 07:24 pm)
No related pages or links.