2008 200k (Fenders and Mudflaps would be appreciated) (First posted January-30-2008 at 03:53 pm)
2008 200k (Fenders and Mudflaps would be appreciated) (First posted January-30-2008 at 03:53 pm)
Fenders and Mudflaps would be appreciated
, I sent
a message with that subject to the sfrandon list
. As per the forecast, rain was a sure thing for the 200k.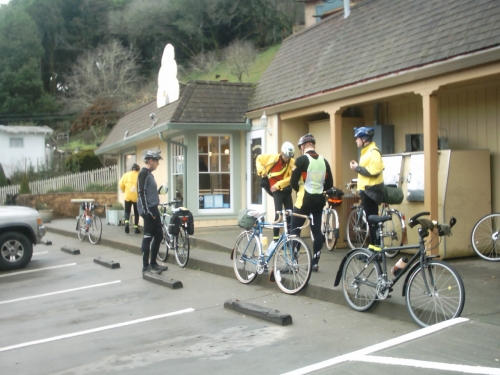 I had made a mudflap using some plastic JimG had laying around, restored the waterproofness of my jacket with Granger's Wash-in Waterproofing, sprayed some water proofing stuff on the extra gloves I would be taking, wrapped the bicycle computer and the Pencam in plastic food wrap and even set aside wool socks. All this to make the rain goods happy.
The next morning as I rode to the Golden Gate Bride (GGB) the starting point of the event, I ran into a rider outfited in the rando way; taillights, decent bike light, fenders reflective things here and there and the obligatory rain jacket. I introduced myself to John, this was his first brevet, many other first time randonneurs showed up this time. We rode the short distance to the check-in location and then I went over to the actual starting point a few yards up the road. Not a drop but plenty of homemade mudflaps. I was a happy camper to see so many people had taken the time to make things better for all of us.
I rode at my regular pace. Some of my friends tell me I ride faster on the hills and also towards the end of long rides but I just try to keep the most efficient pace for me, at least that is what I think I am doing. However I have to admit when I am on the return leg of a long ride, brevet or not, I get a new (or second?) air as I get closer to home but this "going home" syndrome is common among many randonneurs.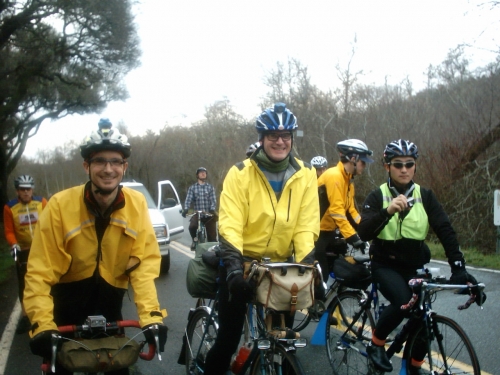 This time I made one unnecessary longish stop on the way to the Point Reyes Light House due to bad logistic planning on my part. I forgot to pack lunch and had to stop for longer than what I though necessary to order my lunch. Precious minutes wasted. The other side of this is I had a very pleasant lunch with Jim (Cyclofiend) at the Inverness Park market (Perry's Deli I believe) when we returned from the Light House and I pickup my prepaid sandiwch
I had my best (fastest) brevet control check-in ever during this event. I was in and out of the Marshall store in 1-2 minutes. I mean, parked the bike, went in, got the brevet card stamped, took some energy drink and was back pedaling in 1-2 minutes. It felt great to save some time. I don't approach brevets as races but I like to improve my brevet skills as anybody else. This type of super fast stop was possible only because I was, at this point, riding alone. When riding in a group it takes a long time to do stops but I guess the time wasted at stops could be recuperated by working together on the road (if the wind in not coming from the side on a busy road of course)
The day before the event I went to get lunch at a sandwich place near work where they had this bottles of "5-hour Energy" by the register. I bought one thinking I could use some extra fuel at a critical point, I had never used the stuff before. I did use it right before leaving the Marshall store when I knew I was going to be facing the head wind by myself. Don't know if it worked or not but I did not fade on that stretch, I may carry one on future events. BTW, the stuff does not taste bad, IMO it taste better than most gels, it is not as messy and it could be mixed with other liquids in water bottle if needed.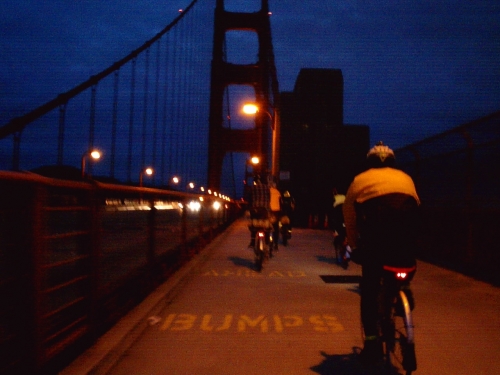 I carry Gatorade powder double bagged in ziplock sandwich bags. This is the first time ever it got messy but if it happens once there is the possibility it will happen again. I am going to find me some bio-degradable plastic bags, the ones that dissolve in water, and make little single serving packages that are easier/faster to handle ™©®, I'm putting a patent, trademark, copyright and whatever on the idea, really.
Pedaling like Jezebel and The Rain Gods were coming to get me I moved all the way from Marshall to Nicasio, Fairfax and then all other small towns that announce San Francisco is near! Got to the last control at 5:11pm. Rob, Mike, Bruce and other volunteers where there dispensing congratulatory and encouraging words, I was happy and done, well almost. I waited at the control a little under 1:30 for two of my friends to arrive, JimG and Jim (Cyclofiend). They were tired like all of us but in good spirits. We chatted a little longer and then Jim rode back to his car parked on the north side of the Golden Gate Bridge and JimG and I rode the ~5 miles to our respective homes.
To prepare for this event I decided to go with a no-training training. That for me means doing only <50 mile rides and as much mixed-terrain fire road riding as the weather allowed. Since I tend to ride year round an try to keep in shape, 200k is not a long enough distance to merit special training and the extra time I had in my hands was used to do some house projects. No-training training worked perfectly for me this time. For the 300k I will just do a century some ~70 mile rides and some more mixed-terrain rides.
Not a single drop of rain during the ride, I think I gave my soul to pagan gods by invoking mudflaps, rain gear and other plastic idols, if that is what it takes to get dry weather, let's start worshiping that devil!
(First posted January-30-2008 at 03:53 pm)
No related pages or links.