2008 300k (What a difference a week makes) (First posted March- 9-2008 at 10:27 pm)
2008 300k (What a difference a week makes) (First posted March- 9-2008 at 10:27 pm)

This even had been postponed the weekend before when the forecast included very strong winds and rain. BTW, postponing a brevet is as common as a year without a flat, it does not happen offten.
What? why are you setting that alarm so early! The wife was trying to convince me to roll the wake-up time a little more. Even with the extra time I barely made it on time to the start of the March 1/08 SFR 300k. Took to much time to eat something...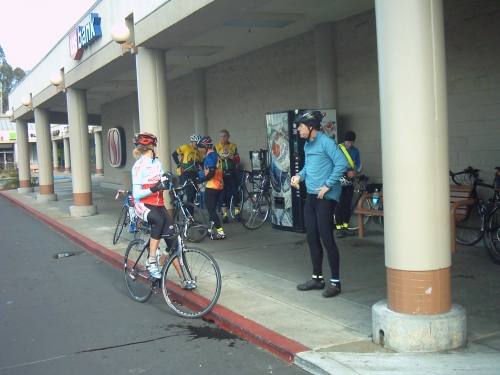 This year I've taking an approach of no-training training for the brevets, in other words just ride like I always do, no real plan. During the colder months I was getting a hard time finding motivation to ride. Avoiding the muddy trails not to cause erossion on them kept me glued to the road and I am not very found of going to often on long pavement-only rides, I need dirt. So to avoid burn-out I deciced to limit my paved riding to a minimum starting somewhere in December. That worked of for the 200k in January, since then I had ridden about 400 miles total I think, not a lot not to little but of those unfortunately only about 100 mies were off road.
This morning after signining in at 6:00am I rode to the start just to hear Rob give the ok let's go! right when I was getting there. I did not stopped and kept on going and was, for first time ever at the head of the group (second) crossing the Golden Gate Bridge. I rode at an easy pace but the group kept getting smaller and smaller when I looked back. Eventually some riders passed me. By the first hill, Camino Alto, I was very hot from having raced thought San Francisco streets to get to the start so I stopped to take the jacket off. Keith and Greg B went by. I never saw them again, they did ride a very fast 300k this time.

I was not feeling well and was unsure if it was a good idea to be riding a 300k today but I kept repeating myself just to ride a little farther. By the secret control I was tired but the "keep going, you've been in worse condition many times before" kept me moving. Entering Petaluma a traffic light held my progress for what it felt a long time maybe 3-4 minutes, I just stood there waiting for it to change. When I started moving a group of riders came along and we all rode the last few miles to the Safeway contol together. Another group of riders was leaving but there were not any other bikes there, weird. Rob, Bruce, Willy and many other familiar faces where outside when I came back with my little bag of stuff from Safeway.

Knowing what was comming up I took my time and left with the group. I've ridden many miles with many of these riders, I knew I was in good company. Thanks to the level terrain and group to share the effort, I was regaining my strength. The miles went by and the group splited into smaller groups. Rob H., Bruce B., Alan L. -a rider on his 2nd San Francisco Randonneurs event- and I were up in the front, somewhere not to far Willy N. and Lisa M. and more riders behind them. At one point Alan was at the front I was next and then Bruce and Rob... Rider down! Rider Down! Rob screamed, Bruce had ridden over a large odd piece of wood losing the battle with gravity. Fortunately it was no more than some road rash.


it was not to long before we had to do an unplanned stop, Alan had a flat. While Rob helped him I chated with Bruce, he mentioned he wanted to keep going as he was still feeling a little sore form the fall thus this would give him time to recuperate while moving. I pased the info to Rob and he said he would go with with Bruce, no problem. After fixing the flat Alan would pulled most of the way to Healsburg I was very much useless during this segment. Once at the next control in Healdsburg Rob, Bruce, Lisa, Willy and many others where having lunch at one of the picknic tables outside the supermarket. I had enough time to have Safeway's potato soup, something Willy had introduced me to during last year's 400k, also got some other stuff. I could not eat the sandwich I had purchased so it went inside the backpack.

Again we started in a nice group but soon after Rob, Bruce and I were a cell moving on that lovely road that connects Healsdburg to Hwy 116. I would lead the way to some point well into Hwy 116. Further ahead we picked Alan who was taking a break. Now four of us would move a little easier right? Not realy. Rob was paying the price of leading Bruce into Healdsburg, Bruce was strong as ussual but I think a little sore form his fall, I was sufferning again on this strech, one of my least favorite sections anywhere and Alan was also starting to show signs of being tired form all that draging me to Healdsburg. By the time we got to Hwy 1 we were cooked! Willy and Lisa were leaving as we stoped at the intersection to eat something.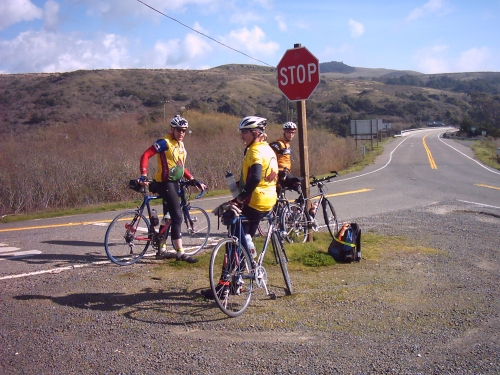 I had a clif bar and a "5 hour energy" drink. I had had one for the first time during last month's 200k and thought it helped. We were over the half way mark. For me Hwy 1 is always a moral boost plus the tail wind gave me much needed strength. As ussual the closer I feel to San Francisco the more energy I got, something that started a little earlier than normal this time. I lead our group for a while, Hwy 1 is a nice road to ride and the beautiful day made it great. I got caught on the fun rolling hills and we lost Rob and Bruce before Bodega Bay. I knew Alan had not riden this section before so I tried to call the terrain, breaking the route into smaller segments. We made it to Marshall to find the usual line of weekend tourists and randonneurs in front of the clam chowder pot.

Willy and Lisa and then Rob and Bruce came shortly after. Willy and Lisa where the first out, they were doing nice short efficient stops at the controls. Alan and I left after them and Rob and Bruce not to far behind. We caught up with Willy and company before the turn to Point Reyes-Petaluma Rd. I was feeling fine but Alan was getting tired. Knowing Nicasio was the last chance for a restroom I suggested a stop there, it would also provide a short break before the next hill. Rob and Bruce soon joined us. We all got ready for the colder weather ahead and started joking about making it to the Bridge before 8:00pm, I think it was pass 6pm. It felt like a very unacheavable goal, a good joke.

Two more hills before civilization, Nicasio and White's Hill. I was having fun climbing, it was hurting a little but it was fun. The descends were not bad either, set the lights on high and let go, weeee! At the entrance to Fairfax I just had time to put my feet on the ground when Bruce rolled by, I followed him and assumed Rob and Alan where there with us. Somewhere after Fairfax Downtown I realized Alan was not with us, we had lost him on the last climb, Rob said. We slowed down the pace considerably for a while and when we figure Alan probably had stoped. We resumed our pace and now we were close enough that a before-8:00pm finish seemed feasable if we push it, we did.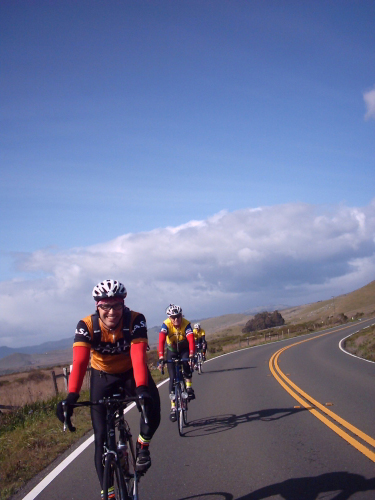 Camino Alto, the hill before the last climb. The climbing felt unusually easy, descending was again almost at full speed. We were geting very close, Sausalito was just at the end of the Mill Valley bike path, about 4 miles away, I believe it was 7:25. I decided to push the pace once more, I was almost certain we could make it. Bruce made a comment regarding him not going to be able to make it fast enough the last hill from Sausalito to the Golden Gate Bridge to what I replied, yes you will and I'll keep the bridge gate open ready for you. That's what I did, climbed ahead and got to the bridge North side gate at 7:45. The clock was ticking while I axiously waited for my riding partners to show up. Finaly I saw their headlights and when they were close enough I pressed the open-sesame button and the gate opened in time for them to roll into the very last strech of concrete.

I moved ahead and pedaled as fast as I knew I could sustain for 2 miles, the aproximate length of the bridge. My friends were a little to far so I slowed down just a bit. Finaly, the South gate! Pressed the button a little to early and had to place my bike in the middle of the gate so it would not close on them. When I was sure they were clear I sprinted the last yards to the control where SFR volunteers where waiting for all of us.

Before 8, before 8? I asked, sure it is 7:54 somebody replied. We made it! Results here

I hung out with the volunteers and other riders while waiting for the wife to pick me up. Phil, Willy and Lisa and another rider came in. Soon after I'd left Alan rolled in, he had had two more flats, one on White's Hill and another on Camino Alto. Many thanks to Alan who drag me for a long way to Healdsburg and Rob and Bruce who, as ussual, made great ridding partners. It had been a great day on the bike with lovely weather and clear skies for most of the route.
(First posted March- 9-2008 at 10:27 pm)
No related pages or links.