2013 SFR Del Puerto 200k (First posted November-19-2013 at 05:31 pm)
2013 SFR Del Puerto 200k (First posted November-19-2013 at 05:31 pm)
Last year was my first time doing this ride and I really liked the climbing but hated the flat parts of the route. I figured I would ride at an easy pace and try to have some extra curricular fun. So the afternoon before the event when I joined John for lunch I suggested we went to the party supplies store on Sutter St (in San Francisco) to get some... supplies. I was looking for a small single water/squirter gun but all they have was a 12-pack for $10; ok fine i'll take the pack.

Gave one to John who was not very enthusiastic about the idea of having a water battle while climbing and took the other 11 home. Loaded one of them with water and put it in my bag. After a so so night of sleep took the BART train to the start of the brevet in the boonies within 10 minutes of arriving there we were moving. Gabe, Bryan and I started on the very back and we rode with a group to the first hill a good bunch of boring flat miles away. I climbed at my pace and then on the other side found myself alone. Larry S joined me and we rode taking turns on the front to Tracy where we caught up with John, Irving and Manny. I discharged the fury of my little yellow water gun on John back and that started an exchange that helped make the flat boring miles not so monotonous.

Temperature was mild and the head wind was barely worth mentioning. One Control down one more to go. Same story, a long boring flat section interrupted by a few water battles. At Peterson, the next Control I took a longish 20 minutes to accomplish not much and then left with Gabe. The Del Puerto canyon was just on the other side of the road.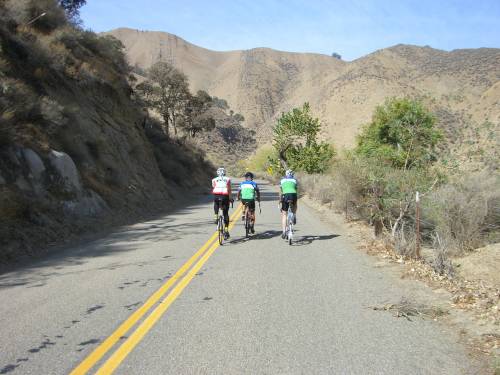 The canyon is a real pleasure to ride with little traffic and unbelievable views that go for miles. Gabe and another rider pulled a head of me while I maintained my pace and then I connected with John and Irving and a little further ahead with Manny. Manny and I rode together for many miles admiring the views and catching up. I had not seen him in a while so we exchanged stories while he shot some great photos along the way. It was Manny's first time doing this route so I warned him of the last 2 miles of the climb. "They are a little steep, you'll know when the real climbing starts" I said. And yes the last 2 miles of the climb where as I remembered then, a little steep but very doable. The thing I did not remember was having to ride 3 more miles after the top of the climb to get to the next Control at the Junction Cafe.

The Junction Cafe was packed with faster randonneurs when we got there. I wish I had gotten something to eat at the previous control to eat here. That is what I did last time but this time John assured me that food would not take too long and I, as a fool, believed him. Ordered my burger with fries and 2 beers. Yes 2 beers as I knew I will swallow one and then drink the second one taking my time.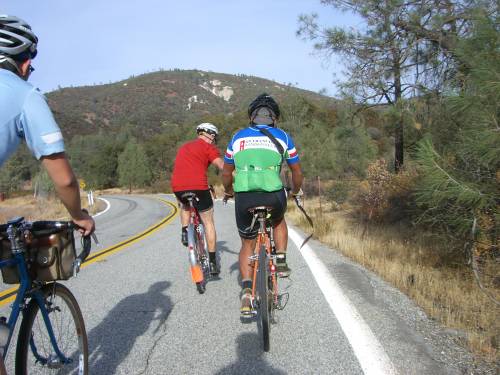 While we waited for our food we all chat and chat some more. John and Irving came and we waited more. After about an hour I got my burger directly from the one-order-at-a-time kitchen. Darn, that took a while! good thing I was not in a hurry :) I enjoy patronizing the Junction Cafe but food takes too long. Only beer at the Junction from now on.

So we talk some more and then some more. after another eternity John's food was ready. Gabe left. A pretty large group of riders was still waiting for food when we finally left. I had been at the Junction for ~2 hours! probably my longest randonneuring Control stop ever.

We had a good group of riders, Jack H, Steve H, Manny, Irving and John. Of course there was not a single moment of silence which felt right this time. At top of the second hill after the Junction, we found Keith B, we regrouped and although there was plenty of daylight left we put on our night-time vests to keeps us warm on the gradual descend into Livermore.

Keith, Steve and Manny took off on the downhill and the rest of us stayed together the rest of the way to Livermore were we saw them on a residential street changing a flat. "see, that is what you get for dropping us", we joked. We had absorbed other groups of riders and now it was starting to get dark. I lead the pack as I was bored of the flat section an wanted it to end asap. Every once in a while John will say"muy rapido señor" and I'll slow down a little but the lure of the end was there. I just wanted this brevet to be over.

Less than a mile from the Final Control I took a wrong turn into what I thought was the parking lot we were headed but was able to go back on route without adding any "extra credit". We were done! It was great catching up and riding with my fellow randonneurs.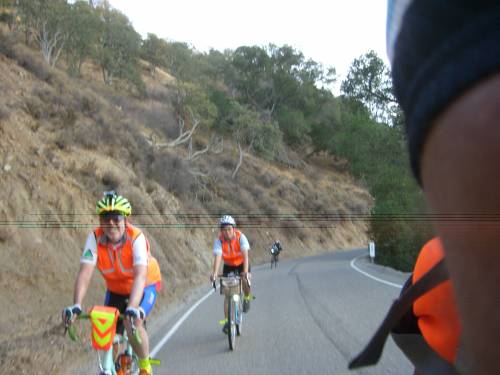 Apparently there is not a decent place to have food and beer near the Starsucks where we finish. Last year we went to a so so Mexican place but was not worth repeating. So we headed for the BART station and took the train home.

On the ride home Irving mentioned there was a BevMo near Starsucks so for next year, I plan to go get a six pack of good beer at BevMo and share it with others over burgers at the In 'n Out across the parking lot. Yeah, ride to eat.

Here are some more photos
(First posted November-19-2013 at 05:31 pm)
No related pages or links.