2014 Russian River 300k Volunteers Ride (First posted March- 7-2014 at 02:10 pm)
2014 Russian River 300k Volunteers Ride (First posted March- 7-2014 at 02:10 pm)
6:00 start, I hate them. Woke up to check the latest weather forecast to decide what clothes I would be wearing. No rain and 64° maximum temp tip the scale towards no rain gear and my regular "dry weather" shoes. I hate this route but at least John and I were gonna be doing the worker's ride on a weekday so traffic should be light.

After the earlier rainy Point Reyes Lighthouse 200k workers ride I had purchased a pair of wet weather shoes and was loving them since then. Had used my regular shoes very little but at one point I had re-adjusted the cleat on them to alleviate to hot spot on my right foot, however I never got a significant ride with them to test my adjustment. Big mistake.

I was glad I had installed the fenders, there was a heavy mist from home to the Golden Gate Bridge start. I was right on time about 2 minutes before 6am but John was fashionably late; we started a few minutes after 6am. The ground was wet and the mist follow us to Sausalito. Temperature was mild, 52° or so.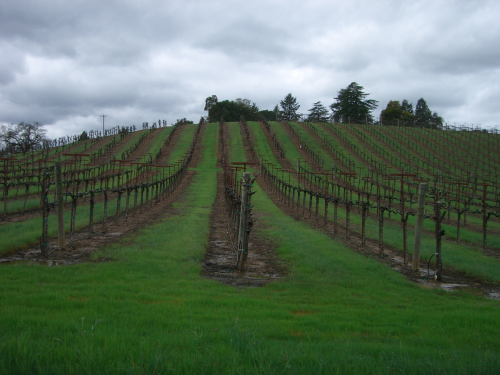 In Larkspur John preached/warned me "don't cut through the parking lot!" so I did, we got separated at a traffic light. I rode slowly waiting for him to catch up but he did not rejoined me until pass White's Hill. We discussed where we should have our "secret control" and decided on the same location where most likely the riders of the regular event will have theirs.

Moved on and got to the first control in Petaluma at 9:40am, I got some of that cucumber Gatorade Bryan C, showed me last year on that super hot Dart event we did. Also got a six pack of Boost Plus (a cheaper Ensure Plus clone made by Nestle) John frowned at my choice but put his 3 bottles in his bag. I don't like the Safeway generic ensure because comes in boxes that are hard to open and drink while riding. BTW, Boost comes in plastic bottles with a seal under the cap so I opened every single one and peeled of the seal. Taste is just as awful as the real thing and has the same 360 calories and junk in it, cheaper too.

My left knee hurt like hell when we started pedaling. I suspected it had to do with my cleat adjustment. We shared the front to help face a slight headwind, unfortunately for me, John set a brisk pace on the last few miles before Santa Rosa. I could have opened my mouth "señor muy rápido señor" as I usually do when riding together and the pace is not comfortable, but I did not and my knee and body were not happy. After leaving Santa Rosa, John kept a more civilized pace and we made our way to Healsdburg at noon, in time for soup. Not much left at the Safeway's soup bar, we both settle for a mix of two flavors, potato and tomato, it was ok. I also got a banana, a Snickers bar and more cucumber Gatorade. This was a 36 minute stop, a little longer than my usual but not extremely long.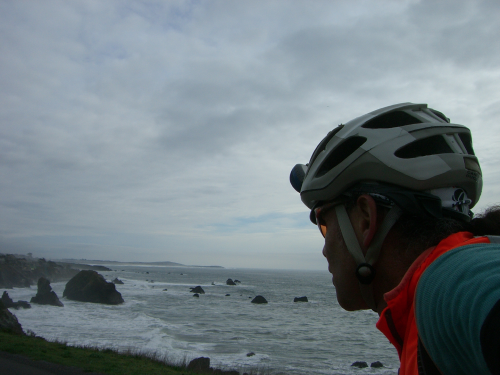 Again the very sharp pain in the knee at the start. Westside road with its rolling terrain was a relief for my knee, I was able to climb mostly free of pain but the the flat terrain was another story. The hills were supper green, almost spray painted. Then the fun ended. For the next 20 miles, the dreaded (for me at least) Hwy 116 and it lousy traffic. Flat as a pancake and boring as hell. At the intersection with Hwy 1 we stopped and I got some food from the backpack into my top tube bag. In no time we were moving. But at the top of the first hill we stopped again to adjust one of my rear lights which had been knock out of alignment when I leaned the bike on a bush at the previous stop. Ok now we are moving.

We had a slight head wind that sometimes came from the side. The slight wind was a small price to pay for the views. There was little traffic on Hwy 1; nice riding here on a weekday. At the control in Bodega Bay the pizza did not look to promising so I went for a corn-dog and some sort of mexican wrap that tasted like crap; corn-dog was good. While we ate I readjusted the shoe cleat the best I could. After restating our ride I had same pain but not as bad as before; the gentle hill made the pain more bearable, the cleat move had indeed helped...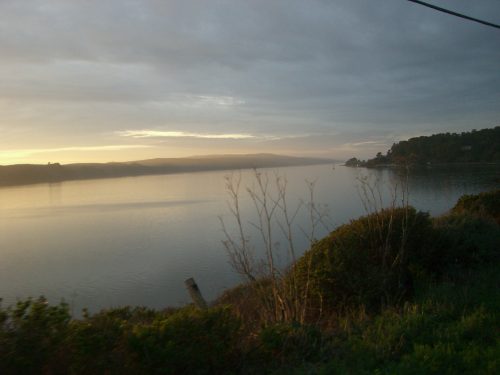 Rode by Valley Ford and then Tomales to get into the wind tunnel that precedes the rollers of Hwy 1 before Marshall. We got at 5:30ish to Marshall and the control was closed. No problem, we both had extra Ensure clones and enough water. A quick rest stop and we rolled on. The sun was over the hill across the Tomales Bay, pretty afternoon.

Next stop was at the top off Nicasio hill (Dixon ridge) I had to put on my long sleeve jersey as without the sun the temperature had dropped a few uncomfortable degrees. On the flat at the bottom of the hill my knee reminded me it was sore. Up White Hill and into Fairfax.

Right in downtown Fairfax I was ahead when I heard cursing, screaming. When I turned around I saw John arguing with a pickup truck driver, exchanging love messages I am sure. After the stop sign, when they both started moving again John took off I guess to throw one last kiss at the driver but he did not catched up, I'm glad. After that I asked what had happened and told my friend to let this one go. I am afraid one day after a confrontation with a more beligerant driver, I will have no more good friend to tease, seriously; not a happy though. Charged with adrenaline John picked up the pace but I was not going to hurt the knee so I kept my pace and Mr. Grumpy went ahead. At Camino alto I caught up with him and now he was in a better mood.

Made to the Golden Gate Bridge Plaza at 9:23pm. Another Volunteer ride done. Next the Hopland 400k volunteer ride.
Here is John's write up of this ride
(First posted March- 7-2014 at 02:10 pm)
No related pages or links.